After a hot and dry summer, we are starting to finally see shifts in our weather that will lend itself to our typical fall weather in Colorado. Namely, warm and sunny pleasant days and cool crisp nights. It's a great reminder that as hot an unbearable as it can get in the summer, one only needs to wait a bit longer for the seasonal changes to make their way back into Colorado.
We see evidence that we are sliding into more of a fall weather pattern over the next few weeks and while our moisture chances don't look super great (fall is typically a dry season for Colorado's front range) it does look like temperatures will begin to moderate a bit.
Here's the setup:
---
Ridge Breaks Down - More Cooler Air Into Colorado
Below I've attached looks at 500mb heights from the Euro for Thursday and Friday - they show a good representation of what the pattern looks like for the next several days.
The strong ridges we've seen have broken down and we don't see evidence of their return - at least in the short term.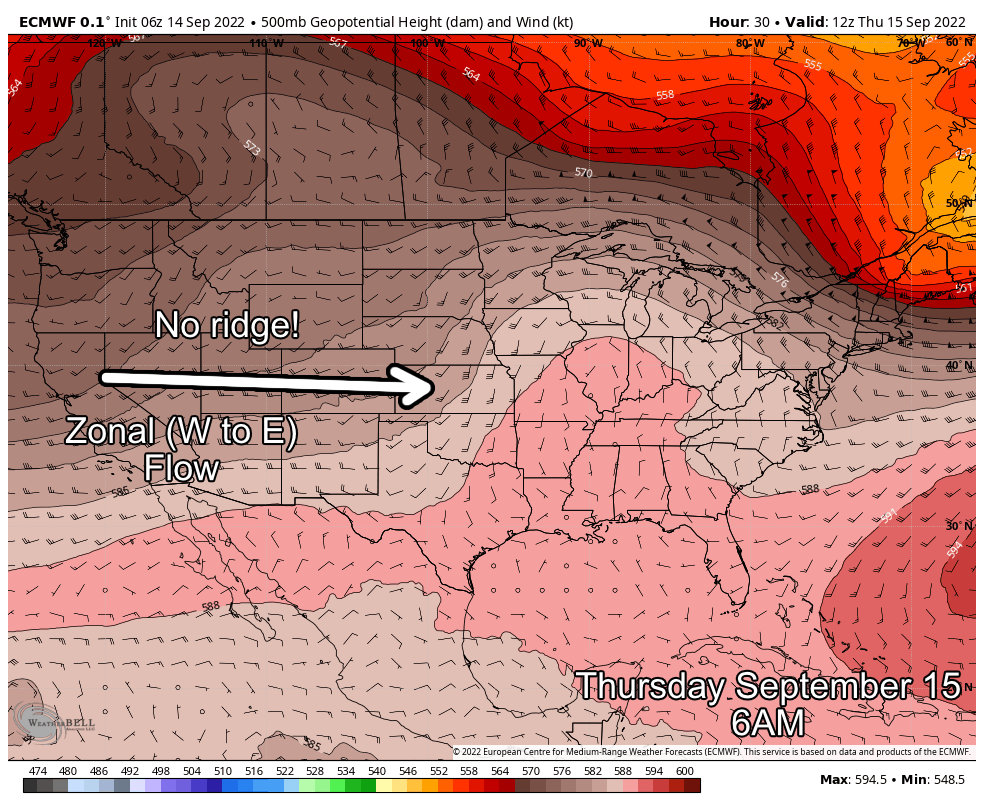 Zonal flow (West to East) aloft will continue which means we could see on and off breezy conditions over the next few days, but the weather should remain pleasant overall. Days will be warm, but not oppressively so and nights will be cool, but also not bad there.
The only real chances for moisture we see are thanks to the remnants of Tropical Cyclone Kay, which still sees a bit of moisture pumping into Colorado over the next day or tow (more details on this below.)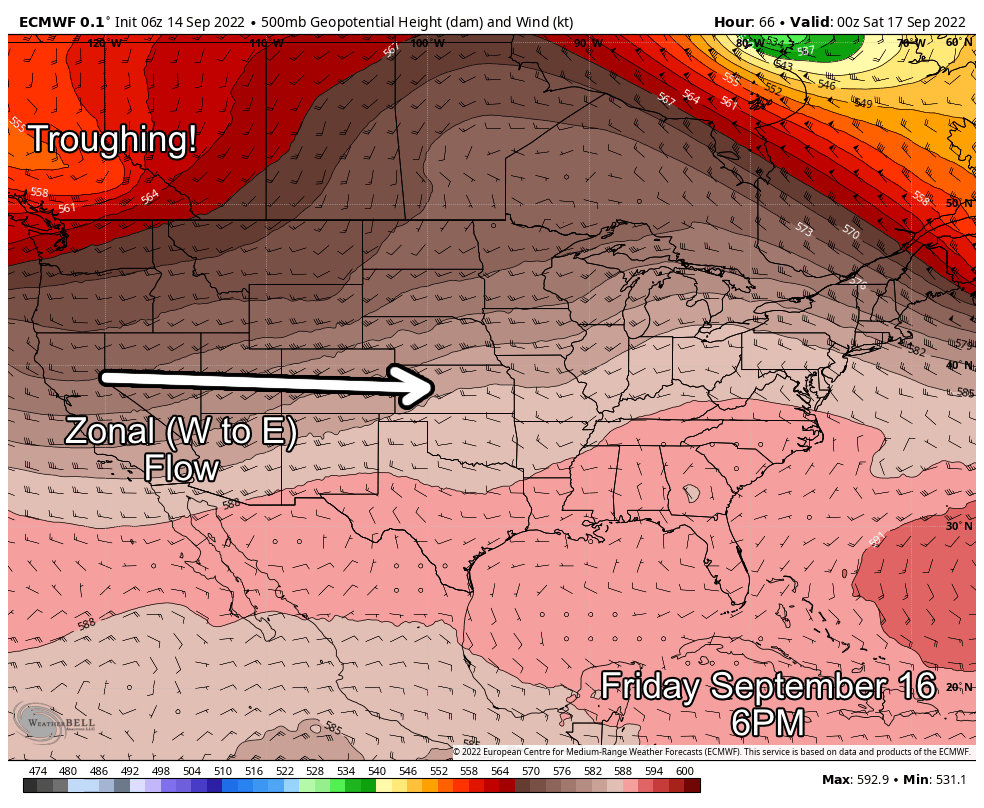 ---
Remnants of Kay Bring Rain Chances
Kay was a tropical cyclone that brought extensive flooding to California earlier this week - the main circulation is long gone but there is still a bit of moisture remnants moving across the Western U.S. which should arrive into Colorado on Wednesday and Thursday.
Seen below, the National Blend of Models shows the highlight areas for the best chances of rain. The mountains and most of Western Colorado will see the best chance of rain, but higher elevations South and West of Denver will have a decent chance of picking up a bit of rain as well. The Palmer Divide is included as one of those areas that could see a bit better chance of shower activity on Wednesday and Thursday.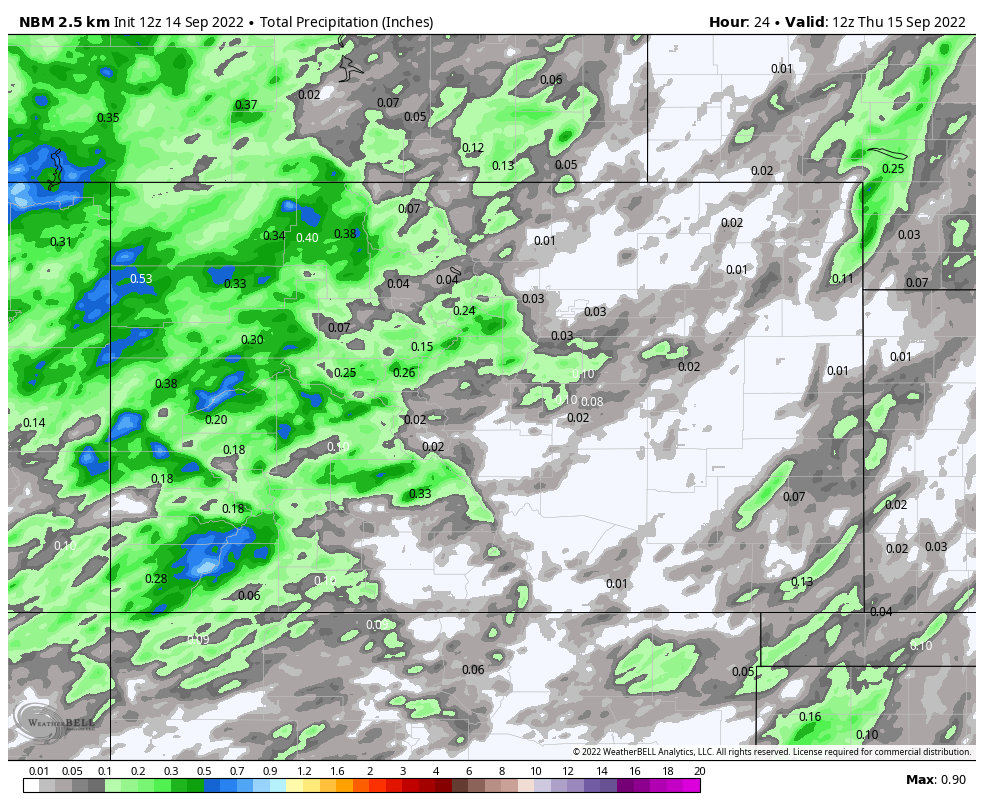 The rain is welcome, but the amounts won't be much to write home about East of the Continental Divide...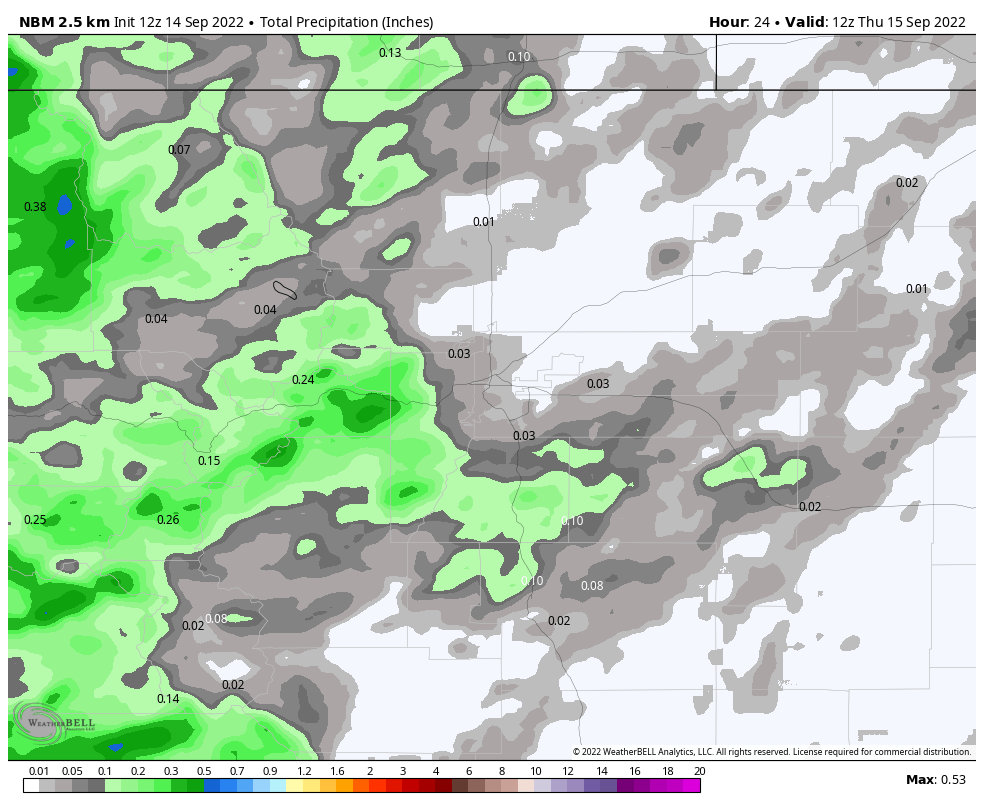 Here's a closer-to-home look, rain chances along the Palmer Divide are about 60% so roughly half of us should see rain on Wednesday. Thursday's rain chances for the same area drop down to about 40% so a bit lower but roughly the same. This is one of those cases where those that do see rain won't see a whole lot...
---
Castle Rock/ Palmer Divide Forecast
Here's a summarized look at everything I discussed above...
Rain chances will be best on Wednesday and Thursday along the Palmer Divide, by Friday we will dry things out and heat things back up a bit over the weekend. I don't see any record high temperatures over the weekend, more like seasonal late summer/early fall warmth - it should be a fairly nice weekend overall!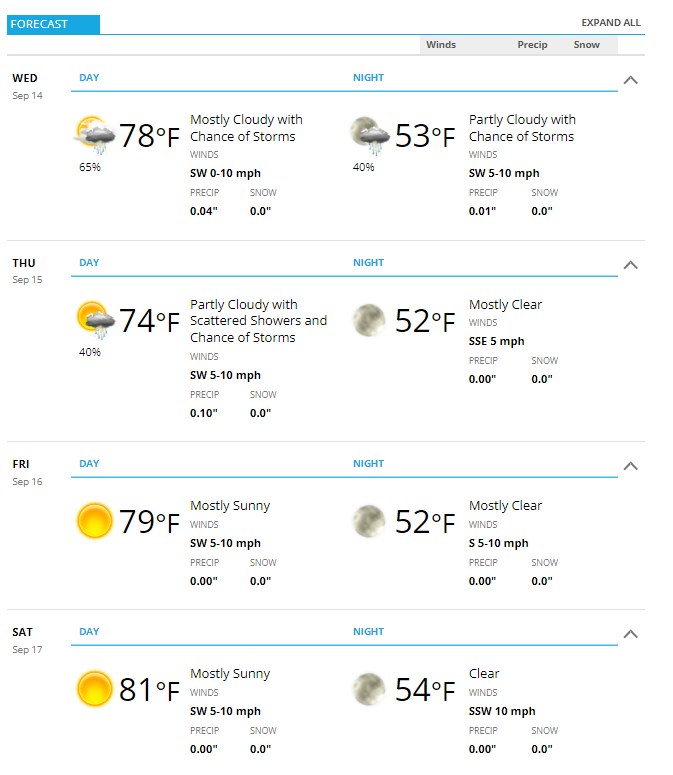 Keep an eye out for storm the next couple of days but otherwise the weather story won't be too exciting for the next several days.
Still keeping an eye on how the rest of the month goes but looks like more of the same as far as I can see.