Not much time to linger on our last storm that brought snow to the front range foothills and Palmer Divide. The next storm system is already beginning to set up off to our West. This one, like the last could be a tricky forecast. Here's the latest on what we are watching:
Intense and Localized Snowfall Bands are Likely
It is pretty evident that models show intense bands of snowfall should set up with this storm. The GFS and NAM both agree and show a Northern/Northeastern bias with this storm. Models are pretty terrible at predicting exactly where these set up in general but several of them are pinpointing the area North and East of Denver as the areas to receive the highest snowfall accumulation. When you look at the 24hr snow accumulation on both the GFS and NAM you can plainly see this at work:
You can read the models above and see that in some cases, the snowfall in Northeastern Colorado looks significant. Read them at your own risk, they are not an official forecast but they are fun to keep an eye on.
Euro Shows Similar Setup but Some Differences
The Euro shows a bias towards Northeastern Colorado and snowfall bands as well, but is a lot more hesitant to bring much of that heavy snow over the continental divide. For what it's worth, the Euro called the last storm pretty well and has a pretty good track record this year. Especially when other models tend to trend higher and the Euro lower; the Euro usually wins that battle or ends up closer.
Expected Snowfall
I'm throwing a few different snowfall maps up to show how varying the amounts look. Keep in mind, this WPC product tends to over-estimate snow a bit, but it is closer to the EURO model which is what I'm leaning towards from a forecasting perspective.
Palmer Divide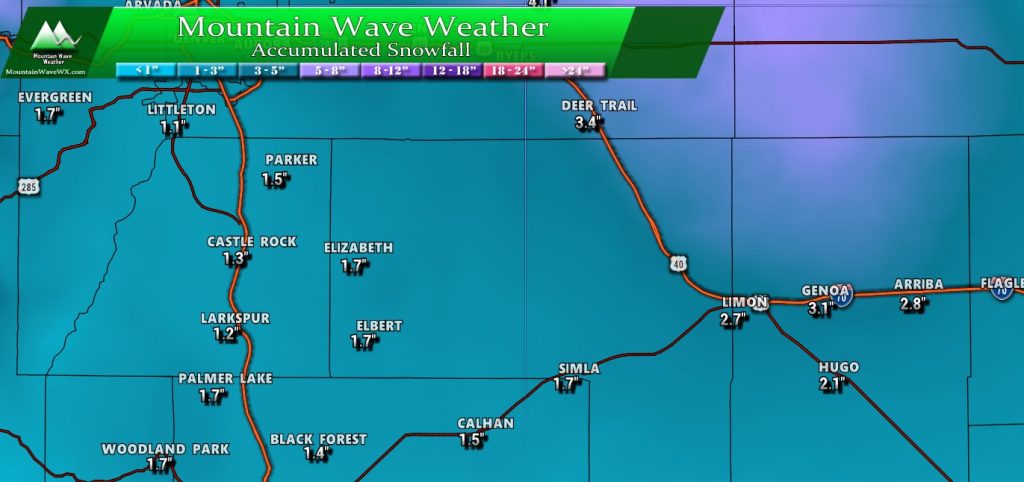 Northeastern Colorado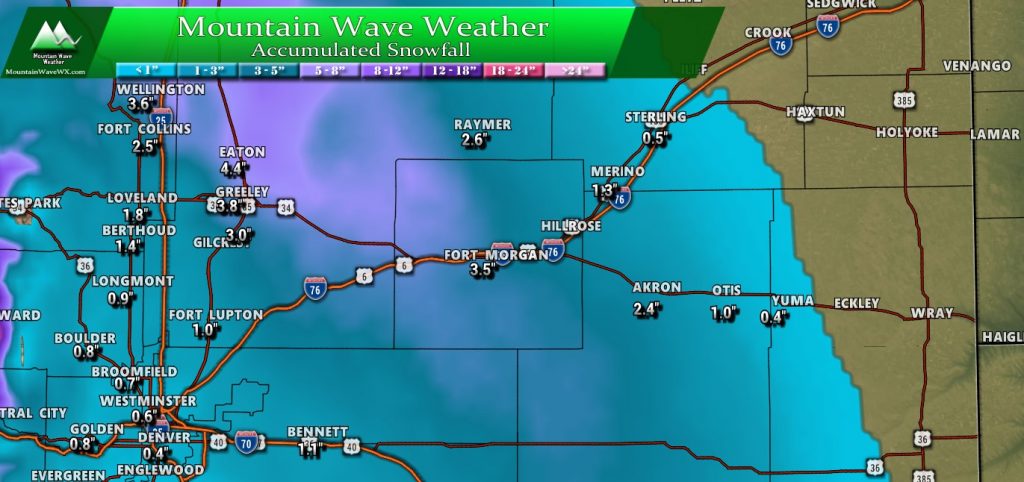 Mountains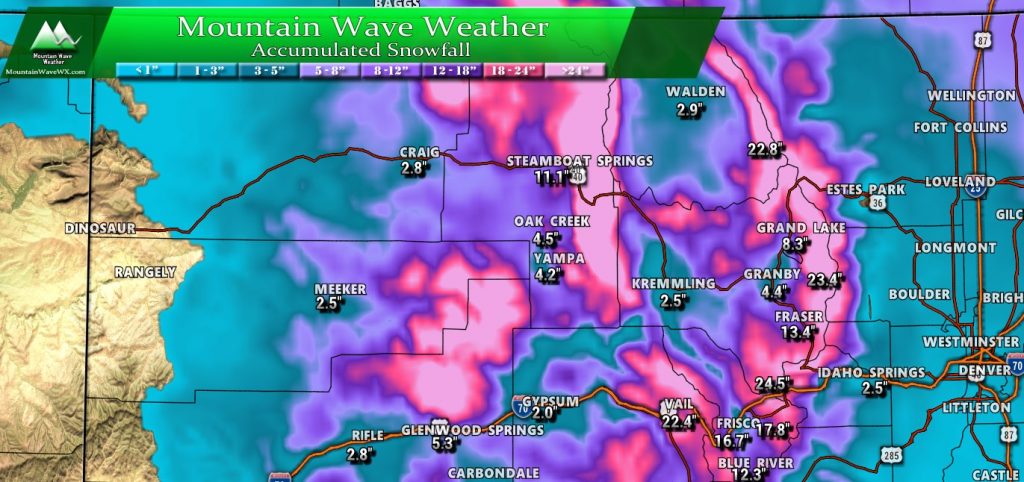 The mountain map is busy, I threw a few extra numbers on there around the Palmer Divide to demonstrate this storm's snowfall potential. Make no mistake, this will be a large storm even by mountain standards, for Colorado's Northern and Central Mountains. Areas along the Continental Divide and into the ranges near Steamboat could see 2-3 feet of total snowfall.
Speaking of the mountains, if you have travel planned up there over the next couple of days...
Expected Accumulation Ranges Per Area
City
Current Forecast

(as of this article's publishing)

Castle Rock
1-3
Parker
0-2
Highlands Ranch
1-3
Elbert
1-3
Elizabeth
1-3
Kiowa
1-3
Centennial
0-2
Denver
1-3
Larkspur
1-3
Monument
1-3
Black Forest
1-3
Littleton
0-2
*preliminary snowfall forecast, keep checking back into Thursday for updated amounts as the forecast changes.
Summary
While this storm doesn't look like much for the Palmer Divide, we will have to keep an eye on it. Should those snow bands to our North shift it could become a decent storm. Odds of that are pretty low as of right now, but not zero. If this does happen it will be tough to forecast as models don't tend to pick up on it very well, if this storm decides to change and strengthen or shift, we may not know about it until very late in the game. Be prepared just in case!
Timing for snow with this storm is mainly Thursday night into Friday morning. We will keep an eye on both days for impacts, but looks like any impacts as of this time will remain minor.
February 2020: All Aboard The Storm Train!
The 6-10 day and 8-14 day outlooks look similar to the pattern in the graphics below. There is a very high probability of cooler than average temperatures and a decently high probability of above average precipitation for the next 2 weeks. This means it looks like we will remain cooler and wetter than average for the next 2 weeks with storms continuing to move through the area.
By the second half of the month we see less of a stormy signal so the latter end of February may be a bit quieter!
For now, enjoy the cold and the snow, spring is on the way with promises of more snow and hopefully warmer temperatures in March!