This Week's Weather Setup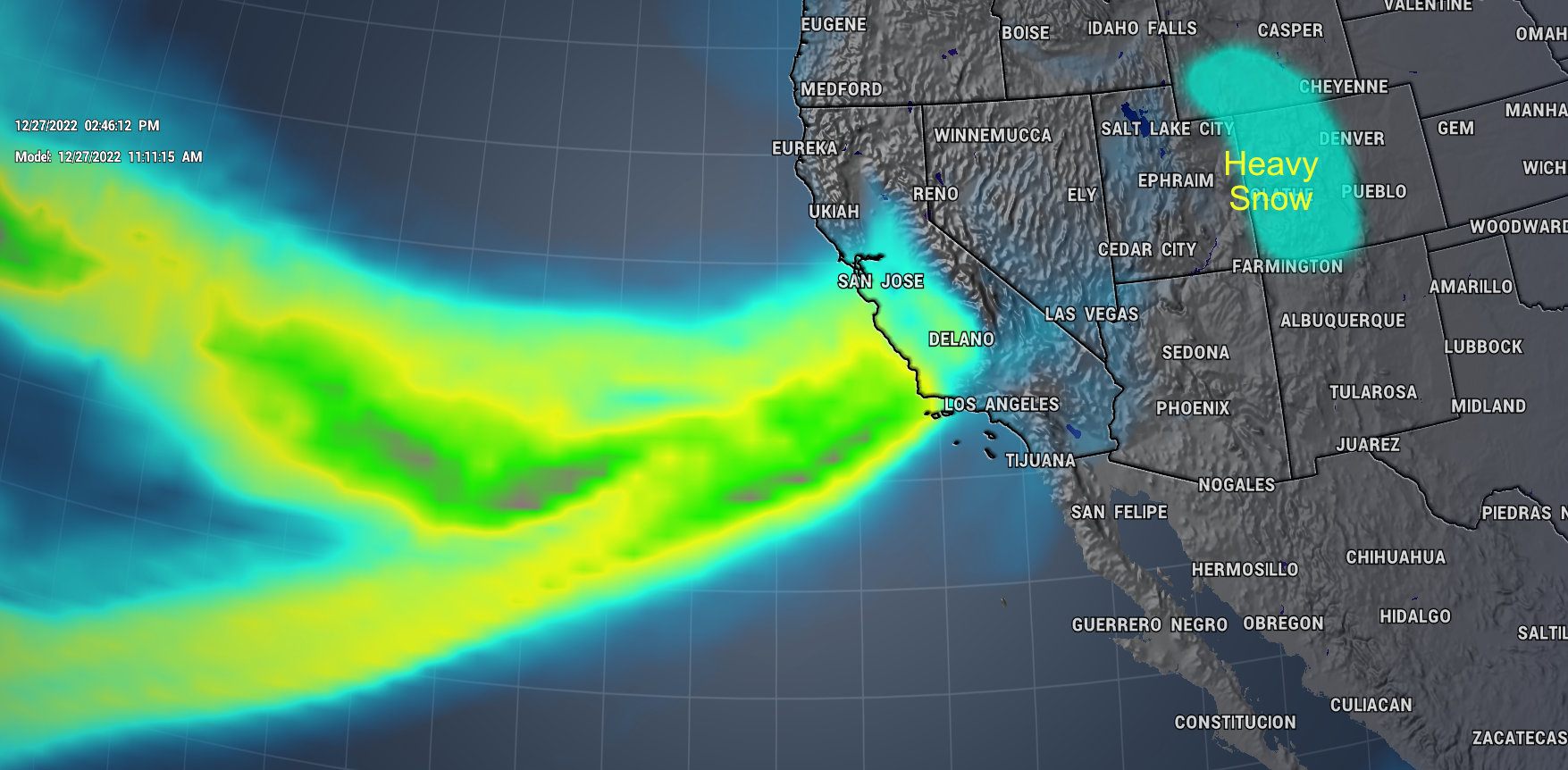 Models show an "atmospheric river" setup this week across the Western U.S. This feature is when the jet stream stretches over a large swath of the ocean and angles itself in a way that brings large amounts of moisture into California, Nevada, Utah and Western Colorado. This feature will dictate a lot of the weather you will see across the West this week - mainly consisting of heavy snow and strong winds.
For Colorado, our mountains may see several feet of snow in the next 5 or so days with travel impacts likely. By midweek, Eastern Colorado may get in on a bit of the action, we don't' typically get big snowstorms East of the Continental Divide with a setup like this, but the perfect timing of a bit of moisture with a cold front swinging by from the North may give us just enough lift to squeeze some snowflakes out of the sky!
As always, when the jet moves overhead we can see snowfall banding set up which means some localized areas could see heavier than forecast snowfall events - a wildcard with this type of storm system. Here's what we expect at this point:
---
Snowfall Forecast
Palmer Divide/ Urban Corridor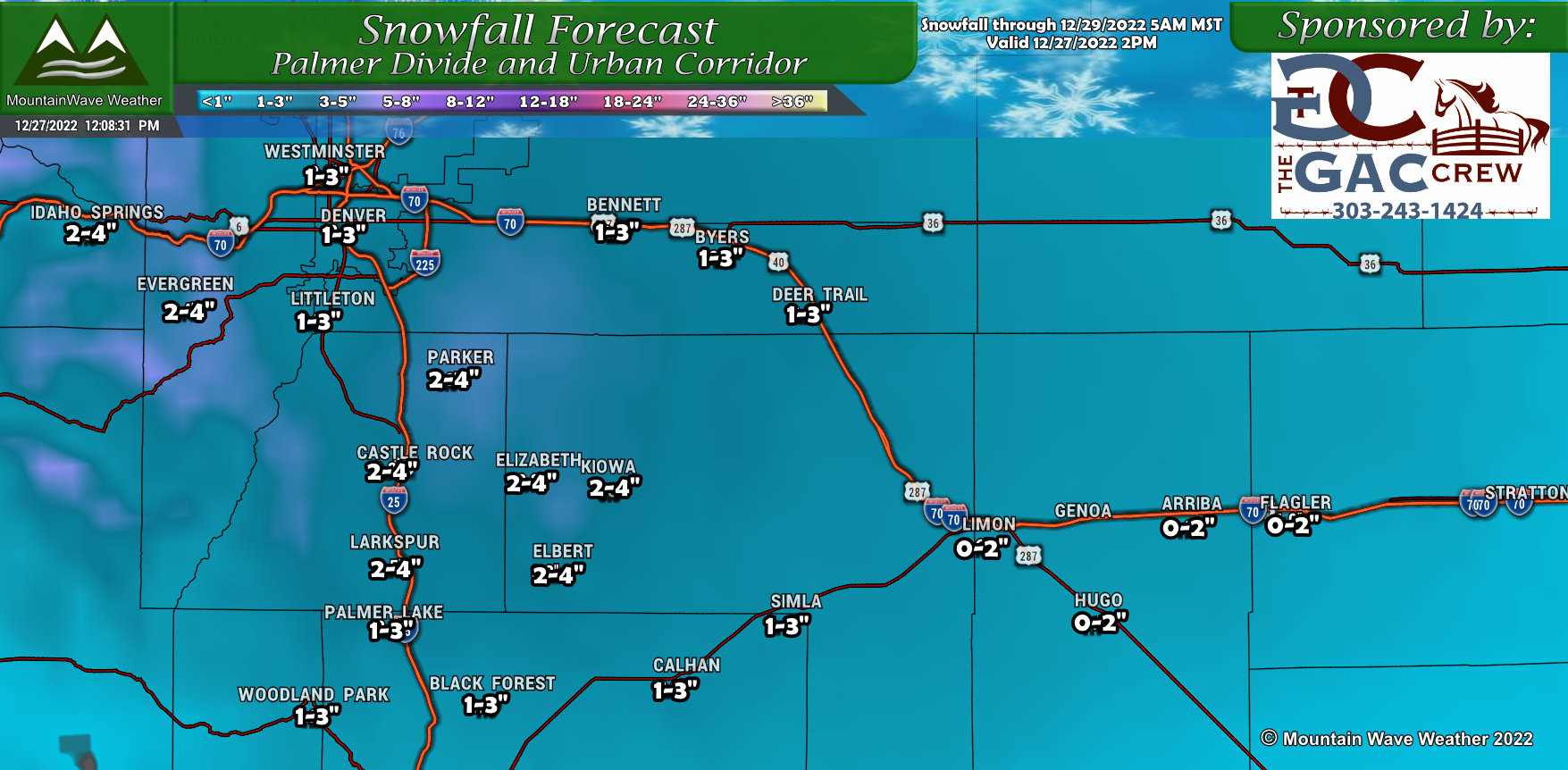 Snowfall amounts across the Palmer Divide look fairly light overall, but remember (as described above) some models are pointing a bullseye over this area for higher snowfall accumulations. We will have to continue to monitor this area and adjust snowfall amounts as necessary. The amounts listed are with what we see right now, a blend of models and of meteorology detective work around how warm temperatures are expected to be as this storm moves in. Warmer temps means some of the higher end snow totals may be unrealized as melting could occur and dampen snow accumulation.
Northern Colorado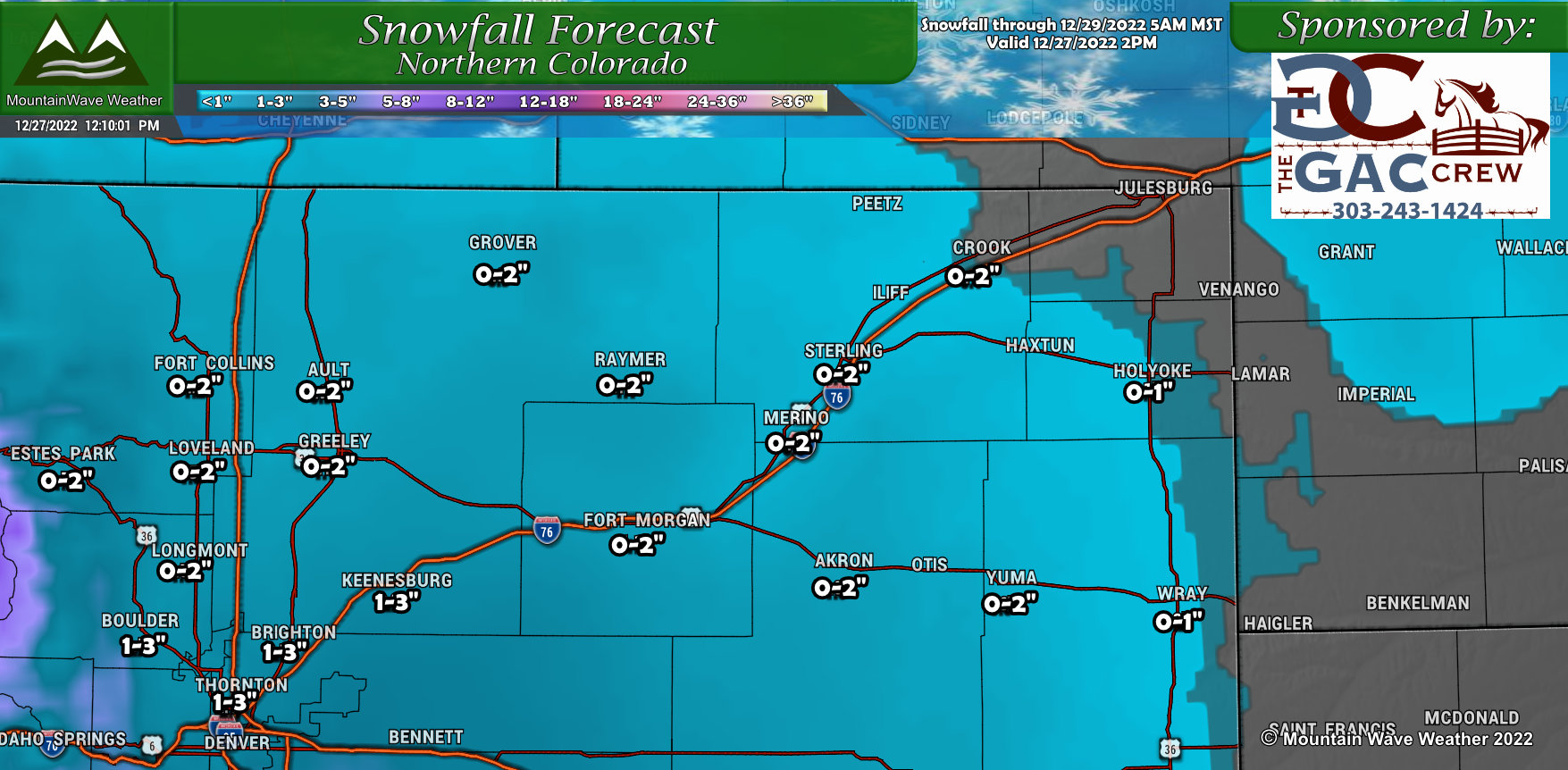 Northern Colorado will see minor amounts from this storm, Northwesterly flow and Northerly flow mainly tends to favor areas such as the Palmer Divide while areas in and around and North of Denver tend to see downsloping and lower snowfall amounts due to the dryer atmosphere. Fairly decent confidence on the snow amounts listed above for this storm, but keep an eye out for minor changes and adjustments.
Northern/Central Mountains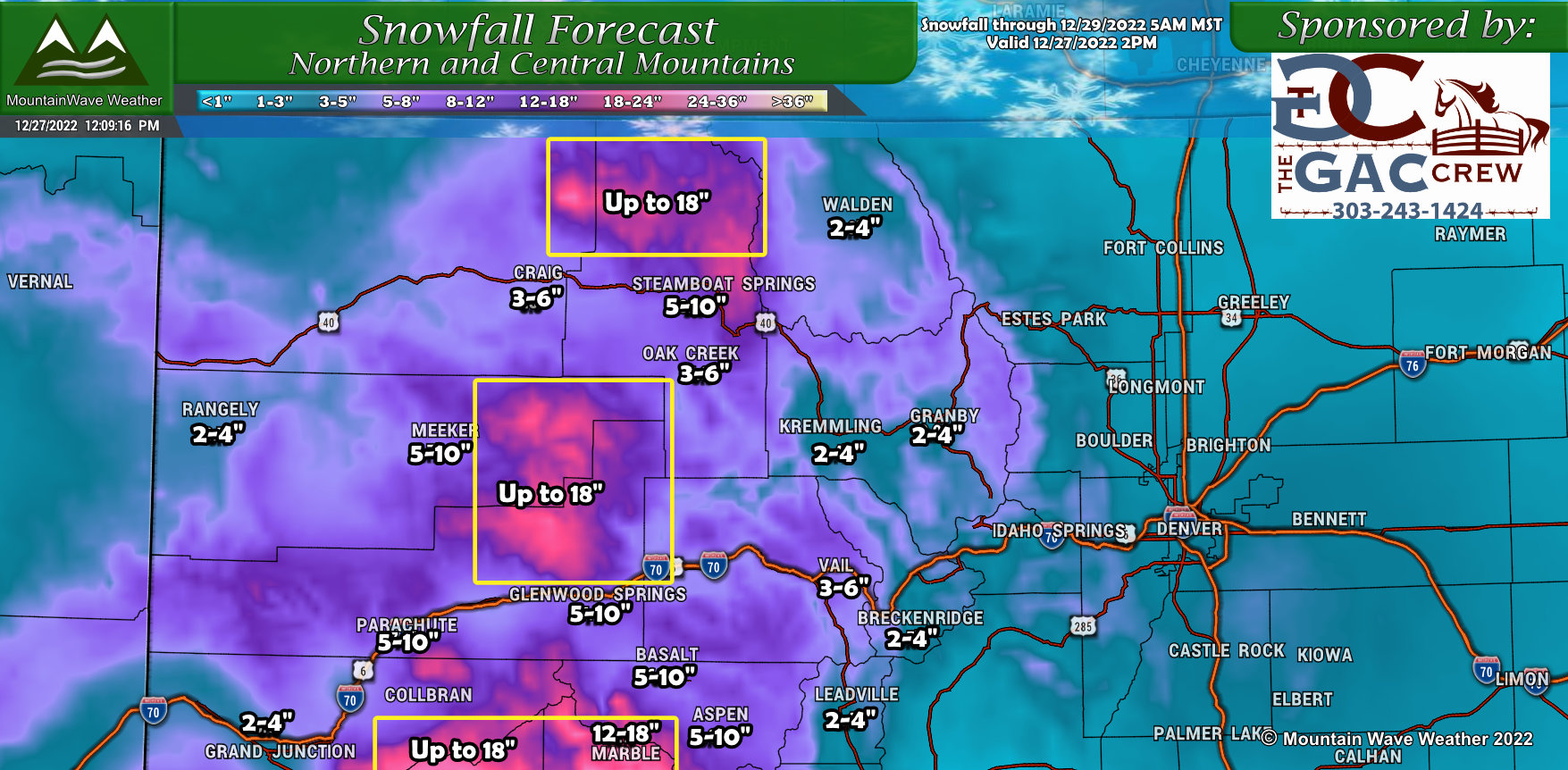 Due to the atmospheric river setup, ample amounts of moisture will move into Colorado this week with many mountain areas experiencing several days of accumulating snowfall and high snow totals. Many areas could see between 1 to 2 feet by the time the week is over as snow is predicted nearly every day through this weekend. Fairly high confidence in these amounts, note the boxes where locally heavier snowfall is likely with some areas up to 1.5 to 2 feet.
Southwestern Colorado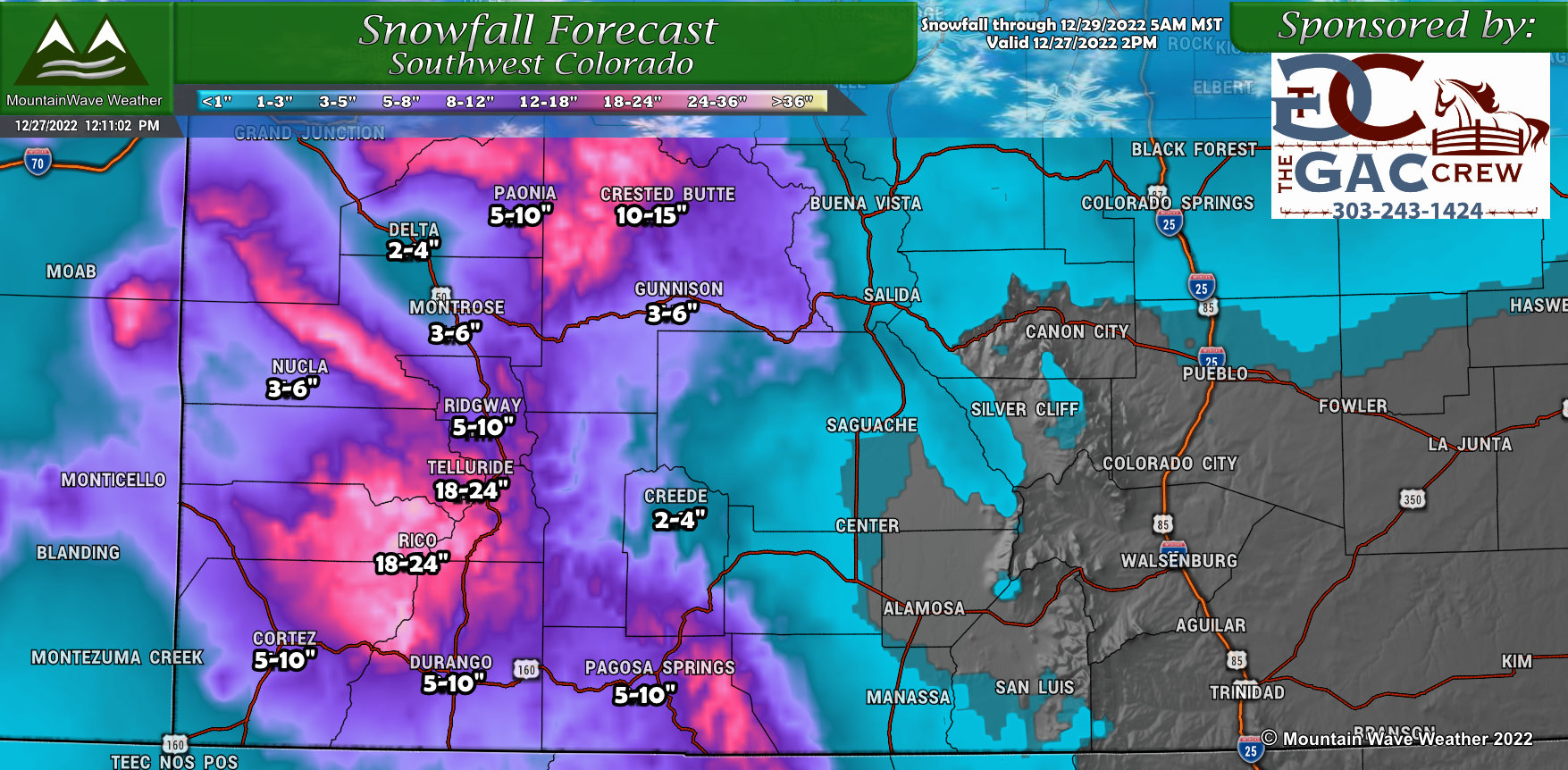 Similarly to the Northern and Central Mountains, strong westerly flow with lots of moisture will favor most mountain areas in Colorado for heavy snow and that includes Southwestern Colorado. Many areas will see heavy snowfall with high accumulations - confidence in these amounts is fairly high. Expect travel impacts over the higher peaks and passes in Southwestern Colorado through most of the week as snow is predicted nearly every day for the next several days.
Southern Colorado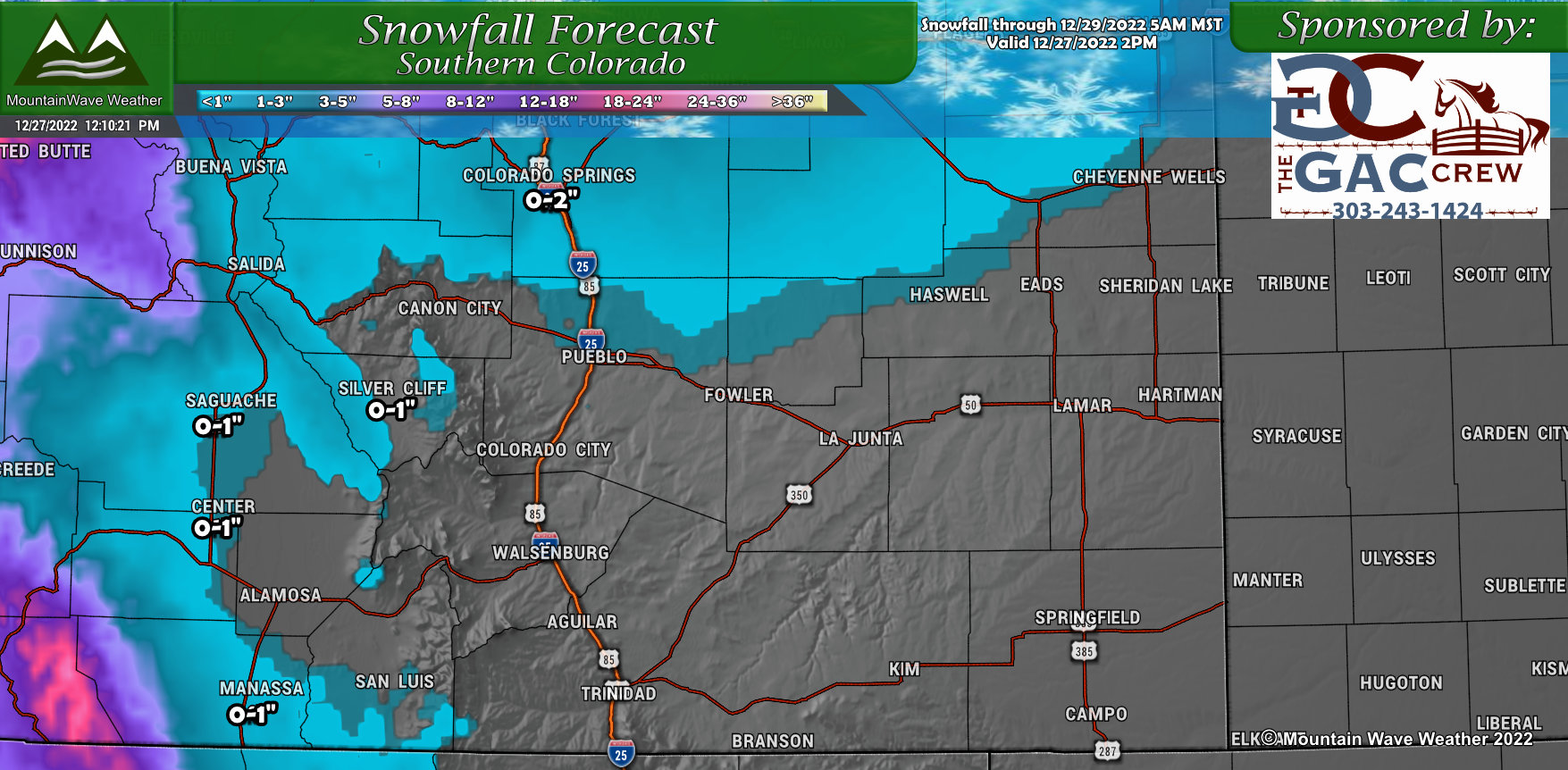 Not much to say about most of Southern Colorado, snowfall amounts look like slim to none for most areas, outside of the mountains Well west of the I-25 corridor. The northerly bias with this storm track will keep most of the moisture up along the Palmer Divide and to points North. Not a total loss, some areas on the plains may see up to .25 inches of rain, but snowfall looks quite limited.
---
Expected Impacts/Severity
For the Palmer Divide, most impacts will be seen later Wednesday into Thursday morning. Models are still flip-flopping a bit with timing but it looks like snow could be falling and causing an impact by late Wednesday afternoon through early Thursday morning. As such, the Wednesday evening commute and Thursday morning commutes will need to be watched for impacts on the roads.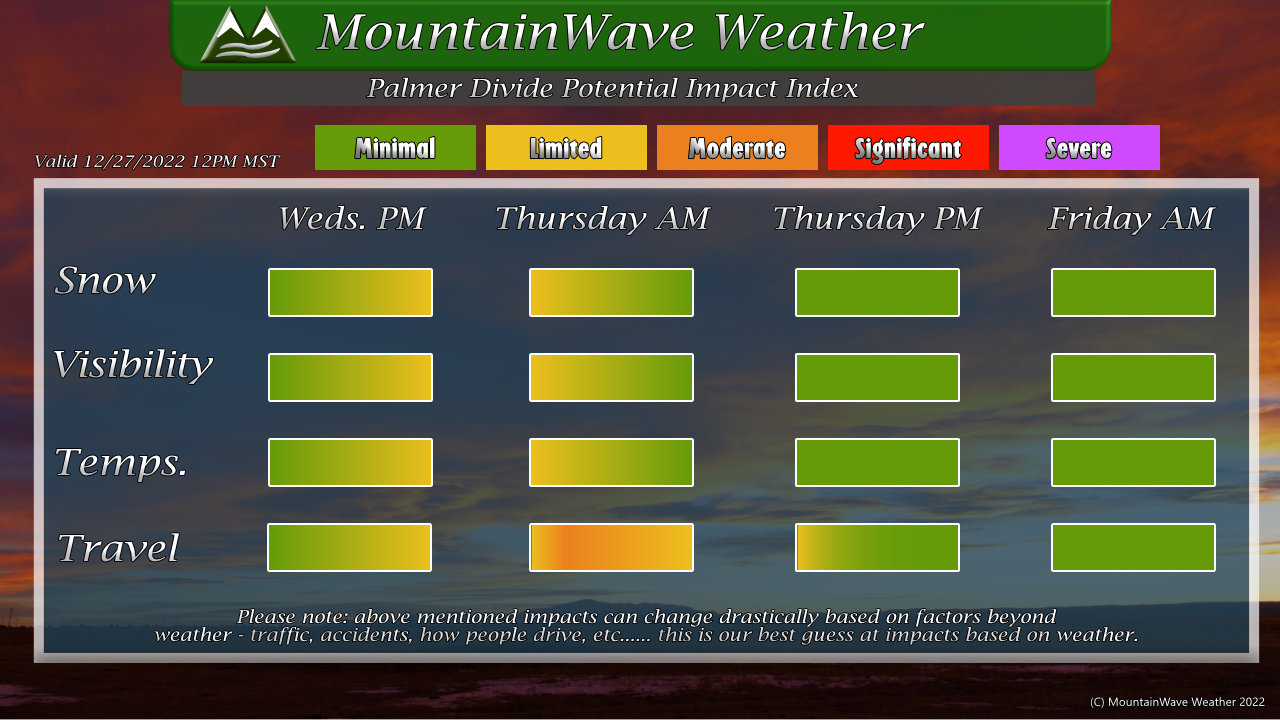 At this time we don't see any major impacts due to snow, winds or temperatures. We do expect some travel impacts due to slick roads later Wednesday and into Thursday but as mentioned above, exact timing is not fully known yet.
---
Summary
The warmer temperatures and rain to snow transition will make this storm a bit tricky on the snowfall forecast. Regardless, be prepared for impacts later in the day on Wednesday and into Thursday morning along the Plains and  Palmer Divide. In the mountains, snow is ongoing today (Tuesday) and will continue for several days - expect significant travel impacts in the hills for the rest of the week and into the weekend.
Stay tuned for forecast updates!