This week's weather will be punctuated by extreme heat across much of the Western United States, including Colorado. Let's take a look at the setup around this heatwave and when we may see a bit of relief...
Very Strong High Pressure Ridge Dominates
A strong ridge of high pressure anchored over the Western United States will persist throughout the week. Climatologically speaking, this is an unusually strong ridge of high pressure for this time of year, so much so that there's a lot of interesting research/studies going on around it.
High pressure means warm temperatures, dry conditions and sinking air - all of this culminates in this week's forecast as any areas directly underneath or near the ridge are going to become a "blowtorch" for the next few days.
Scorching Hot Temperatures
Nationally, temperatures around the ridge will be pretty significant... some areas in California and the Northern Plains could see temperatures between 20-30 degrees above average for this time of year. Some areas have already set daily record highs and even a few all time record highs.
Here's a quick look at temperature anomalies for the U.S. on Wednesday: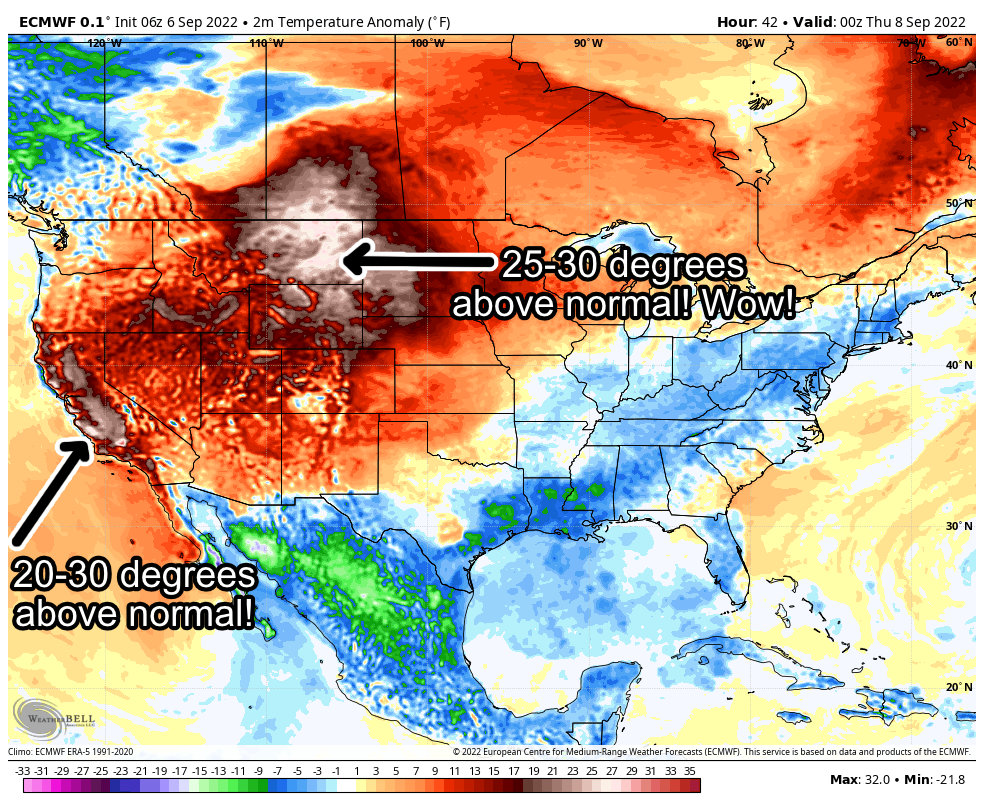 Records will fall as some of these temperatures will be truly unprecedented for this time of year in many of these areas.
---
Closer to Home
You can see from the graphics above, Colorado will be firmly in the grip of this high pressure system so we can expect a lot of the same impacts as our friends to the West.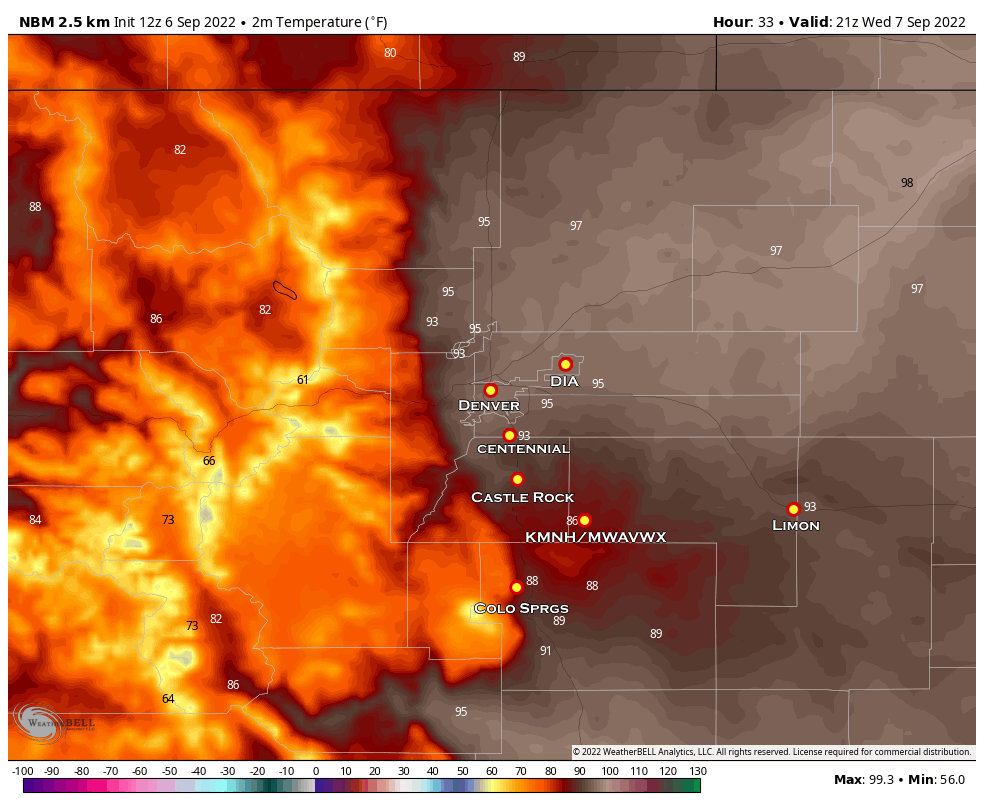 For the next 3 days, high temperatures will top out in the upper 90's and low 100's across Denver and the Northeastern plains. The National Blend of Models is shown above with high temperatures for Wednesday... but Tuesday and Thursday's highs will all be very close to these.
I do believe temperatures are slightly under-done so I wouldn't be surprised to see some 100's in the next 3 days across many of these areas.
2 Interesting Weather Facts for Denver in September
The average daily high for this time of year is 84 degrees

This means daytime highs are running roughly 14-18 degrees above average

The latest 100 degree day on record is September 5 (set in 2019)

We will most likely break that this year
---
Castle Rock/Palmer Divide Forecast
Castle Rock and much of the Palmer Divide will see the same heat and dry conditions over the next few days, but notice what happens on Friday! The heatwave is here and will be intense but we do see relief towards the end of the week as the high pressure ridge wobbles to the West and allows a cool front to move down from the North.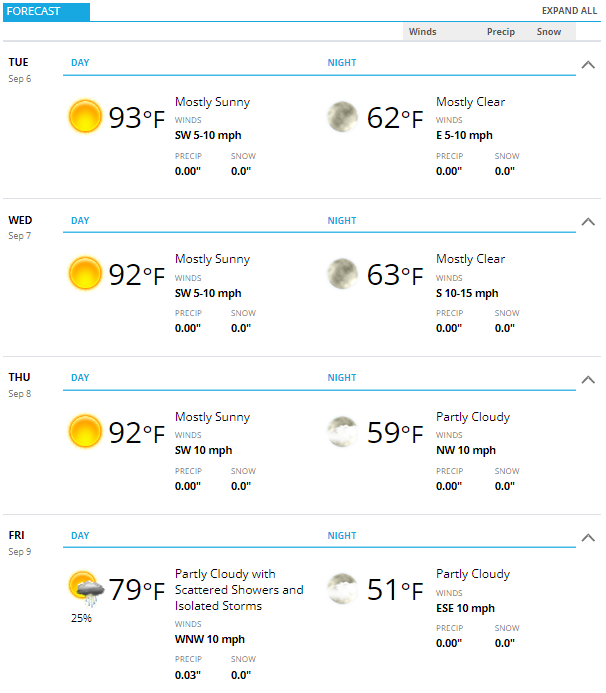 Temperatures in Castle Rock and along the Palmer Divide will be in the upper 80's and low 90's during the day with 60's overnight. All of this is very much above normal for this time of year...
Castle Rock's average daily high for this time of year is 78 degrees
This means temperatures are running about 14-15 degrees above average
---
Relief May Be on the Way
Friday and Saturday look promising as we see a pretty strong signal of below average temperatures as a cold front slides in from the North. This should happen sometime on Friday so it may not actually get too warm on Friday - depending on what time the cooler air moves in.
Saturday looks even cooler with temperatures in the 60's... it will definitely feel like fall, even if only for a few days. The cooldown looks short lived as it looks likely we return to hot conditions by the end of the weekend and into next week.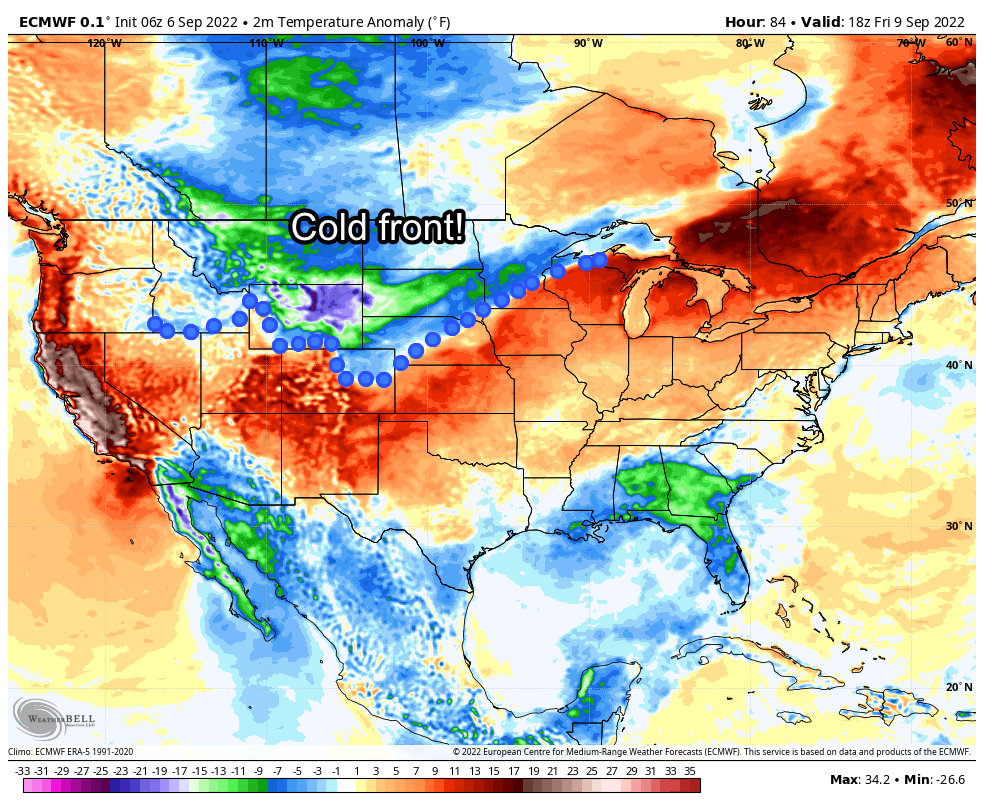 Enjoy the cooler air Friday and Saturday and get ready for the heat again next week.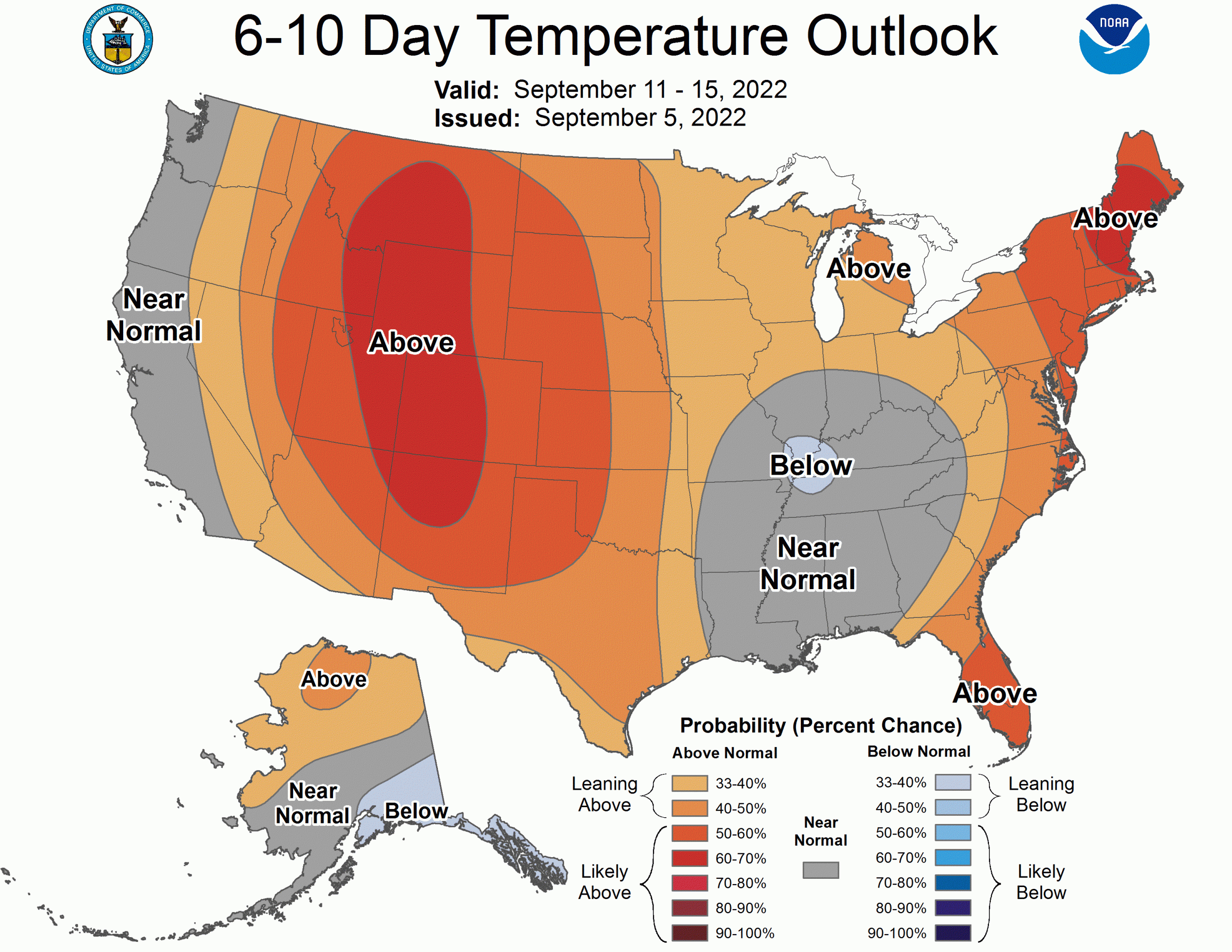 ---
For Reference - Denver Forecast Highs vs. Daily Record Highs