I do hate to sounds like a broke record, but the start of this week's weather look's very similar to what we saw last week... but we may see a bit of a change by mid to late week. That should make things interesting!
The main stories Monday through Wednesday will be more heat and more smoke. I hope you enjoyed this brief rest we had from the smoke, unfortunately it will be coming back in a big way to start the week.
The HRRR model shows moderate to heavy smoke moving in through the day on Monday. There's a lot of heavier smoke circling around an area of high pressure over the Northwest. There are still a few questions as to how much of that truly heavy smoke makes it into Colorado early this week. Current modeling shows the heaviest and nastiest of the smoke staying North of Colorado so that may be a silver lining for us in this giant blog of smoke moving through.
---
Heat Continues to Start the Week
You'll notice that the heat stays with us for the first part of the week. The Castle Rock Forecast below shows high temperatures in the mid to upper 80's for Monday with low 90's on Tuesday and Wedensday. Overnight lows will generally be around 60 degrees.
Notice what happens on Thursday though, significantly cooler with a better chance of rain. I would not be surprised to see a bit of shower and thunderstorm activity by Wednesday afternoon as a bit of a shift occurs in the jet stream and our weather pattern as well. There are still questions on how widespread this shift will be, how much of it gets in Colorado and what we see for rain (only scattered showers or something more widespread.)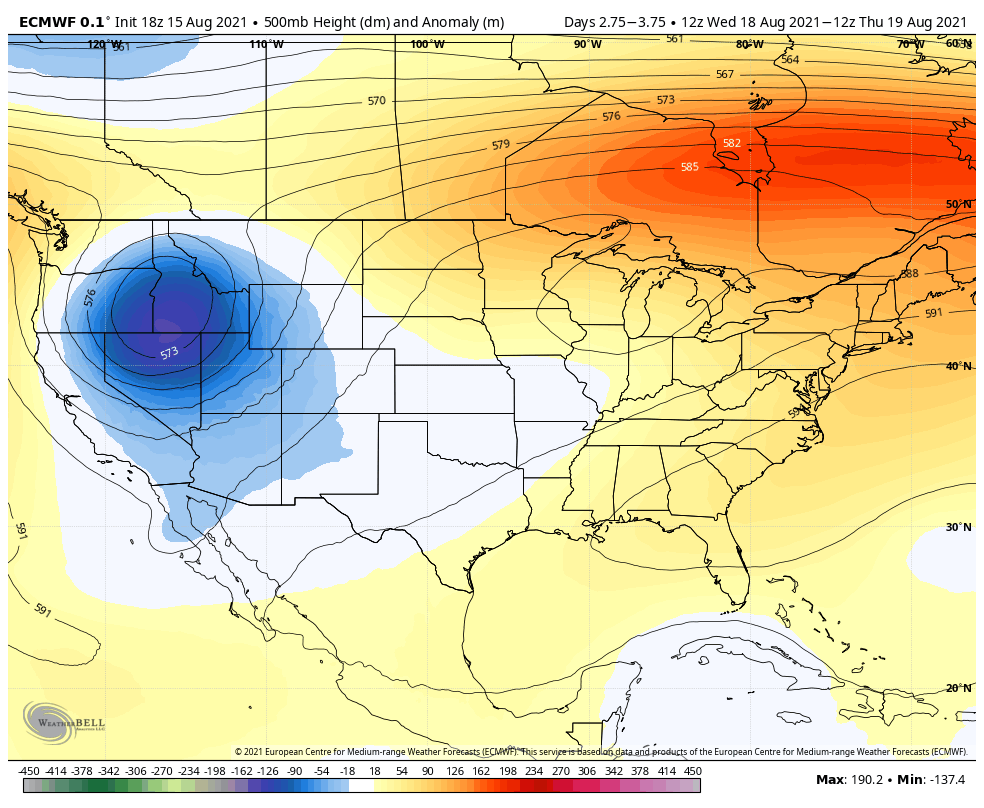 The Euro clearly shows a trough building to our Northwest and West this week. These types of weather setups are often responsible for brinign us "fall like" weather in August and September as the jet stream begins to slowly migrate southwards again. Most of the models agree that we see some sort of trough across the Western U.S. this week but there's not a ton of agreement on how this moves Eastwards or if it sags far enough Southward to bring any of that type of weather to Colorado. Should it stay too far North, we may not see much of anything from this storm system, further South and we could see cooler temperatures and even better chances at rain and storms.
We will have to keep a close eye on how this system evovles as we get another couple of days into this week.