After several days of scorching heat and record setting temperatures, it looks like a cooldown is well on its way! Details below about the setup, the front moving in and the types of temperatures and weather you can expect for the next 3-4 days.
As a note: we don't expect freezing temperatures for any locations along the Palmer Divide this weekend - so no worries there.
---
High Pressure Ridge Breaking Down in Western U.S.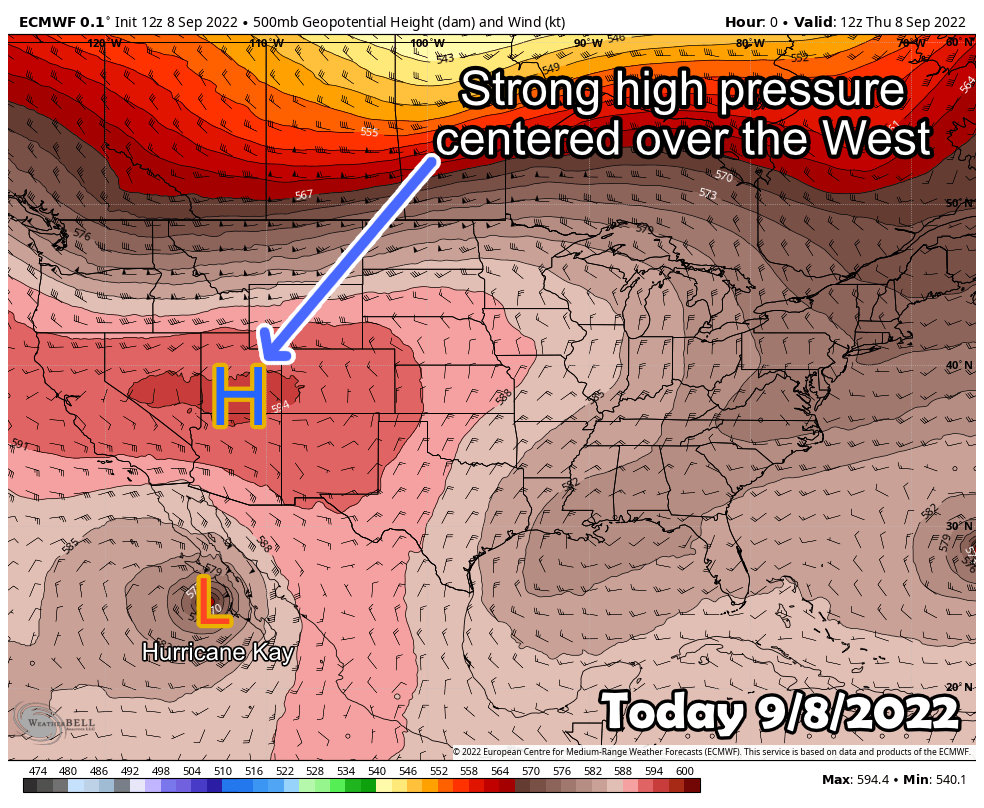 As of today (Thursday 9/8/2022) the strong ridge of high pressure responsible for our incredible heat across the Western United States is firmly in control, but we see indications that it may be breaking down. The model image above from the Euro shows 500mb heights (high and low pressure centers) as things look today.
Look what happens by Saturday...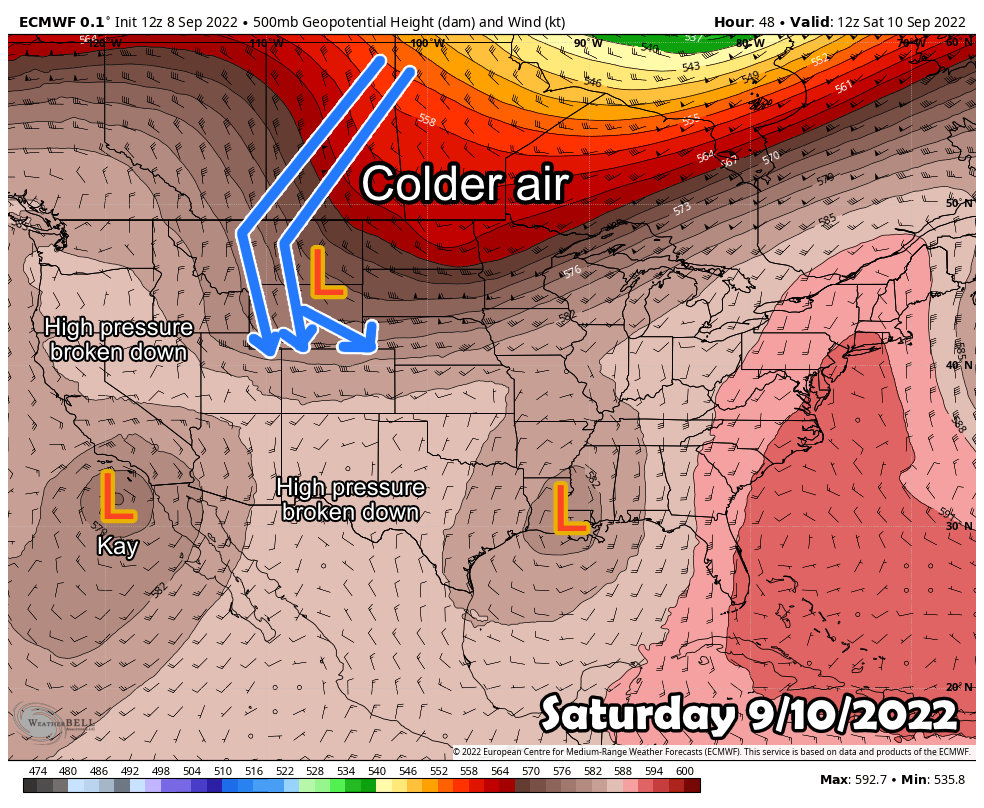 The high pressure in the West breaks down and retreats, allowing a couple of low pressure systems to develop. The first being what's left of Hurricane Kay, the jury is still out on if that storm system brings any moisture to Colorado - we will have to watch the models on that one. Historically, moisture from hurricanes has a hard time surviving into Colorado and making it across the mountains.
The other is out East and won't cause much of an effect on Colorado. The final low pressure system is a open-wave trof that develops and swings down North from Canada. This will be the catalyst for Colorado and bring much cooler air and chances of a bit of moisture.
---
Chances for Moisture?
The good news is that there will be chances of moisture with this system, but the bad news is it won't be much and roughly about half of us across the front range will see any. The other half looks to remain dry or see some sprinkles at best.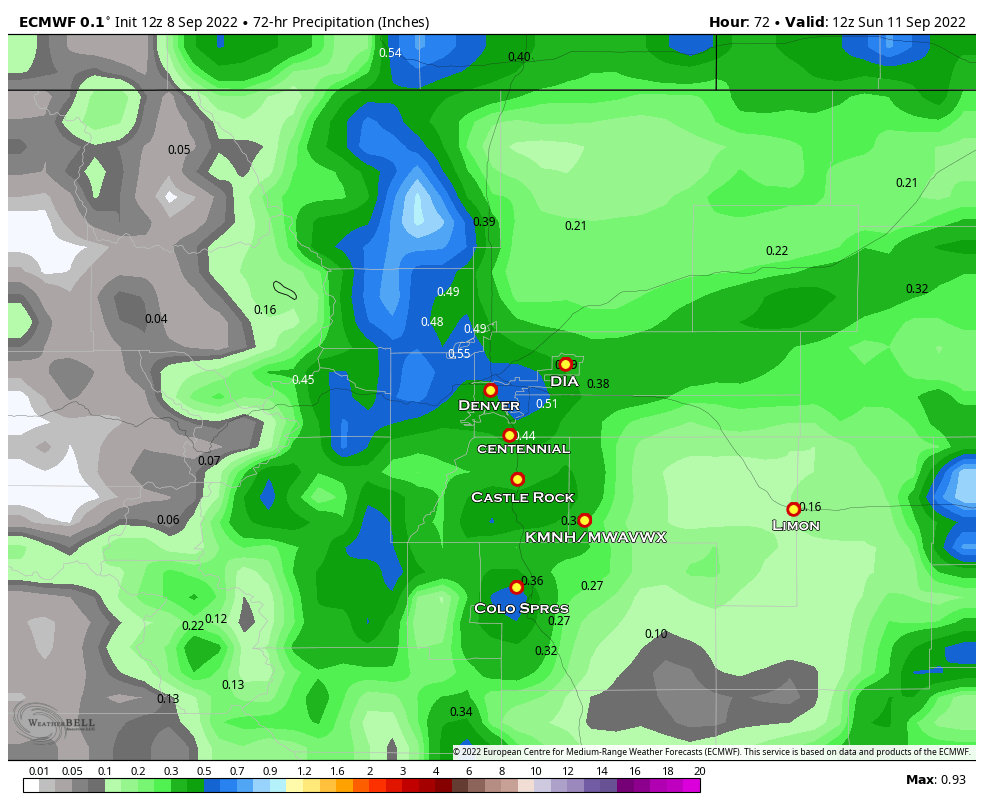 If you are wondering if any of that tropical moisture makes it up from Hurricane Kay...? Doesn't look likely, much of the moisture in this storm system will come from a Northerly direction - not exactly what I call a "moisture rich" source.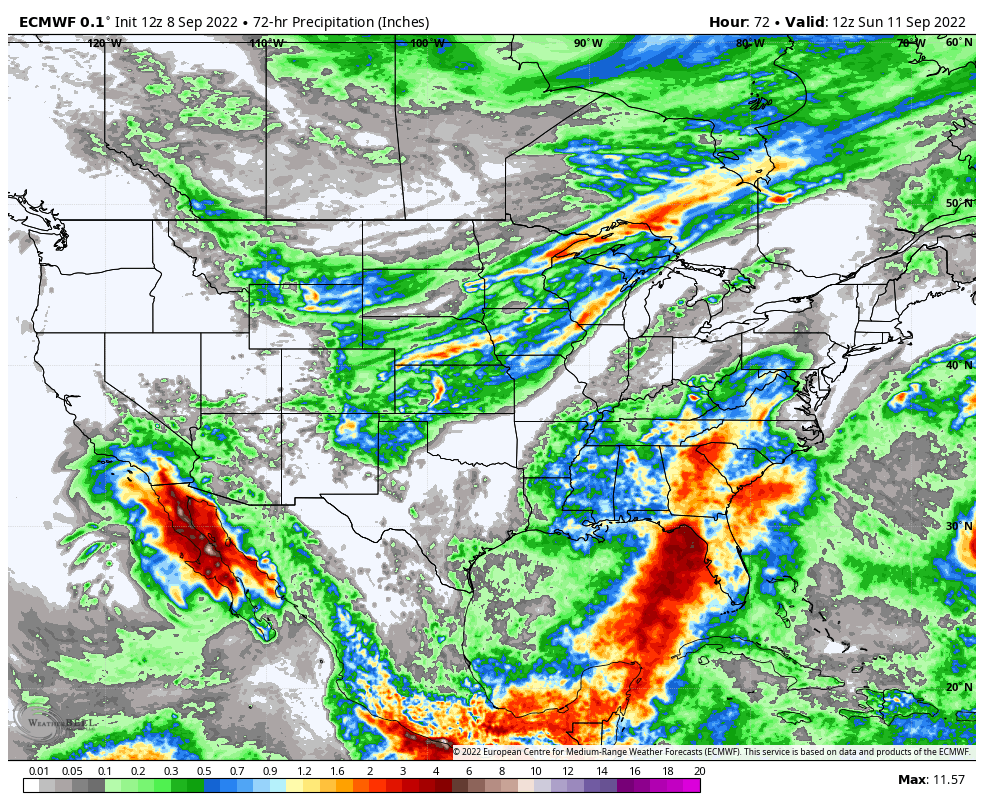 ---
Cooler Temperatures Friday - Possibly Chilly on Saturday
Friday will be cooler as the front goes through but may be warm initially in the morning. The real interesting stuff moves in on Saturday though, I've attached expected temperatures on Saturday around lunchtime in the graphic below. Suffice to say,  it will be significantly cooler the next 3-4 days than what we've seen the past week or so.
Many areas along the front range will be in the 40's and 50's!
One thing to note with the cool air however, see how mountain locations will be warmer than those in and around Denver? That cool air will struggle to make it up over the continental divide so we are still expecting a relatively warm weekend in Central and Western Colorado.
Here's a look at Castle Rock's/ The Palmer Divide forecast for the next 3 days...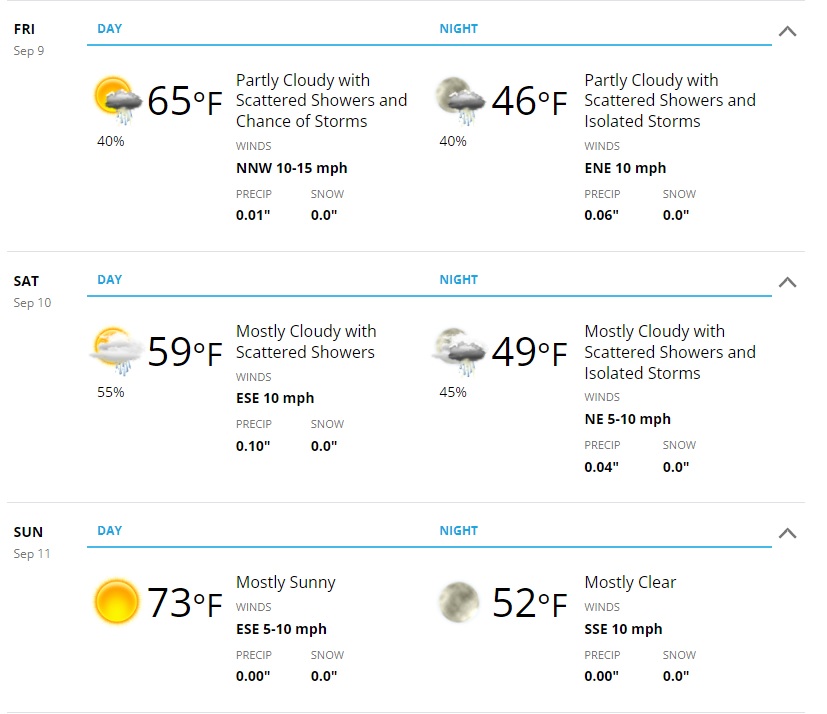 ---
Be Prepared for the Weekend
Friday
First cold front moves through during the day
Cooler temperatures are likely, highs in the 60's or maybe even 70's along the front range
A chance of showers in the evening as the front has moved through
Saturday
Another shot of cooler air
Temperatures in the 50's in and around Denver and 40's for higher elevations
About 50% chance of seeing a shower or thunderstorm
Rain amounts will be light (if any is seen) generally less than 0.5 inches
Sunday
Calmer weather overall
Temperatures rebound into the 70's and 60's for higher elevations
We will have any additional updates as needed. Enjoy the cooldown, looks like we will return to the heat as early as next week!