A bit of a change for the next couple of days away from our hot, dry and fire danger type weather. What we see over the next couple of days will be more akin to a typical spring in Colorado as we have a shot at rain and a bit of severe thunderstorm risk. We will take it, because this weather pattern shift could be short lived! Details for Sunday's weather included below!
Storm Prediction Center - Severe Weather Outlook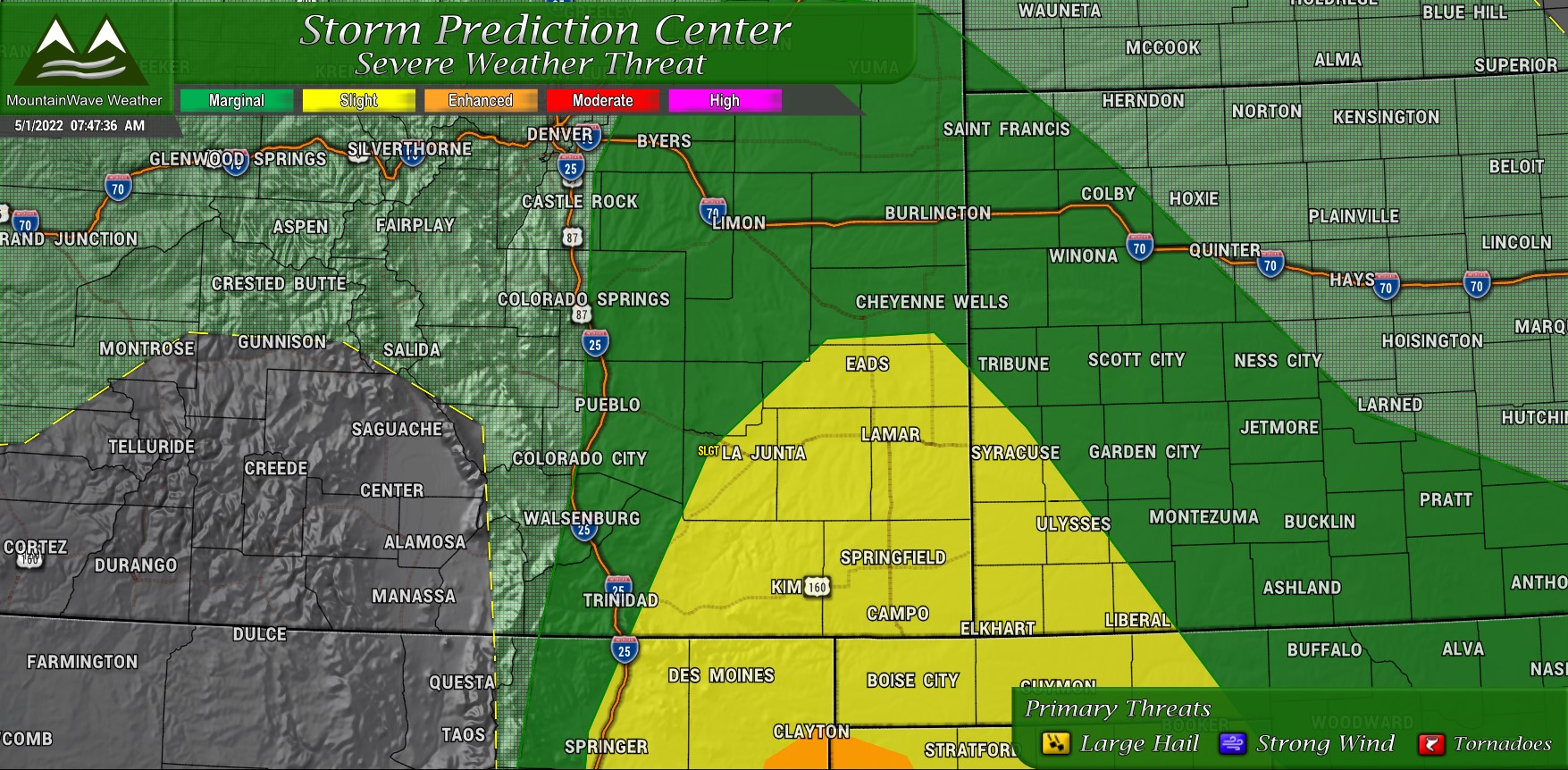 The SCP has highlighted a risk area for a bit of severe weather this afternoon, primarily across Southeastern Colorado. There is a marginal risk that extends up into Eastern Colorado and for areas East of Douglas County along the Palmer Divide. The main threats in the marginal area are hail and winds, while a tornado threat exists across the Southeastern plains.
Overall though, the risk of any of us along the Palmer Divide of seeing severe weather is low, but it is not zero!
Hail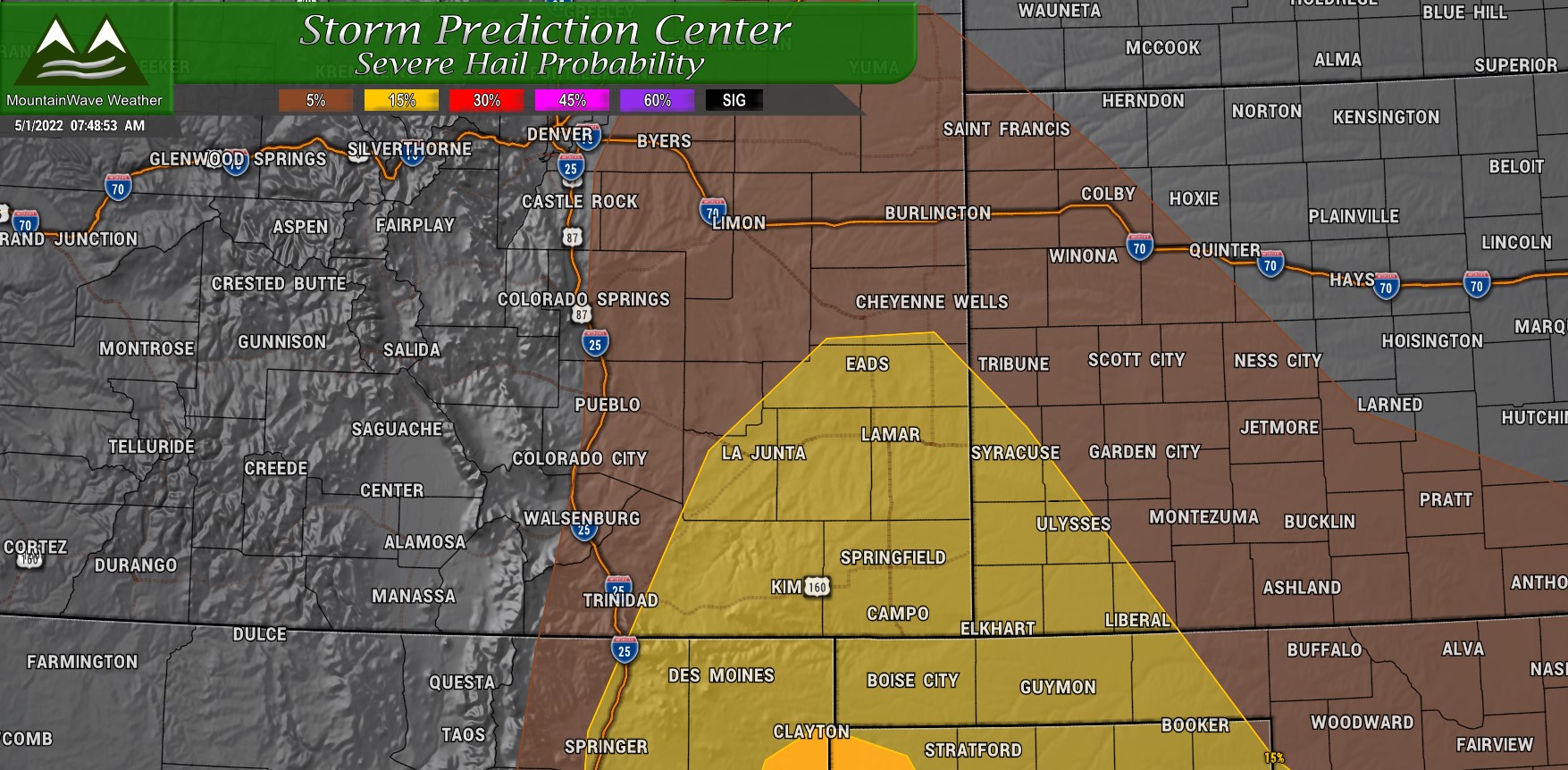 Primary threat for hail will be the slight risk area across eastern Colorado, but the 5% threat follows the marginal risk area up into Eastern Colorado. This means areas East of Douglas County along the Palmer Divide have a 5% chance of seeing a hail producing thunderstorm within 25 miles of a location in the threat area.
Again, odds are low but they are high enough to keep an eye out for.
Wind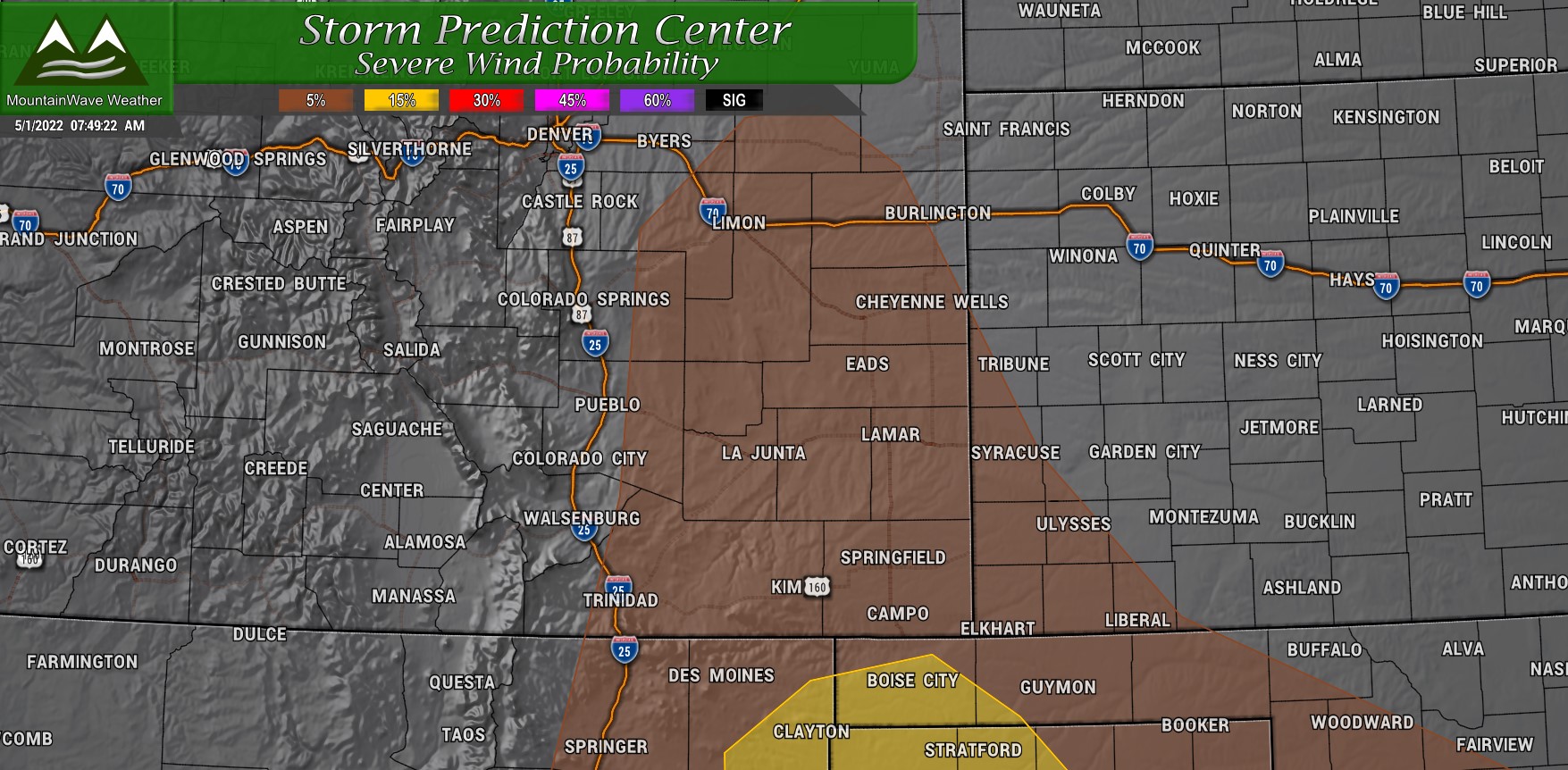 Similarly to the hail threat outlined above, most of the severe wind threat is around 5% for the Palmer Divide. You will notice the threat area is a bit further East for this however. I do see evidence in the models of wind gusts from about Elbert County eastward reaching 40-35mph this afternoon, any severe wind gusts would primarily be caused by thunderstorms and not the overall weather pattern today.
Tornadoes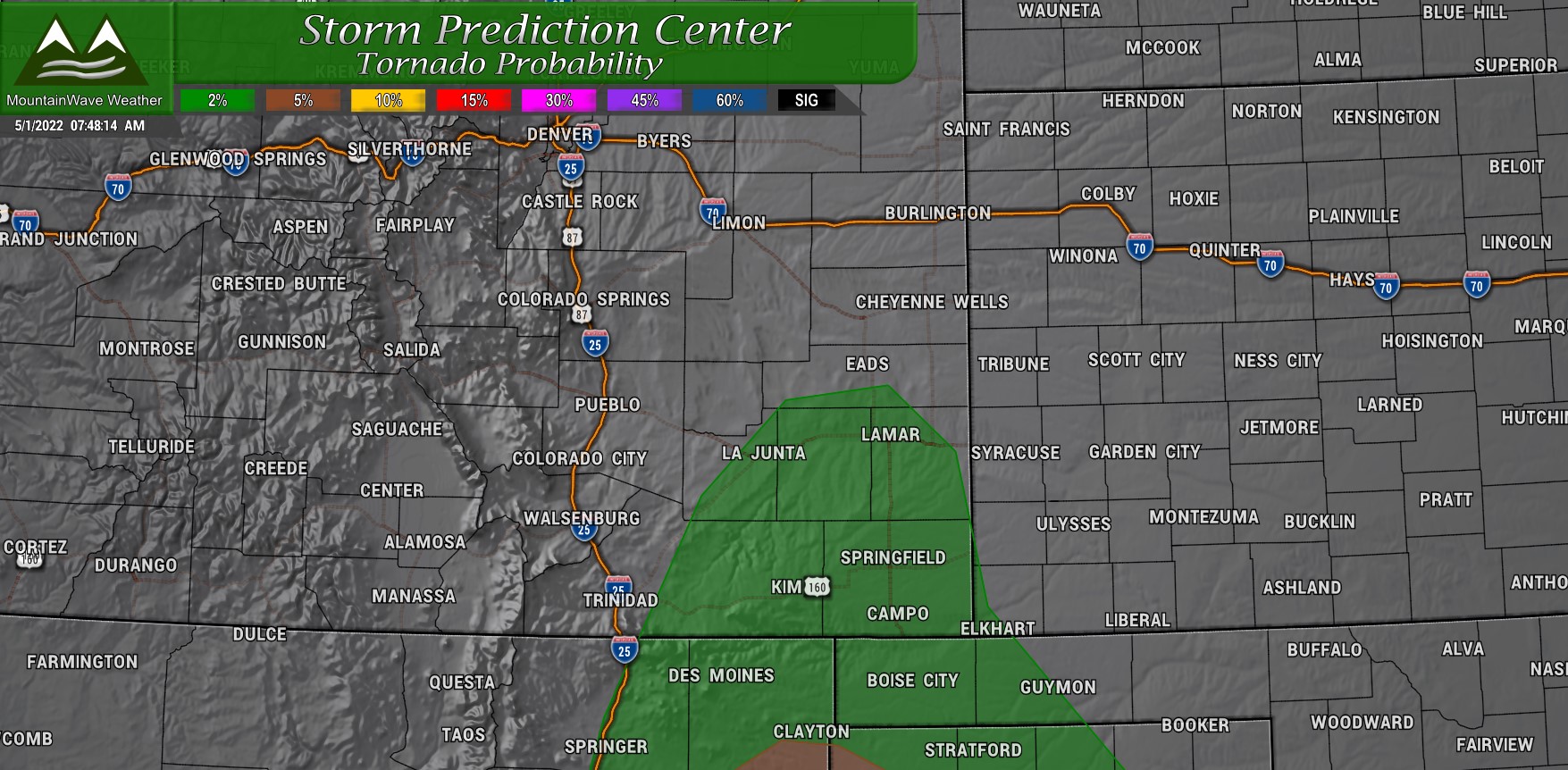 Not expecting much of a tornado threat out of this one for the Palmer Divide - most of that should stay well Southeast of us and especially into Eastern New Mexico and into Texas. That being said, the terrain can make thunderstorms do funny things on our area, so it's always worth keeping an eye out for!
---
Timing/Preparedness
For preparedness actions on today; there's really no reason to cancel or reschedule plans. Any severe weather will not be widespread and in fact, most areas won't see any severe storms. This is really more of a "heads up" that storms may be in the area this afternoon and if you have plans outdoors you should just keep an eye out and be prepared to move to shelter for a bit.
Remember; when you can hear thunder you can be hit by lightning. Hear thunder? Head inside!
In terms of timing:
Thunderstorms and showers initialize over the mountains and foothills after 2-3PM
Modeling currently has storms and showers moving East over the Palmer Divide between 3-8PM
Showers and storms may linger into the late evening and overnight hours
---
Summary
There's the story for today, nothing too terribly exciting but at least it's a bit more interesting than the fire/wind combo we've seen with our weather lately.
The good news is that we should stand to see some moisture out of this storm system today and tomorrow, with potentially another chance by midweek.
As always, I'll keep an eye on it!