After a wet and soggy Sunday, it looks like we may build on our moisture chances a bit more this week as our weather pattern shift continues to influence the atmosphere in Colorado. Cooler temperatures will be a welcome change from the oppressive heat we've seen lately and the monsoon will make spotty appearances throughout the week before coming back in full force by the end of the week. Here's the details!
---
This Week's Setup
High pressure that has been dominating our overall weather pattern for the past few weeks is going to break down and slide back to the Northwest. This combined with high pressure to our East will open up a corridor for Monsoon moisture to sneak back into Colorado, especially later this week. I've attached the Euro Ensemble height anomalies below, without getting too technical - orange and red is higher pressure than average and blues and greens are lower pressure than average for this time of year.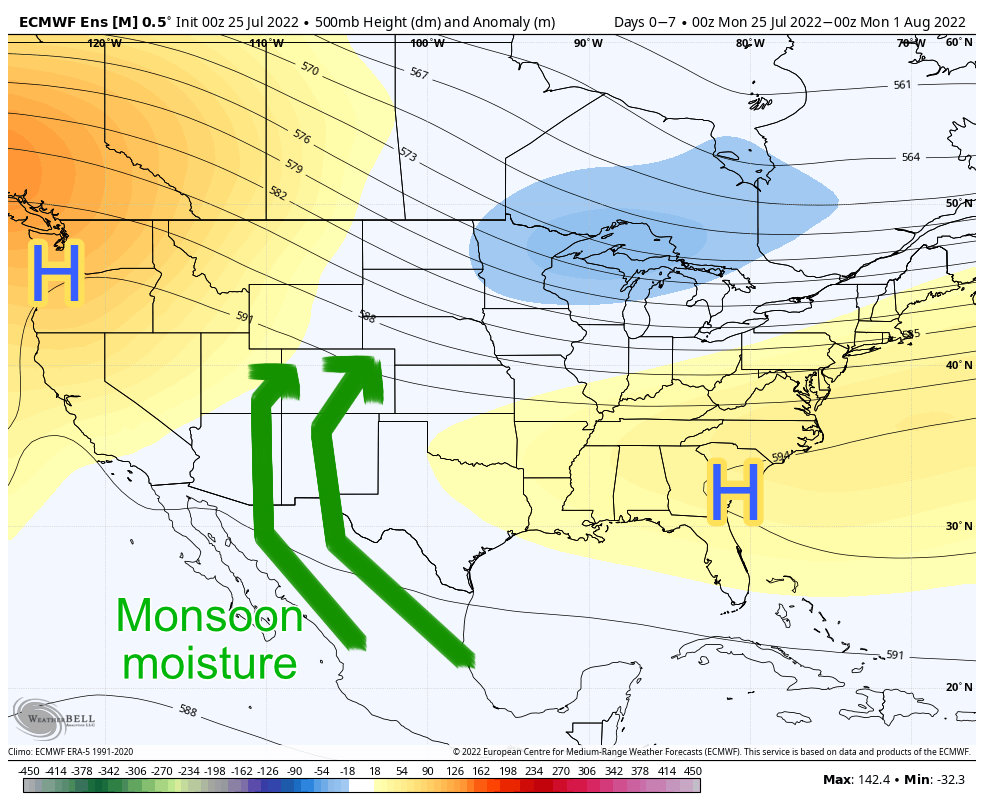 While this particular product doesn't show us exactly where the pressure centers set up, it is quite good at giving us an idea of which regions will see warmer and dryer conditions vs. cooler and wetter conditions. While Colorado won't be influenced by either feature too much this week, the positioning of the high pressures will help bring that moisture back into the state.
In fact, when we look at this same model's precipitation anomaly expectation for the week ahead, we can very clearly see the influence by monsoonal flow from the Southwest: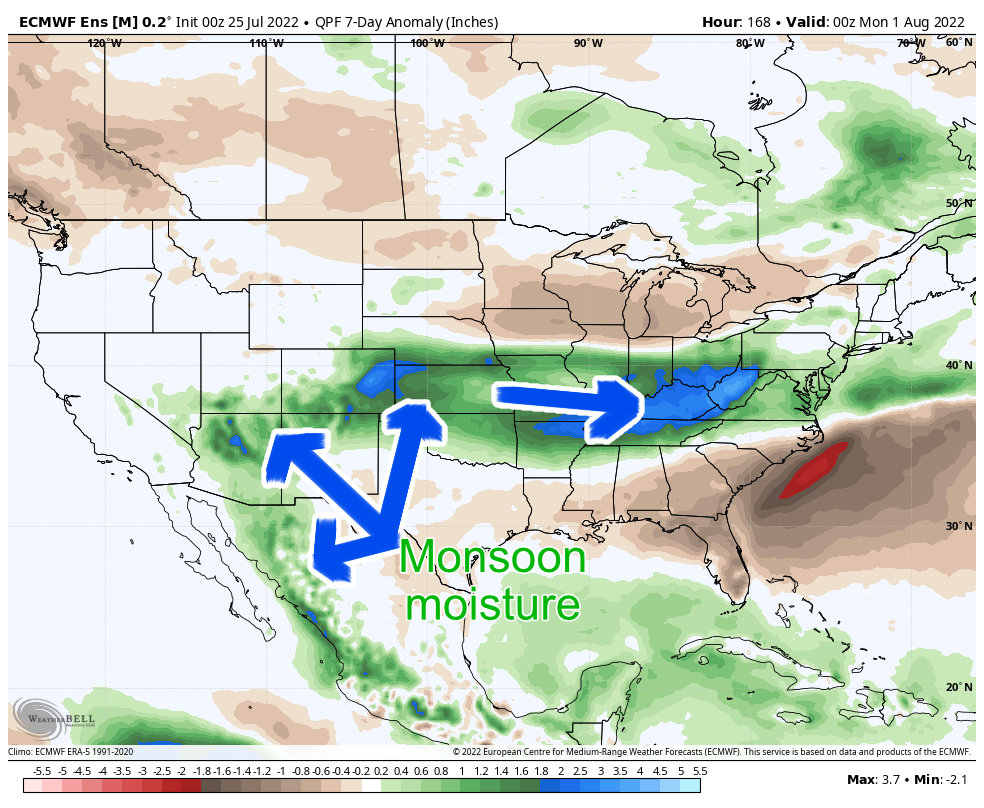 And if we zoom in a bit more and look at the Precipitable Water Values for Colorado, Utah, Arizona and New Mexico, the picture just reinforces what we've been talking about: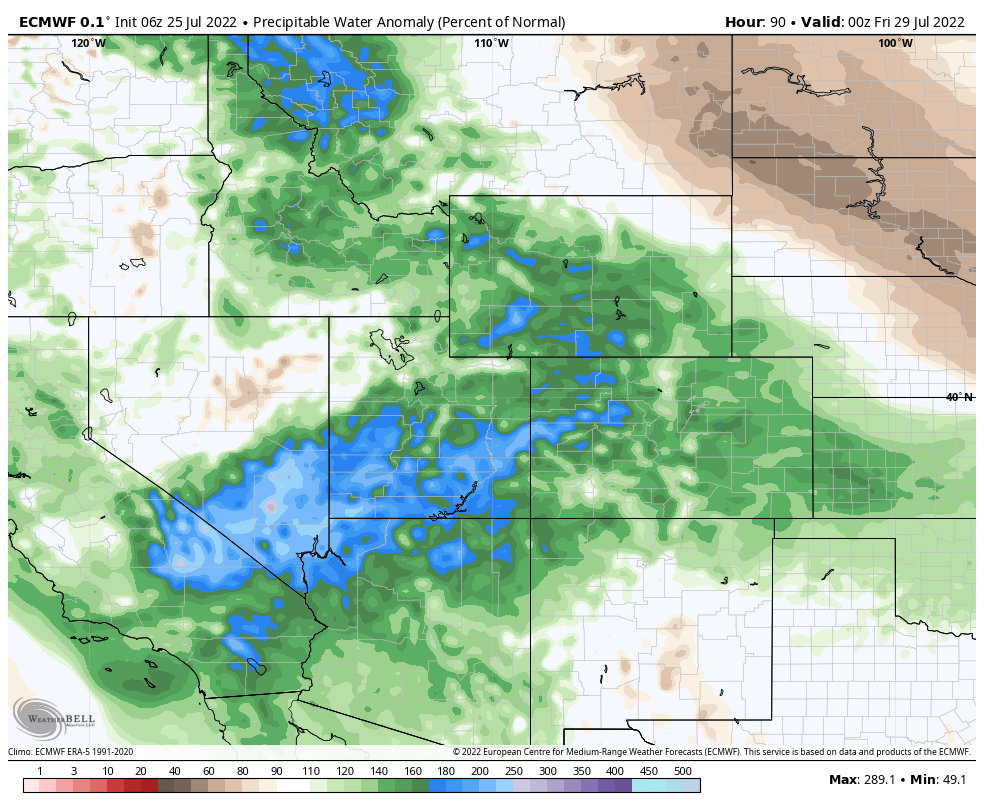 What is this all pointing to?
Cooler temperatures this week (it will still be hot, but more reasonable than the 100's and record setting heat we've seen
Better chances for storms, especially later in the week
As with any monsoon type setup; some storms have the potential for heavy rain
---
Castle Rock/ Palmer Divide Forecast
You'll see the themes for the setup we discussed this week reflected in the forecast below. This particular forecast is for Castle Rock and closely surrounding areas, so as always... add or subtract a couple of degrees based on your elevation.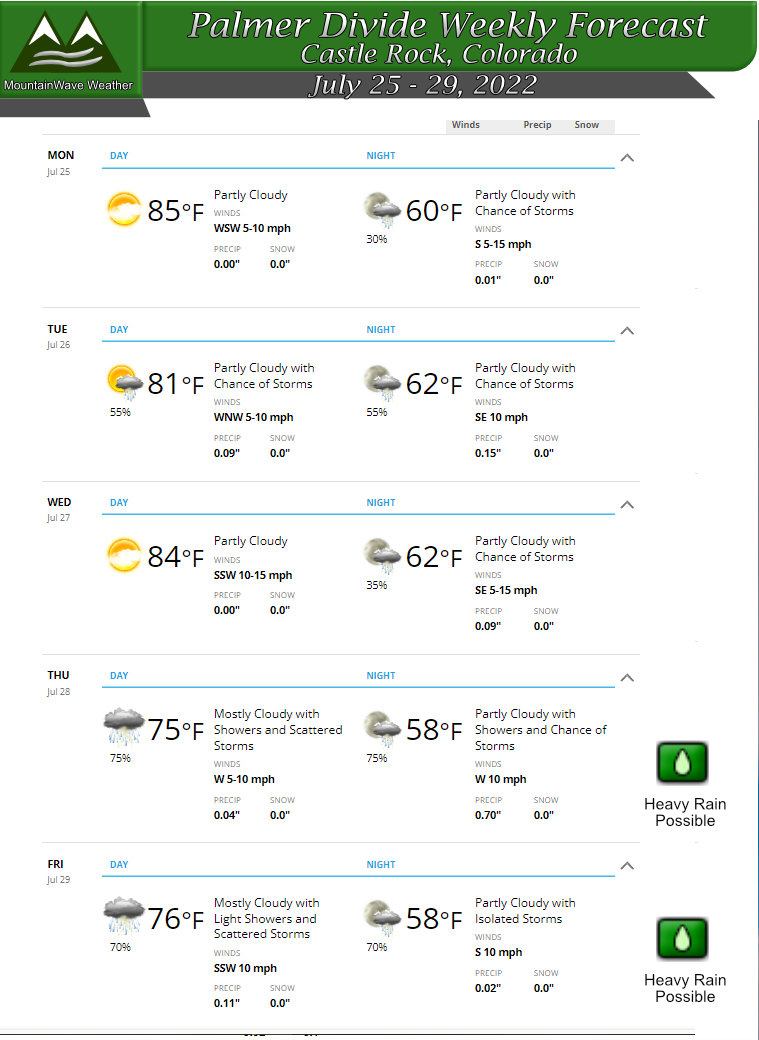 You can see temperatures will moderate this week with highs mainly in the mid to low 80's across the region. Monday through Wednesday will have chances for storms but the coverage will be lower so not everyone will see rain.
As we move to the end of the week, we see better chances of rain and thunderstorms with a lot of the fuel/moisture returning from the Southwest monsoon. Keep an eye out for the potential for heavy rain with some of those storms on Thursday and Friday!
---
Summary
Nice to finally have a weather pattern shift isn't it? We may see additional chances for storms and rain into the weekend and early next week so any rain we can get will be very welcomed! For this week, enjoy the cooler temperatures and hopefully we convert on as many chances of rain as possible!