Despite Saturday's calm demeanor, there's actually some weather changes to (finally) talk about and some of those will start Saturday afternoon! Here's what to expect.
Saturday Heat and Cold Front!
Saturday will start very hot as most areas in and around Denver along with the plains will flirt with 100 degree plus temperatures. Temperatures like this are very warm and very much above average, but not sure we set a ton of records today... after all July is a pretty hot month anyways and our daily high temperature records are a bit higher than what we see coming today.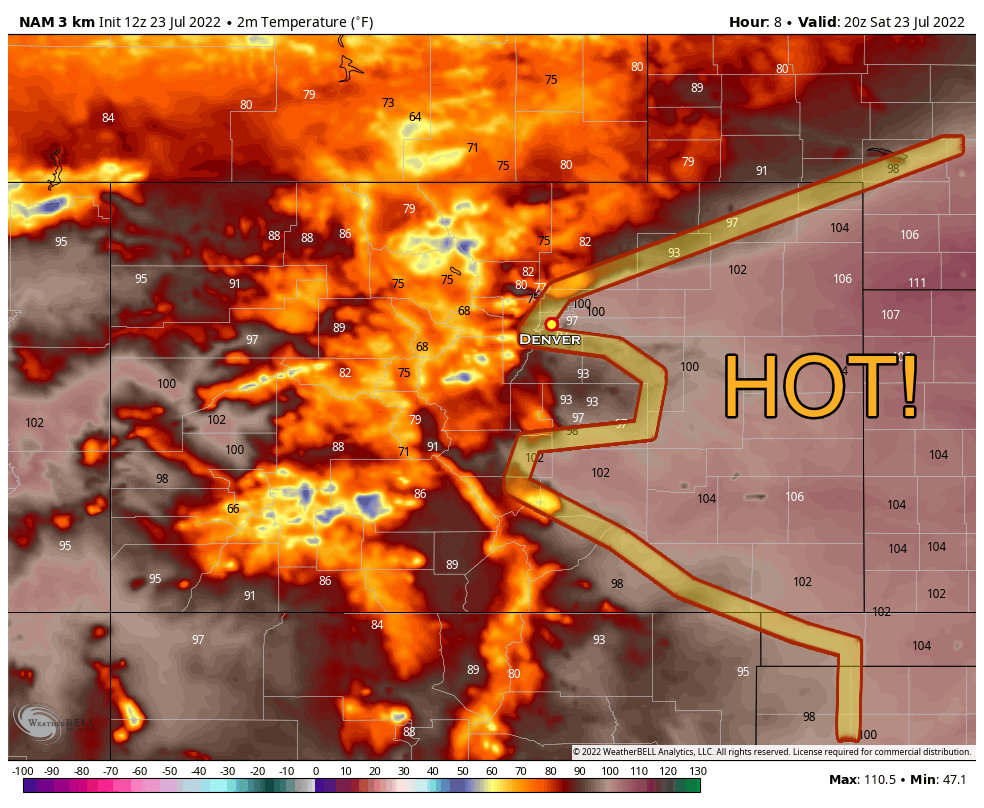 Temperatures along the higher elevations of the Palmer Divide should settle right in the middle 90's. Notice the significantly cooler temperatures to our North into Wyoming however... that cooler air will make its way South through the day.
Watch what happens when we get into the evening hours on Saturday...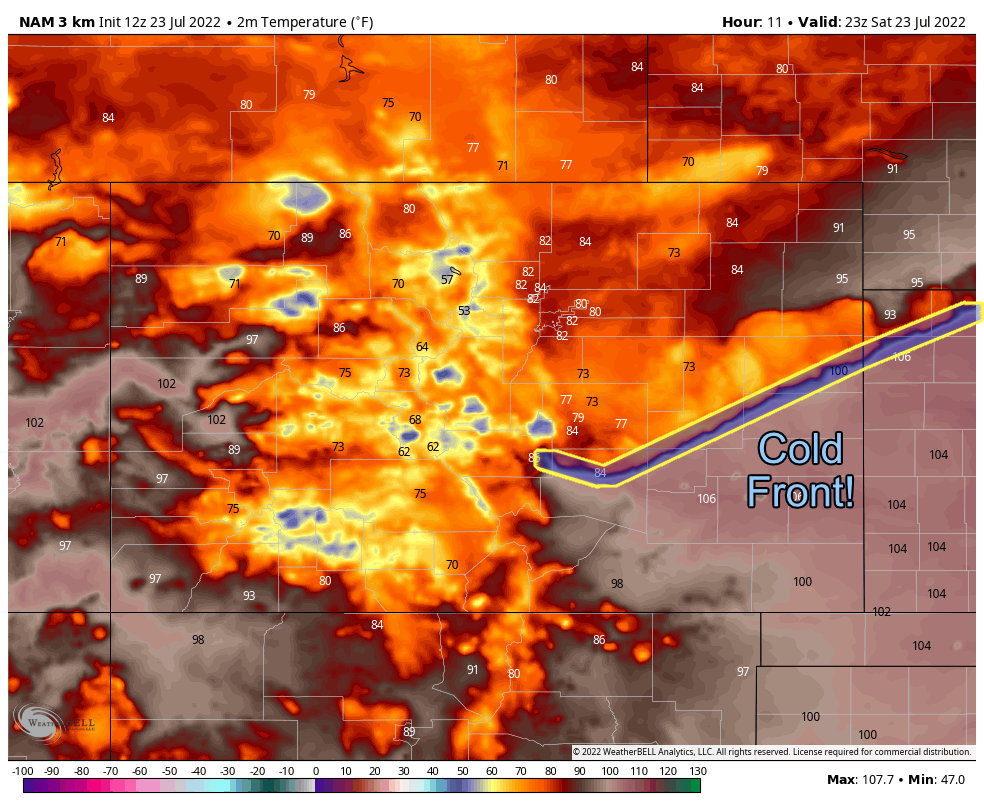 As the cold front finally makes it through Colorado, we should see a significant drop in temperatures. Exact timing is hard to peg just on models alone, but we expect this to happen sometime between 3-7PM. When it does you'll know as the temperatures will drop sharply, winds will kick up and even some gusty thunderstorms will be possible along the leading edge of the front.
Strong Winds and Storms Possible on Saturday with the Cold Front
Keep an eye out for strong winds with the front, this could create some visibility issues from blowing dust. After the leading edge of the front moves across your area, the winds should die down a bit after that, but may still be a bit breezy in some areas.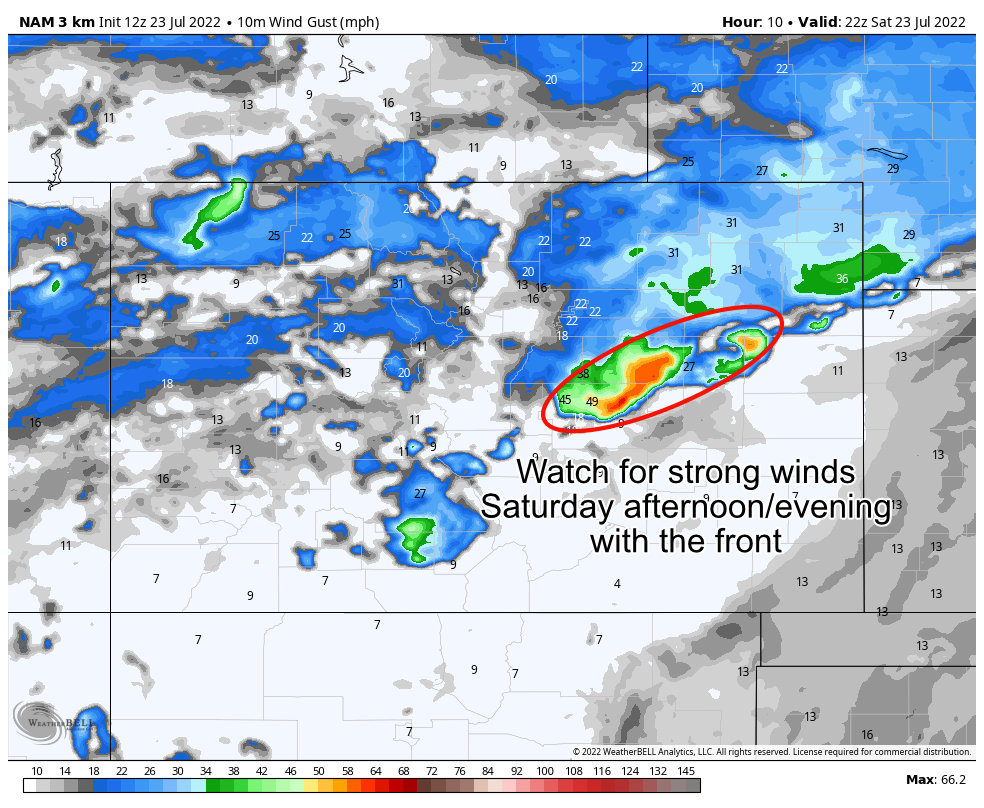 Wind gusts may reach 40-50mph along the leading edge of the front, so have things put away or tied down and be prepared for that!
In terms of thunderstorms, they will be possible with the front as well as the lift and additional moisture should help with those a bit. I don't see a ton of widespread thunderstorm activity for Saturday... but Sunday will be another story.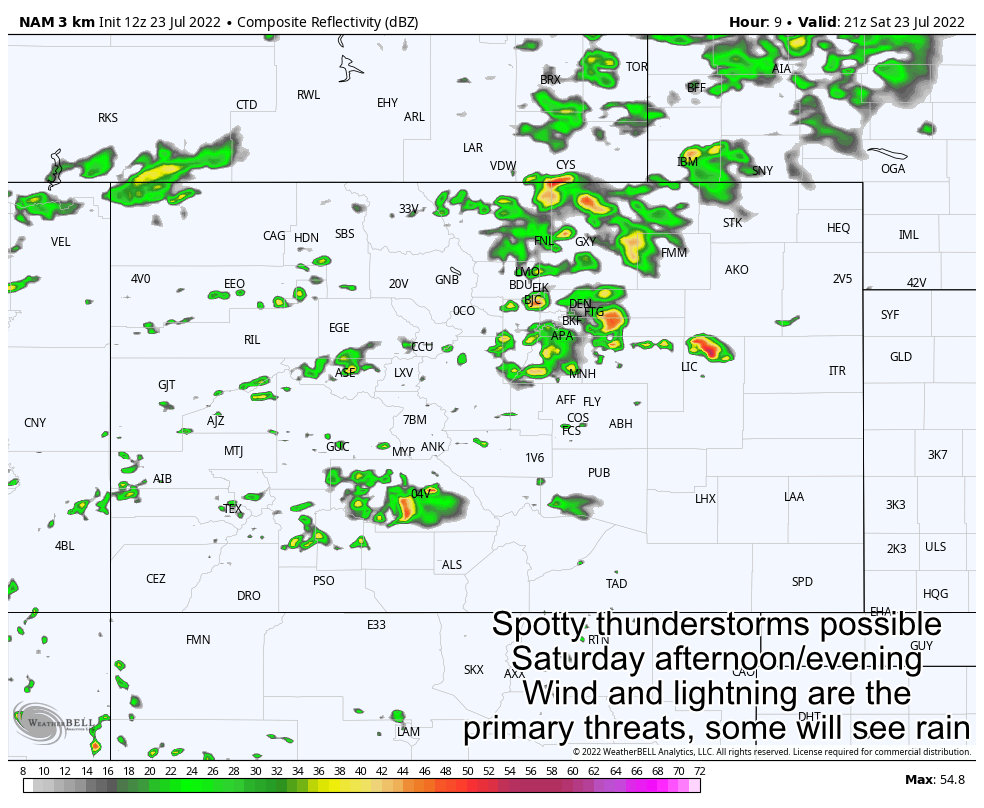 Just like I discussed with the winds above, be prepared this afternoon to move indoors if you see lightning and hear thunder.
---
Breaking the Heatwave!
Looking at the weekend (Castle Rock forecast below) you can see we cool down significantly for a couple of days after this front rolls through. Even when we turn the heat back up later into the next week, temperatures will be seasonal and not oppressively hot. Let's enjoy it while we can!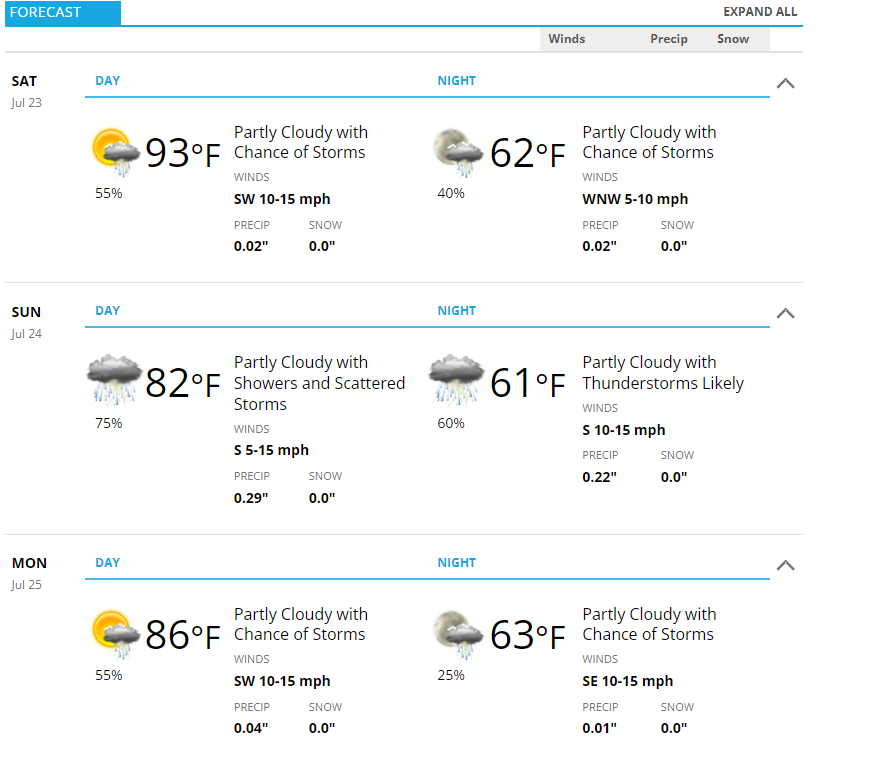 Monsoon Coming Back to Colorado?
It looks like this front and the associated weather pattern change is due to our ridge of high pressure retreating to the West and North a bit this week. This should allow our conveyor-belt of monsoonal moisture to sneak back into Colorado over the coming days. This means a better chance for thunderstorms and storms with a higher likelihood of producing heavy rain.
The Euro ensemble shows this pretty clearly with its 5 day precip anomaly...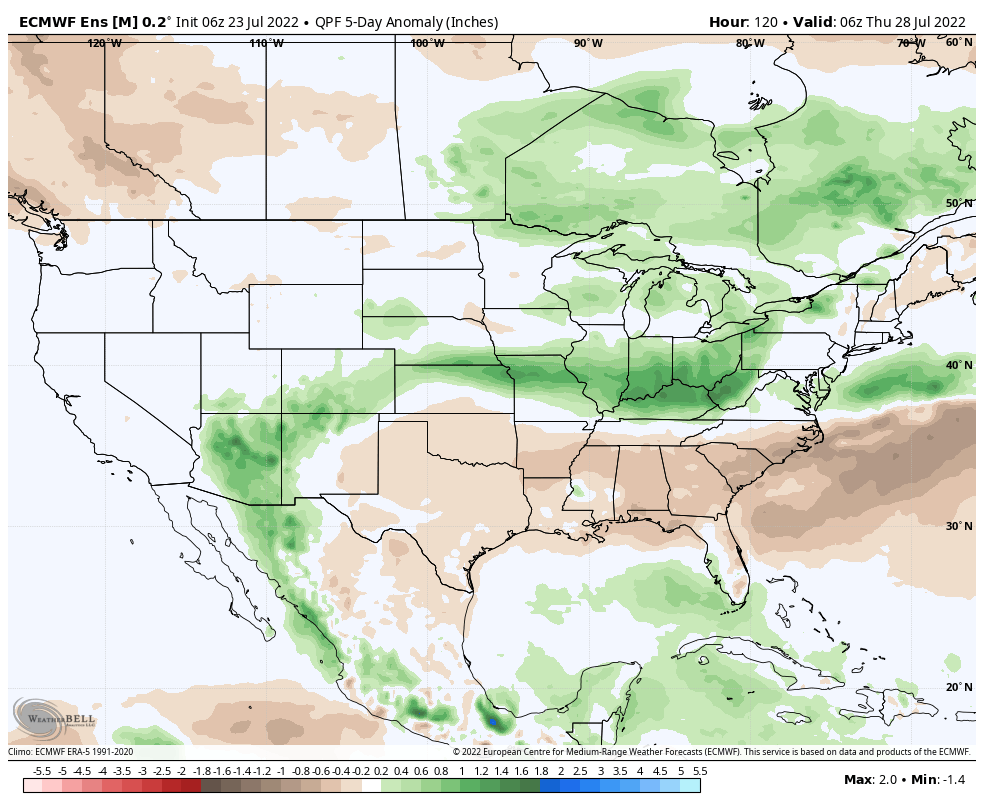 Before we get too excited though, we have to keep in mind the actual amount of precipitation is not what I would call a "soaker" but every little bit helps at this point.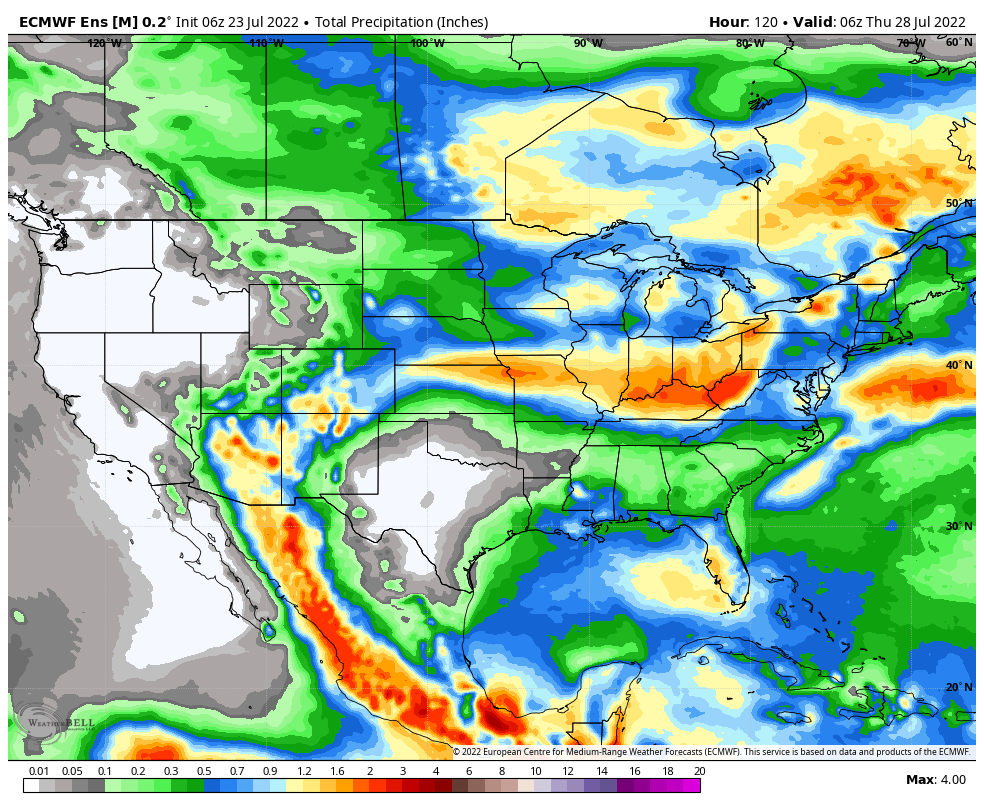 Favored areas (could see 1 to 2 inches):
Southern Colorado
Southwestern Colorado Mountains
Areas that see some precipitation (0.5 to 1 inch *spotty*):
Palmer Divide
Front Range Foothills
Some parts of Eastern Colorado
Areas least favored (0.1 to 0.5 *spotty*):
Denver metro area
Norther urban corridor (Fort Collins, Loveland, etc...)
Northeastern Colorado plains
---
Summary
The weather pattern is shifting a bit for us this week so a couple of things to keep an eye on:
Still warm, but seasonal
Increased chances for thunderstorms
Some of those thunderstorms may product locally heavy rainfall (burn scar areas and downstream should be on high alert for flooding this week)
Daily afternoon thunderstorms help moderate temperatures into the evening
I'll have more details throughout the week on any severe weather/flooding concerns... for now enjoy the weekend!