Another storm moving right in after our last and snow and wind are back in the forecast.. for some. The rest will see a shot at thunderstorms on Thursday afternoon and mainly rain. Higher elevations will see rain changing to snow with some accumulation, but overall not a ton of snow out of this one.
Here's all the details as of this morning:
---
Current Weather Highlights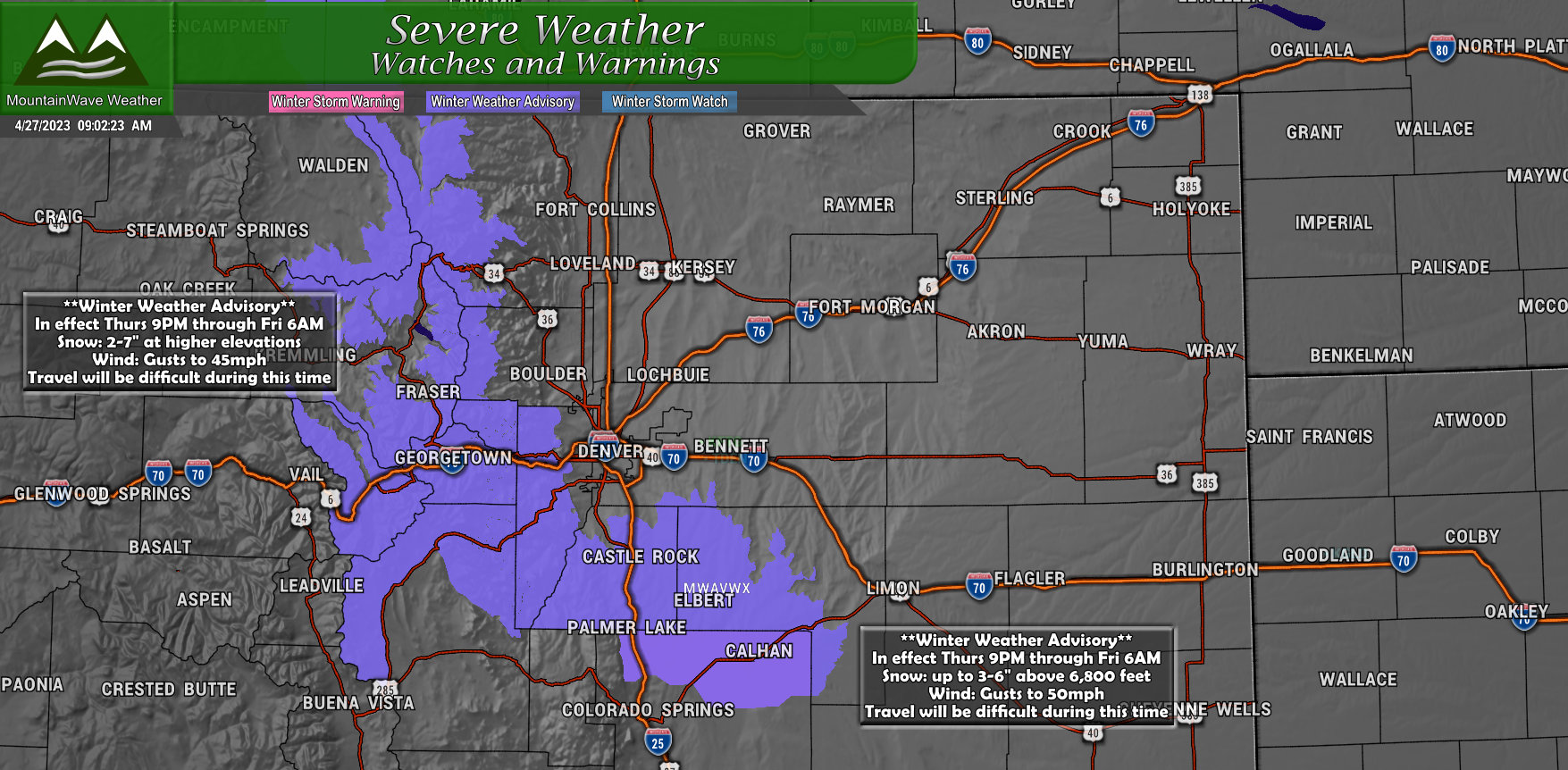 The National Weather Service has issued a couple of Winter Weather Advisories ahead of our next storm system, here's the details for the Advisory along the Palmer Divide:
Winter Weather Advisory
* WHAT...Snow expected. Total snow accumulations between 3 and 6 inches with highest amounts above 6500 feet. Winds gusting as high as 50 mph with poor visibility in blowing snow.
* WHERE...Palmer Divide locations above 6,000 feet in elevation
* WHEN...From 9 PM this evening to 6 AM MDT Friday.
* IMPACTS...Roads will likely become slick and hazardous. Snow and blowing snow may reduce visibility to a quarter mile or less.
---
Storm Analysis - More Cold Air and Wind With This Storm
Colder Temperatures... at least for Higher Elevations
Unlike the last storm, this one actually has a bit more cold air support moving through in the form of a strong cold front. This feature is expected to move through Thursday afternoon and into the evening - ahead of the front we will see strong/gusty winds with blowing dust... behind it the temperatures drop and we will have enough lift and energy to kick off the expected snow showers.
I still think areas below about 6,000 feet in elevation say too warm for much snow accumulation, but locations above 6,000 feet will be a few degrees colder than they were with the past storm. As long as everything else plays ball... we should see a bit of snow accumulation. That being said, I don't see much to write home about with snow totals overall across much of Eastern Colorado and along the Palmer Divide.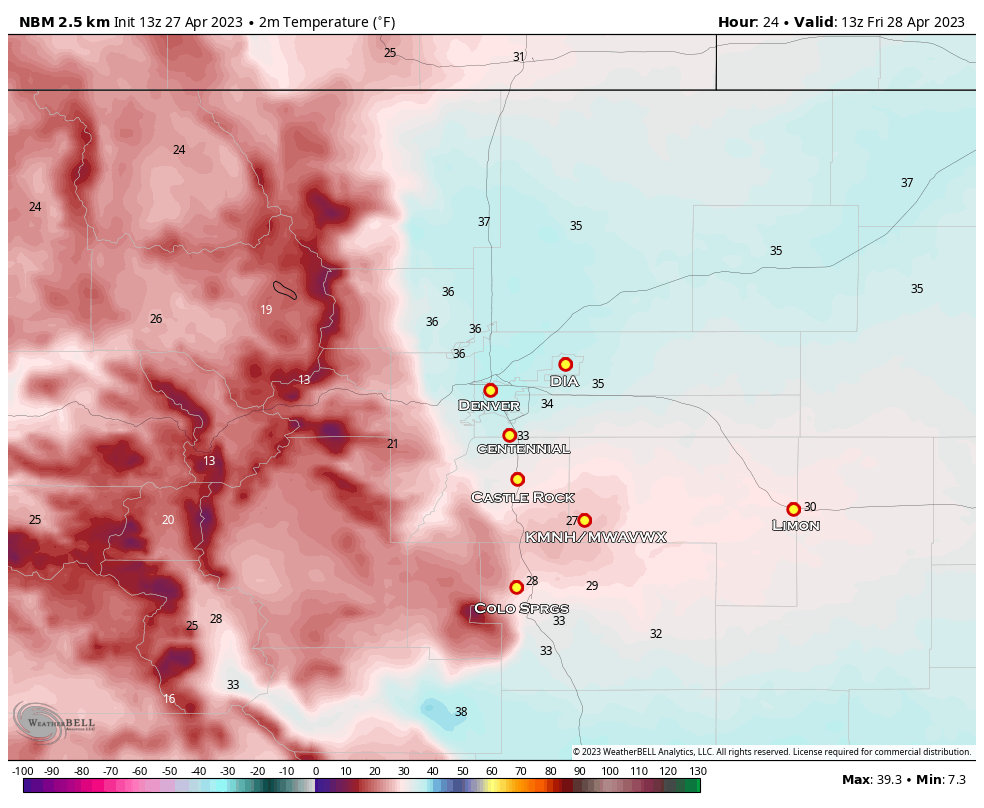 NBM product above shows temperatures around 7AM on Friday morning. Notice the cooler temperatures are mainly confined to the higher locations of the Palmer Divide.
You Will See More Wind with this Storm
A very quick note about the wind, you'll notice ahead of and after the cold front. Here's a shot of wind gusts expected around 9PM - you'll see a lot of areas in the 30-40mph range with some localized areas seeing 50mph gusts. Keep this in mind, you may want to tie down any lightweight or lose items so they aren't blowing around.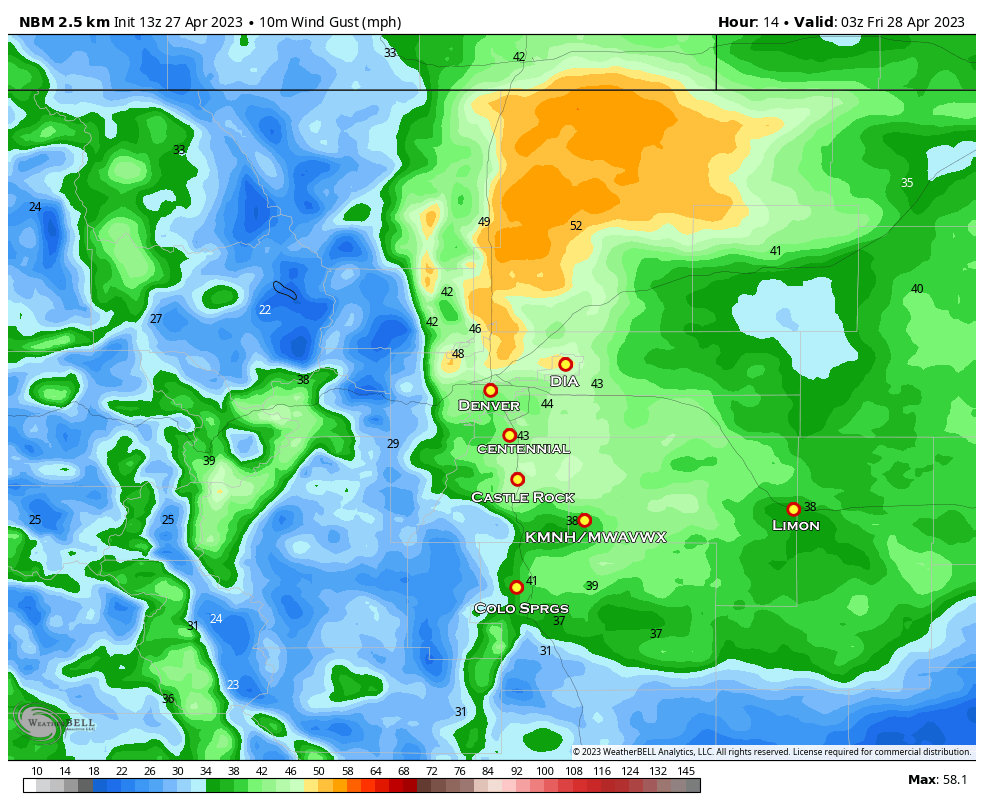 Widely Scattered Severe Storms Possible
Not much to get excited about, but there is a Marginal Risk of severe weather for mainly Northern and Northeastern Colorado. This is likely due to the lift and energy associated with the cold front. The cooling of the air aloft will help destabilize things enough so that a few random pop-up thunderstorms may occur and a few of those could be severe. Looks like primary threats are strong winds and lightning... not seeing much of a severe hail threat - but small hail is possible with these storms.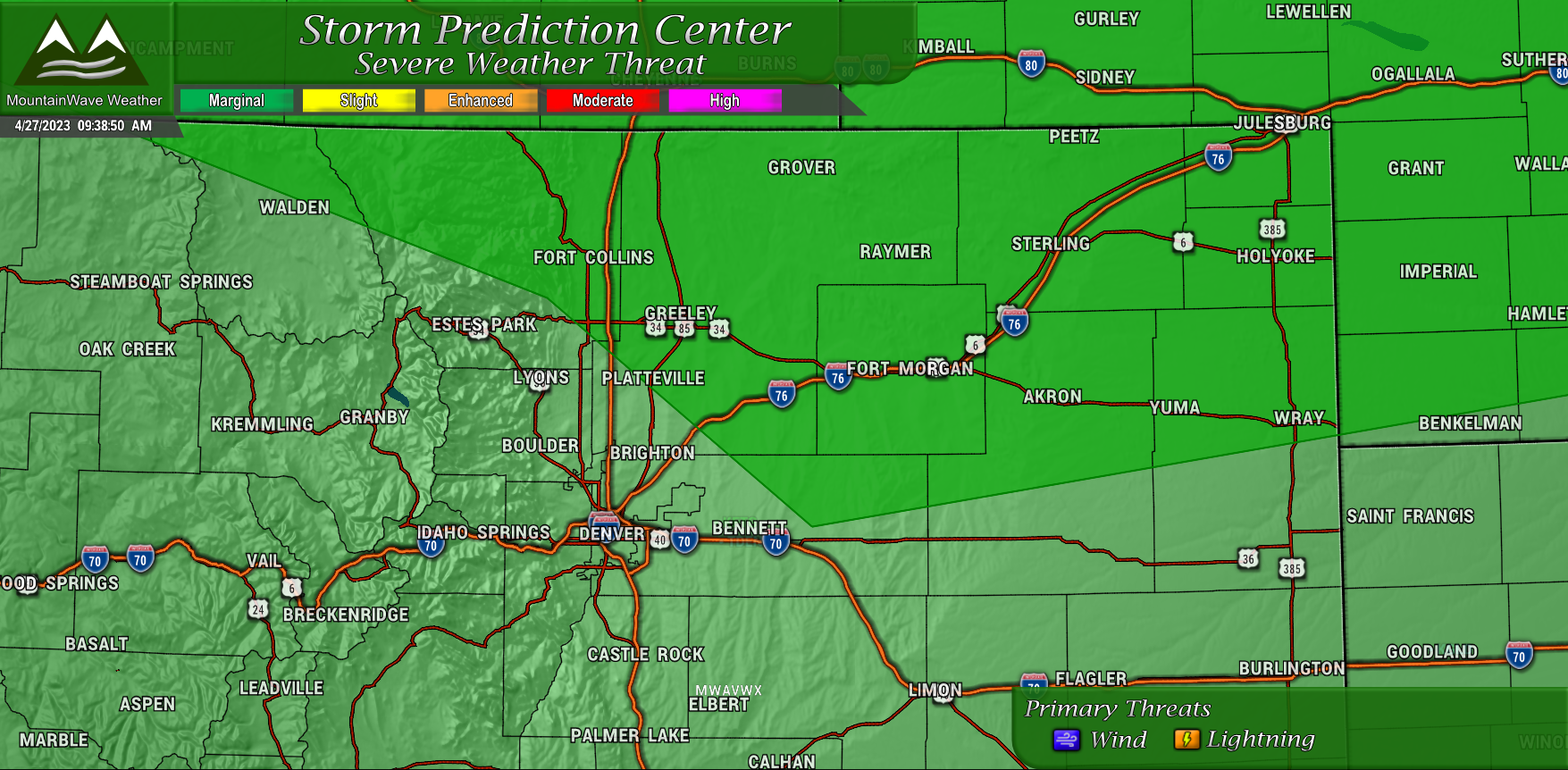 ---
Snowfall Forecast
Palmer Divide
Just like our last storm, the snowfall forecast with this one is tricky due to temperatures and elevation being a couple of primary factors. Again your elevation and how much cold air support we get will make a huge difference with this storm. As mentioned above, while this storm has a bit less moisture and energy than our last, it does have more of the traditional "cold front" that moves through and drops temperatures more than our last storm.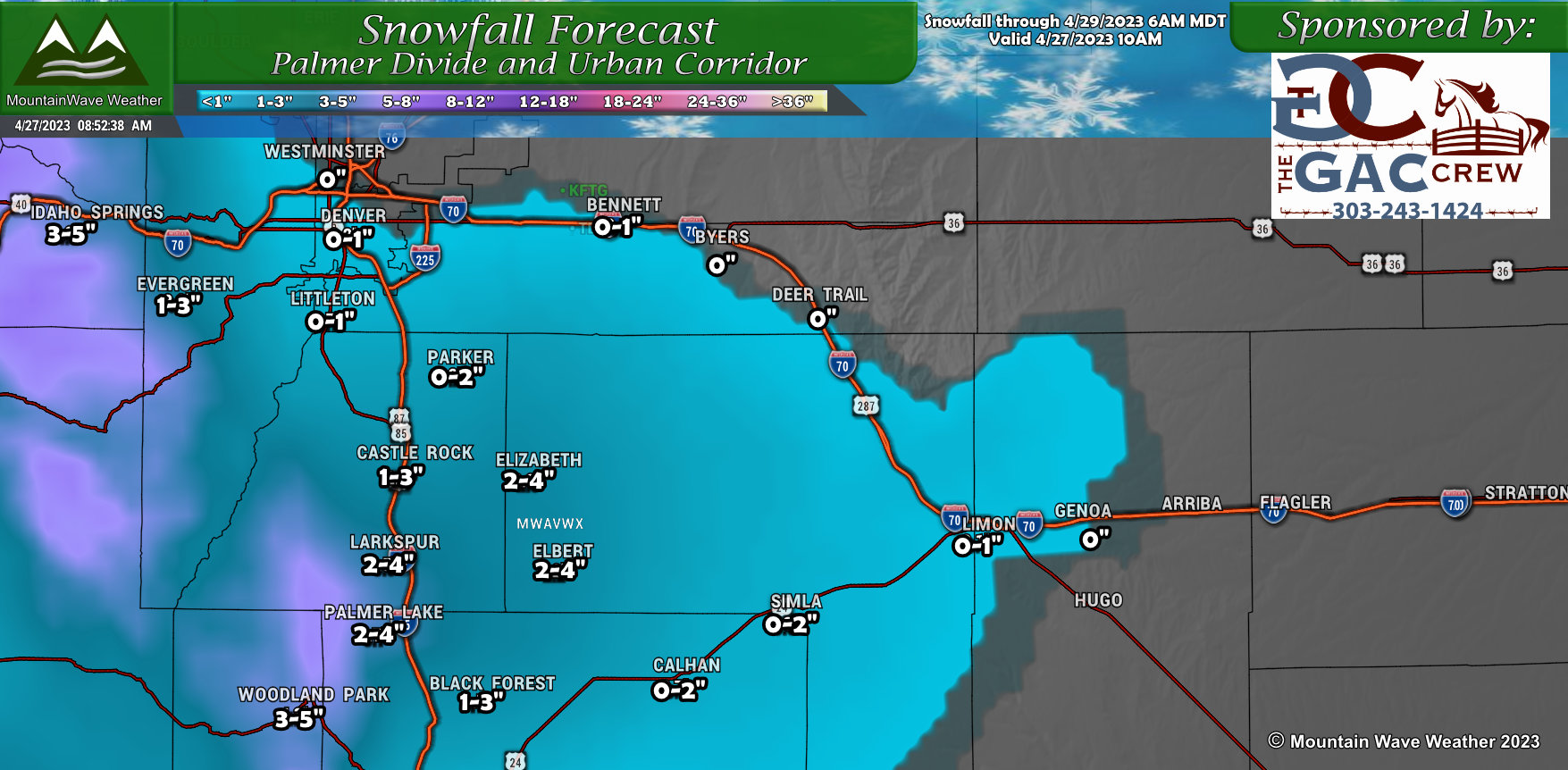 For the Palmer Divide, this transfers to a slightly better chance of snowfall accumulating, but you'll notice the amounts stay fairly light overall across the region.
Colorado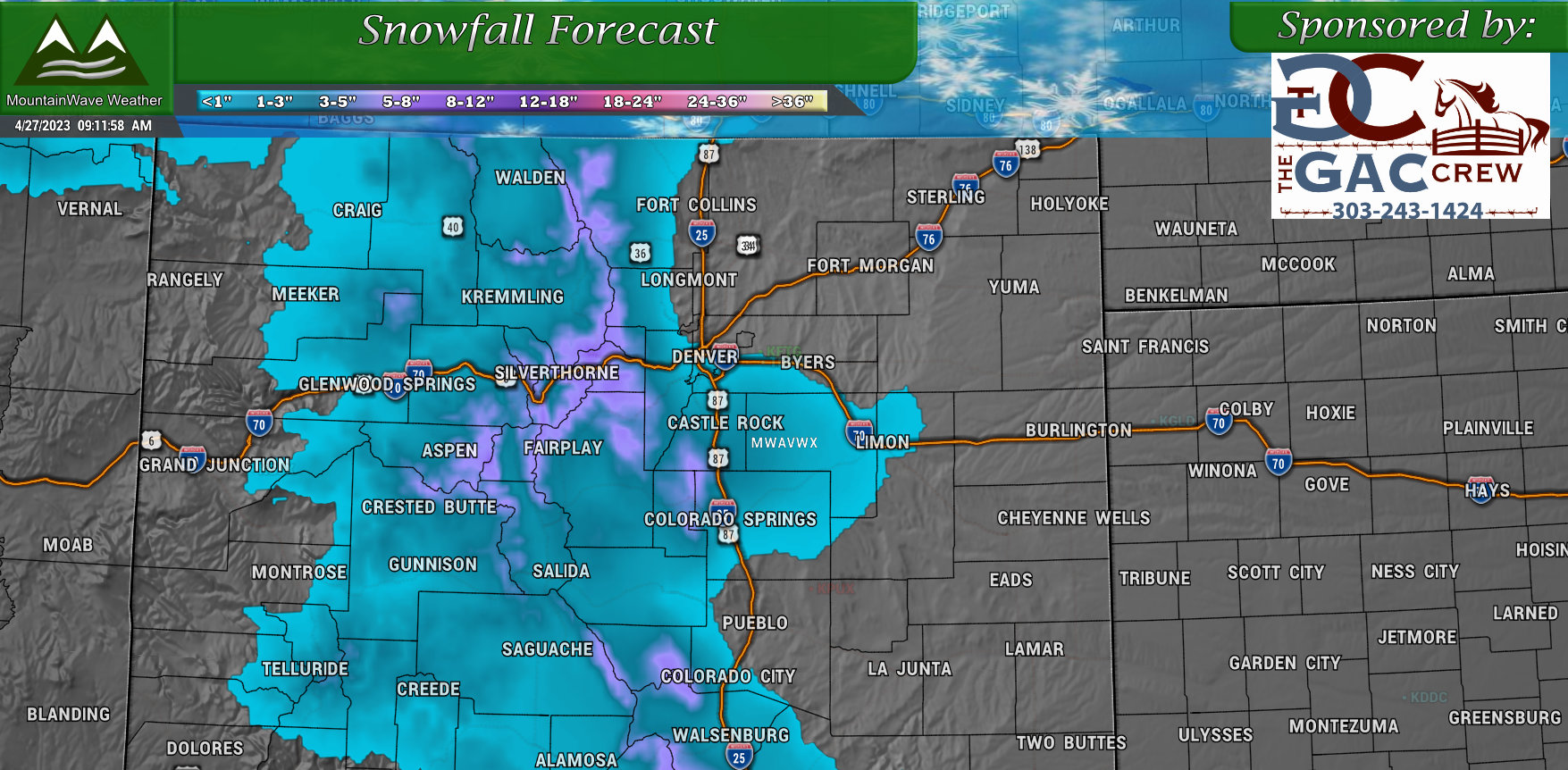 ---
Timing and Impacts
Travel and impacts should be impacted a bit this evening and into the morning, but we are not expecting anything too major. Travel impacts will be limited likely to some slick/slushy spots on the road that might amount to a headache or two - or an inconvenience. Overall all through, travel across the Palmer Divide should be impacted in a limited fashion.
Just like last time, the I-25 corridor from South of Castle Rock, over Monument Hill and down towards Monument are most likely to see any travel related impacts. Areas outside of that... mainly will depend on elevation.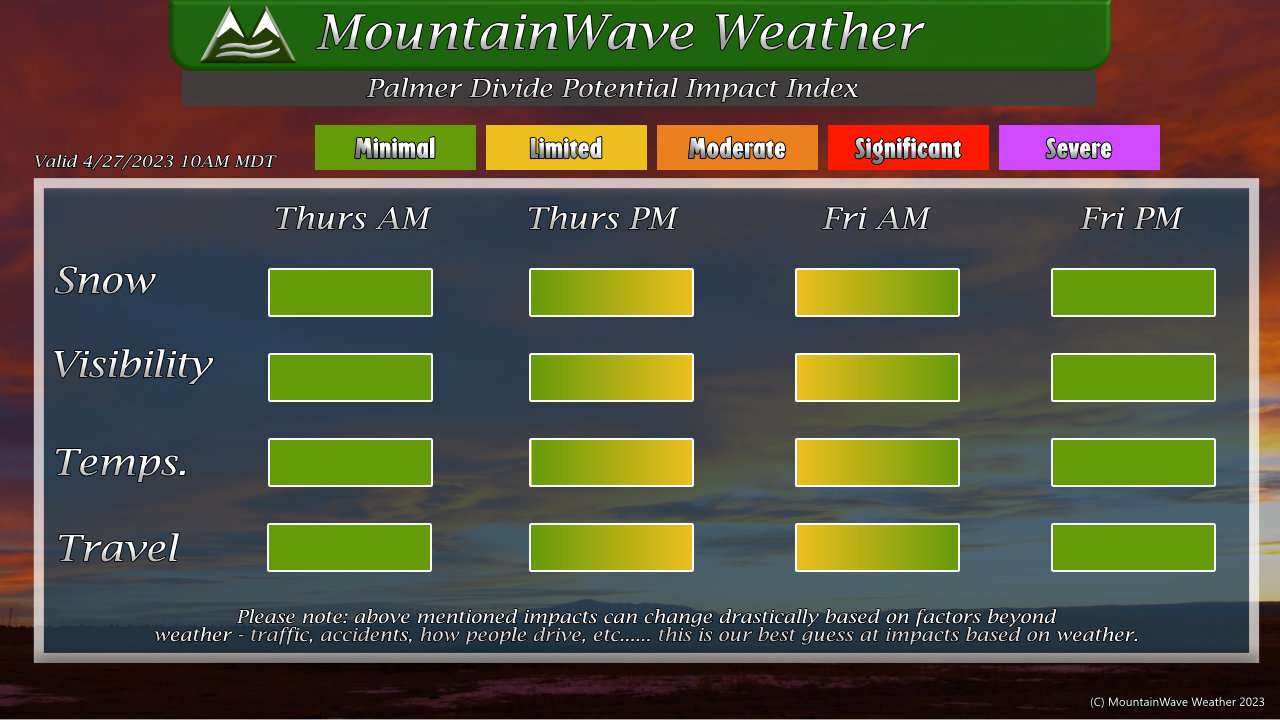 Here's the latest Winter Storm Severity data to help show what areas may see a bit more impact and which areas may see less: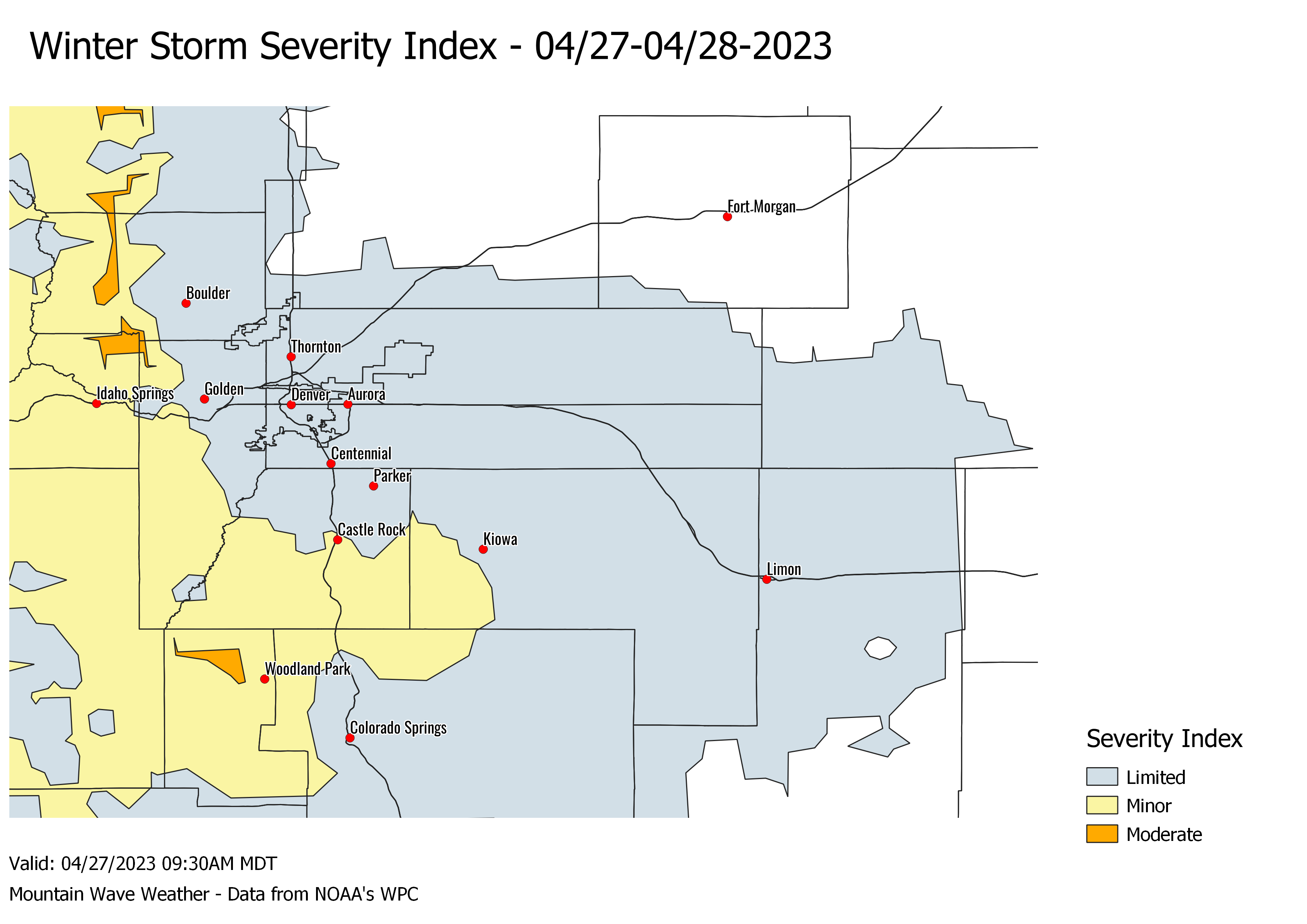 ---
Summary
Another day another storm, we continue our wet and unsettled spring for just a bit longer. The good news is that the weekend looks pretty nice for the most part but we may see another occasional storm system drift through in the next 7-10 days. There is some data that suggests that we may see less snow and possible be kicking off thunderstorm season next week.
I'll keep track of that and pass along any updates if needed.