Today, we will turn the thermostat back up a bit with many areas across the Palmer Divide flirting with 90 degrees and many lower elevations in and around Denver exceeding 90. Today will be in a lot of ways like yesterday from a weather perspective; dewpoints will be high, heating will be sufficient and we will eventually see enough lift to kick off another round of thunderstorms.
Castle Rock Forecast

---
Severe Weather Threat
The primary severe weather threat from a hail/tornado standpoint has shifted a bit further East today as opposed to yesterday. We will be watching the SPC outlook update around 11AM to see if that shifts further back towards the West, but here it is as of this morning: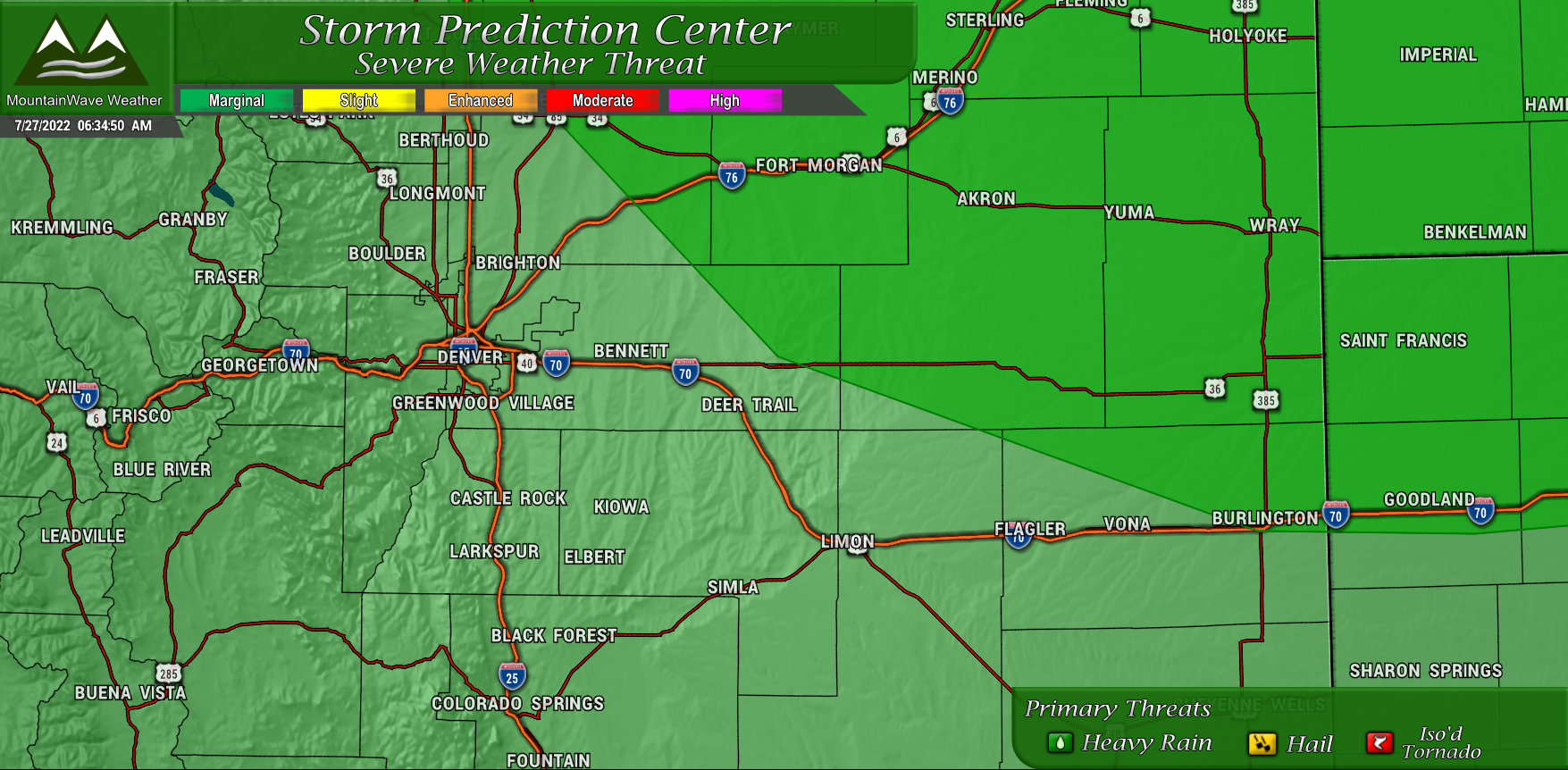 The Marginal Risk area mainly encompasses Northeastern and Eastern Colorado, this is similar to where we saw the larger thunderstorms yesterday. Elsewhere there is a general thunderstorm threat across much of the remaining part of Colorado.
Primary threats are:
Tornadoes (mainly East)
Larger hail (mainly East)
Small hail (towards the West)
Heavy rain and localized flooding (all areas)
---
Timing/Locations
Modeling suggests that like last night, we should expect a later show out of this one. Many models don't have more widespread coverage of storms kicking off until after 8PM so that should remind many of last night.
You know, we'd love to tell you exactly if and when a storm hits your specific address, but that's not possible with today's forecast (I bring it up because people keep asking.) For tonight expect about a 40-50% chance of seeing a storm at or near your area. Like last night, not everyone sees a storm and not everyone sees rain, storm coverage will still be spotty.
Expect storms to start (spotty in nature) by the late evening hours and continuing into the early overnight hours. To be safe, I'd have a plan if you have any outdoor activities after around 5PM. Storms can surprise us sometimes and fire early, so keep that in mind for earlier in the day too!
Everything is going according to plan this week, you can catch our weekly update forecast here: https://mountainwaveweather.com/this-weeks-weather-more-monsoon-please-07-25-2022/ - 
it may be a great sneak peak to what we expect for the rest of the week!