This week we will see more spring-like temperatures but little moisture to talk about. This means that while our vegetation is starting to green up a bit, it is also starting to dry out very early this year. The week ahead will feature strong winds, fairly decent temperatures (not terribly hot or cold except for maybe a hot day on Wednesday) and low humidity/dry conditions. As such, there's several weather alerts we need to talk about (mainly around wind and fire danger) and I'll describe a bit about the weather pattern we will be stuck in this week!
---
Weather Alerts - Monday 5/9/2022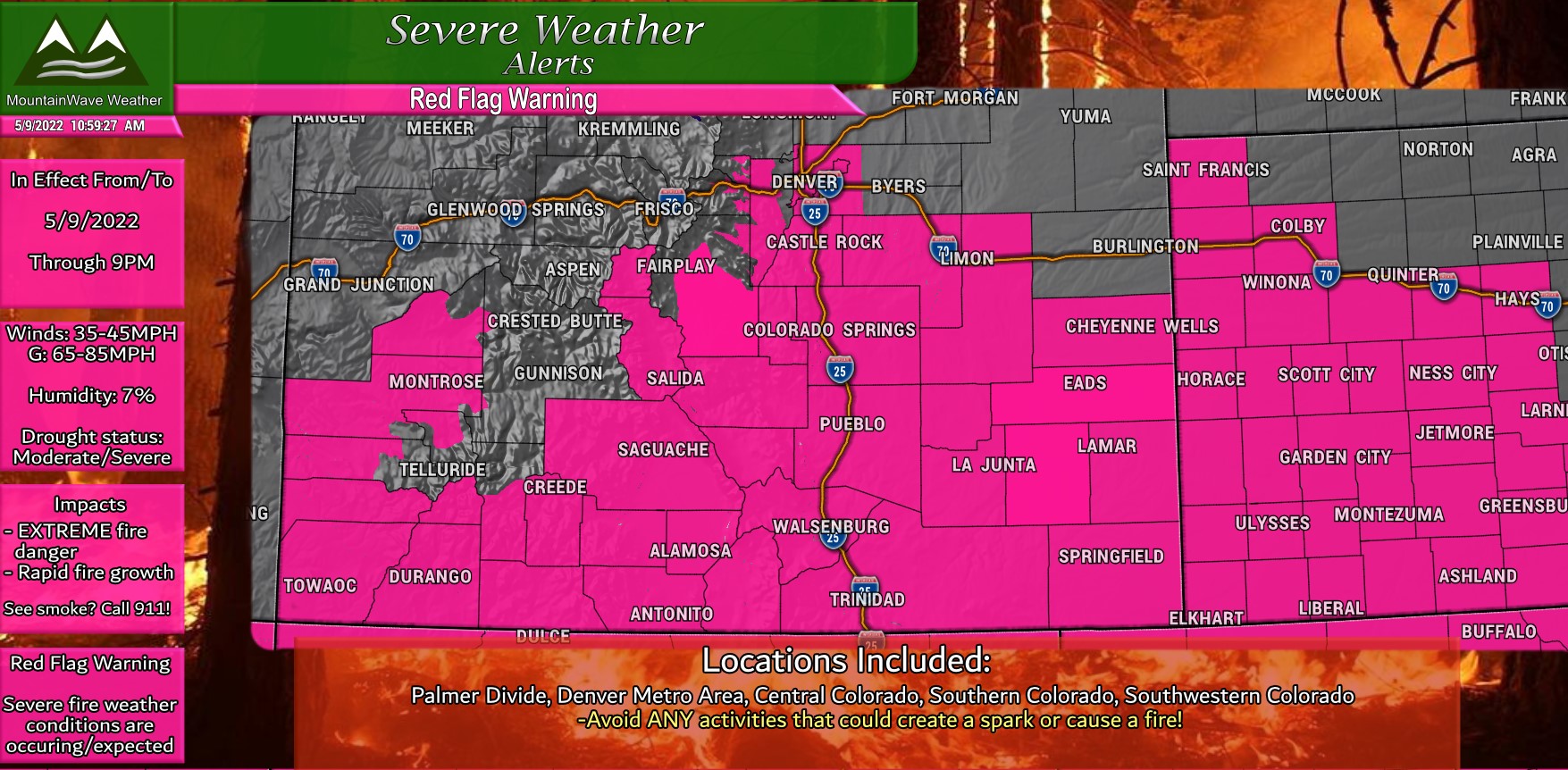 ***Red Flag Warning***
In effect today (5/9/2022) through 9PM
-Winds sustained from 35-45mph
-Gusts up to 70mph along the plains, some mountain locations could see gusts up to 80mph
-Extremely dry conditions, humidity as low as 7%
Any fires that start will grow rapidly out of control and will be very difficult to contain. Refrain from any burning or activities that could create a spark. Call 911 immediately to report smoke!
***High Wind Warning***
In effect today (5/9/2022) through 12PM
-Wind gusts in excess of 70mph are possible
-Damaging winds will blow down trees and power lines.
-Widespread power outages are possible.
-Travel will be difficult, especially for high profile vehicles.
A Fire Weather Watch is also in effect for Tuesday 5/10/2022 for the Palmer Divide and parts of Eastern Colorado.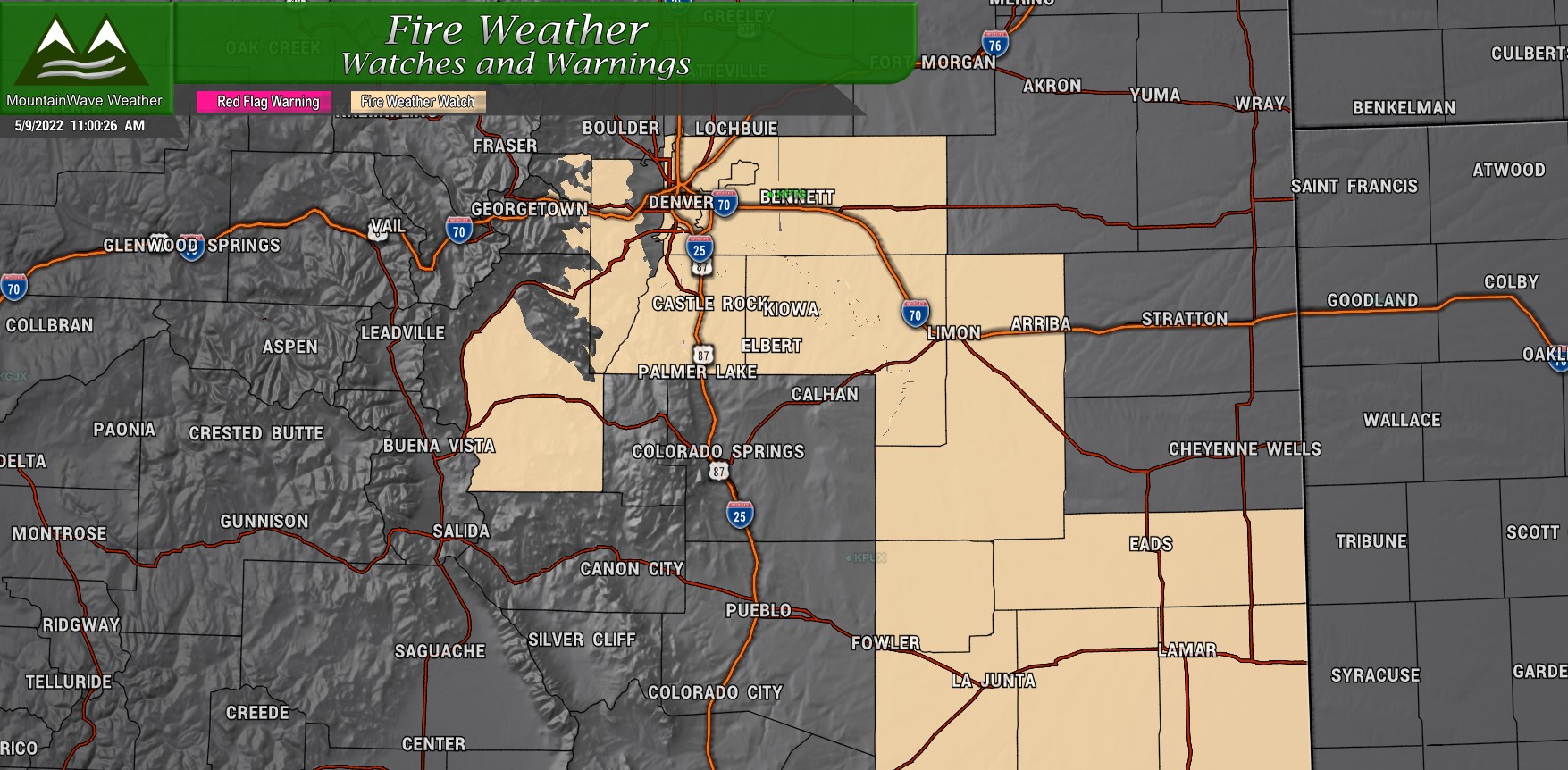 ---
This Week's Forecast
The only thing really mentionable about this week's weather forecast will be the continuation of dry conditions combined with windy days and high fire danger. I don't really see that changing at all this week so be prepared if you are out and about and as always, have a fire evac plan ready to put into action this week - just in case!
Temperatures will be a bit warmer than average for this time of year during the day and nighttime temperatures will be much above average.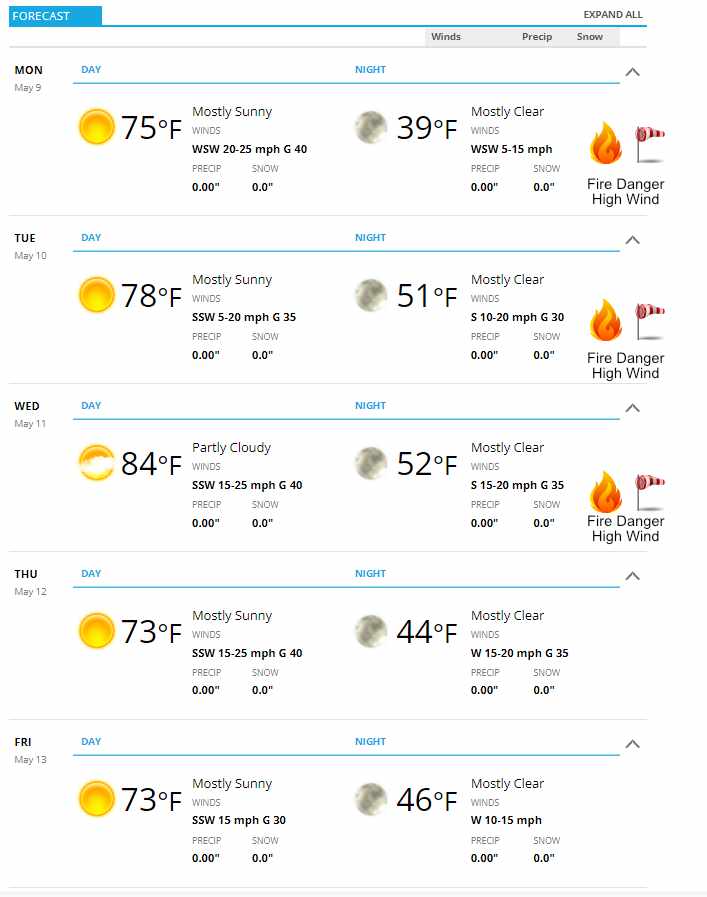 ---
The Weather Pattern
The overall pattern this week will be similar to what we've seen nearly all spring and is a bit contributor to our dry conditions and the wind we've seen. An "Omega block" has set up across the U.S. which means areas West and East see cooler and unsettled conditions while areas under the large ridge of high pressure across the interior of the country will see calmer weather and for some areas potentially record setting heat.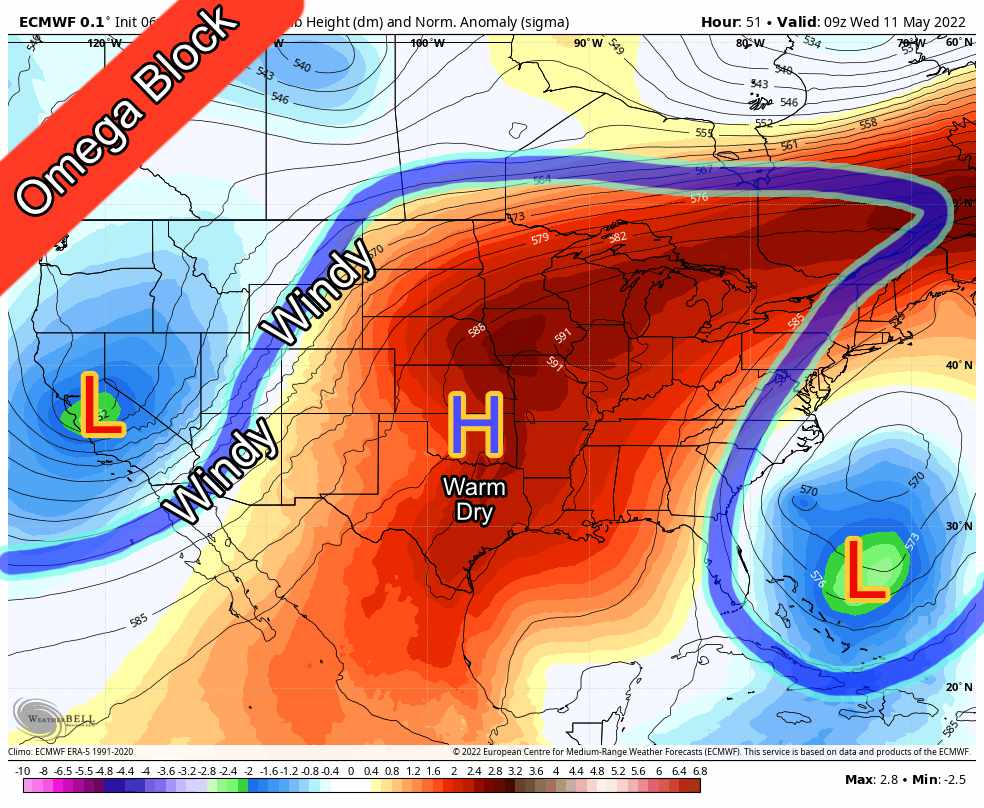 For Colorado, we will be on the edge of the high pressure ridge, with low pressure to our west. This creates a strong pressure gradient across the state which means we will ride along in the windiest part of this pattern setup. Not a whole lot different from what we've experienced so far this year.
Do we see this pattern changing anytime soon? Yes! By the end of the week, the blocking pattern breaks down and the high pressure shifts Southwest... but low pressure builds once again across the plains to our North. This will set up a new pressure gradient once again, so it looks like that while the pattern does change, it may remain windy going well into the middle of May and possibly beyond.
If you are a site supporter, you can always see our 30 day outlook updated at the beginning of each month for an idea of what we think the longer range forecast looks like.
If you're not a site supporter... what are you waiting for? Join today!