Another powerful storm is set to move through over the next 48 hours and bring more beneficial moisture to the mountains, front range and Eastern Colorado. Many areas will see around or a little over an inch of liquid precipitation fall through Tuesday... and yes for some locations that could fall as snow!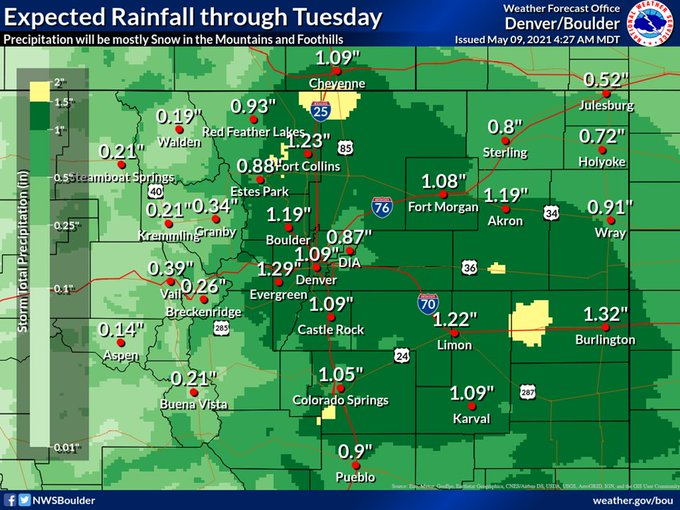 ---
Winter Weather Highlights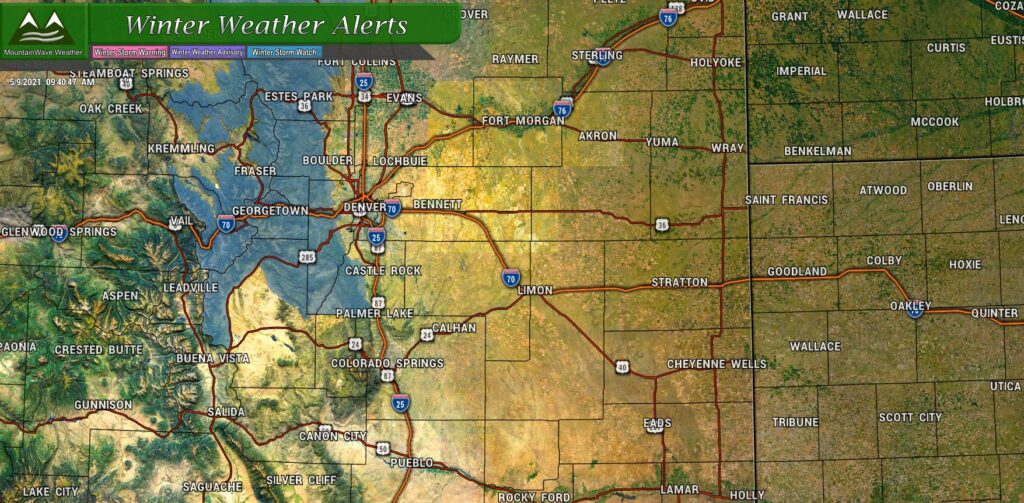 Winter Weather Alerts are up for the mountains and front range foothills. A Winter Storm Watch is in effect for the mountains and foothills West and North of Denver from Monday afternoon through Tuesday morning. A combination of heavy snow with accumulations ranging from 8-14 inches will make for difficult travel conditions during that time for those areas.
I don't really see a lot of highlights issued for areas along the front range for the most part. The ground will be too warm and a lot of melting will take place on the roadways. The only area I'd keep an eye on is the higher elevations of the Palmer Divide - should they see heavier snow and accumulation on roads, I wouldn't be surprised to see an advisory in that region at some point.
---
Snowfall Forecast
A tricky forecast again to say the least - the later we go into May the more models struggle resolving how these storms will pan out. For storms like this you have to just look at overall patterns between the models and take into account what they may be struggling with and what they may not be; and put together a forecast based on those factors. As is often the case, I suspect some models are struggling with ground temperature and how much snowfall accumulates.
The main thought with this storm is it will still very much matter what elevation you are at as to how much snow you see accumulate. Right not it looks like snow levels may go to as low as 5,000 feet, but accumulations between 5,000-6,000 feet will remain very light (if any at all.) Above 6,000 feet you may see a bit of accumulation mainly on the grass and above 7,000 feet is possible you see an inch to a couple of inches accumulate. Not a snow storm to write home about, but definitely good moisture!
Here's a quick look at expected snowfall across Northern and Southern Colorado:
---
Battle of the Models!
Just to show you the madness going on between the models, here's the latest look at the NAM and the Euro on total snowfall expected through Tuesday morning:
The major models are split between 2 camps mainly: the GFS and NAM bring a lot more cold air in with the storm and accumulate snow faster. They both have fairly decent amounts of snow falling and sticking throughout this storm. The Euro keeps warmer air in place and moves the storm through a bit quicker resulting in less snowfall overall. Given how models have performed with snow this year and especially with the past few storms, we still lean heavily on the Euro so I imagine the final solution will end up closer to what the Euro is predicting than the GFS/NAM.
We will still have to keep an eye on it as storms this year can throw a curveball every now and then!
---
Hold Off on that Gardening!
Many folks in Colorado use Mother's Day Weekend to plant things and get their gardens set up - I'd wait another week if possible.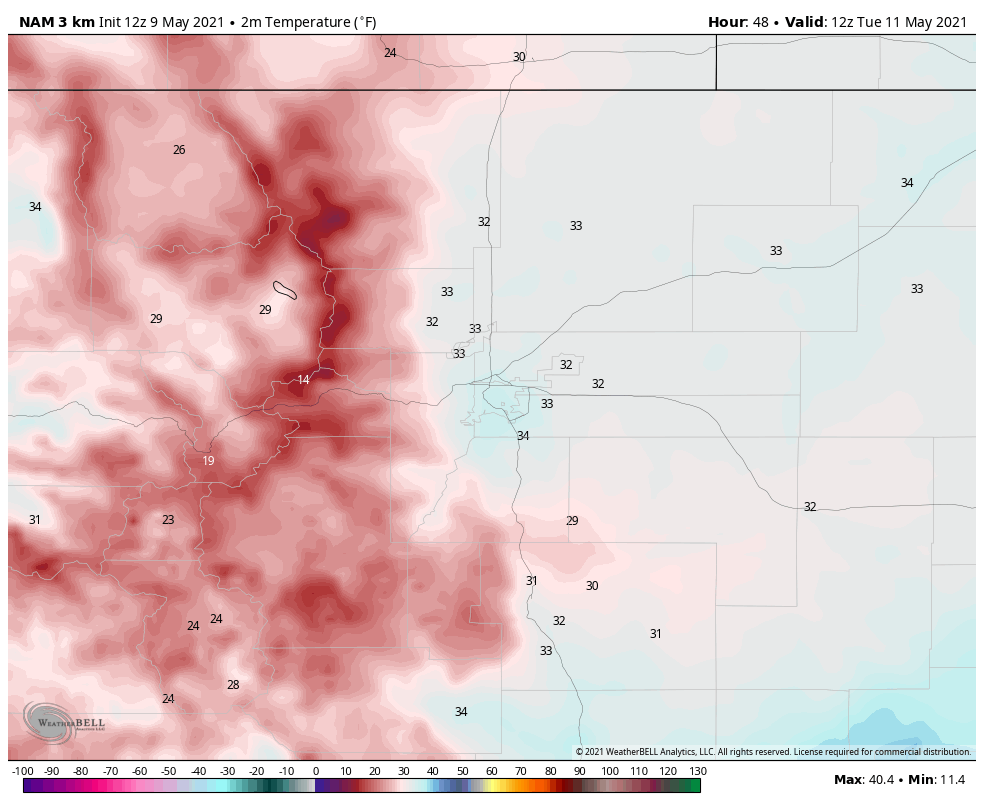 I'm no plant expert but the Nam3k shows air temperatures in the low 30's and even upper 20's along many locations on the Palmer Divide on Tuesday morning. Probably best to keep the plants inside or covered until at least mid-week.
---
As always, if we see any changes in this storm we will pass that information along. Stay tuned, otherwise Happy Mother's Day!