Snowfall Forecast
The snow accumulation situation may be a bit tricky this week due to the setup with this storm system. The jet stream will be cranking along into the state from the Northwest - as we've discussed many times this usually doesn't translate into great moisture across the Eastern half of the state, but sometimes you can get a curveball thrown your way due to the lift that jet stream can provide.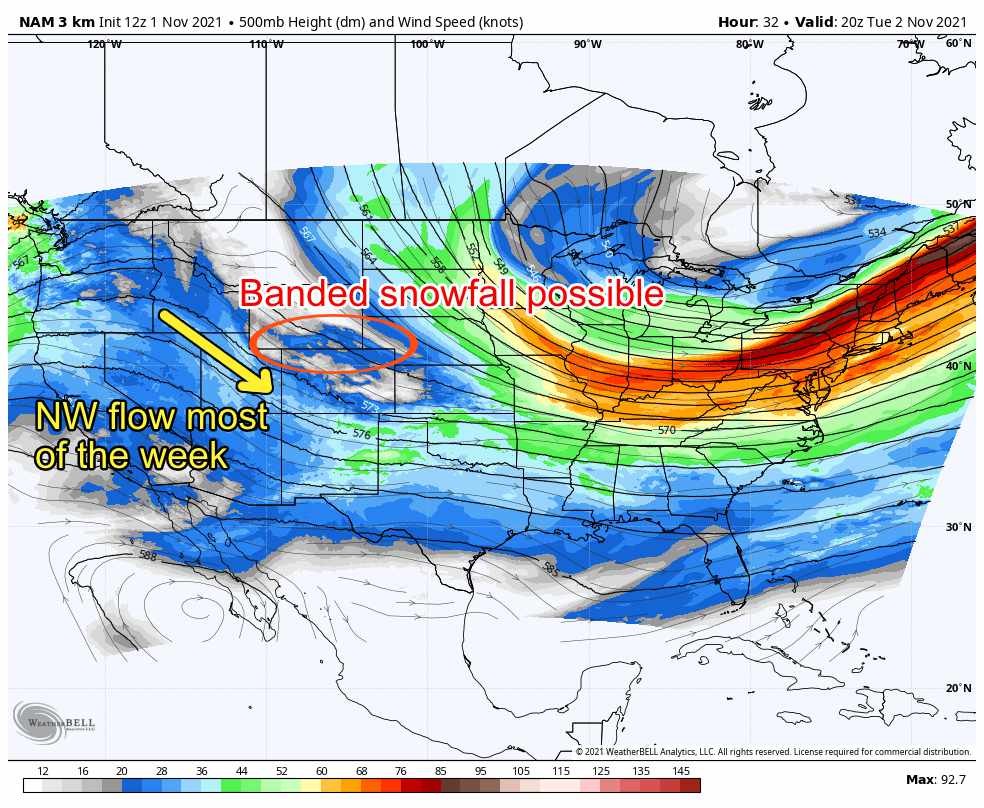 Most models agree that the best energy over the next few days stays confined to the mountains and areas North of Denver up towards Wyoming and the Northeastern plains. You can see this trend fairly clearly on our latest snowfall forecast for the next 24 hours. Notice mainly minor amounts for areas East of the Divide with some select mountain areas picking up a couple of inches of snow total.
In addition to our forecast graphic created above, I've included the Nam3k and HRRR snowfall accumulation forecast as well. We're all in pretty good agreement with which areas have the best show at snow and which ones aren't looking at great chances.
Long story short, most of the snow out of this storm looks to stay North with a few light snow showers extending Southwards towards the Palmer Divide. Accumulation for any areas that see it should be pretty light and generally under 1 inch. Many areas won't see accumulation at all.
---
Castle Rock and Palmer Divide Weekly Forecast
Real quick, if you have travel planned to the mountains or North towards Wyoming, there are a couple of Winter Weather Alerts in Effect.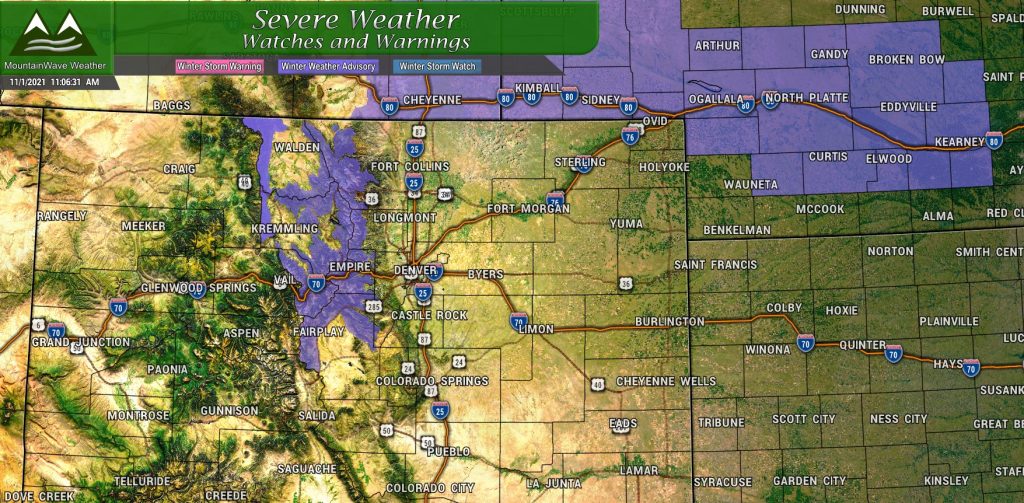 Wyoming Winter Weather Advisories expire 11/1/2021 at Noon - so by the time this post goes out they should be pretty close to done.
Colorado Mountains Winter Weather Advisories run through 11/3/2021 9AM (long duration) for slick roads and tricky travel conditions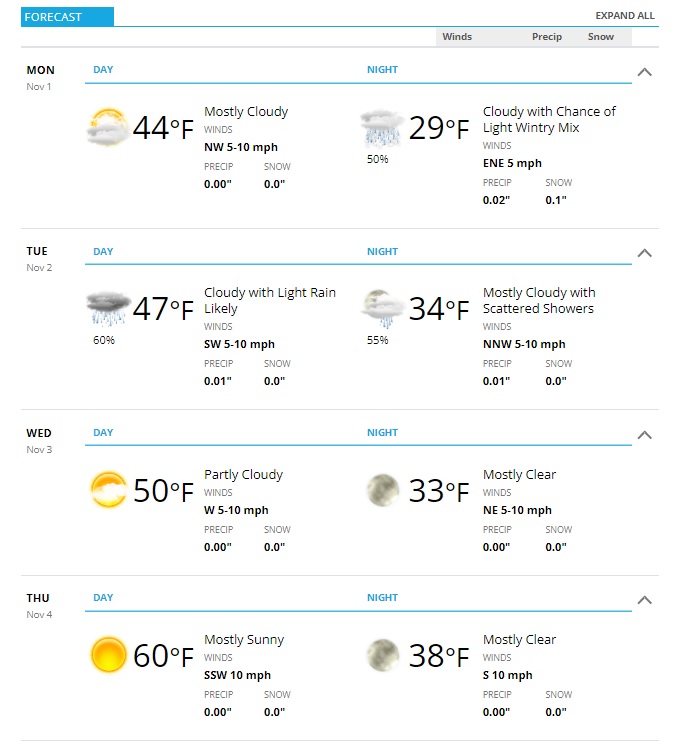 You can see our best shot of precipitation will be Monday and Tuesday with a wintry mix possible Monday night and a few showers possible during the day on Tuesday. Again, temperatures will be marginal for snow and any snowfall accumulation should be minor at best. Be careful for a slick spot due to ice here and there late Monday and into Tuesday morning at higher elevations.
We see a slow warming trend starting on Wednesday with temperatures rebounding a bit and dry conditions moving back in. This forecast is for Castle Rock so adjust the temperature up or down a couple of degrees based on your elevation and you should be pretty close.
---
Summary
The first half of the week will be pretty gray and dreary so be ready for that. Temperatures will be cool but not significantly cold for this time of year.
Moisture chances are there but again we are not seeing any high chances of significant moisture in our near future so our dry conditions will most likely continue for awhile. We will keep an eye on the models and be sure to give a heads up if we see any interesting storm systems moving our way in the coming days and weeks.