I wish I could stop sounding like a broken record, but it is a La Nina year and windy/dry patterns like this are the norm. Get used to it, more wind coming and not a lot of chances for snow in the near future.
Fire Weather Alerts Issued
In advance of some very warm and windy we have scheduled for the first half of the week, the National Weather Service has issued several Red Flag Warnings for the front range of Colorado, the Palmer Divide and Southern Central part of the state. This Red Flag Warning has been labeled as "Severe" as very dry conditions, low humidity along with our drought status means rapid fire ignition is likely and any fire that starts will rapidly spread out of control.
Here's the details: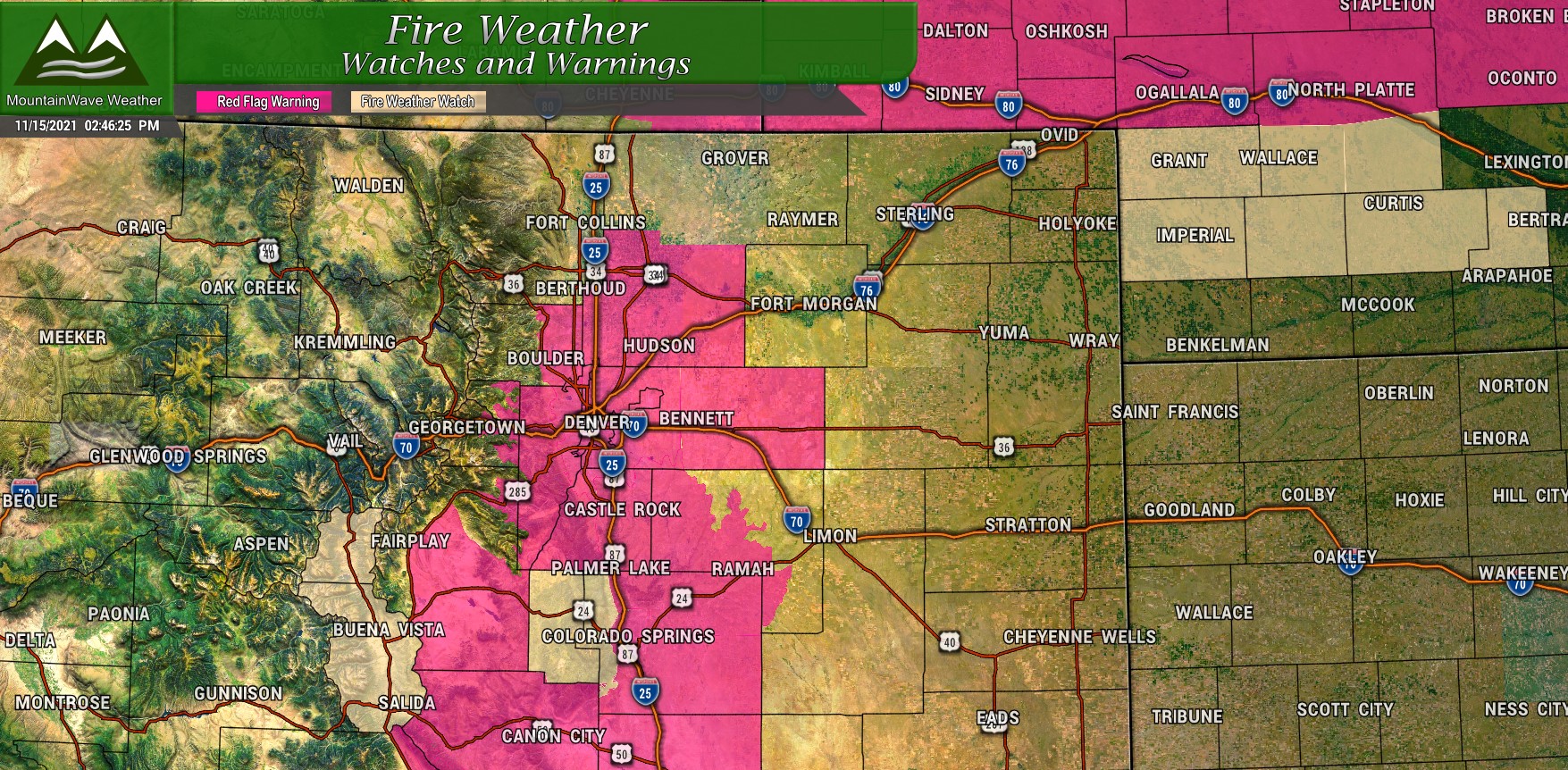 Conditions will be conducive to the rapid spread of
new fires. Probability of ignition will increase. Avoid any
burning or outdoor activities that may cause sparks, and abide
by established fire restrictions.

-NWS Denver/Boulder
Remember, you can see up-to-date weather alerts for the Palmer Divide locations listed below via our website:
Want to see your location? Let us know!
---
Weekly Forecast
The weekly forecast for Castle Rock is posted below, as always add or subtract a couple of degrees depending on your location and elevation.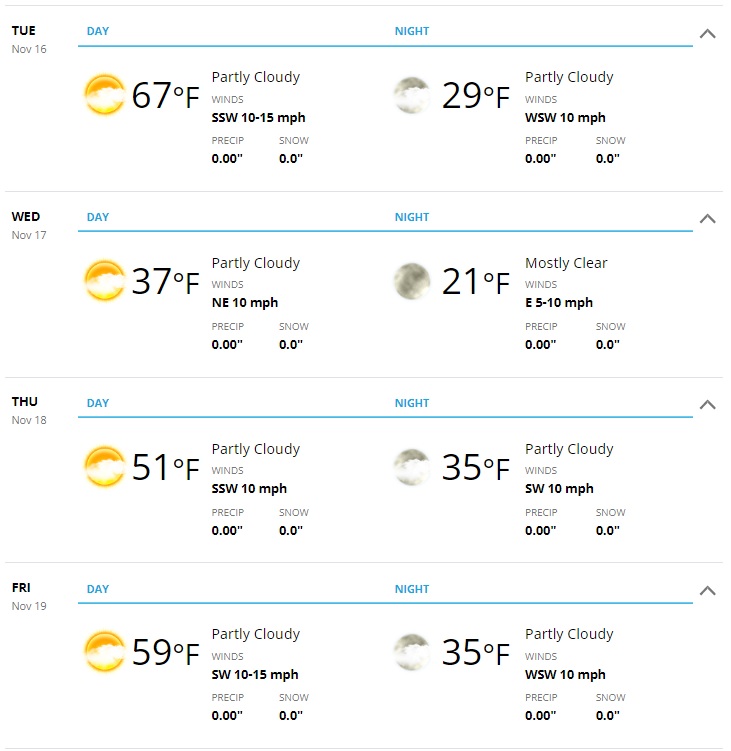 The first half of the week looks more like early fall than late fall, temperatures will be in the mid 70's on Monday with a slight cooldown to the upper 60's on Tuesday. Winds will be a bit breezy on Tuesday, along with the dry conditions and warmth - that is what prompted our Red Flag Warning from 10AM - 6PM on Tuesday.
By the time we reach Wednesday, a strong cold front will drop us into the mid to upper 30's for the day, nighttime temperatures will be in the low 20's. There will be chances for snow for a few areas but this Northwesterly flow storm, like the last few we have had will mean mostly dry conditions along the front range and Palmer Divide.
By Thursday and Friday we moderate back into the 50's during the day with mid 30's at night.
---
Any Chance for Moisture?
There is a chance on Wednesday later in the day, but there is poor model agreement to who (if anyone) sees snow East of the Continental Divide.
Here's a quick rundown:
Some Snow Accumulation:
No Snow Accumulation:
We can't totally rely on models for a forecast (although many do... ugh don't get me started) but they are good tools to build a forecast. When we see models like this we have to take into account the bigger picture and what the atmosphere typically does with storms like this.
Northwesterly flow storms create a lot of downsloping along the front range and Palmer Divide... this tends to dry the atmosphere out and it makes it more difficult for snow showers to form and reach the ground. Depending on how Northerly the winds are, sometimes the Palmer Divide can experience enough upslope for a short period of time to squeeze some snowflakes out.
Our verdict:
Snow in Denver? - Unlikely but not impossible, give it a 10-20% chance tops that snow falls and accumulates over 0.1 inches (this would be the amount needed for an official snowfall to be recorded)
Snow on the Palmer Divide? - Unlikely but a little less unlikely 20-30% chance that snow falls an accumulates over 0.1 inches
Overall, don't expect much out of this storm except what we've seen quite a bit of this year; cold temperatures, wind and little/no moisture.
---
Castle Rock Starlighting 2021
I'll be making an official forecast for Castle Rock's biggest event of the year. Keep an eye out for that Wednesday morning. I'll also be down there at a booth for a bit, so be sure to stop by and say hi!
Details coming soon!