Current Weather Alerts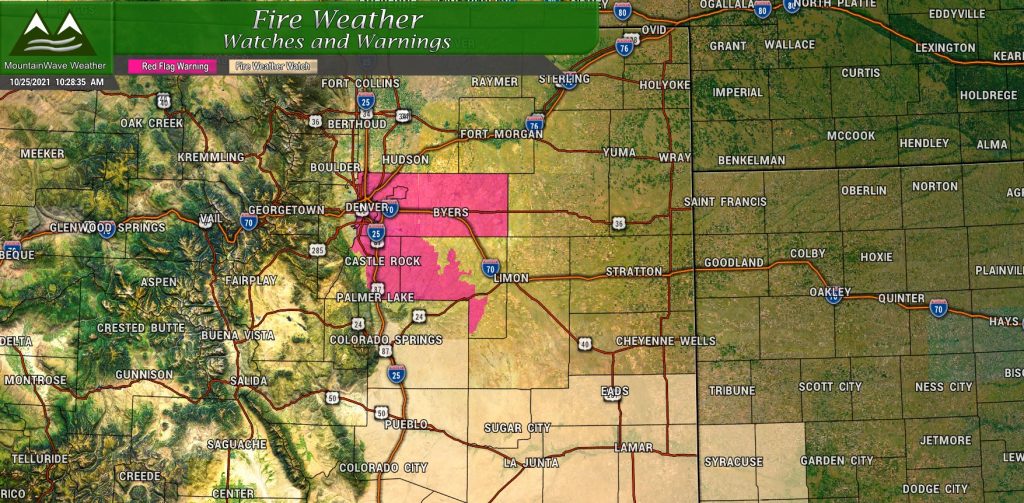 A Red Flag Warning is in effect from 12PM through 6PM Monday October 25, 2021 for strong wind gusts up to 45mph, low humidity and very warm temperatures that could contribute to extreme and unpredictable fire growth.
You can see the warning details on our Castle Rock Weather Alerts page for more information on this alert.
Burning of any kind or any activity that can create sparks and lead to fires is extremely discourage on Monday especially along the Palmer Divide and areas around and Northeast/East of Denver.
"Atmospheric River" Remnants Moving Towards Colorado
A strong low pressure system in the Northwest off the coast of Washington and Oregon has allowed the jet stream to ramp up over California bringing large amounts of tropical moisture into the area. These events are usually called "Atmospheric Rivers" or sometimes the "Pineapple Express" as a lot of that moisture originates from near the Hawaiian islands. You can see from the video above the strong push of moisture from this feature - it will be responsible for several inches of rain for a good portion of California and possible several feet of snow in the mountains.
For Colorado, some of this moisture may be left by the time this feature makes it to Colorado - as such, our mountains should see some snow out of this storm system. For the front range, strong westerly (downsloping) winds should keep the atmosphere fairly dry but strong wind conditions are likely for much of the front range... especially later in the day on Tuesday. An area of low pressure may regenerate over Northeastern Colorado so while we are not expecting much more than wind for the plains - areas along the Palmer Divide may see thunderstorms and a very small chance of snow depending on where this storm re-organizes.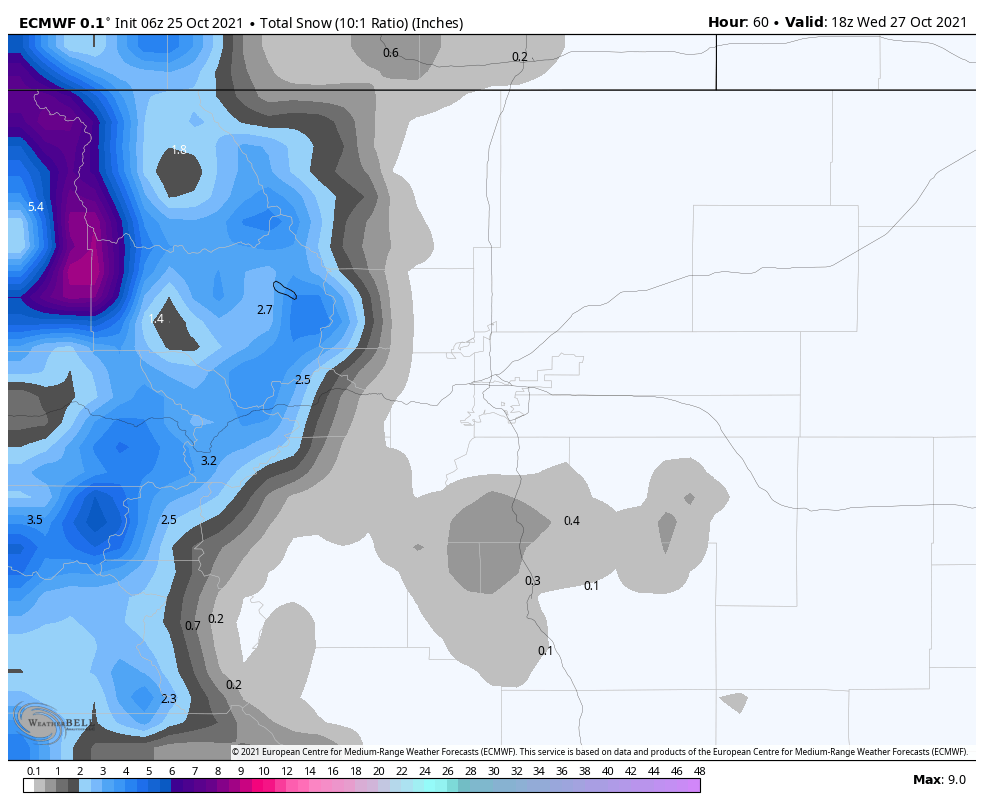 Notice the Euro keeps areas East of the Divide mainly snow free with this storm system, but the Palmer Divide may see a slight dusting of snow in some areas. I'm not super confident we see anything more than maybe 0.5 inches of snow though, so not expecting a significant storm and not much meaningful moisture.
Weekly Forecast
One thing the storm system will do after it moves through is cool us off for the rest of the week. Monday will feature near record setting temperatures while Tuesday - Thursday will be signiciantly cooler. Again, our best show at moisture for the Palmer Divide will be later Tuesday and into Wednesday morning. Not expecting a ton of meaningful moisture but don't be surprised to see a dusting of snow in a few areas late Tuesday and into Wednesday.
The Castle Rock forecast is attached below: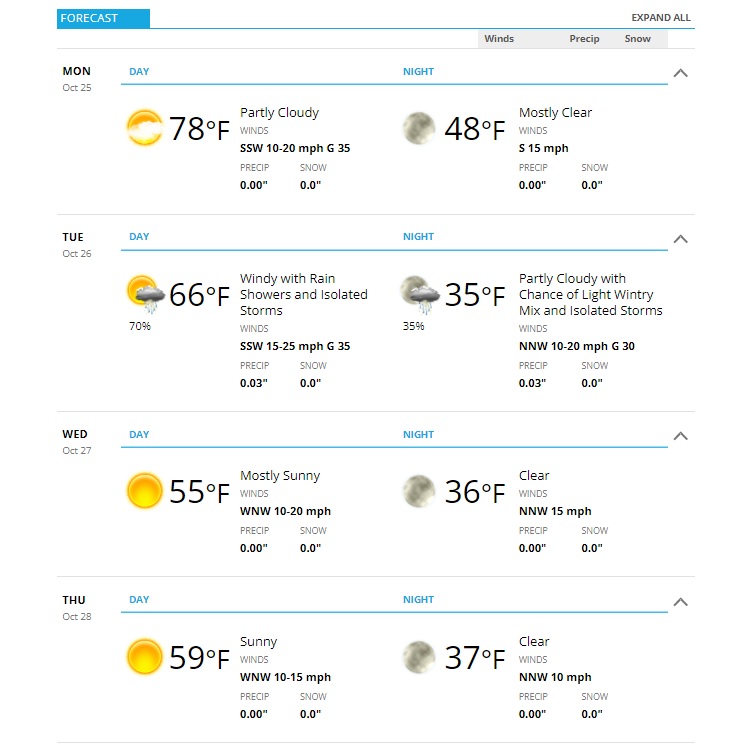 ---
Summary
So while the weather will be a bit wild on Tuesday in the mountains, the  main issue for us will be wind along the Palmer Divide.
Recommend tying things down that could blow away and making sure your property is ready for high winds by Monday afternoon.
We don't expect any travel impacts from snow along the Palmer Divide, the winds may cause some impact. Mountain locations could see impacts from falling snow and strong winds on Tuesday. Be prepared for that if you head up into the high country.