Model data continues to consistently show a strong storm forming and impacting Colorado late Monday into Tuesday. A new slew of Winter Weather Highlights has been issued by the NWS with some strong language (I have those details below.) A ton of data continues to stream in and while there's still some differences in the track of this storm (remember that is extremely important) NWS and a lot of mets around the area have begun to issue preparation instructions.
At this point in time there are a few things to remember:
Models have been incredibly consistent, when they are all calling for a large storm like this we have to get folks prepared for a worst case scenario

If the storm falls apart that's fine, but if it gets as bad as predicted we'd rather have people prepared and off the roads

Models still show biggest impact North of the Palmer Divide. This doesn't mean we won't see anything down there, it just means we have to keep a close eye on how the system progresses. If it wobbles North a tiny bit we could see lesser snow South of Denver.
For right now, we have to consider any area within the warning fair game for heavy impacts.
Let's update the highlights:
Watches/Warnings/Advisories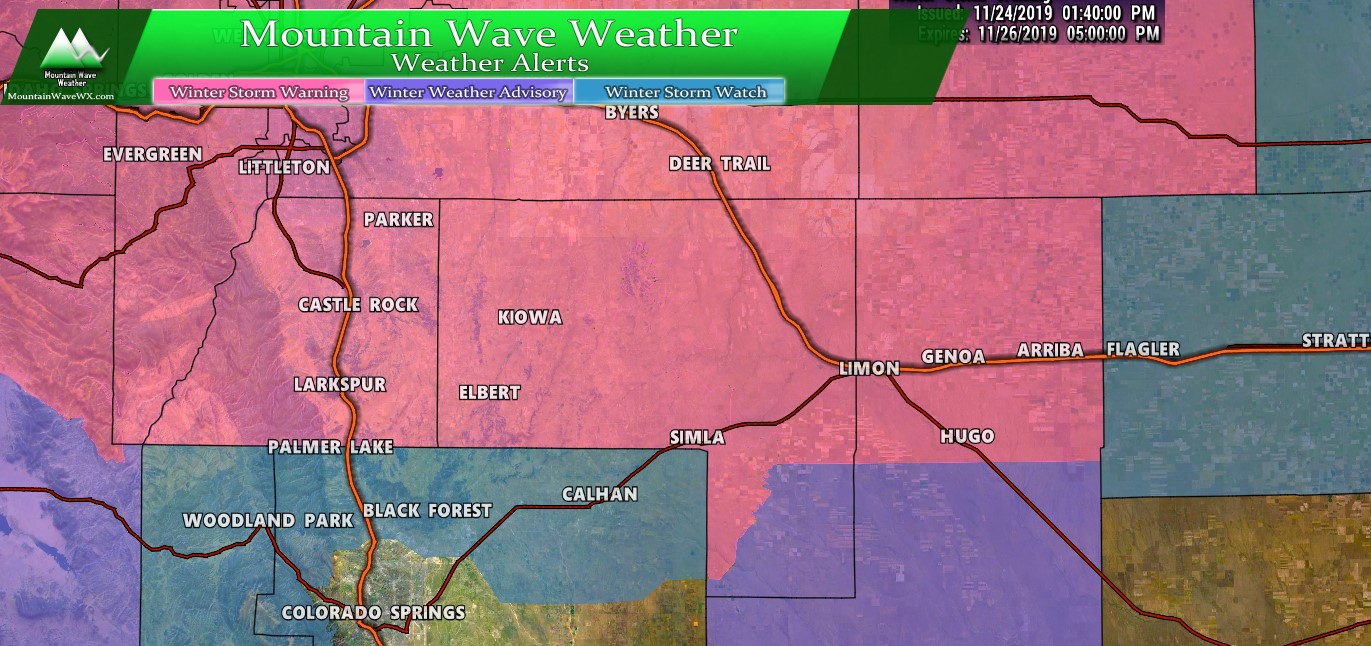 This Winter Storm Warning has been issued for:
Travel could be very difficult to nearly impossible
across the area, especially by Tuesday morning. The hazardous
conditions will impact the Tuesday morning commute.
Forecast/Hazards/Timelines/Impacts (The Need to Know Planning Stuff!)
These details are largely the same as my morning post with a few slight tweaks...
Impacts
Snowfall/Travel Impacts
Denver metro and areas North and East – expecting potential high impact event
Areas South of Denver/ Palmer Divide – expecting a medium to high impact potential
Heavy snow will be likely late late Monday and into early Tuesday
Winds will be strong enough that localized Blizzard conditions will be possible
Airport delays and cancellations will be likely late Monday and early Tuesday – check with your airline!
School cancellations and delays will be possible Tuesday – check with your school district!
Timing
Monday

Current modeling suggest snowfall begins during the evening hours on Monday
Still some uncertainty as to whether the Monday evening commute is impacted or not… stay tuned on that.
Later evening into overnight Monday, snow will become heavy across many areas
Travel is not recommended overnight Monday into Tuesday morning

 Tuesday

Heavy snow is possible Tuesday morning
Expect high to severe impacts to Tuesday morning commute
Snow looks to taper off towards Tuesday afternoon/evening hours

Wednesday

Storm exits the area
Still expect lingering impacts depending on how long storm sticks around on Tuesday and how much snow accumulates
Please note: if you are out and about Monday, please plan on being off the roads by late evening hours. The Winter Storm Warning goes into effect at 8PM, meaning travel is discouraged after that point.
Snowfall – No Changes from Morning Post
The models have continued to show snowfall amounts to varying degrees within these ranges. The biggest uncertainty on snowfall is along the Palmer Divide surprisingly. If it looks like the storm will wobble North we may adjust snowfall totals down. There's some evidence of that but not enough to move on as of right now.
As such, these numbers hold for now but changes will be likely over the next 24 hours especially for areas South of Denver.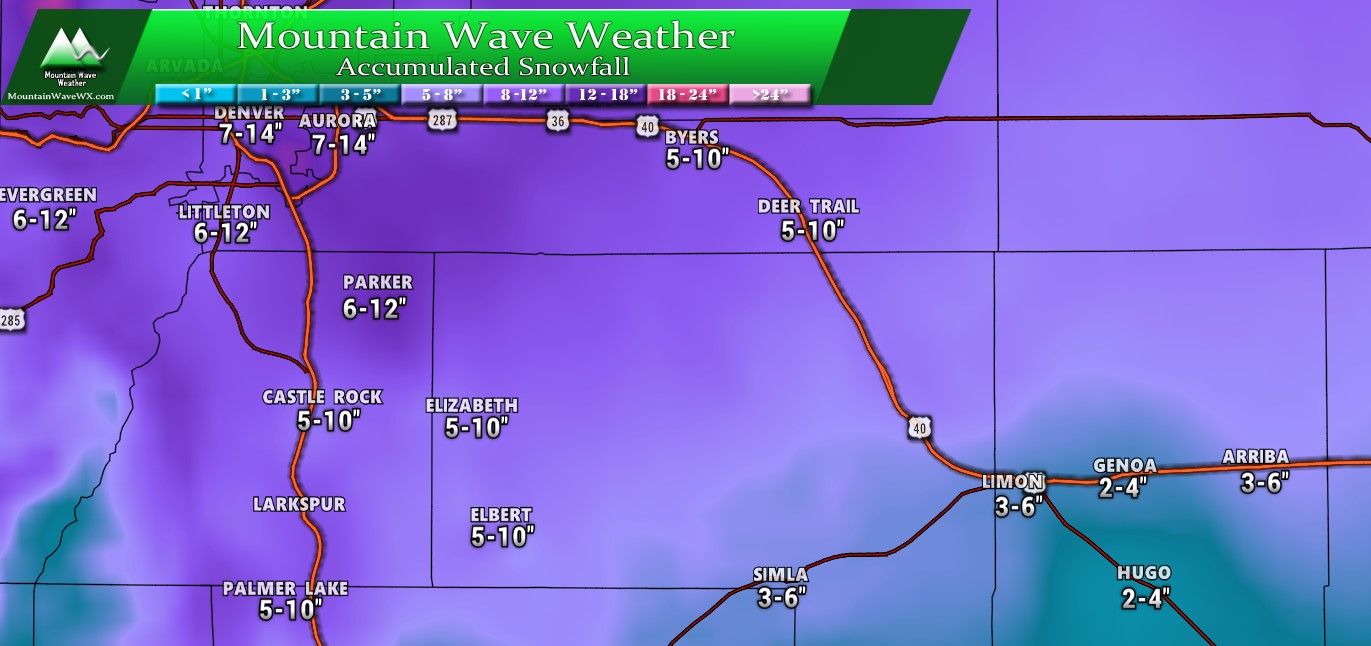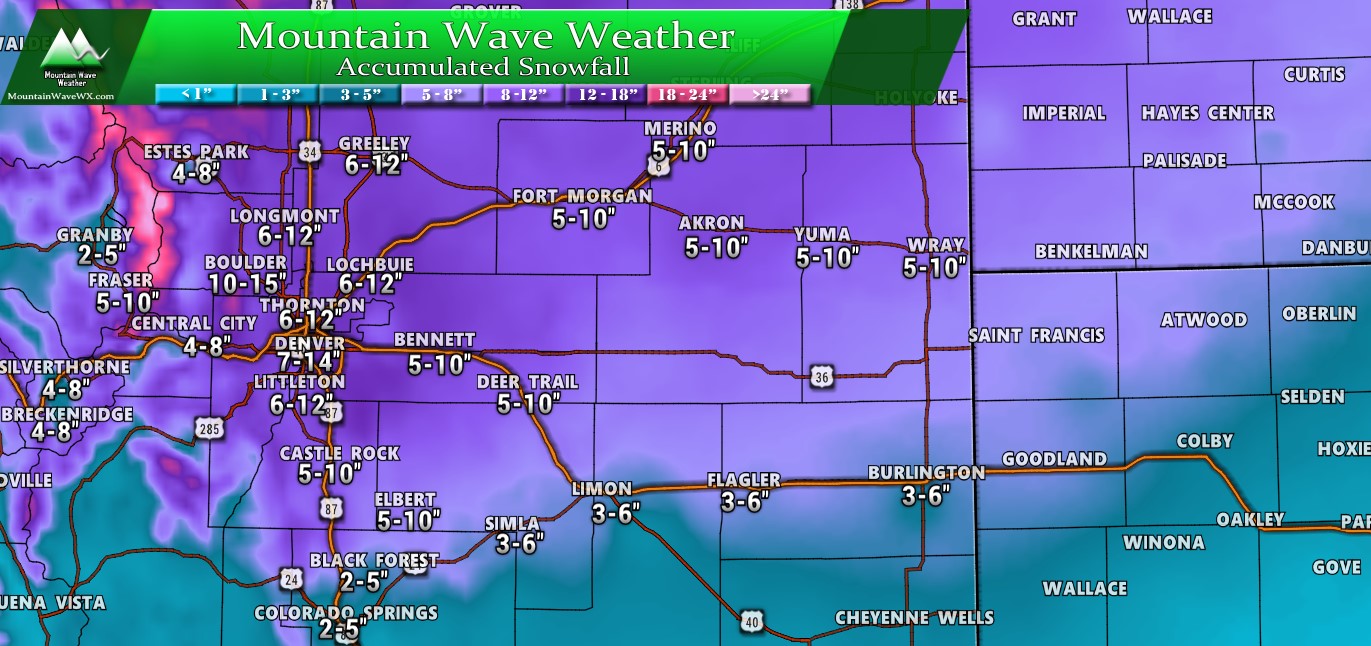 Big Takeaway: At this point the snow numbers don't mean a whole lot. The impacts are likely going to be high for several areas with this storm. As far as I'm concerned whether you get 6 inches or 14 inches of snow, doesn't matter if the roads and airport are closed.
Please remember, whatever happens with the snow totals, be prepared for a high impact storm.
For the Weather Nerds...
Unbelievable how consistent models have been with this storm. The last time I can think of seeing this much consistency at such a far out time period was March 2019. With that I figure I'd post what the models are showing for snowfall as of this post, feel free to click through them and see for yourself...
If you're a weather nerd it's simply fascinating to see this. If you're a forecast it gives you decent confidence in what you're seeing, a rarity we are often not afforded. While these photos are just one snapshot in time, the models have largely been in lock-step for over 24 hours now... wow!
Do look at these and recognize the similarities and differences; similar solutions in similar regions means higher confidence while differences between (even slight) the models can show uncertainty...
Similarities

All models show heaviest snow North and Northwest of Denver
All models show decent snow accumulation across Northeastern Colorado
All models show decent snow accumulation across the Palmer Divide
Each model shows that areas around and further South of Colorado Springs may not see much from this storm

Differences

Notice the areas of heaviest snowfall accumulation are slightly different between the models
How far South the heaviest snow makes it; that line wobbles a bit back and forth between model runs

This why we only have medium confidence of snow totals over the Palmer Divide right now, while we have higher confidence of Denver and points North and West seeing higher snow totals

How much snow the eastern plains ultimately see is a bit different, again this is a medium confidence situation with those numbers.
Heck, I threw in the SREF ensemble for this storm. To use this product you have to understand how it works and its mannerisms; it tends to overdo snowfall totals fairly consistently but it has value as another check to the other models at this point. So, while I think the mean it's showing here is a bit high, it lends credence to that 5-10 inch range I've put most of the Palmer Divide under.
The station at Monument Hill shows a similar number, again re-enforcing the other models and the range I've specified for that area as well.
Summary
Looks like we will run the gambit with this storm for Winter Weather Highlights, here's quick refresher on what they mean: