An interesting weather week on tap for us across Colorado as we wave goodbye to our latest snow storm through the day Monday, get a bit of a break for Tuesday but then see more cold air and snow moving in later Wednesday. The airmass for our next storm system does have origins in the arctic so when you see that you know that it will be chilly! Temperatures with this storm will be between 15-20 degrees below average for this time of year... arctic fronts are a bit unusual for March but they can happen.
Here's what we expect for this week and latest details on the next storm system.
---
Weekly Outlook
The forecast detailed below is for Castle Rock and surrounding areas, you can add or subtract a couple of degrees based on your elevation.
Monday
Chance of scattered snow into the evening hours. Due to cold conditions slick roads may be possible in some areas. Models are zeroing in on areas South of Denver to see the best chance at any accumulating snow. Keep that heads up if you're out and about Monday evening and South of town... don't be surprised by that.
Tuesday
A break between the storms, it won't warm up a whole heck of a lot, but we will take some mid 30's with mostly clear conditions.
Wednesday
The first part of the day will start off decent enough, but that high temperature in the mid 30's will likely be reached earlier in the day. The cold front will move through a bit later in the day and the snowfall will come after that.
Thursday
Expect lingering snow in the morning hours, travel impacts could be possible in the morning for the commute due to the cold and falling/accumulated snow.
Friday
You know it's a cold week when you look ahead to Friday and think, "wow, the upper 20's/lower 30's don't seem that bad." That's what we will see, sunny conditions will return but it will remain cold through the day. Not expecting any other weather impacts through the day other than that.
Check out that weekend though, looks pretty nice!
---
Next Storm System - Wednesday/Thursday
There will be 2 major factors with the next storm system, one we are pretty certain about and the other we have lower confidence in the details, at least at this time.
COLD!
Not the coldest temperatures we've seen all year but downright chilly for early March. Many models have temperatures in the single digits to near zero Thursday morning. The snapshot below from the NAM for 5AM Thursday shows apparent temperatures (what it feels like/wind chill factored in.) You'll notice the large swath of below zero temperatures especially in the mountains and foothills and also across the Palmer Divide and into Eastern Colorado.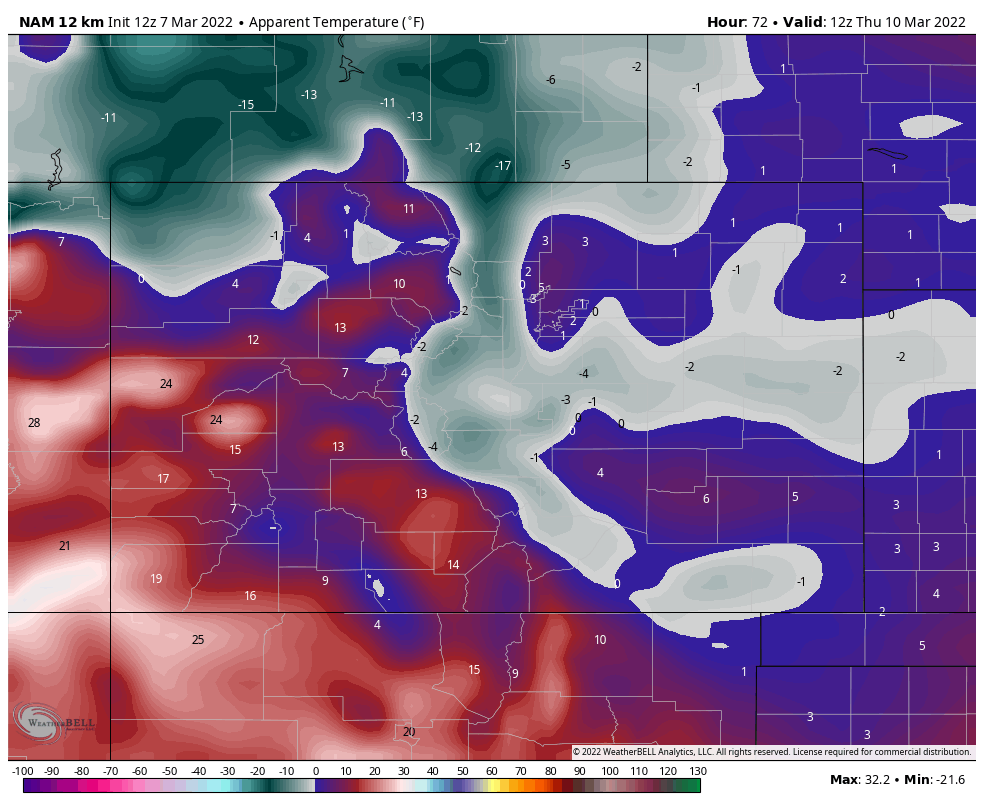 We have fairly high confidence in the cold when it comes to the forecast. So definitely expect falling temperatures on Wednesday through the day and bitter cold overnight into Thursday morning. The question mark here is exactly when does the cold front move in on Wednesday? Right now it looks like later morning/early afternoon but models have been jumping around with this a bit. Stay tuned for better details on that.
Snow!
This storm as a whole doesn't look too impressive from a snowfall standpoint, but there will be a couple of wildcards as we often see with snow storms in general.
I've attached the preliminary snowfall forecast below, keep in mind this is subject to change over the next 24-48 hours because we don't have a lot of good model agreement on these totals yet. I'll continue to make updates as needed as we get more data in.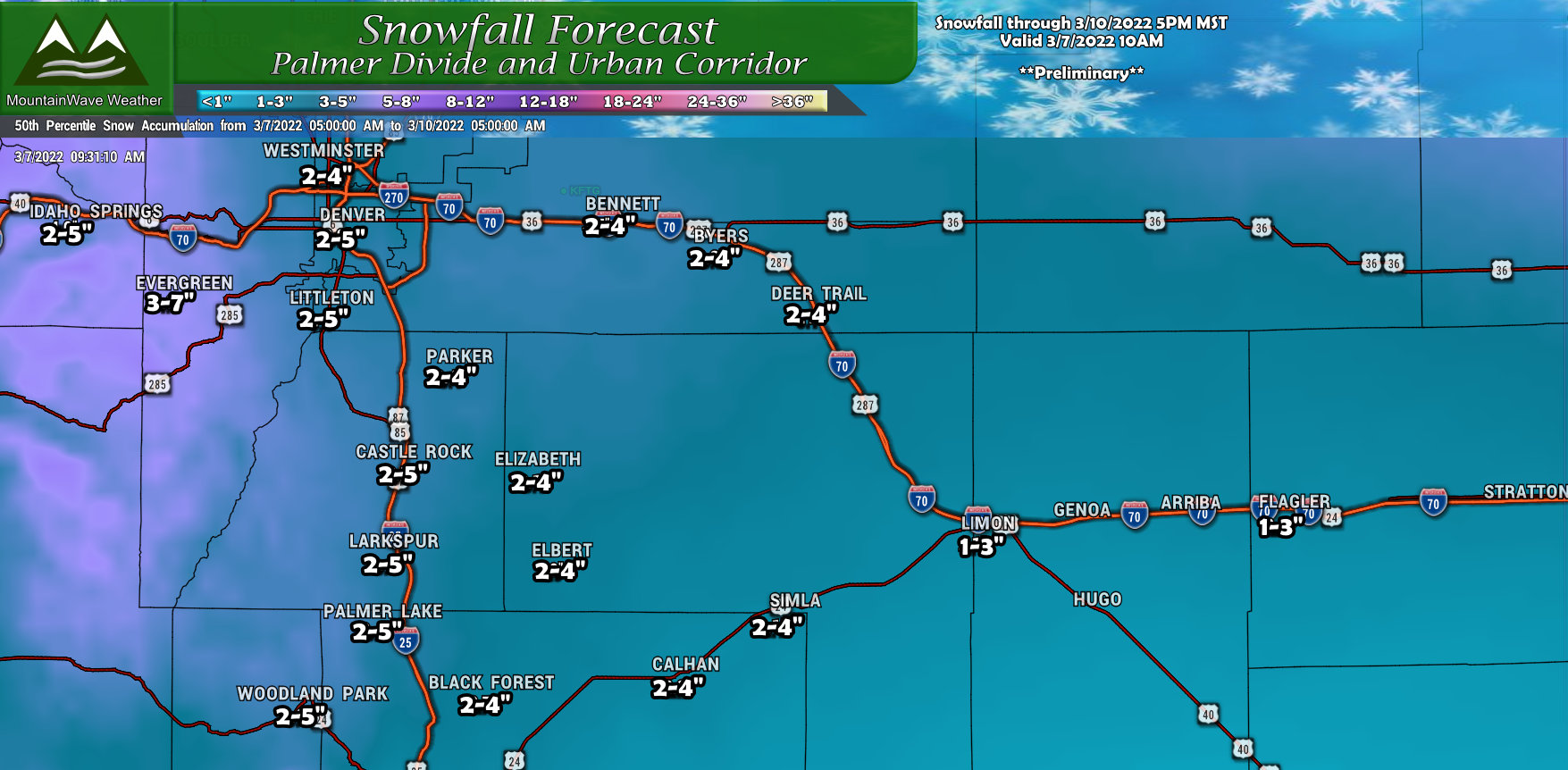 Most Palmer Divide locations currently showing between 2-5", with the same pattern we've seen all year; western areas could see a bit more snow and gradually lesser amounts as you go East. Some models are hinting at jet enhanced snowfall banding, which means snowfall could be drastically different over short areas.
The best example of this could be something like this; Elizabeth busts high at 6.5 inches of snow but Franktown (just down the road) barely makes its forecast range at 2.1 inches.
We can't predict how those behave too well, we can only really see that they are possible - they are with this storm.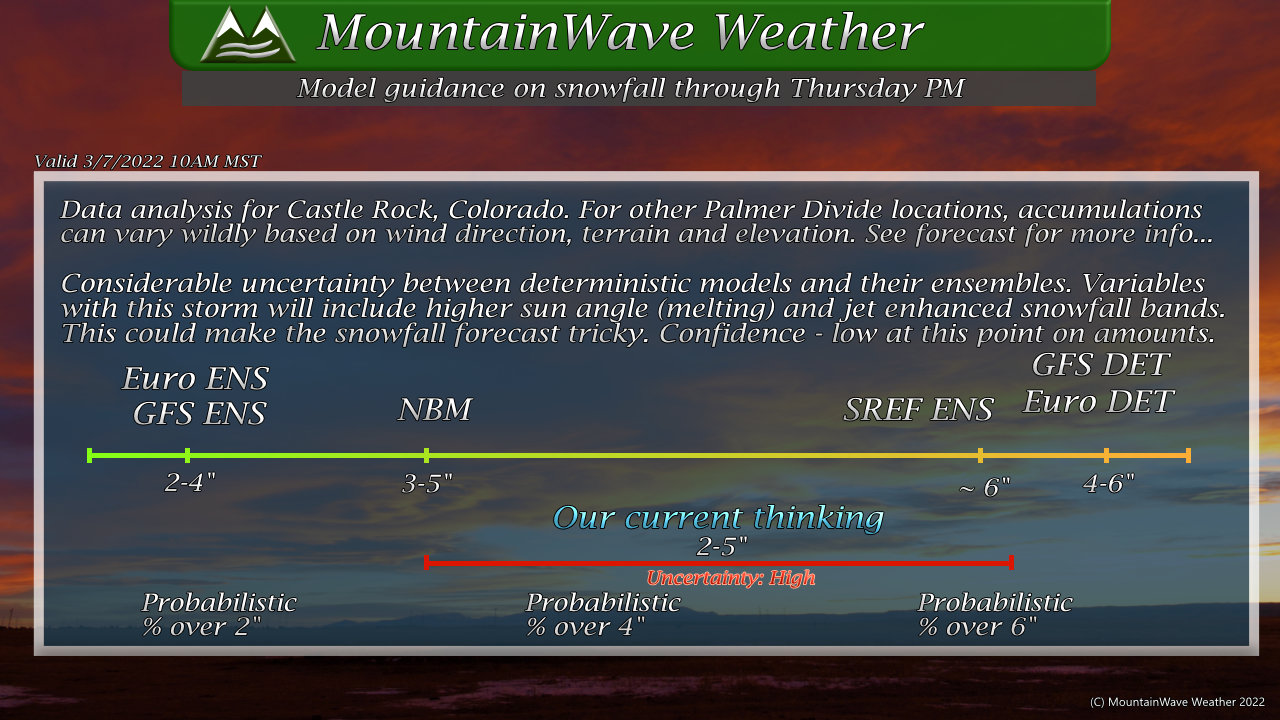 To get an idea of where the models are on this, you can see the graphic above. We have pretty wide ranges between the ensembles and deterministics (farily common) and even soem ranges between the deterministics themselves. When you see stuff like this, you know uncertainty in snowfall amounts is high. So take any snow amounts you see from myself or anyone else with a grain of salt until we get more and better data in. Right now the forecast is just based on what we have in per models, a bit of other forecasting on my part and my experience.
---
Summary
More cold this week and more snow, that will be the main theme.
In terms of the storm, we are still in a "wait and see" mode with the snow, but more of a "get prepared" mode for the cold temperatures. If you have ag/ranching interests with animals (or even just pets) make sure they are ready for a cold and potentially wet couple of days ahead by Wednesday.