Another storm on tap as we add to our snow for the season. This storm won't be major but there will be enough snow, cold temperatures and wind to make for travel headaches. Here's the latest information as of this morning!
---
Winter Weather Alerts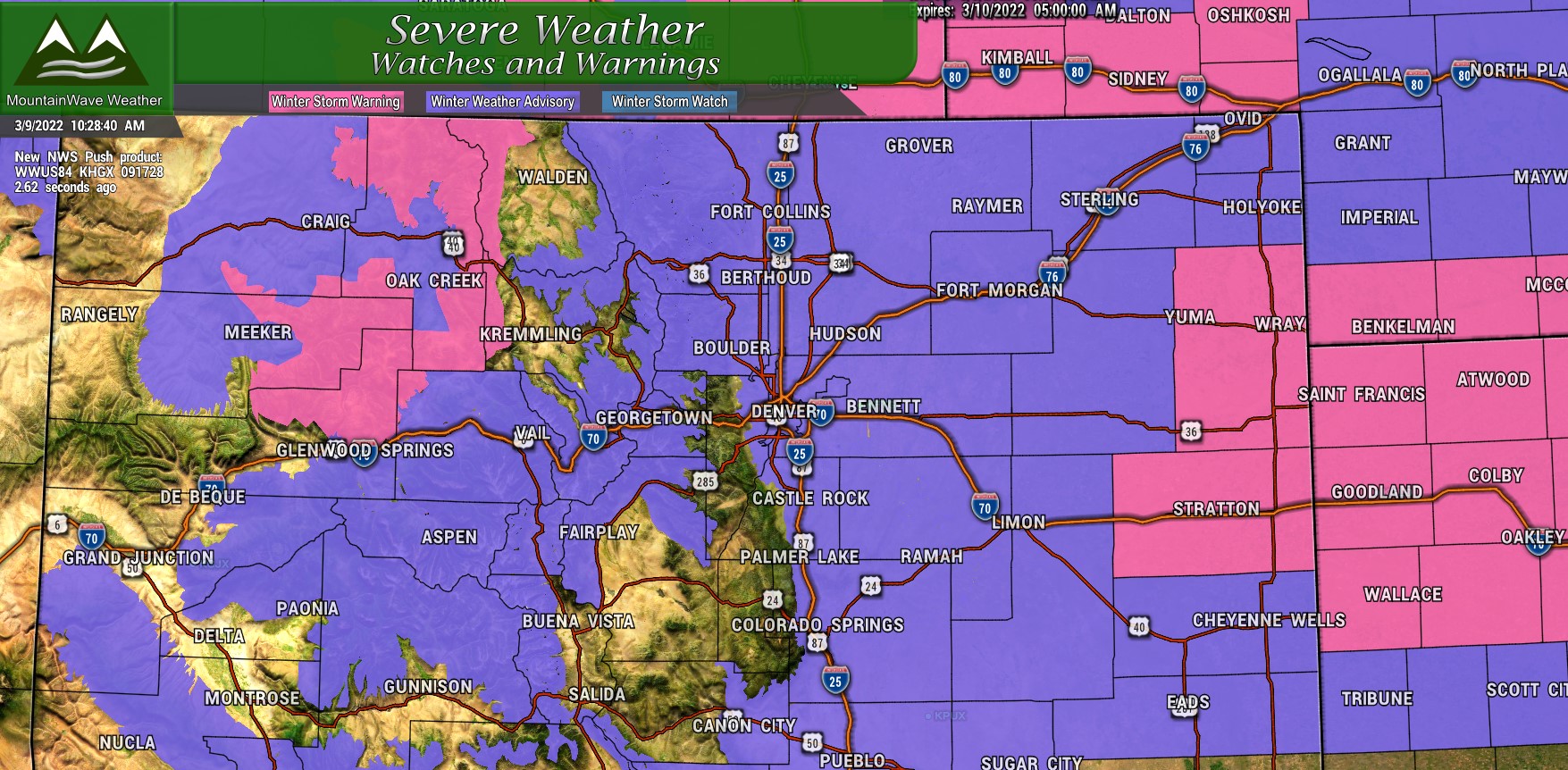 A smattering of Winter Weather Alerts covering a good portion of the state. The Winter Weather Advisories in purple denote areas that difficult travel will be possible due to falling snow, winds with reduced visibility and icy road conditions. The advisories along the front range run through about 5AM on Thursday while the ones in the mountains run through a bit later in the day on Thursday. Snow showers up there will keep conditions trickier a bit longer than areas East of the Divide.
Winter Storm Warnings are in effect for some mountain locations for heavy snow (mainly along the Elkhead mountains, Flat Top Mountains and Park Mountains. Winds up to 40mph and scattered accumulation of snow up to 2' will make for dangerous travel conditions through most of the day Wednesday and Thursday.
An additional Winter Storm Warning now includes areas of Eastern Colorado along the border into Kansas. These locations will see between 4-8' of snow with 50mph winds and road closures will be likely through the day Thursday. Travel is not recommended through these areas during the warning.
If you have travel plans Wednesday and Thursday through any of these areas, make sure you are adequately prepared! Also note: travel in Winter Storm Warning areas is strongly discouraged!
---
Snowfall Forecast
Snowfall with this storm will be fairly tricky, as I've mentioned before... models are picking up on fairly significant snowfall banding. We can't predict how strong these get, where or when they exactly set up - so we don't have a lot of confidence in snowfall forecasts with these particular setups. That being said, I tried to make ranges broad enough so that they capture most of the scenarios we expect to see.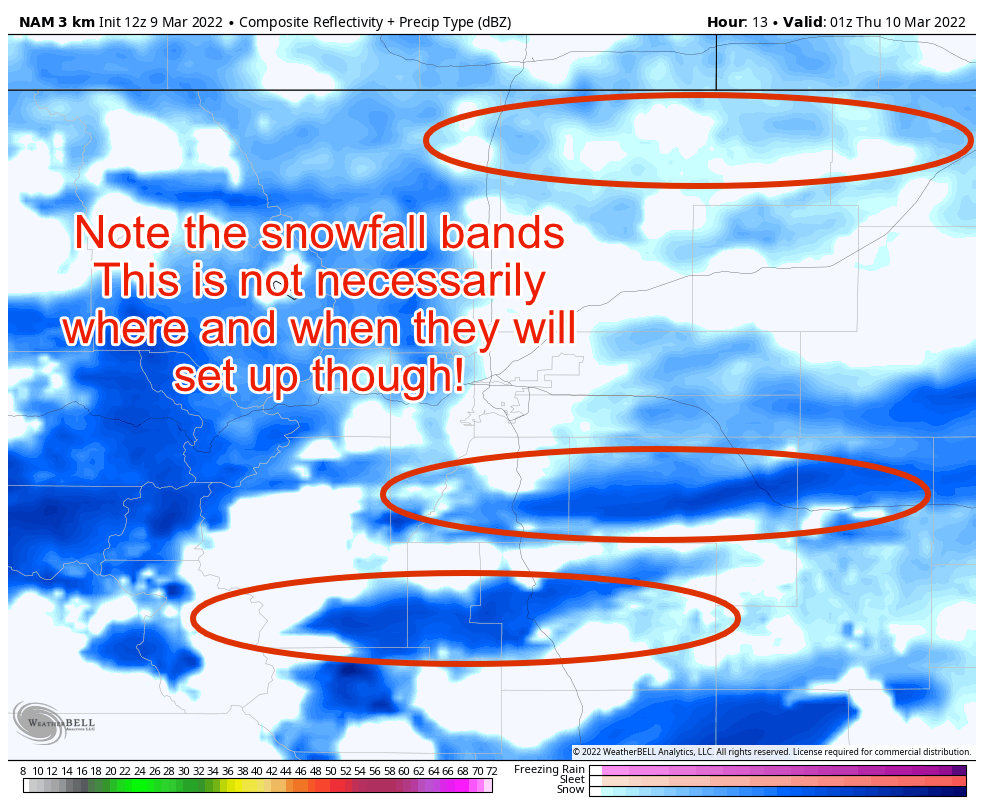 Palmer Divide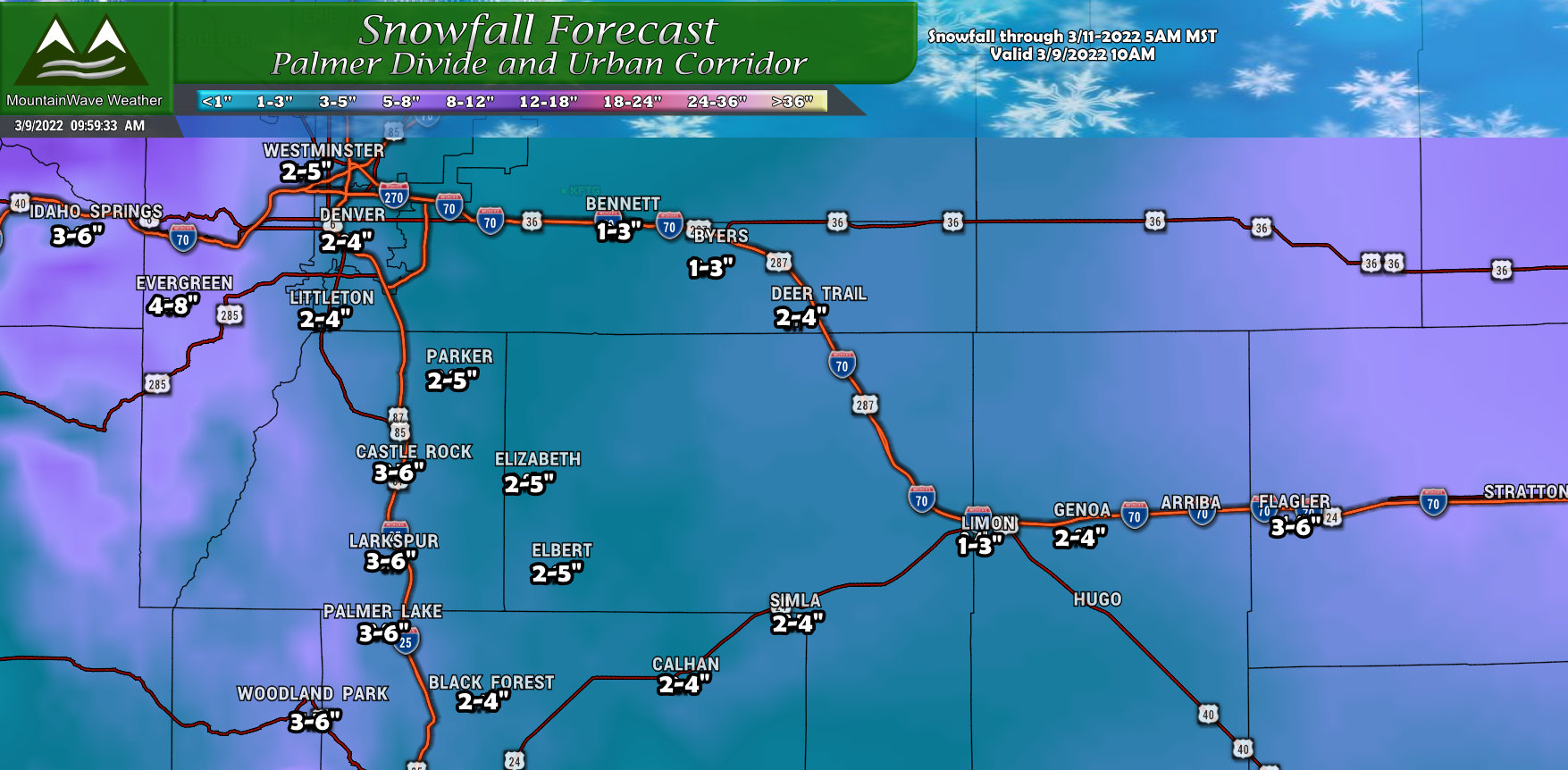 General rule of thumb for snow across the Palmer Divide is that if you get under a snow band, you should expect to see the higher ends of these ranges. If the bands come in more intense or don't move then snow amounts could overperform. If we don't see snowbands set up, or they move too quickly or are not that intense - we would expect to see the lower ends of these ranges. Right now the odds are higher that most areas see the low to mid ends of these ranges and a few select areas see higher or overperform.
Northern Colorado
For Northern Colorado, most areas will see snowfall accumulation on the lower side, the exception being Eastern Colorado towards the border... areas in that Winter Storm Warning could see snow in the 3-6" or even the 4-8" range. The other area favored with higher snow accumulations will be the mountains and foothills West of I-25 in Northern Colorado.
Southern Colorado
---
Impacts/Timing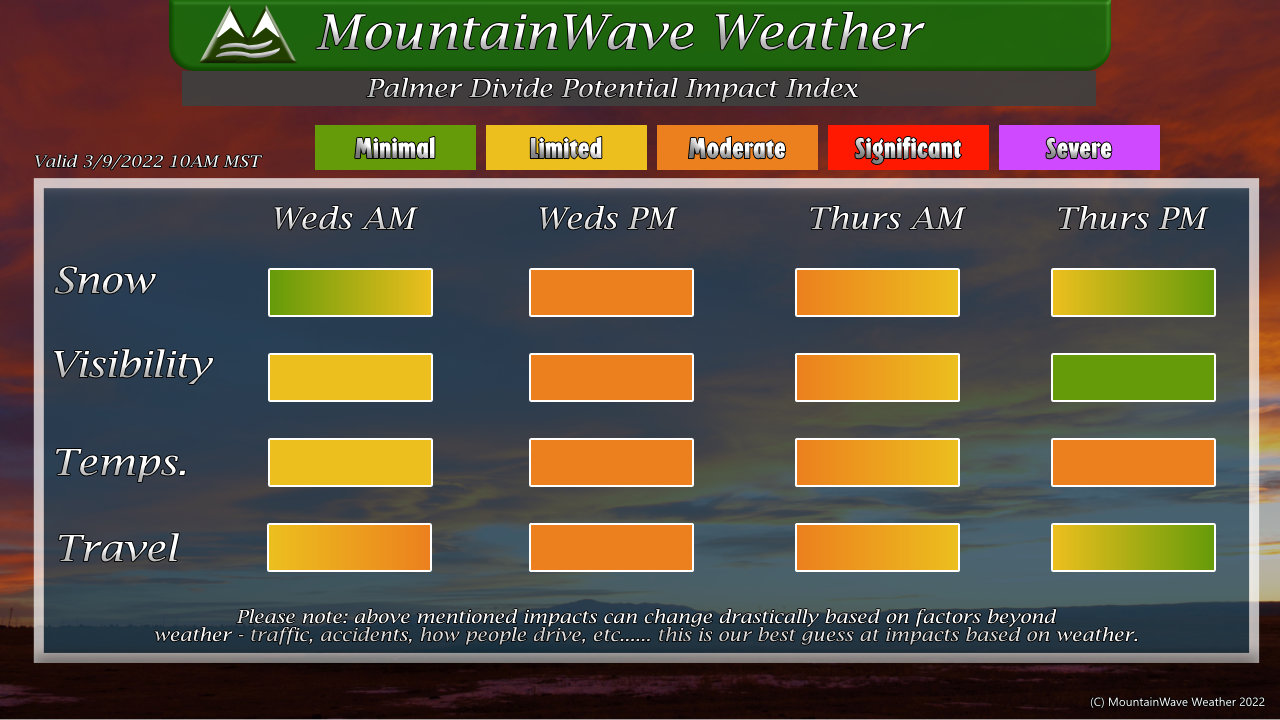 As we mentioned, snow is already falling across most of the Front Range, that will continue and intensify in some areas as we move through the day. Expect a pretty sloppy evening commute as the heavier snow bands will move through later this afternoon and into this evening. Moderate impacts will include icy/slick roads, light to moderate snow with pockets of heavy snow and reduced visibility. Those conditions will last into Thursday morning with improving conditions into Thursday afternoon.
Temperatures will still be a concern Thursday night and into Friday as we could see many lows near zero.
The handy-dandy graphic above should give you a pretty decent visual representation of my thinking on timing and impacts.
---
Summary
Storm is here and ongoing so probably no more major forecast updates with this one. We will spend the rest of Wednesday and Thursday tracking the storm and pass along any updates as needed. Stay warm and stay safe!