As we close the book on Fall (remember meteorological winter starts on Wednesday December 1) we will take a quick look at how things ended up for the season. After that I'll dive into the weekly forecast, but I must warn you that it's not super exciting... at least not yet... but it may become more so in the weeks ahead!
---
Fall Snowfall for 2021-2022
It should be no surprise to any of you if you've been following along, but the snow situation is pretty abysmal for this year. For the entire (meteorological) season of fall, Castle Rock received a whopping 0.6 inches of snow. As shown in the graphic below, you can see the gray is where we should be on average for this time of year and blue is where we actually are.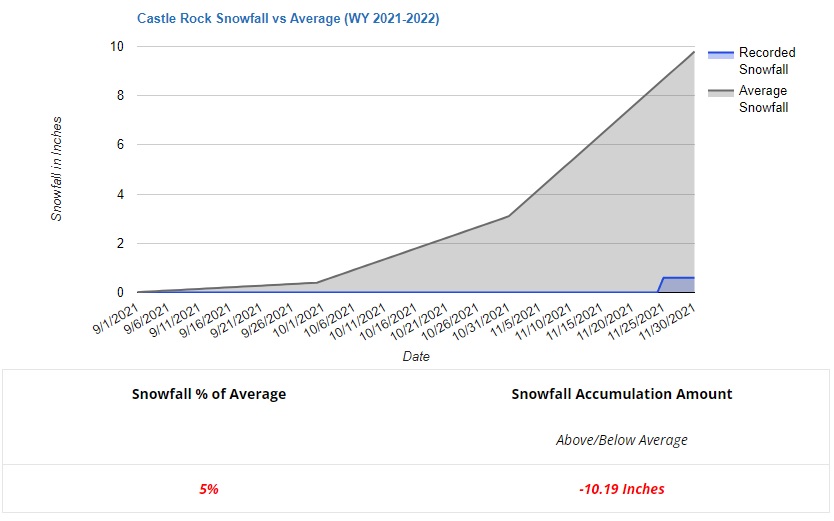 If we take a look at Denver (city of) we see much more of the same... no snow to speak of: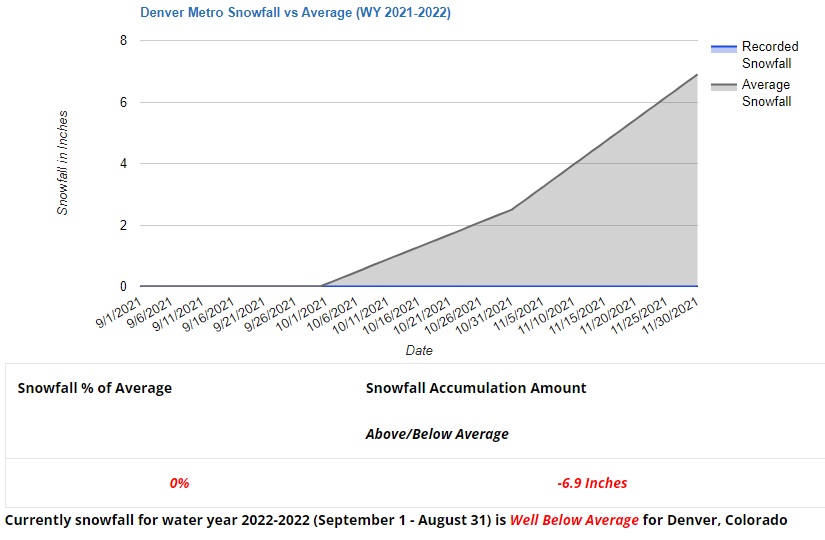 You can see our interactive snowfall maps free for the month of December here. This is a feature provided to our site subscribers and supporters!
To put this in further perspective, here's the map of percentage of precipitation realized for the fall season starting 9/1/2021 through today: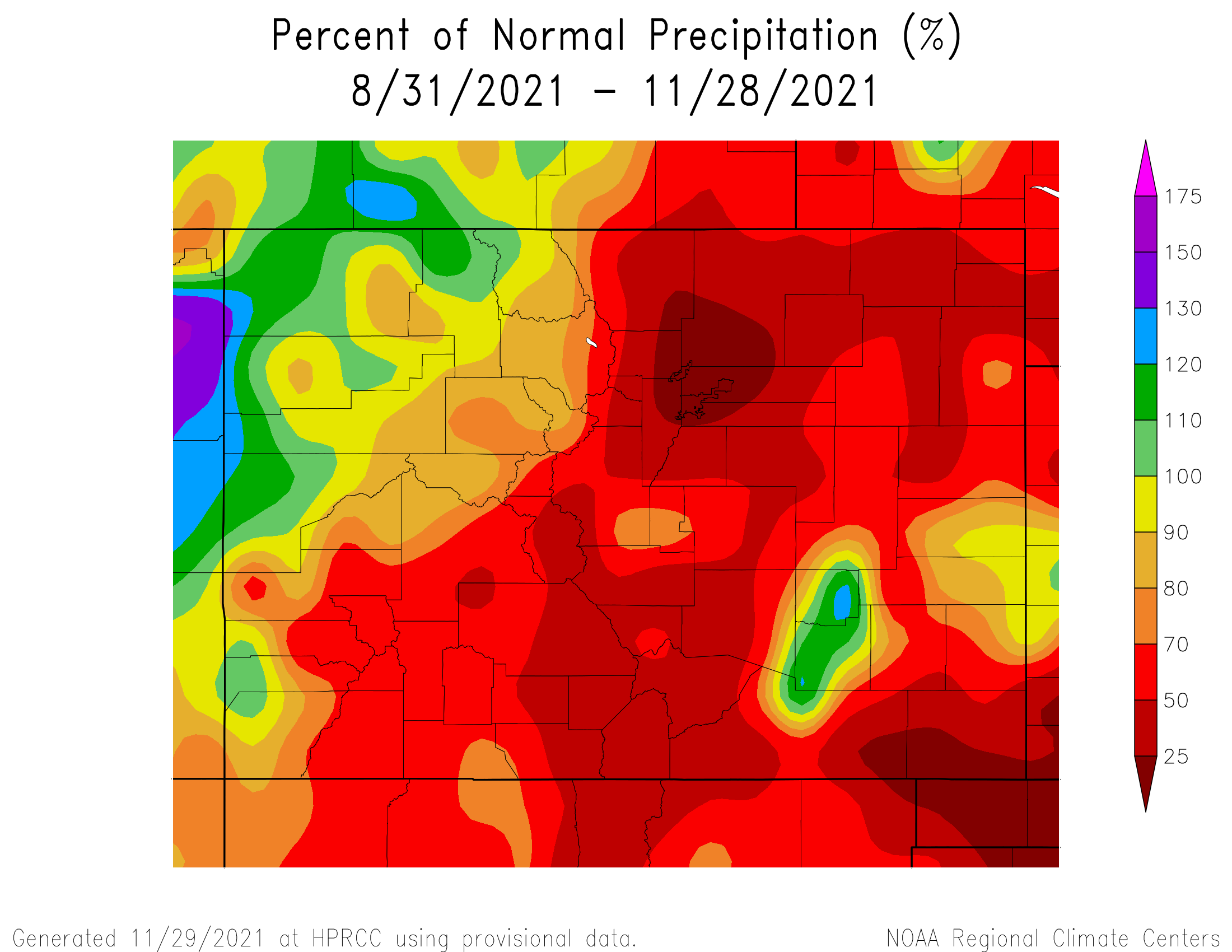 You'll notice many of the front range areas only saw 50% or less than the normal precipitation they typically see during the fall season (9/1 - 11/30.) Some areas in and North of Denver saw less than 25% of normal their average precipitation. We hate to keep hammering it in, but the fact is that it is quite dry and continues to be so.
---
Weekly Forecast Outlook
The Castle Rock/ Palmer Divide forecast for this week is shown below. Warm and dry conditions will continue through the week - we are not projecting any storm systems with any precipitation for the next 5-6 days. Temperatures will be quite warm, we usually average highs in the mid 40's this time of year so those 70's are nearly 30 degrees above average!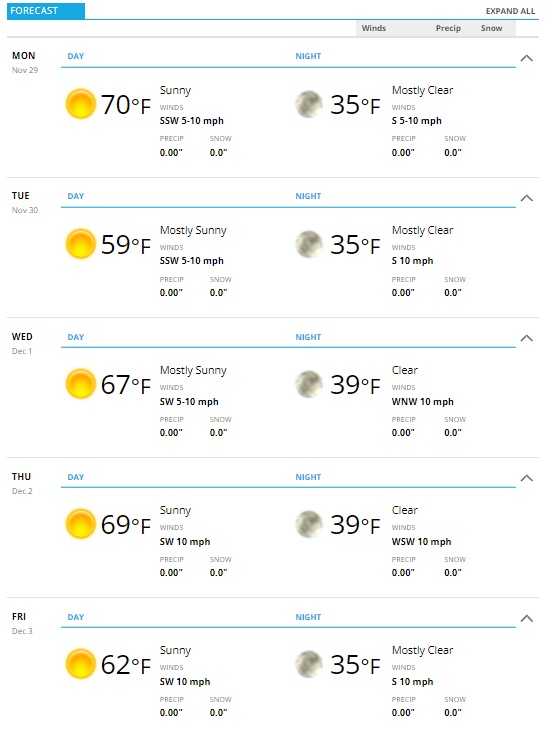 The main driver of our weather this week will be similar to what has plagued us most of the fall so far. A strong ridge of high pressure set up to our Southwest will keep the storm track well to the North of us. Warm and dry conditions will settle into Colorado and I don't see them going anywhere in the near term. This will also include the mountains, many of those locations will see unseasonable warmth and not a whole lot of snow to build our snowpack up sadly.
Below I have the Euro heights, remember red and orange are higher than normal pressure (warmer and dryer weather) and blues and greens are lower than normal (colder and stormier weather)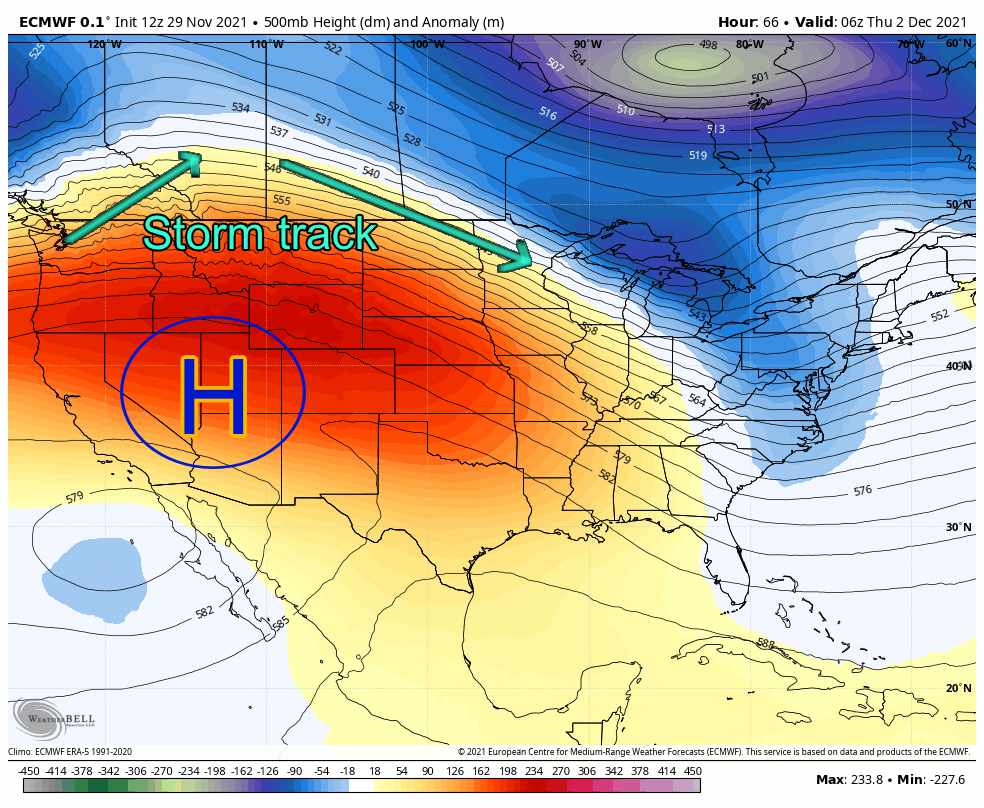 ---
A Pattern Change Coming? Sneak Peak!
As you know, anything the models show more than about 5 days out you have to take with a huge grain of salt, especially when trying to discern finer details. One thing we can see at this range is large scale pattern shifts or changes. Using the height anomaly product for the GFS (Similar to the one I posted above from the Euro) we can see when the pattern turns more "troughy" or unsettled. This snapshot below shows what the GFS believes the middle and upper atmosphere looks like heading into Tuesday night December 7.
Notice the oranges and reds have been replaced by a lot of blues and greens for the central U.S. including Colorado!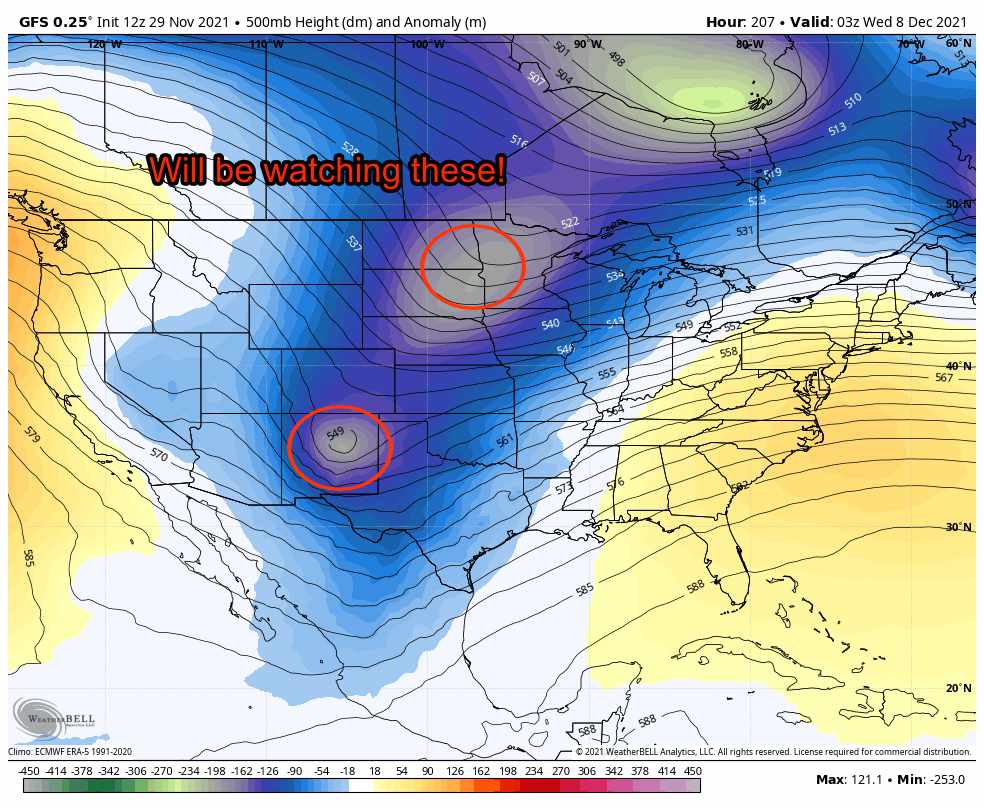 Remember, the finer details are something we won't be able to work out for several more days. This could be another one of those storms that trends Northerly or misses us completely - meaning we could see more cold air with this storm and little to no precipitation. I won't rain on our parade just yet (sorry for the bad pun.) All I can say right now is keep an eye around that timeframe for a potential storm system.
Models do show a bit of a shift in the overall pattern after this storm system, so even if this one doesn't hit us there may be a few more opportunities down the line. In fact I found a few more interesting tidbits that raised my eyebrows a bit as we moved into Mid-December. I won't get too excited about any of that yet... it is the GFS more than 14 days out after all, but...
WHAT IN THE BLUE AND GREEN HELL IS THAT?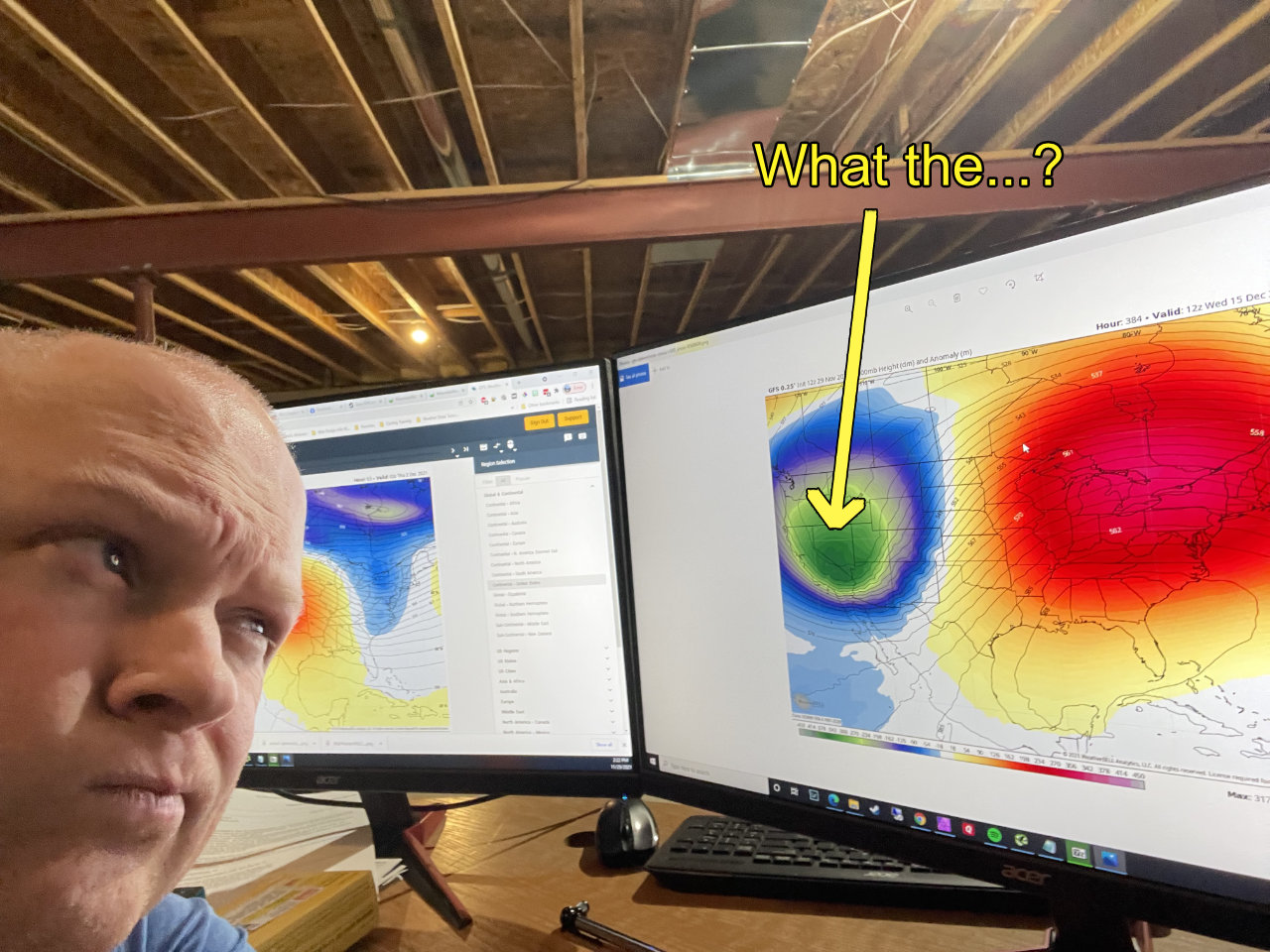 It's the GFS so it will probably disappear tomorrow... but anyways. Hopefully we have a bit more interesting weather to talk about later this month. Until then, enjoy the warm this week!