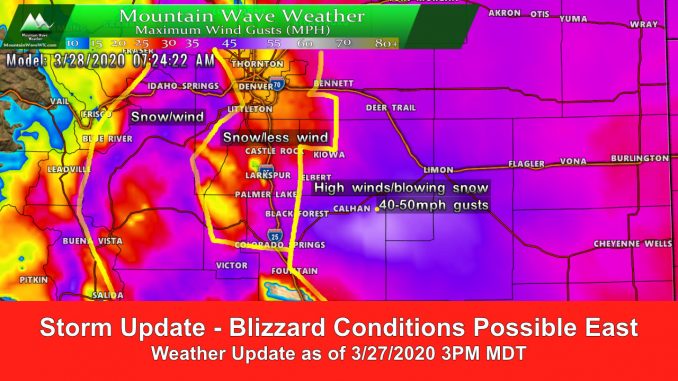 A tricky forecast on our next spring storm system as is typical this time of year. Right now the data shows the biggest impact East of the I-25 corridor out towards the plains. Suffice to say, the further East you live the more you need to be prepared for adverse conditions. Here's a look around the Palmer Divide and front range on what this storm is doing!
Winter Weather Highlights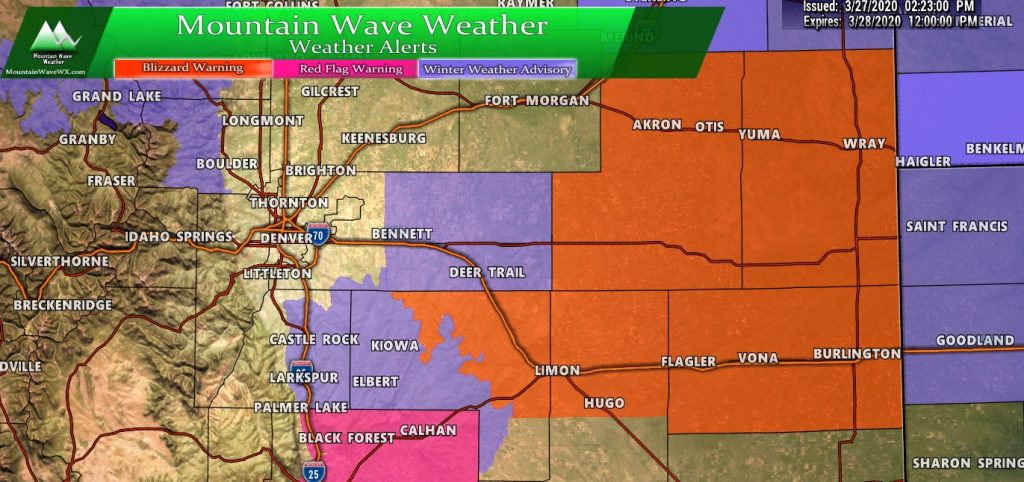 Blizzard Warning
Locations: Agate, Hugo, Limon, Matheson, Akron, Cope, Last Chance, and Otis (Palmer Divde: central and eastern Elbert County)
When: 9 PM THIS EVENING TO NOON MDT SATURDAY
Impacts: Blizzard conditions expected. Total snow accumulations of 4 to 10 inches. Winds gusting as high as 55 mph.
Travel could be very difficult. Blowing snow could significantly reduce visibility. Strong winds could cause tree damage.
Winter Weather Advisory
Locations: Castle Rock, Elbert, Fondis, Kiowa, Larkspur, Bennett, Byers, Deer Trail, and Leader (Palmer Divide: central and eastern Douglas County elevation above 6,000 feet and Western Elbert County)
When: 6 PM this evening to 6 AM MDT Saturday
Impacts: Snow expected. Total snow accumulations of 3 to 6 inches. Winds gusting as high as 45 mph.
Plan on slippery road conditions. Blowing snow could significantly reduce visibility.
---
Expected Snowfall
There's still uncertainty between models on who sees what in terms of total snow accumulation, there will be several variables to keep track of including warm ground temperatures, cold air and when the rain changes over to snow. In some areas along the Palmer Divide, we are already seeing reports of snow with no rain... meaning these snow totals could still change. Additionally, models have become a lot less excited about snowfall westward towards the front range so this is a very tricky snowfall forecast indeed. Here's what we see as of right now in the data...
Palmer Divide Region/ South Denver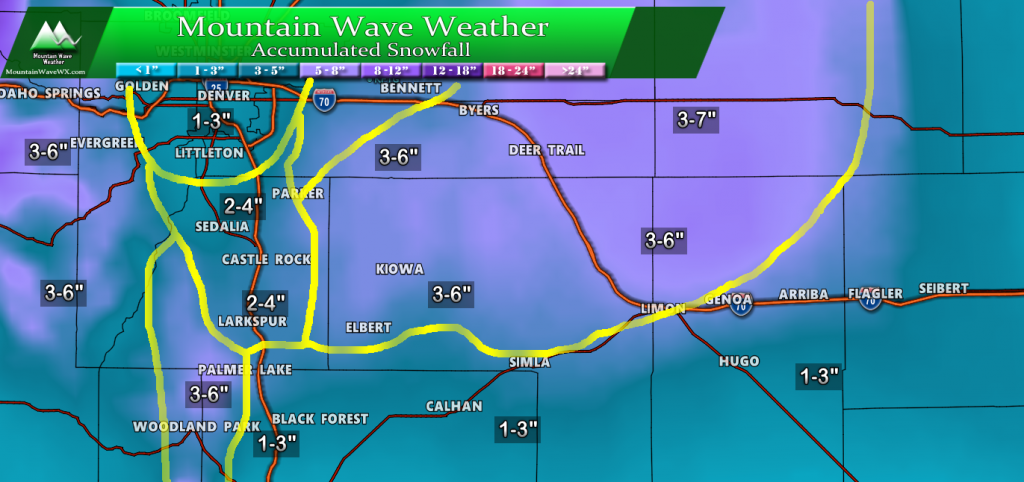 Colorado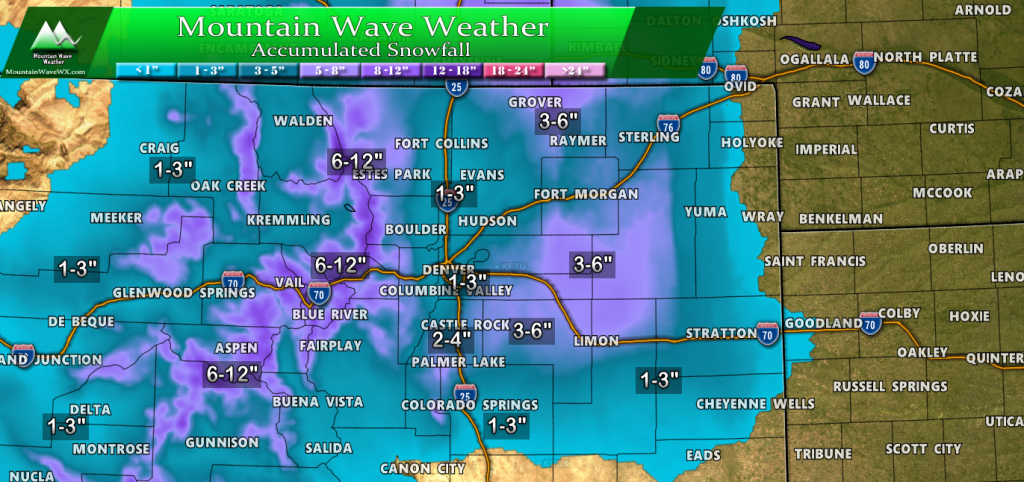 **Please note, snow totals will constantly change with this storm as I believe models don't fully have a good handle on snow accumulation with this storm. As such,  be prepared to see a swing upwards or downwards from the currently forecast totals... mainly based on how much cold air arrives and when along with how much moisture there is to work with.
Overall snowfall forecast confidence: medium at best, I suspect actual amounts may fall outside of the above forecast a bit. This is one of those storms where actual snow accumulation may vary greatly over small geographic areas, we tried our best to pick our ranges that will encompass as much of an area as possible.
---
Storm Discussion (Impacts/Timing/Hazards/Trends)
Timing (fairly similar to our earlier update)
Friday

Rain/snow mix possible in the afternoon -spotty in nature
Transition to snow later in evening/overnight hours
More sustained snowfall possible for some areas into the evening and early overnight hours on Friday
Higher elevations will see best shot at accumulation

Saturday Morning

Storm will move out by early Saturday morning
Mostly clear conditions will establish Saturday with highs in the low 50's for most areas
Areas East of I-25 may remain windy earlier int he day Saturday
Impacts/Hazards
Rain/snow mix with snow later
Expecting a lower travel impact as many folks are staying home at this point
Higher elevation areas may see some accumulation and slickness on roads
---
Summary
While this won't be a major storm for most, a few areas will see some wild weather over the next 12-18 hours. I think the biggest chance of Blizzard Conditions remains East of the I-25 corridor so don't know how much of an impact the urban corridor will see. Snow to some degree looks likely but winds look less and accumulations look lighter.
For those of you in central Elbert County and points Eastwards make sure to have preparations finished shortly and if you have ag/ranching interests make sure to have the animals all taken care of!