If you missed tonight's live-stream here is a quick re-cap of what we talked about!
Our main focus was on the snowfall forecast, I explained that the NWS amounts that have been posted are very high and constitute the total amount of snow that will fall from the sky, not the total amount that will accumulate. My own forecast takes a blend of that and what I believe will actually stick to the ground so it will appear different than what you may see from the NWS or local TV stations.
Here's a look at the Palmer Divide, Northern Colorado and Southern Colorado.
---
Timing
Many folks asked about the timing of the worst of the storm; it appears that the most likely chance of heavier snow that sticks and causes travel difficulties will be later in the day Tuesday, overnight Tuesday and into Wednesday. The Tuesday morning commute will largely depend on when rain switches to snow tonight, which is hard to pinpoint. My advice is to get up a bit early and check things out Tuesday morning.
Additionally, the overall timing from our earlier forecast applies:
Monday Evening/Night
The cold front is currently moving through Wyoming and will be entering Colorado shortly. Most models have the front moving through the Palmer Divide region sometime after 6-7PM and midnight. You'll know the front is moving through because of the wind at first, followed by the drastic temperature drops behind it and overnight.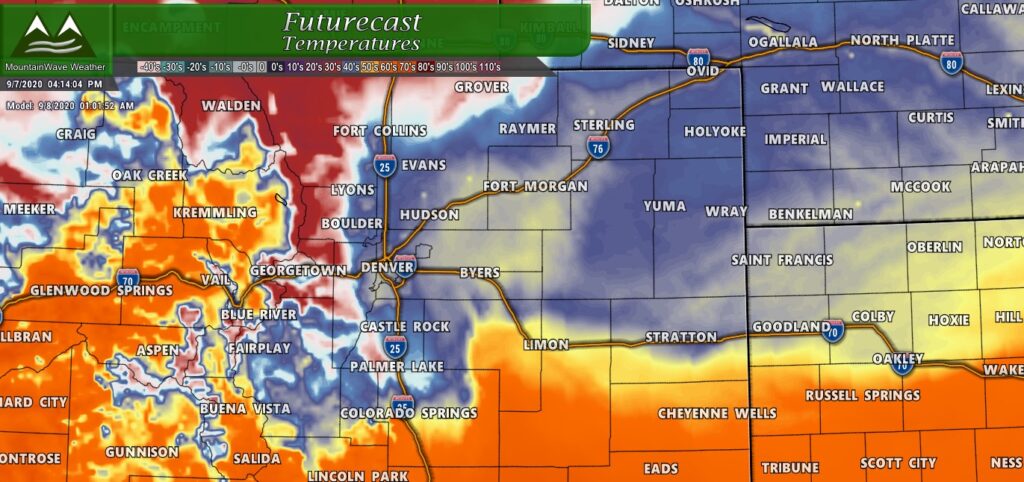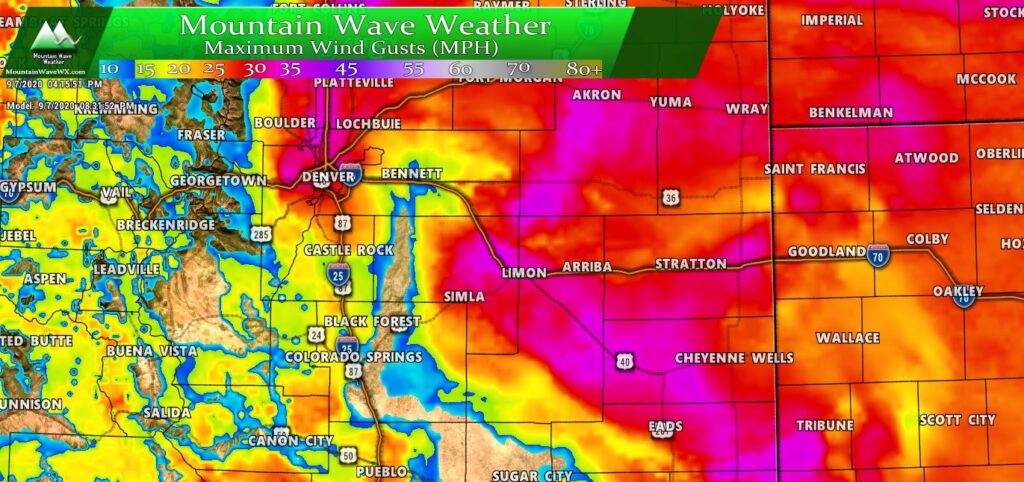 Tuesday Morning
As we move into late Monday night and early Tuesday morning showers will form behind the front, initially as rain but switching over to snow. This is important! When the rain changes to snow will dictate what type of commute you will see in the morning Tuesday. An early change to snow means roads may get dicey earlier under heavier bands of snow... a later change means roads will probably be fine Tuesday morning.
We will have to see how that goes as no models agree on an exact time on switchover from rain to snow...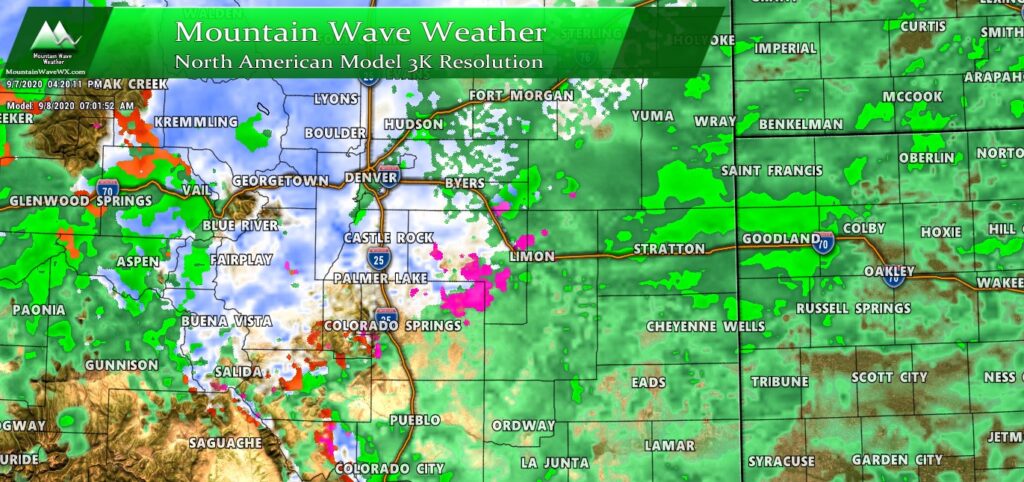 Tuesday Afternoon/Evening
Models show snow continuing on and off (heavy at times) through the day Tuesday with temperatures falling through the day.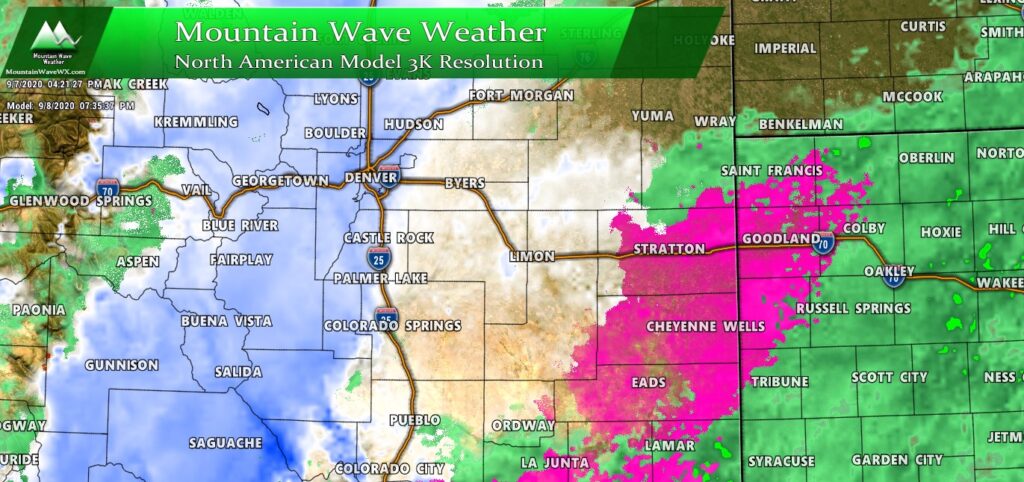 So expect those conditions to persist and depending on how quickly roads can be overcome and how temperatures ultimately end up; the possibility of a rough Tuesday evening commute is decently high at this point.
Tuesday Overnight/ Wednesday Morning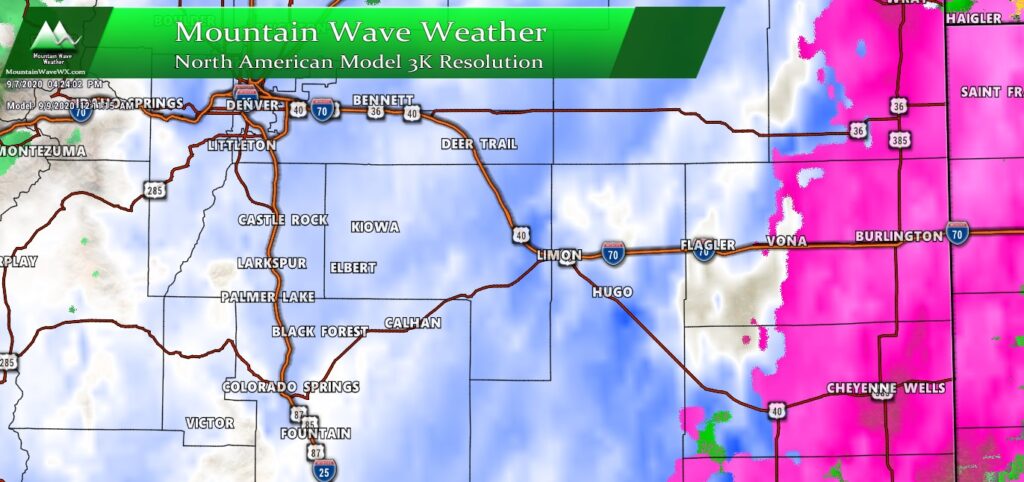 After a lull of snow in the evening some models show another burst overnight Tuesday into Wednesday morning. This burst may have the best chance of accumulating snow as temperatures will be very cold at this point!
Snow looks to come to and end sometime between 6AM and 12PM on Wednesday morning.
That pretty much wraps it up, if you have time be sure to go back and check out the video, but if you don't this should detail the important stuff in a more condensed format!
---
Thank you for watching, following along and generally supporting MountainWave Weather!