Colorado's First 2021 Fall Storm System on the Way?
A big deal has been made about our unusually warm and dry weather the past several weeks and even over most of the summer. A lot of that had to do with upper air patterns and high pressure that kept a lot of storm systems away from Colorado and a ton of hot air pumping into the region. This is not atypical of late summer, but it usually breaks down as we go into September. This year we've continued the hot and dry pattern well into September but there are hints that we may see that change for a bit next week.
In the image above, this is a snapshot of the Euro model's forecast in late July of geopotential heights, basically areas of high pressure (ridges) and low pressure (troughs.) This snapshot has been representative of what we've seen most of the summer and continued into September. When you see pattern setups like this, you know hot and dry conditions are likely.
Now, let's see what happens when we look at the upper air pattern per the Euro ensemble next week...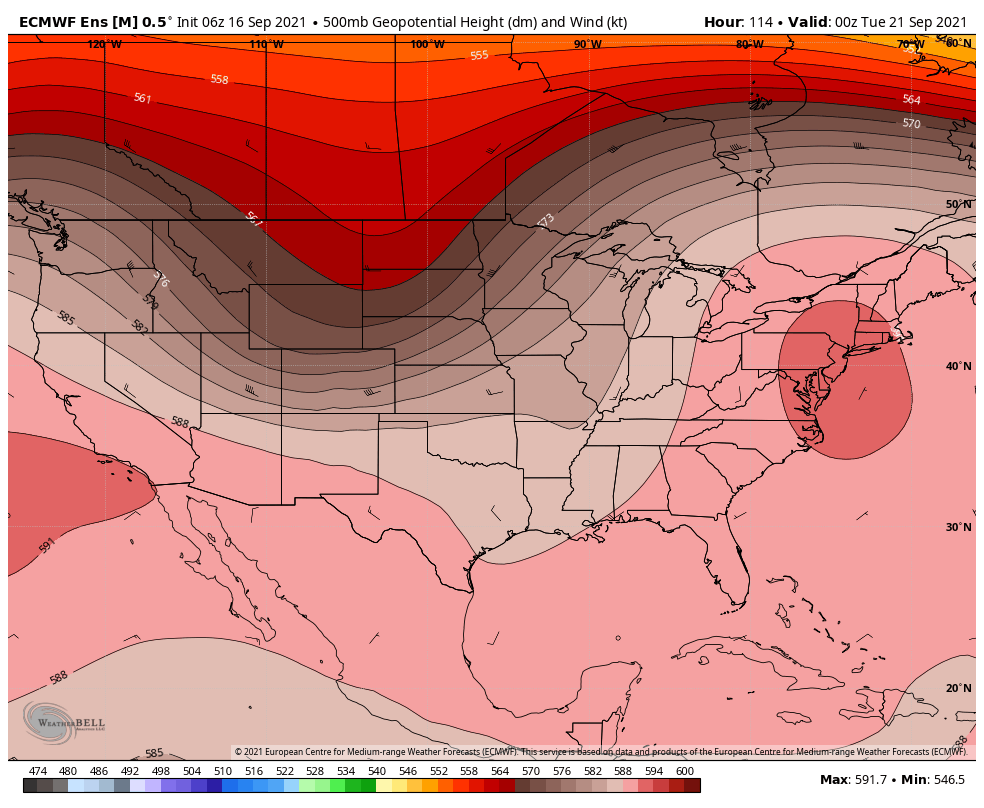 Notice the large trough digging into the Northern part of the country. This is what could be our first shot at what we'd consider a "fall" storm system - meaning cooler air coming down from Alaska/Canada via a trough as the jet stream sags to the South.
A lot of social media weather casters and even some of the TV stations have started picking up on this and are starting to sell this storm system to be a bigger impact than it probably will be. Let's do a quick play-by-play on this storm system to help understand a few factors that were are monitoring right now: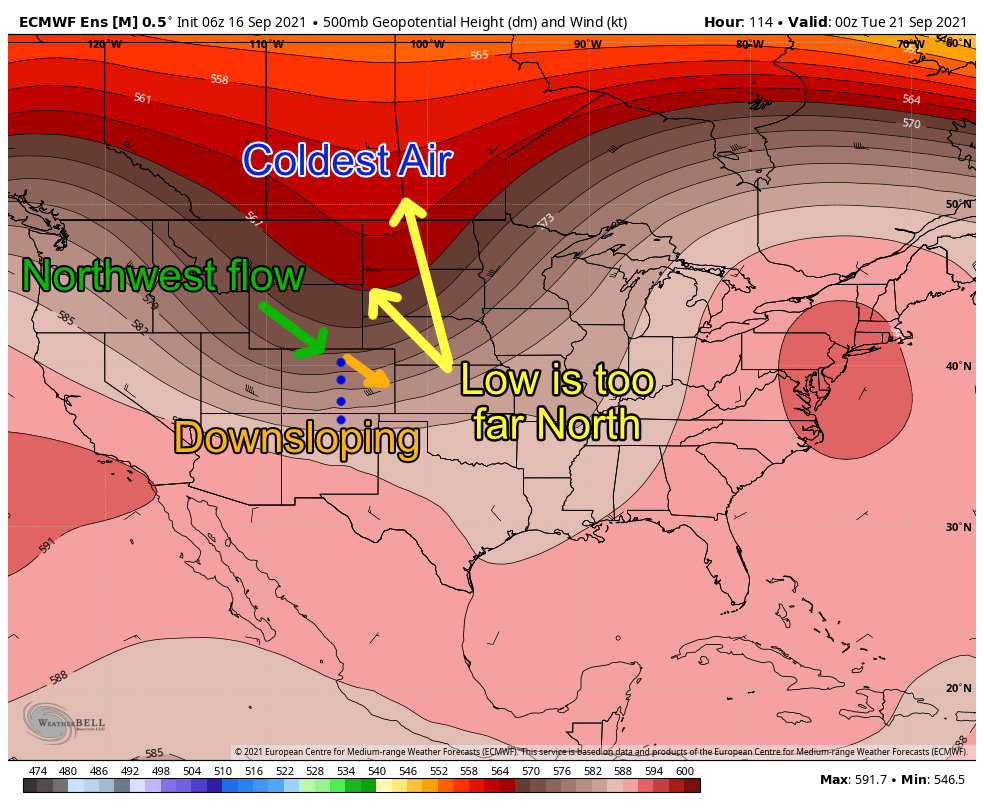 Yellow - position of the trough as it moves across the U.S.
With most models we are seeing right now, the trough does not move far enough South to be a major factor in Colorado's weather. Should the trough swing further North we will see less impacts, further South and we could see more. I would like to caution though; even with winter/snow storms - Northwest flow storms do not typically bring big chances for precipitation for Eastern Colorado. So if you're expecting feet of snow along the front range out of this one, you're going to be disappointed.
Green - Northwest flow
Whatever moisture this system brings will be caught up in Northwest flow aloft. This causes upslope in the Northern and Central mountains typically and will wring out that moisture before it crosses the continental divide. The effect of the wind coming over the mountains and descending down the foothills is called downsloping. As the air sinks it warms and dries this usually means little moisture for areas East of the Continental Divide. With any precipitation chances for this storm, the mountains have the best shot while the front range has the worst shot.
Orange - Downslope
See my comments above on downslope - it basically means that precipitation is unlikely for most areas East of the continental divide. Here's a handy graphic to help visualize this effect: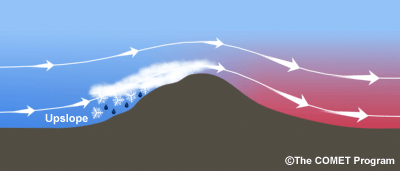 ---
What Does This All Mean At This Point?
Before you get all antsy about this storm being a huge bust or being a huge impact remember this; we are still several days out from this storm's arrival in Colorado. At this point in the forecast we are in a "wait and see" mode because while we know there's something coming around the late Sunday - Tuesday timeframe next week... and we know it's a trough with colder air from Canada. We are still too far out to see a lot of the finer details! Those will be come clearer with more data in the next few days so stay tuned for updates on that.
Here's my thoughts overall on this storm with the data in TODAY (remember this could change based on the next sets of data coming in, I'll update as necessary)
Will this be a high impact storm?
In terms of rain/snow/temperatures it does not look likely
In terms of wind: I'm more concerned about the potential for strong/damaging wind along the front range. Stay tuned for updates on that and be ready to start getting prepared.
Will temperatures get really cold? Cold enough to freeze things?
While temperatures will be quite a bit cooler than what we've seen the past several weeks, I don't see things getting cold enough to be worried about freezing. Latest model guidance has us reaching the low 40's by Tuesday morning. Some higher elevation areas may even touch the upper 30's but I don't see anything much colder than that. Daytime high temperatures will be in the 70's on Monday and 60's on Tuesday. So not exactly freezing by any stretch...
Will we see snow?
For the Palmer Divide - NO
For the mountains, the potential is there. I do see a lot of models suggesting snow flying in the high country but none of them are enthusiastic about much if any of it sticking
When does the storm get here?
Details on timing are still a bit fuzzy as of right now, but the general timeframe is sometime later Sunday, Monday and Tuesday are all in play for cooler weather, possibly strong winds and maybe some snow in the high country.
Stay tuned for updated details on timing
---
Summary
So far the exciting part of the storm is the fact that it looks likely to cool us off quite a bit early next week and give us relief from the record temperatures we've seen as of late. The rest is relatively blah, we won't see a lot or any moisture out of it along the front range, strong winds could cause a problem at some point and the mountains may see a few flakes flying.
That's about it with the data out as of this morning. I'll have more updates as necessary or if things look like they are changing.
Thanks for following along!