This Week's Weather Stories 09/13/2021
Smoke Be Gone!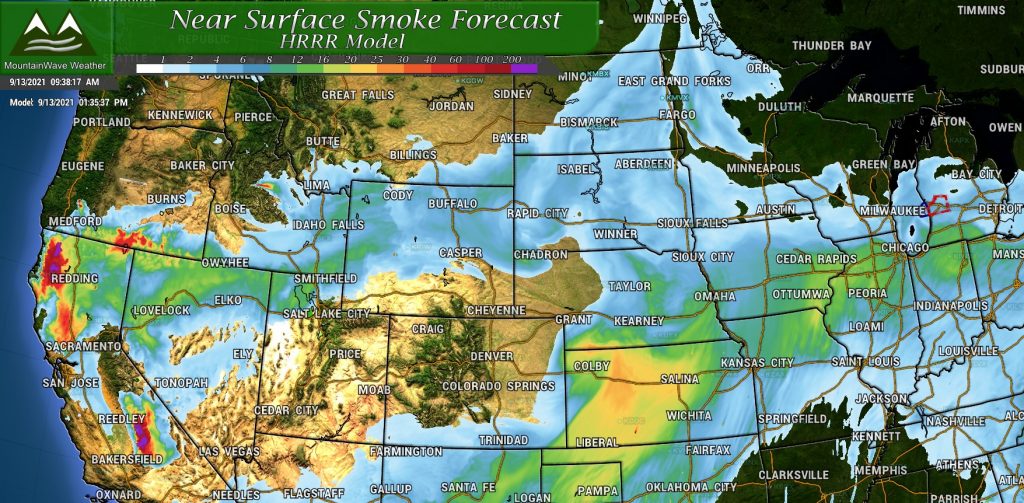 The first thing you'll notice as you wake up and venture out Monday morning is how clear the air is! The smoke has left most of the state (for now) and for at least next couple of days we will enjoy much cleaner air and a returning view of our mountains. The smoke forecast model I use only goes out 48 hours and so far it looks much clearer for all 48 of those... when I look at some of the upper air models it looks like the jet stream stays North of Colorado. That should keep most of the smoke away for this week!
---
A Taste of Fall
A cold front moving in from the North on Monday afternoon will finally cool things off a bit... for a short time (more on that later.) Many folks have been asking me, "when will we see fall weather?" Answer: Tuesday... and only Tuesday for now.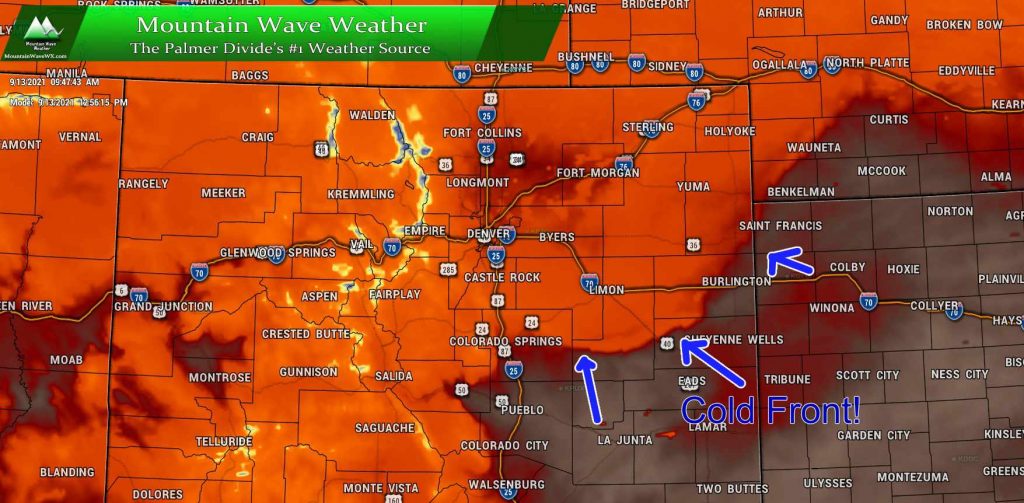 Many models project this front moving in Monday shortly after lunch time. It initially will drop temperatures a bit on Monday but the real temperature drop will be saved for Tuesday. As always, when we see a lot of cooler air spilling in over a warmer air mass - thunderstorms will be possible Monday afternoon. Some of these could grow strong or even severe, but the threat remains widely scattered at this point - most of us won't see severe weather but a select few may on Monday and Tuesday. Expect some breezy winds/gusty conditions as the front moves through this afternoon.
Temperatures along the Palmer Divide and most front range locations will top out in the mid to upper 80's on Monday. By Tuesday, many locations will see daily highs around the mid to upper 70's. See the forecast below for more details.
I'll have Severe Weather Outlooks up on Facebook Monday and Tuesday discussing those threats - so stay tuned for that.
---
Back to Summer
After Tuesday warmer air will shuffle back into Colorado from the West.
See the forecast below, temperatures will rebound in the mid and upper 80's for many locations, but I believe the models may have the temperatures a bit underdone. As such I wouldn't be surprised to see those forecast high temperatures tick up a couple of degrees as we go through the rest of the week and get more data in.
It looks like we will remain warm in the short to mid term, some models hint at a pattern shift very late in the month but details are still fuzzy on that. We will keep an eye on this!
---
Palmer Divide Weekly Forecast
Here's a look at the next few days for Castle Rock on the Palmer Divide. As always, add or subtract a couple of degrees depending on your elevation/location on the Palmer Divide and you should be pretty close to where you end up with the forecast.