There's a lot to cover this evening so we will get right to the storm analysis, timing, impacts, etc...
I've posted at length about all the weather warnings out today for the state of Colorado - I've recapped all of those at the end of the article (some have been updated to include more territory) so that will be a good reference for you to see if/when your area is in a particular warnings area.
Let's get to it!
---
High Confidence in High Winds Wednesday 12/15/2021
A strong low pressure system will form Northeast of Colorado with an associated trough diving Southward on Wednesday. This will allow moisture to stream into the mountains but a tightening pressure gradient on the lower side of the Low will mean extremely strong winds. This translates to strong downslope winds through the day on Wednesday for nearly all of Eastern Colorado.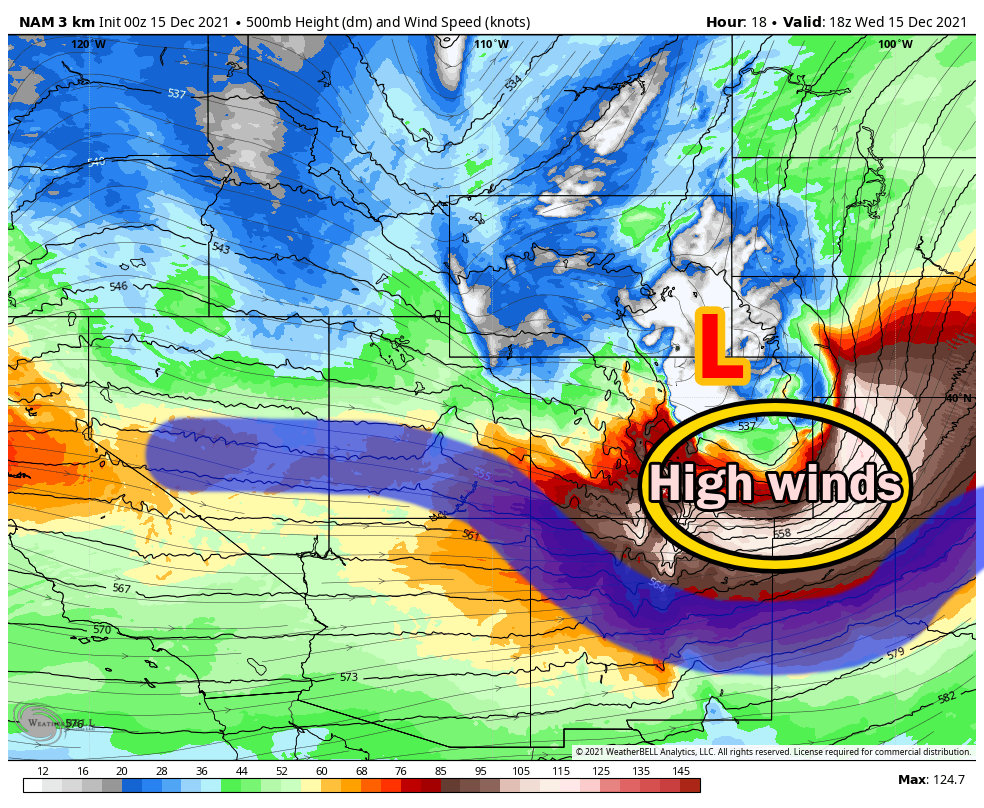 The latest look at the HRRR shows strong winds for most of the areas East of the Continental Divide tomorrow.
---
Finer Details on High Winds
While most of the Front Range will be very windy tomorrow, there are a few places in particular we'll want to watch for extremely strong and potentially damaging winds:
Palmer Divide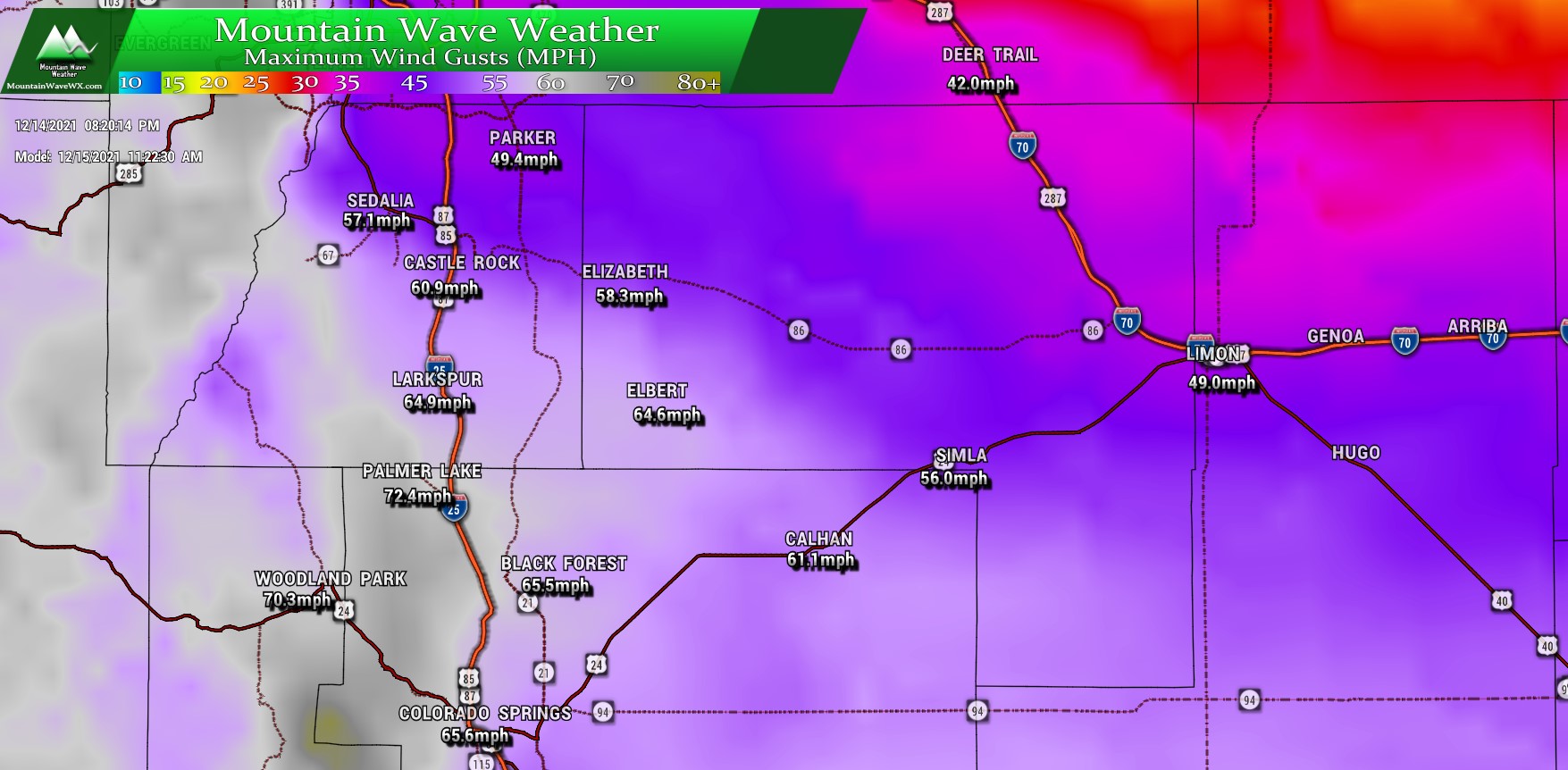 Areas along the Palmer Divide will see wind gusts in excess of 60 or even 70 miles per hour. The strongest winds look in the foothills West of I-25 especially South of Castle Rock towards Palmer Lake, Monument and Woodland Park. Additionally, we do see an extended area of strong winds reaching South of Castle Rock out into Southwestern Elbert County. Heads up to areas South of Elizabeth (like Elbert and surrounding areas.)
Front Range Foothills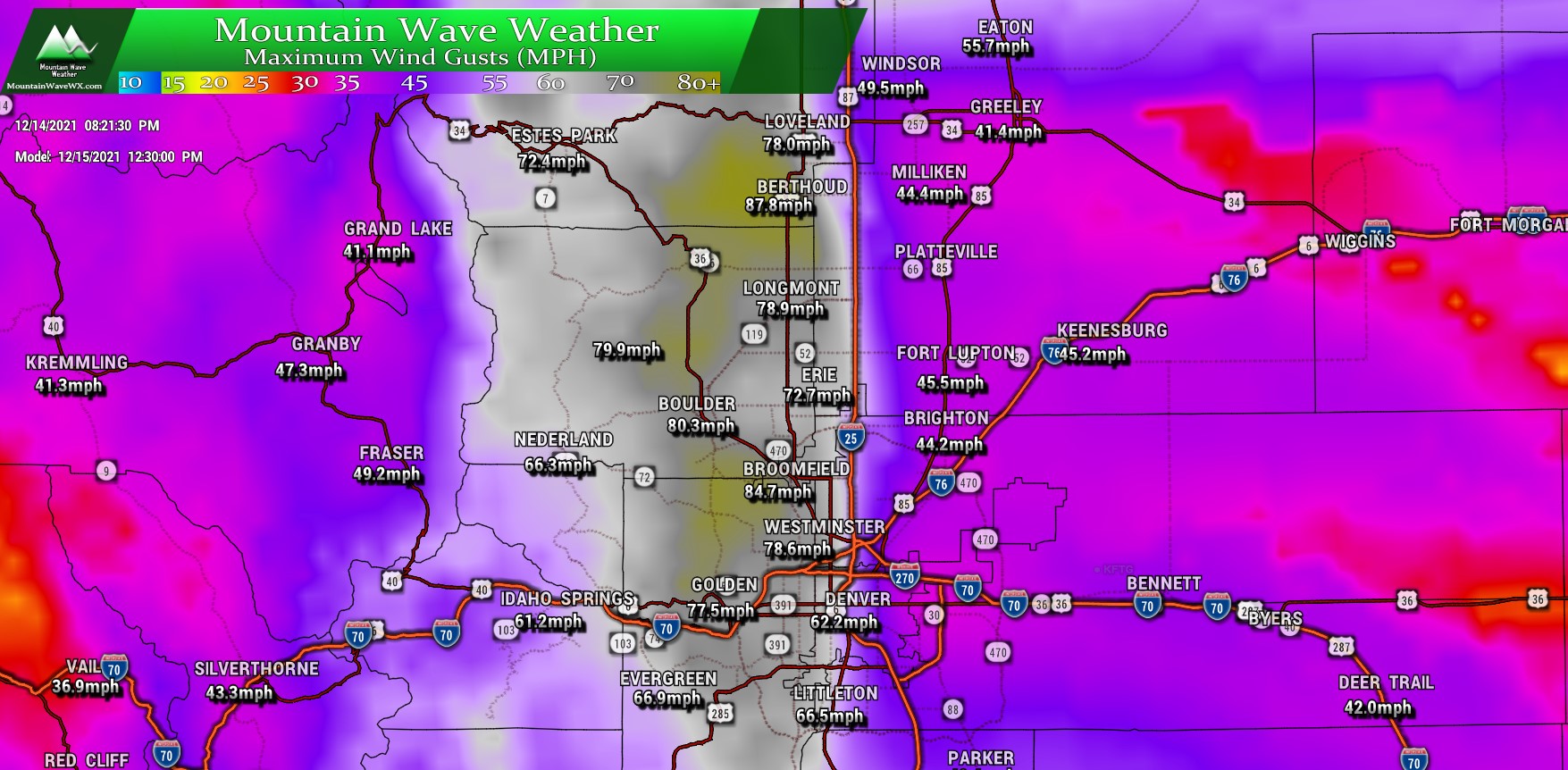 The foothills will be another area of concern basically from the Northern border to the Southern border. Wind gusts in these areas will be especially strong with some models having gusts approaching 100MPH. Some higher peaks may even see higher winds!
South and Southeastern Colorado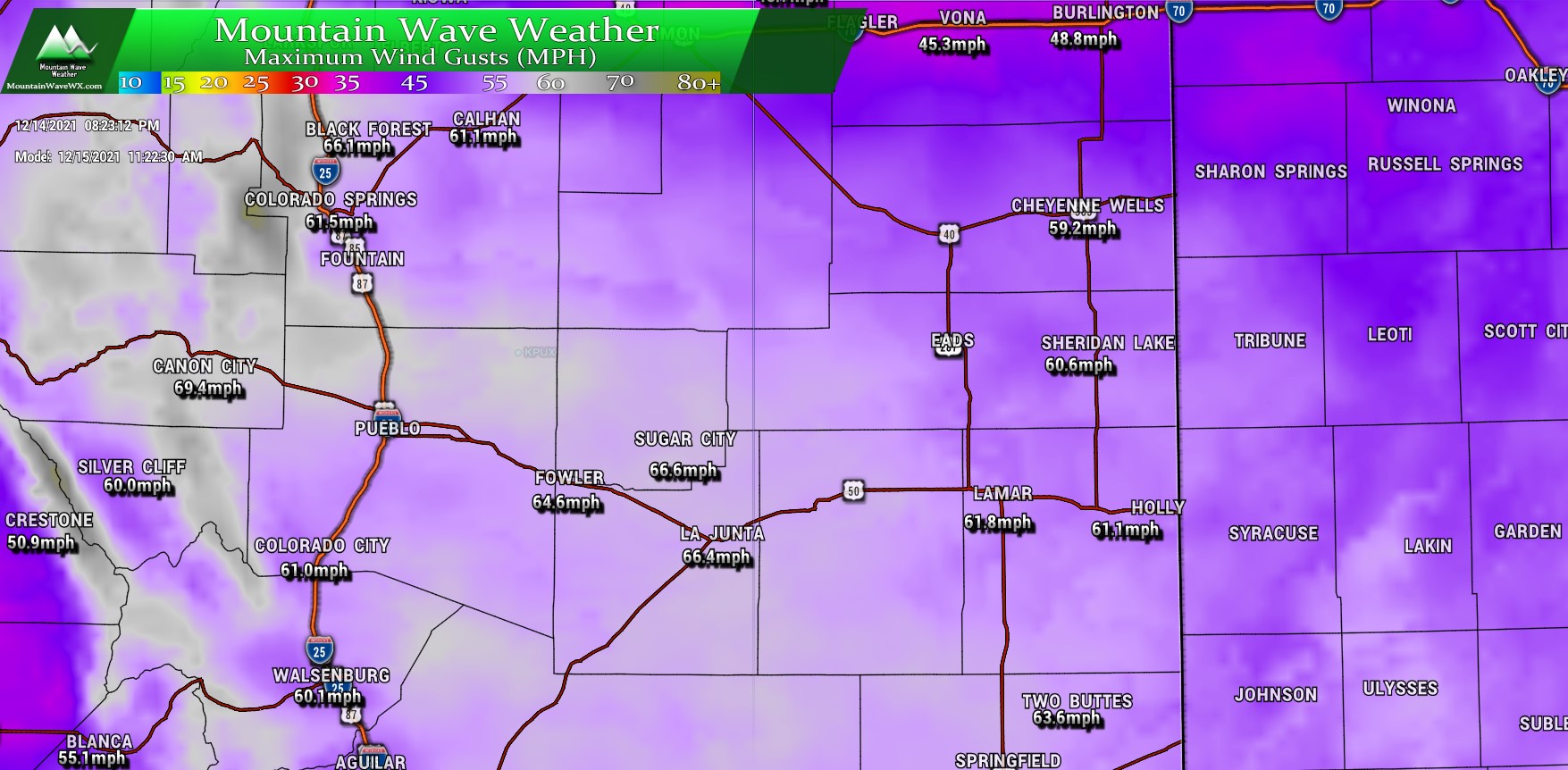 Taking some of the brunt of this storm will be Southern and Southeastern Colorado. This area in particular will see some of the stronger sustained winds along with quite a bit of strong gusts. There is also a high fire danger concern for much of this area and several others along the front range. (See details on the Red Flag Warning below.)
For what it's worth, the latest run of the HRRR actually comes in stronger with wind gusts.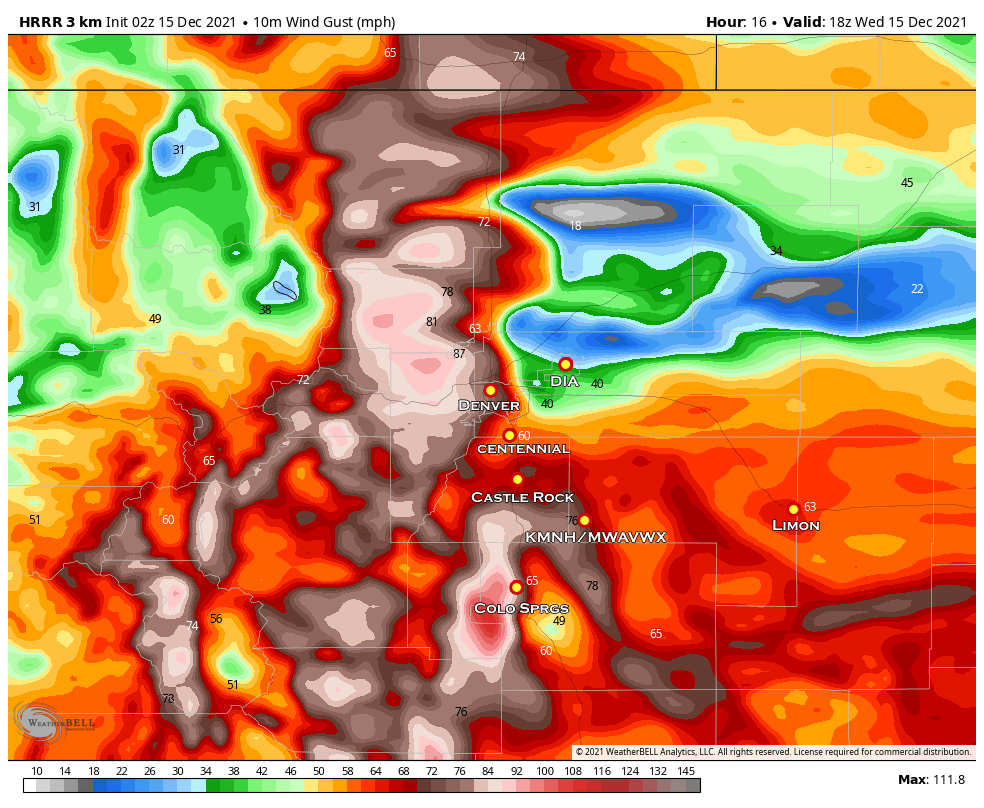 ---
Timing
The National Weather Service in Boulder put together this handy graphic to help visualize what times the brunt of this storm will hit certain areas tomorrow...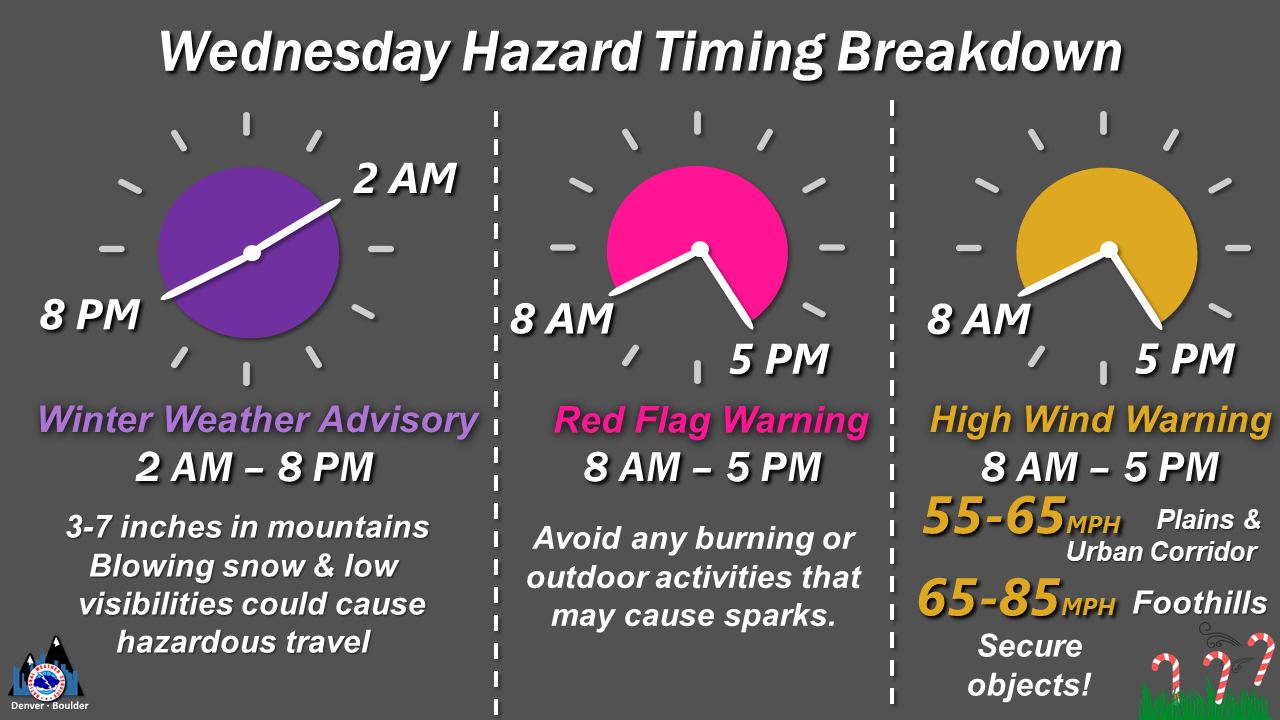 Be sure you keep these times and locations in mind if you are out and bouncing about tomorrow.
---
Preparedness
Here are a few items of value if you are wondering what to do before tomorrow's wind event.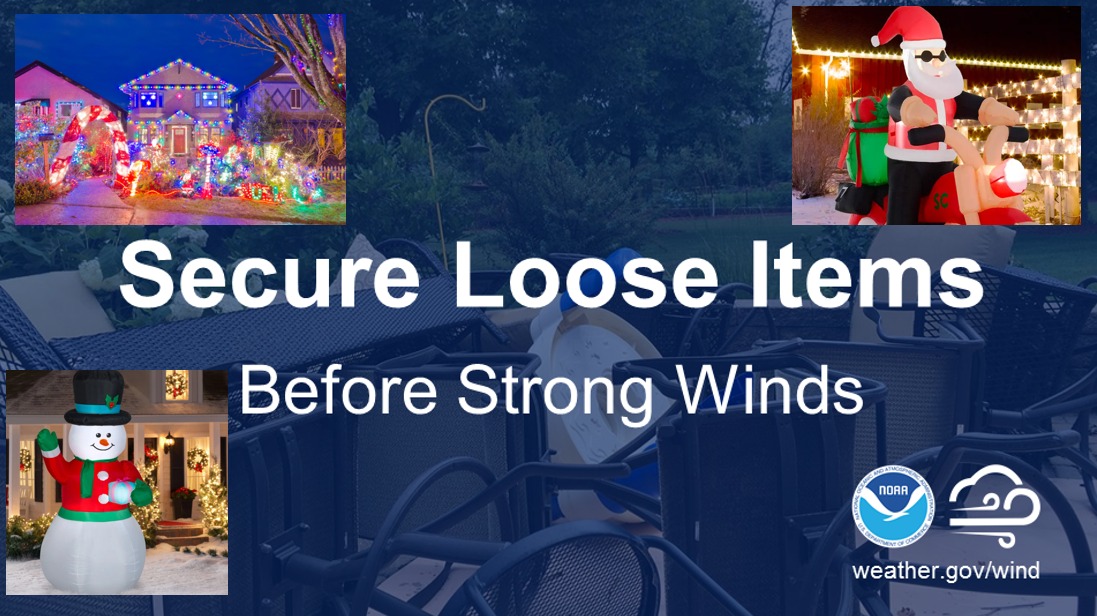 If you have Christmas decorations out that could blow away (many of us do this time of year) be sure to bring them in by TONIGHT!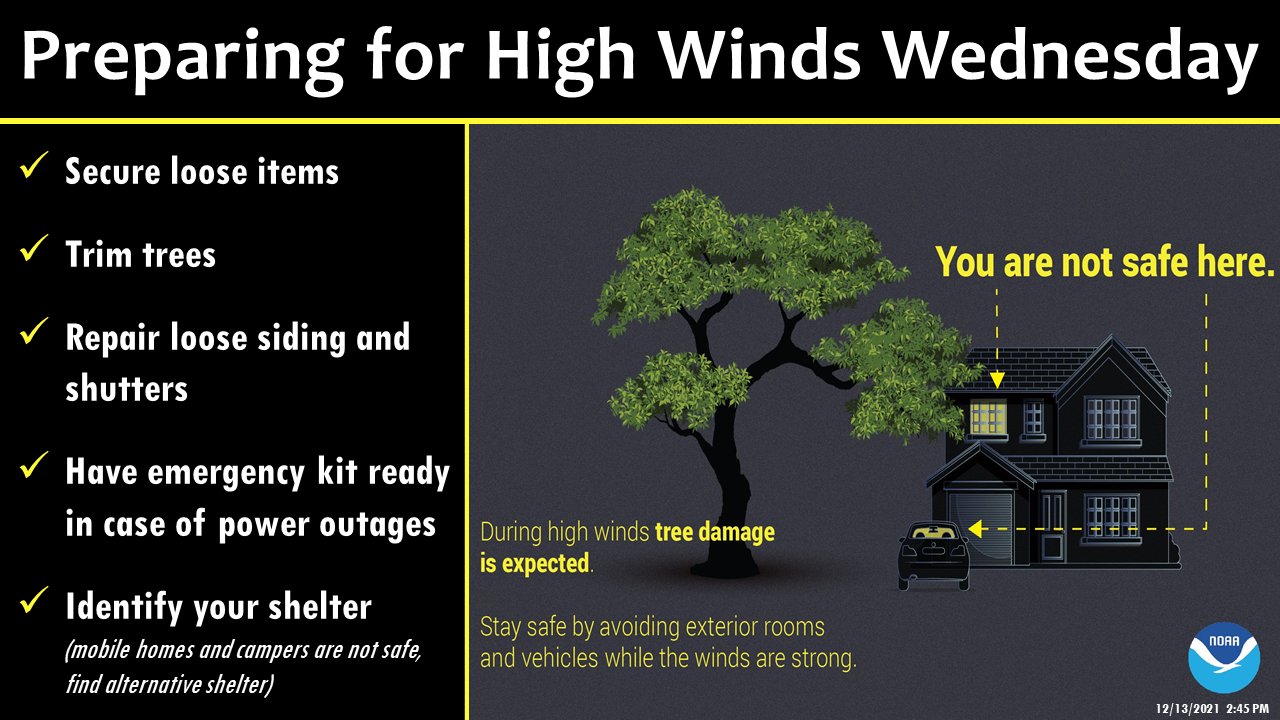 Many similar rules for preparation for high wind events as severe storms or tornadoes. Be sure to stay away from trees and powerlines when the stronger winds hit. Have a safe place to inside your home if necessary and make sure you are prepared for power outages.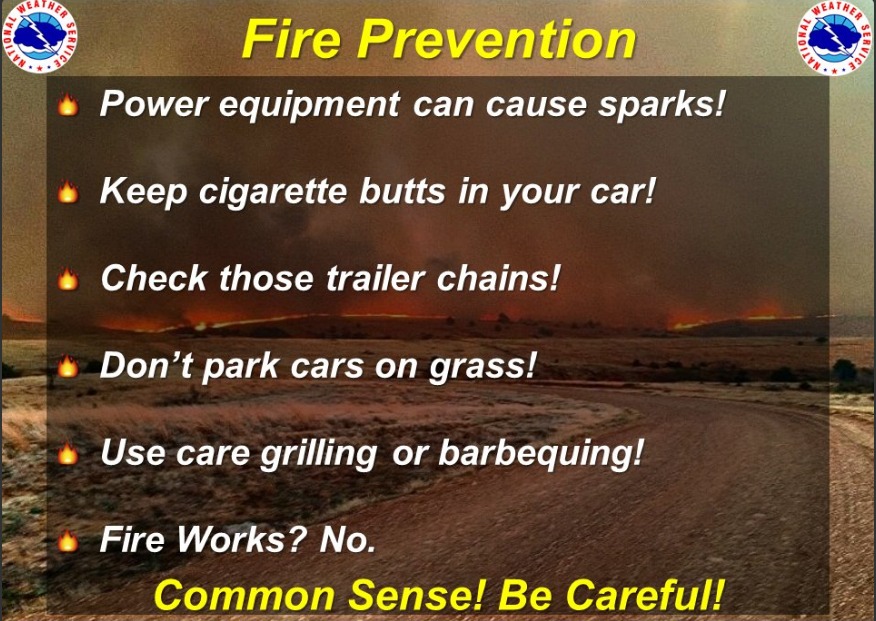 Finally, I can't stress enough how bad a fire would be tomorrow. The incredibly strong winds and dry conditions will mean any fire that starts will be uncontainable until the evening hours. Depending on the location it may even be later in the night before winds die down enough to allow for controlling or containing fires. Do not do anything that could cause a fire tomorrow... wait until a better time!
---
Recap of All Statewide Weather Alerts
Eastern Colorado
High Wind Warning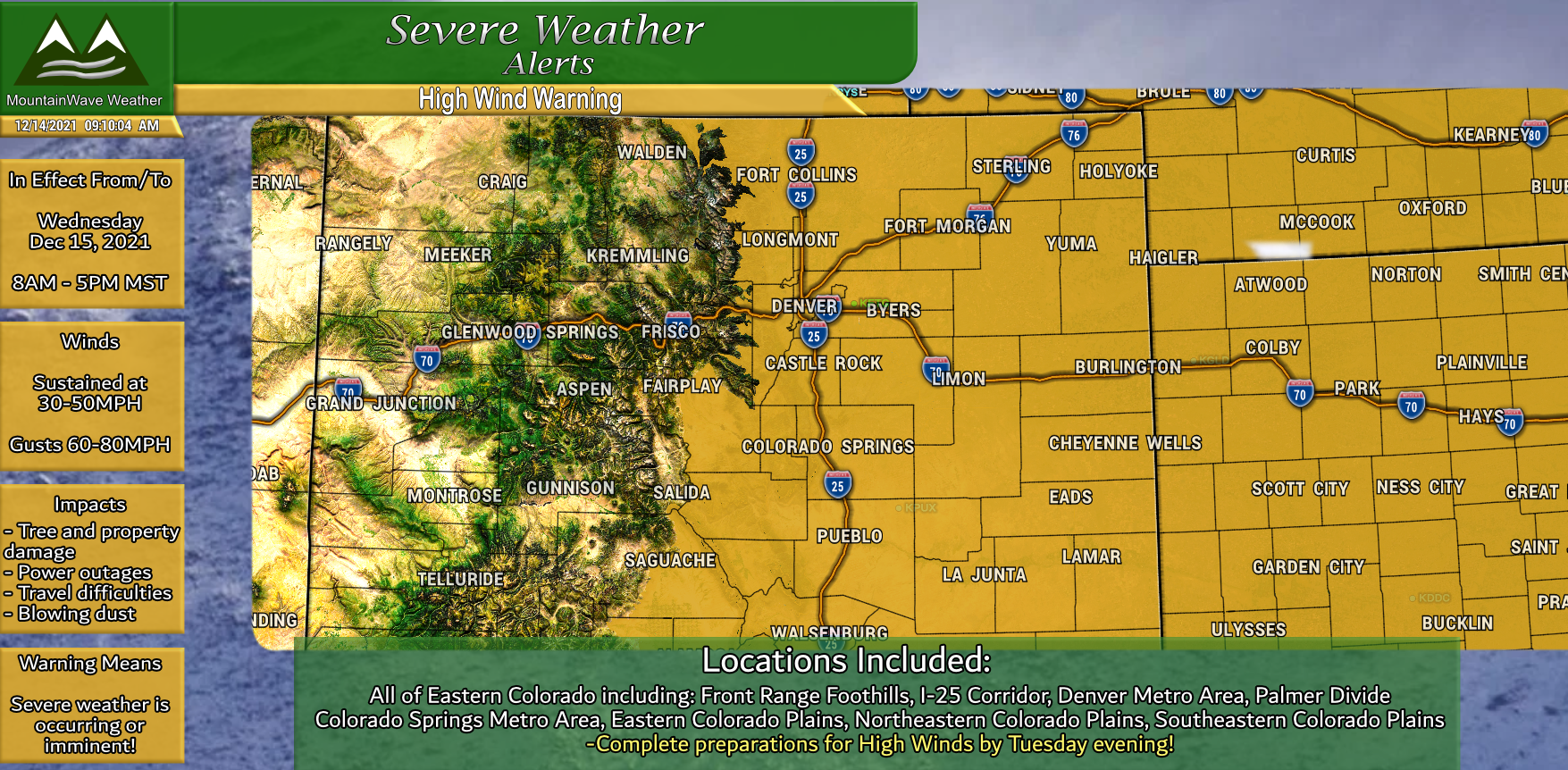 Red Flag Warning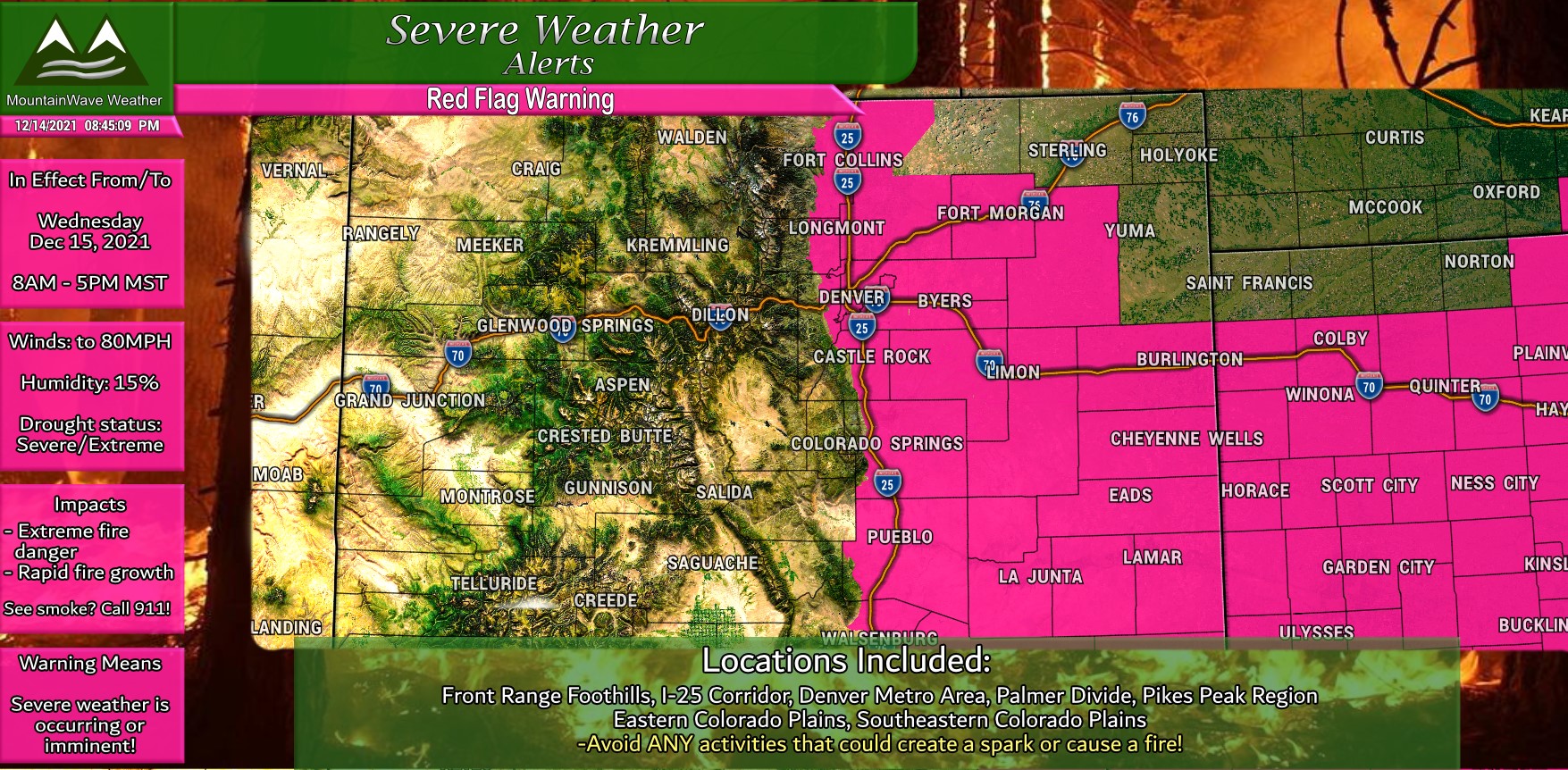 Air Quality Alert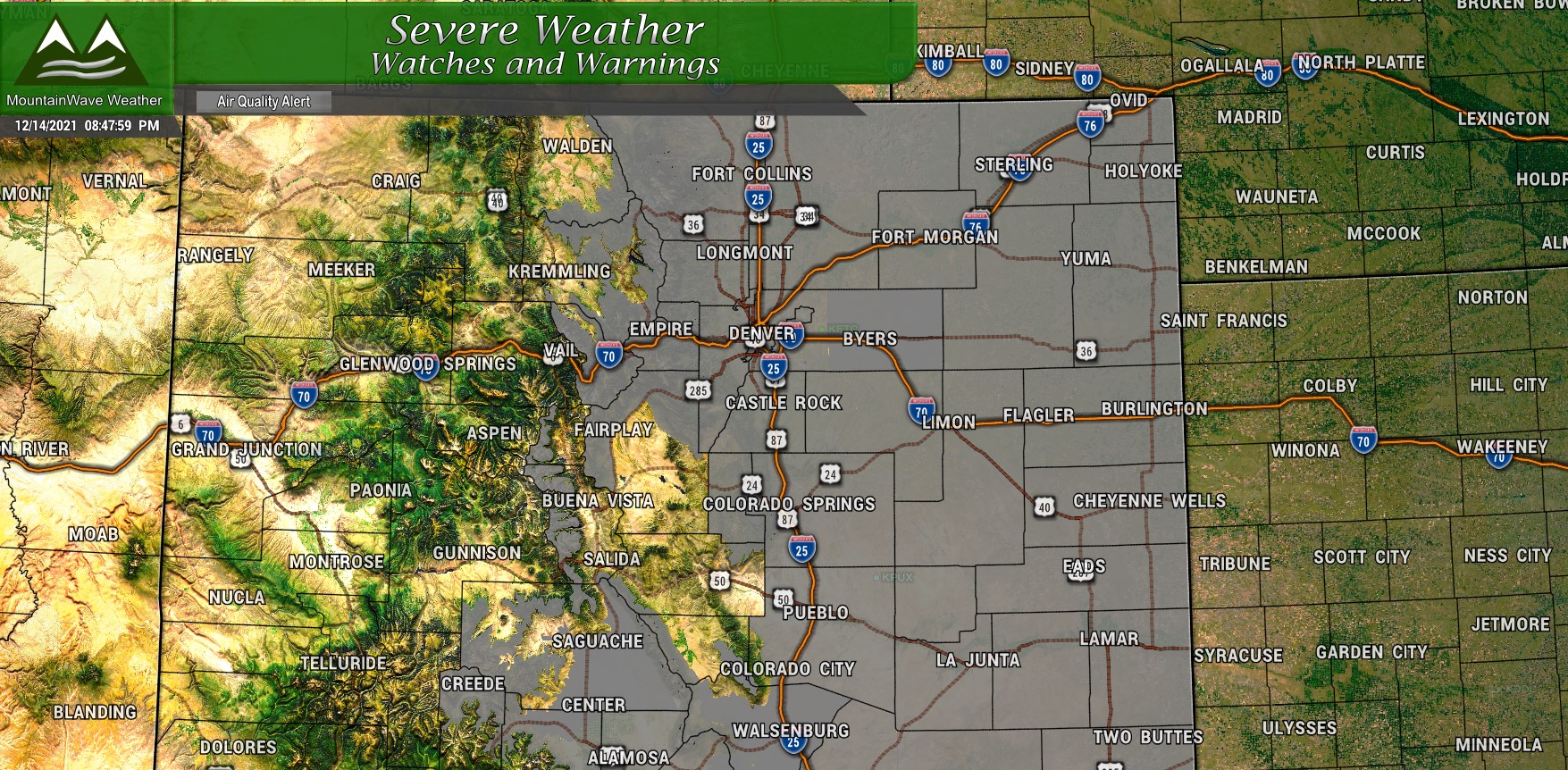 Colorado Mountains
Winter Storm Warning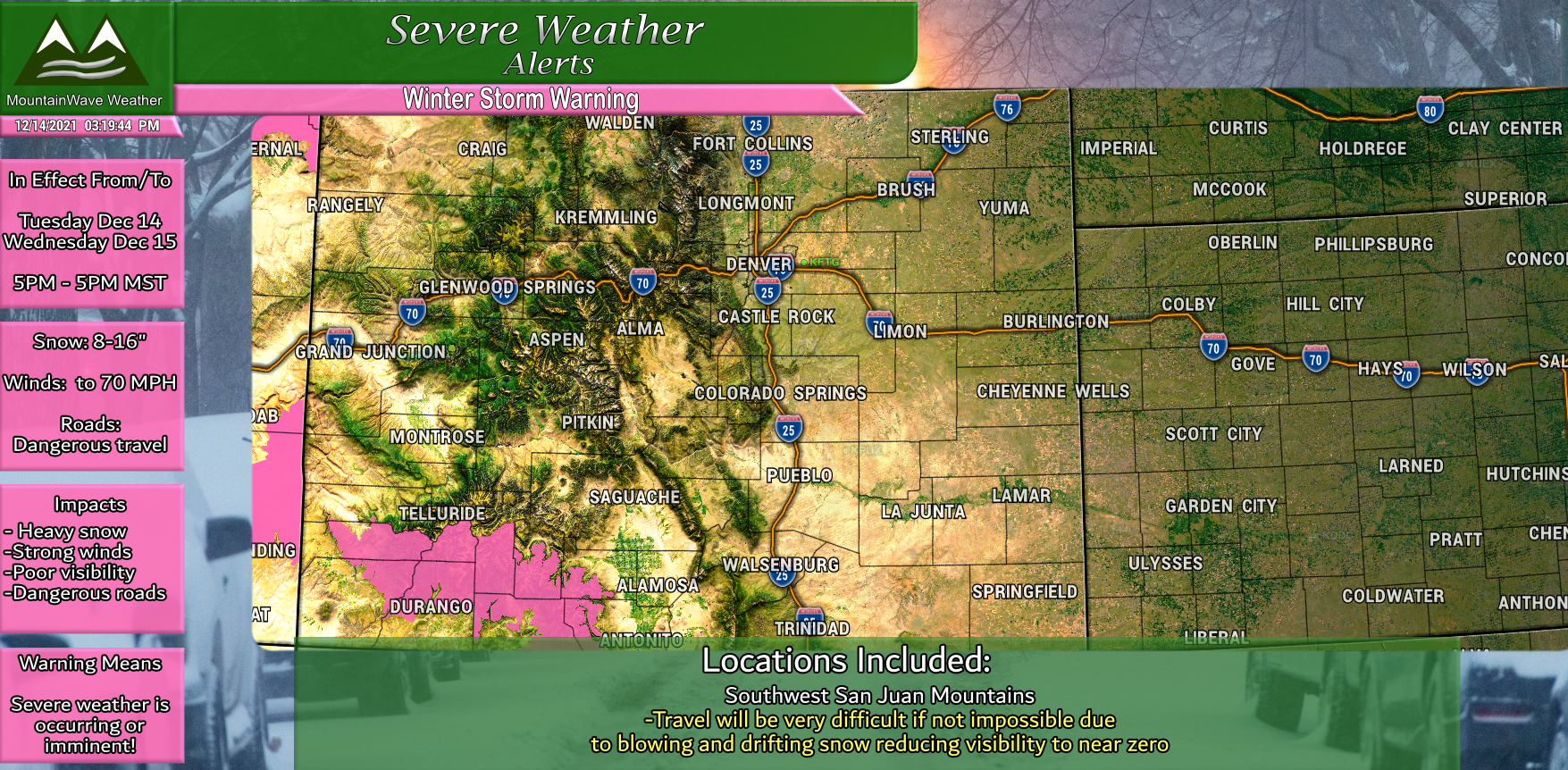 Winter Weather Advisory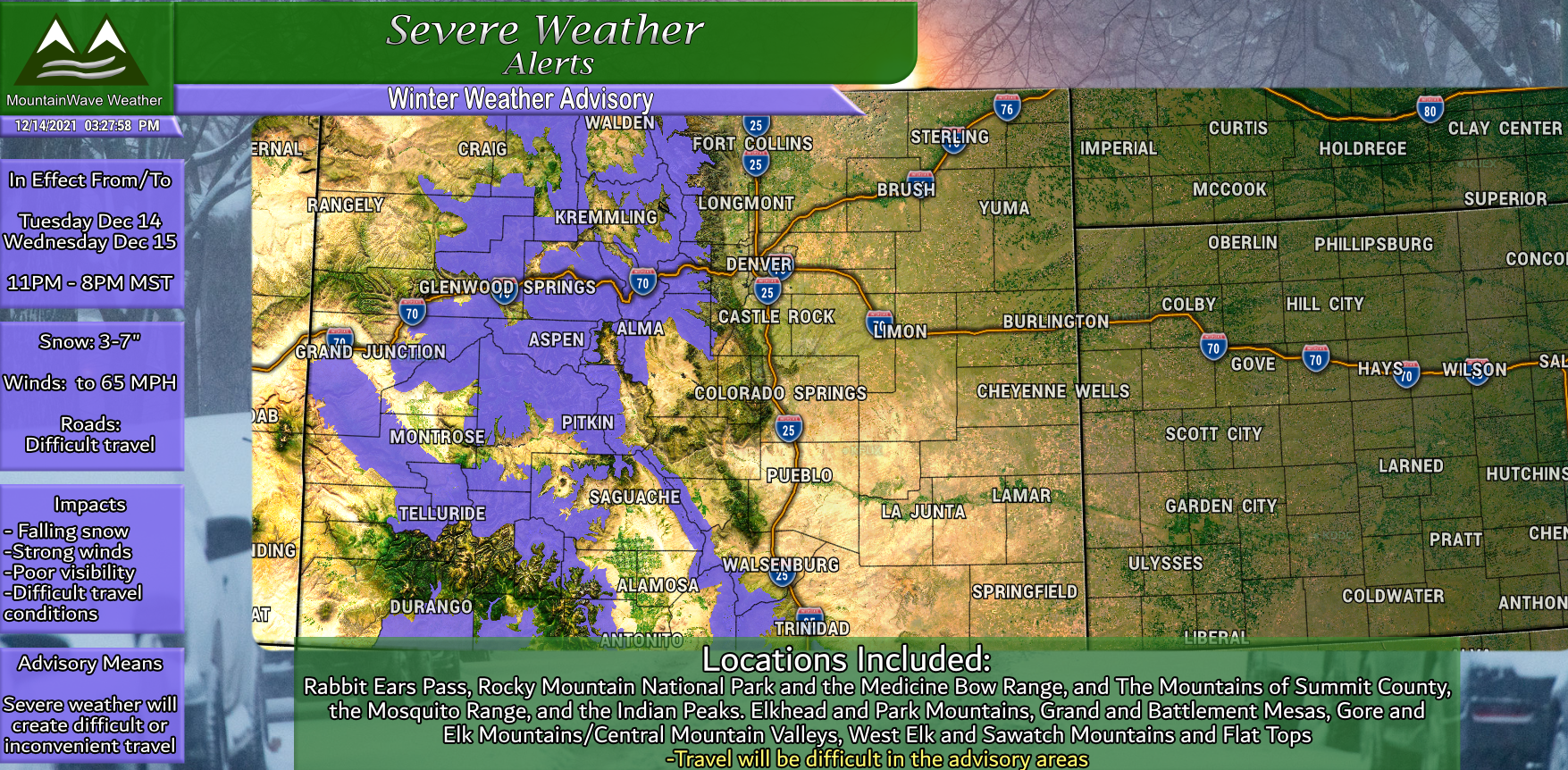 ---
Wrapping It All Up
I can't stress enough how impactful this wind will be tomorrow. This could be one of the larger wind storms we have seen in many years along the front range - that's why myself and several meteorologists have been harping on people to take this one seriously.
By this evening, all your preparations should be finished, you won't have much time in the morning!
Thanks for following along and stay safe out there tomorrow!