Late Weekend Storm Setup
While we will generally enjoy a nice warm, mild and dry couple of days to end our week and start our weekend; models are picking up on our next storm system brewing off to our Northwest. Models generally agree on a series of troughs swinging through from the West/Northwest and across the four-corners region throughout the early and middle parts of next week. Given the setup our storm track has seen the past week or two (remember that little snow storm we had last week?) we will certainly need to keep an eye on these.
Similarities
Models have these storm system following a similar track to our past storm. Does that mean we are on tap for March Blizzard round 2? Not necessarily, there are a few notable differences but given how this year has gone, we'd be remiss to write anything off just yet. This is a storm that looks fairly minor or moderate in size and intensity so far... a lot of the data is pointing to accumulating snow but much less than our last storm. We will need to keep an eye on track/timing/etc... just like the last storm because the potential (although small at this point) is there for this thing to hit a little harder depending on how it comes in.
Differences
The lows we see on the models as of right now are still showing wobble in the track. Additionally as we get later into March we have to contend with a higher sun angle, warmer ground temperature and warmer atmospheric temperatures. This next storm system will have to fight all of those factors and we can see from modeling that there is a big question as to how much cold air there is to work with. This very well means more melting could take place, especially at lower elevations and less snow could actually accumulate.
---
Snowfall Forecast
Notice the "bulls-eye" areas we will have to watch for higher snowfall accumulation are mainly along the Palmer Divide and foothills...
Palmer Divide
This our latest thinking on snowfall ranges (preliminary) for this weekend's storm. The biggest wildcard with this storm right now looks to be the temperatures and that is what the models are having the toughest time with right now. The colder models show over a foot of snow for higher elevations while the warmer show nothing at all. As usually we like to stick to a blend of the models and throw out the outliers (it's just good meteorology) and when we do that we arrive at something like this: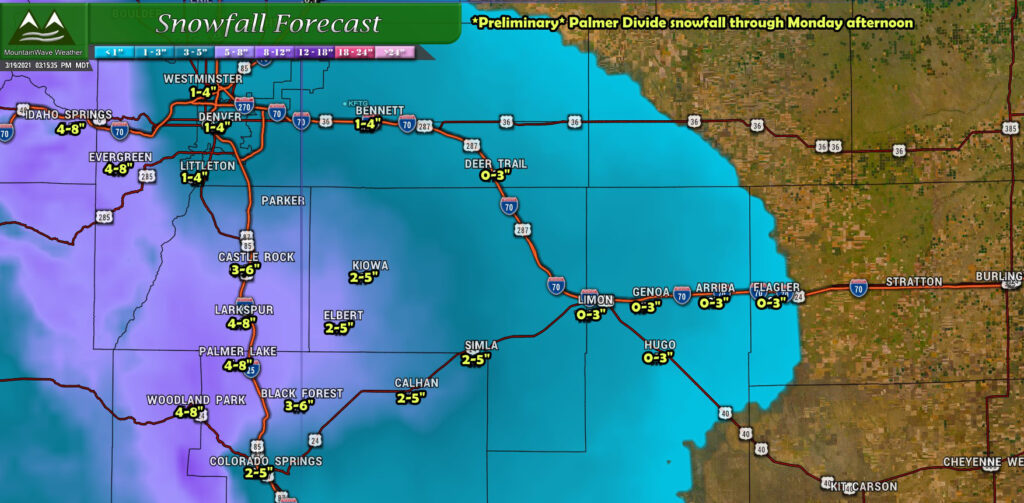 Northern Colorado
Won't spend too much time on this one; since this storm is showing a more Southerly track it's likely the further North you head out of Denver, the less you'll see with this storm. Baring any sudden and drastic changes in track with this storm don't expect much.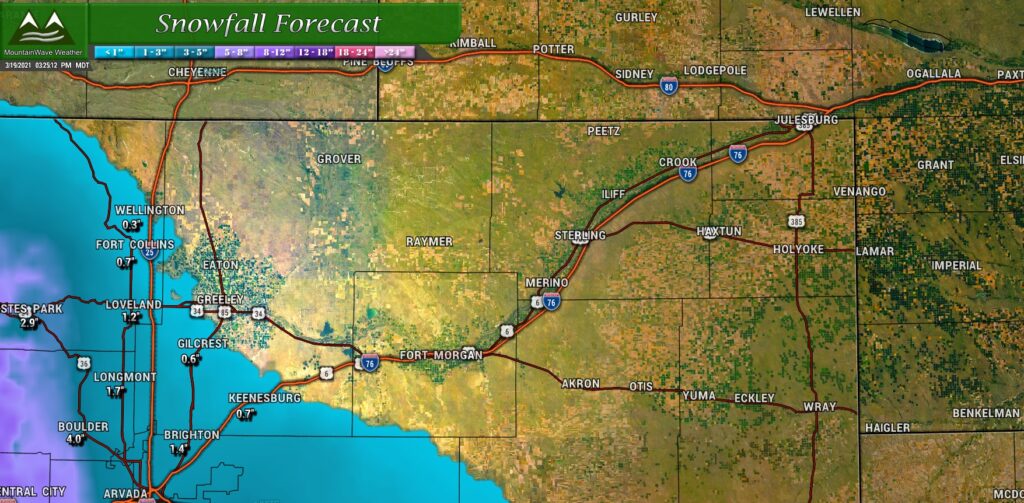 Southern Colorado
It's not that Southern Colorado doesn't see moisture out of this storm, but due to a lot of places having lower elevation I see more rain than snow accumulation down that way.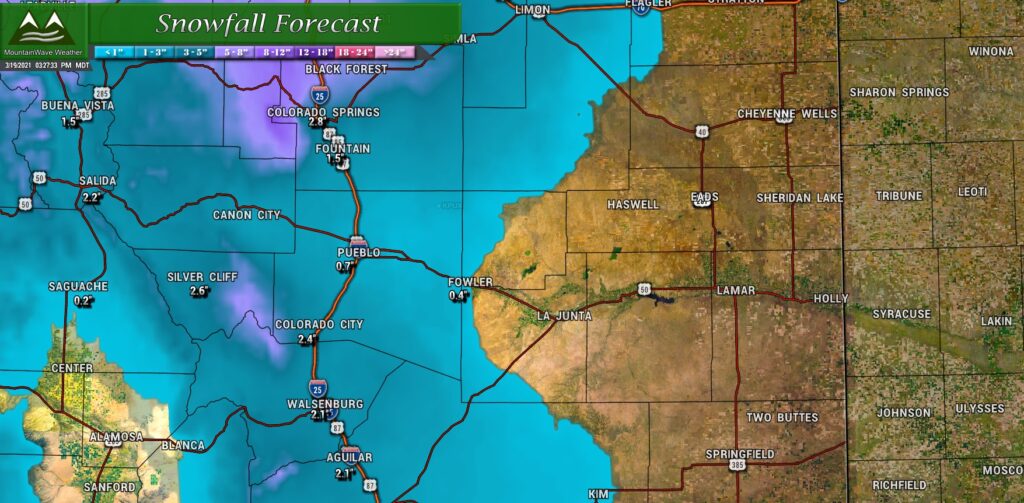 ---
Timing and Impacts
Here is our thinking on a rough timeline and possible impacts, keep in mind though as storms have tended to shift their speed up a bit this year - all of these are preliminary and open to change. Keep a close eye on the forecast over the next couple of days for changes.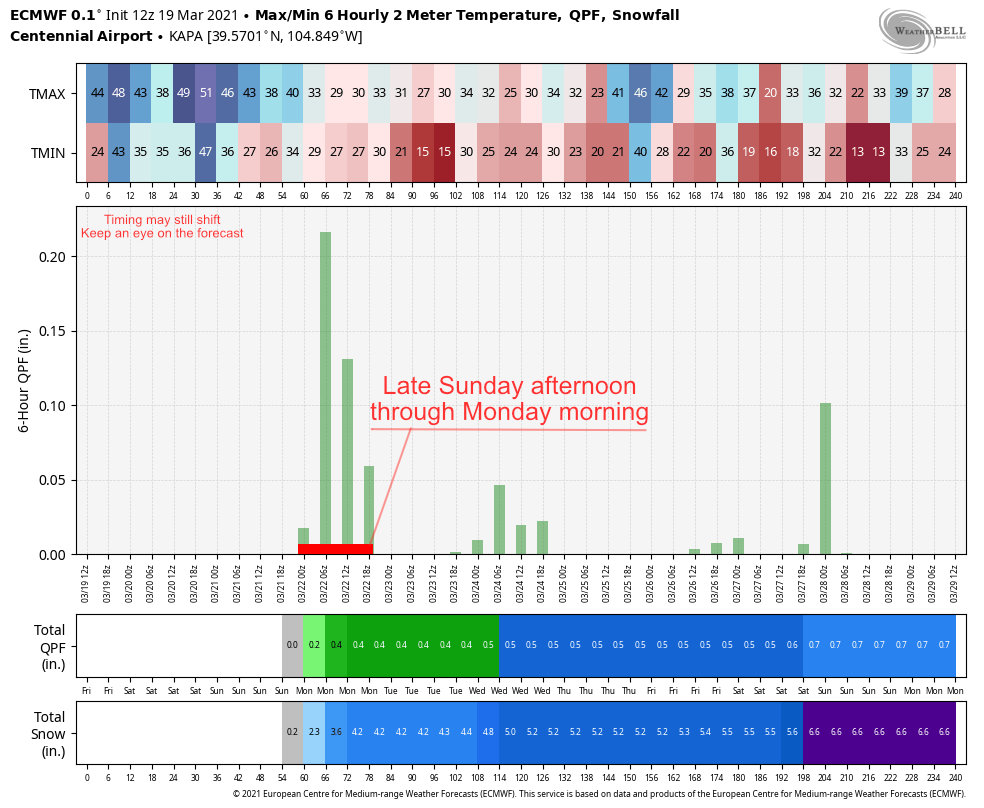 The Euro's thinking paints the best chance of accumulating snow later in the day Sunday (after lunch time) through Monday late morning (snow done by lunch time on Monday.) So if you have travel plans or anything else going on later in the day Sunday, Monday morning or early Monday afternoon - those are your times to watch right now.
Since this storm looks weaker and warmer, there may be a very fine line of where the rain/snow cutoff is... this means the lowest confidence in snowfall accumulation amounts is for locations below about 6,000 feet right now.
In terms of impacts, the usual slick roads and travel headaches are possible, but right now we see no indication of severe impacts (widespread road closures, stranded motorists, etc...) from this storm.
---
Summary
The main message for this weekend is enjoy the nicer weather for Friday and Saturday and be prepared for changes later in the day Sunday. We will have to keep an eye on this storm but it looks like higher elevation areas could see a few more inches of snow by Monday out of this one.
Here's the look at the rest of the week for Castle Rock. Notice the unsettled rend last until at least later in the week.
Yes there is another storm system slated to move through after this one towards the middle of the week. Model confidence is very low with that storm so we won't get into any specific details at this time.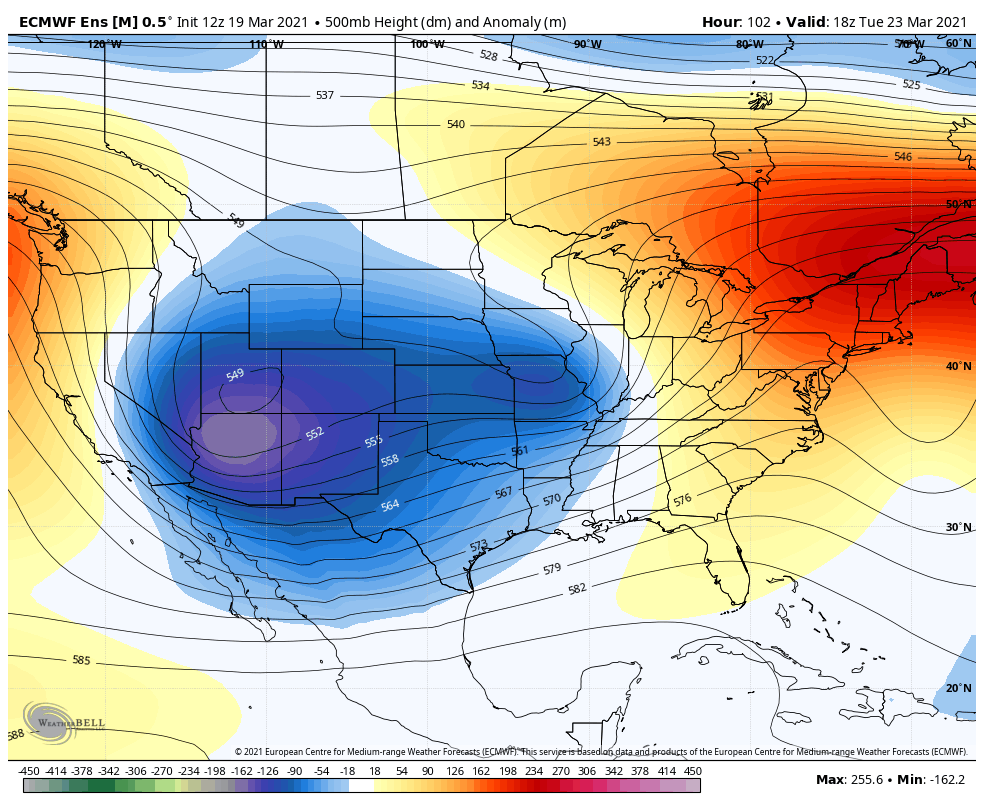 Models show another trough move through the four corners region next week, many of those models have it moving much further South so it may not have much of an impact on us depending on what track it ultimately takes. Either way, next week looks busy from a weather standpoint, we'll do our best to keep you updated on and ahead of things!