Weather Alerts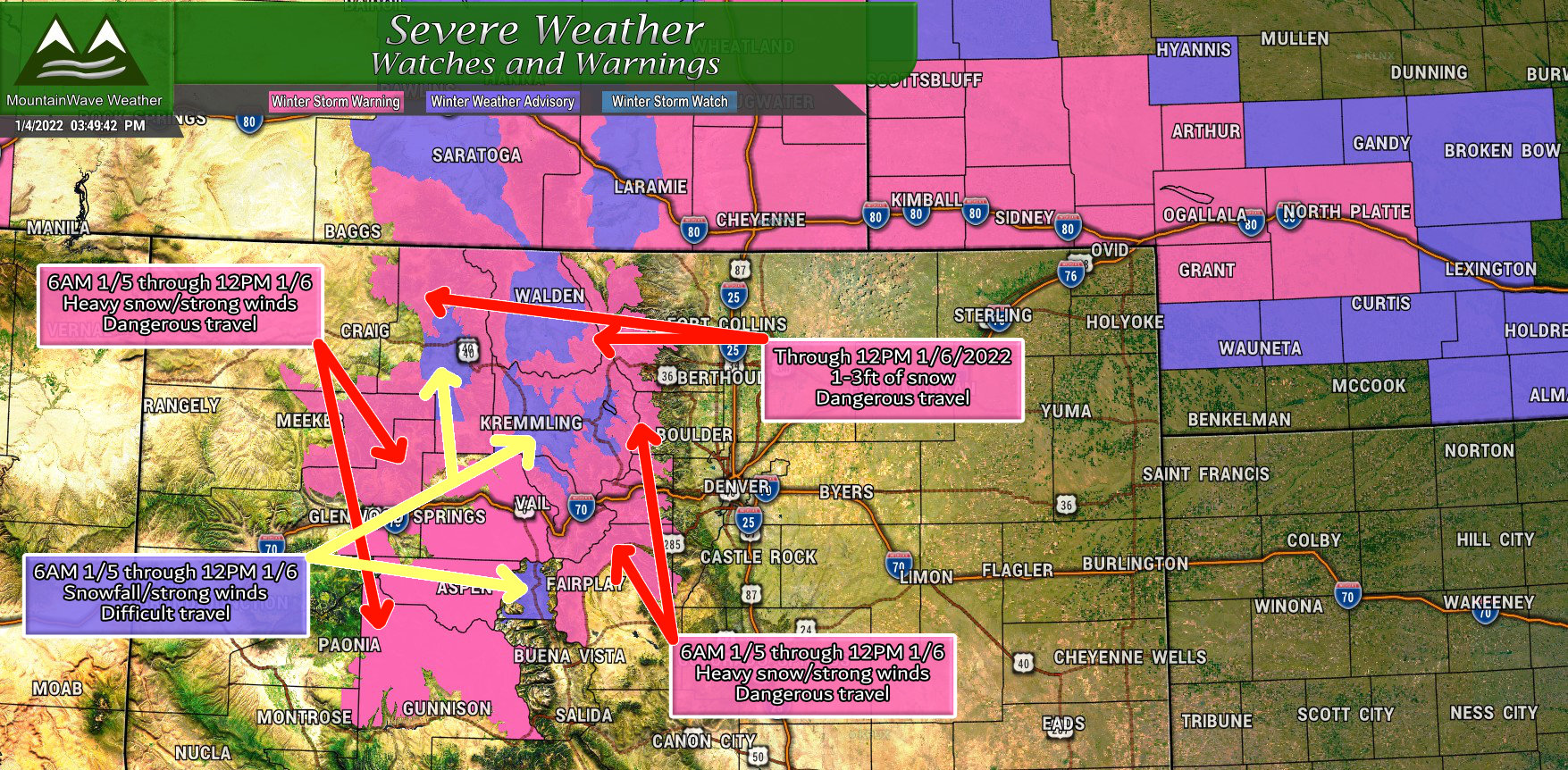 Several Winter Storm Warnings and Winter Weather Advisories are out for mountain locations. While we don't anticipate a ton of impact the further South you go, there will be some impacts for the Northern and Central Mountains and perhaps some of the mountainous areas North of Gunnison.
The main threats in the warning areas will be heavy snow with significant accumulations. A lot of those areas will see 1-2 feet of snow when this storm moves out, for the Advisory areas, expect difficult travel due to slippery roads and falling snow. Both the warning and advisory locations could see strong winds that reduce visibility and cause travel issues.
Make sure you check the roads if you have plans to head up to the mountains Tuesday - Thursday.
---
Snowfall Forecast
Palmer Divide/ Denver/ Eastern Colorado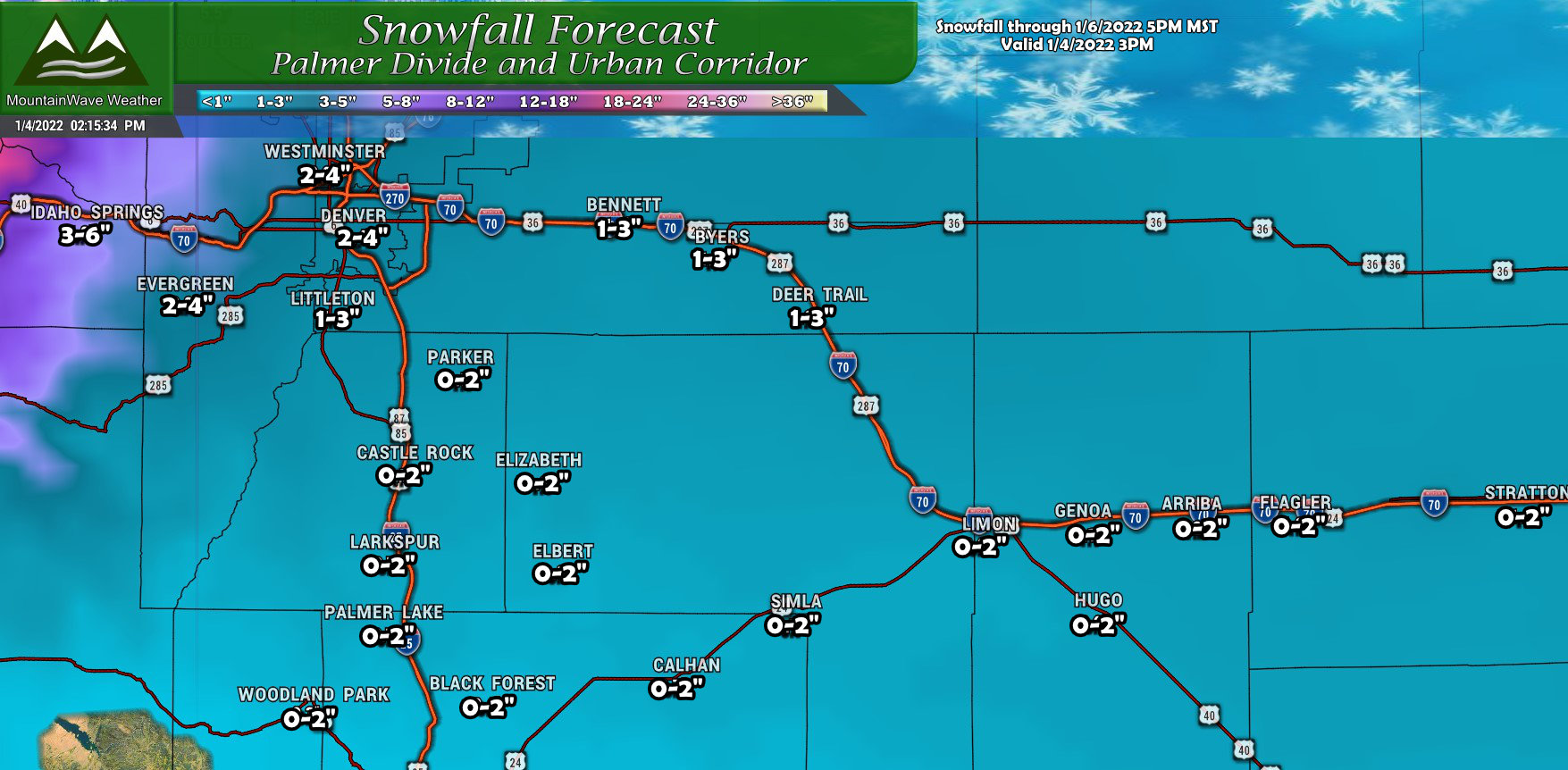 Not a whole lot of changes from our last forecast, there is still considerable uncertainty for locations South of I-70 in terms of snowfall. The GFS still wants to keep most of the energy to the North, but it is still showing a bit of snow making it further South (it wasn't showing any the last run we looked at.) The Euro an even some of the blended solutions shows better areas of lift further South across South Denver and the Palmer Divide. This is possible, if that were to verify a lot of locations would bust high from our snowfall forecast shown above, but only by just a bit.
For now, staying the course as most areas will look to see only a bit of snow out of this storm.
Northern Colorado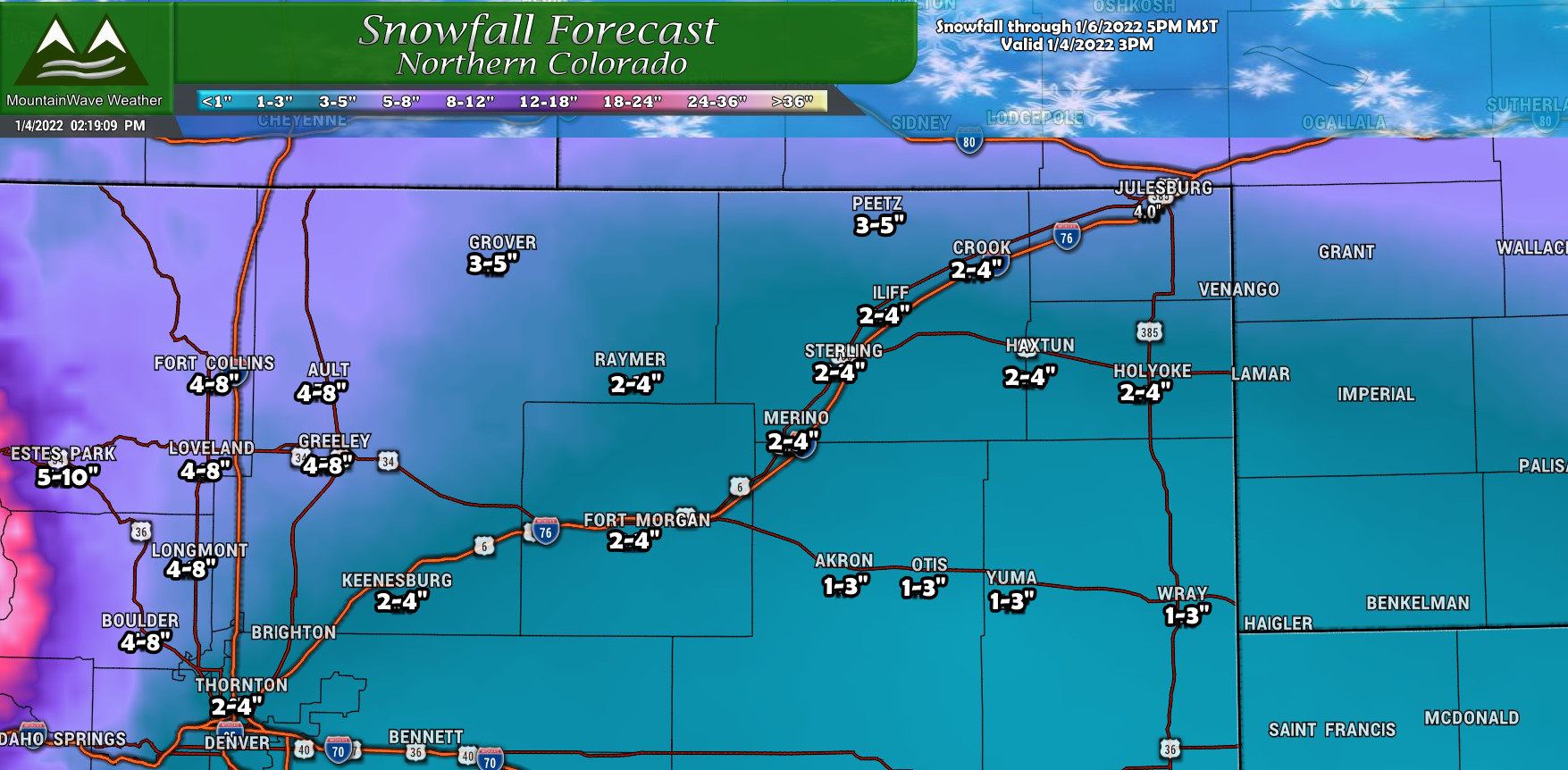 The changes for Northern Colorado mainly center around the heavier snowfall accumulations pulling further North on the plains and further West along the front range. This means areas in and around I-25 and to the West and North of Denver still have the best shot at decent snow accumulation. Out East across the plains, snow should still accumulate but totals look less than what they were.
Southern Colorado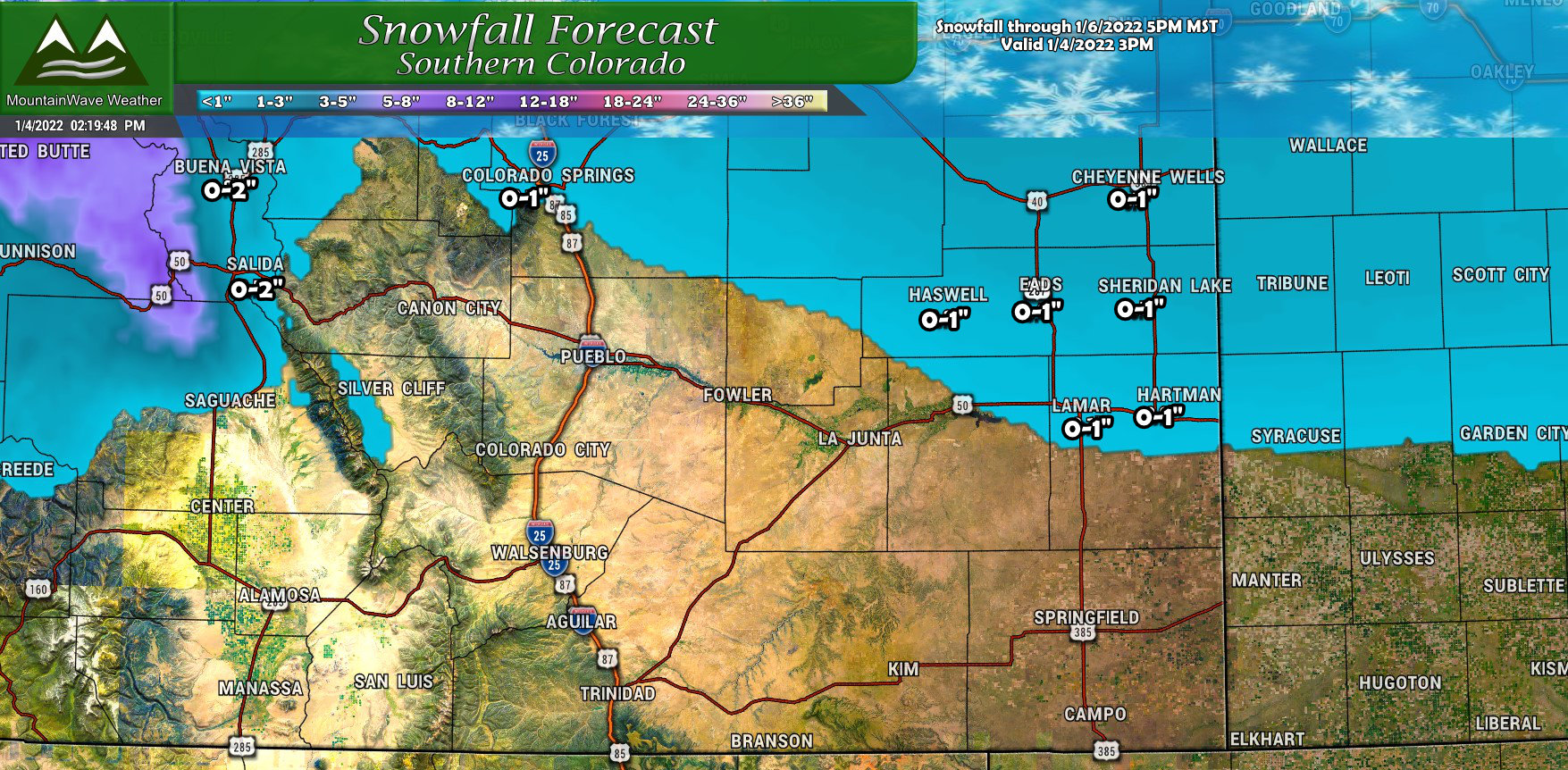 Not many changes for Southern Colorado. Areas South of the Palmer Divide will struggle to see snow accumulation and those that do will most likely see a dusting at best.
Northern and Central Mountains/ Western Colorado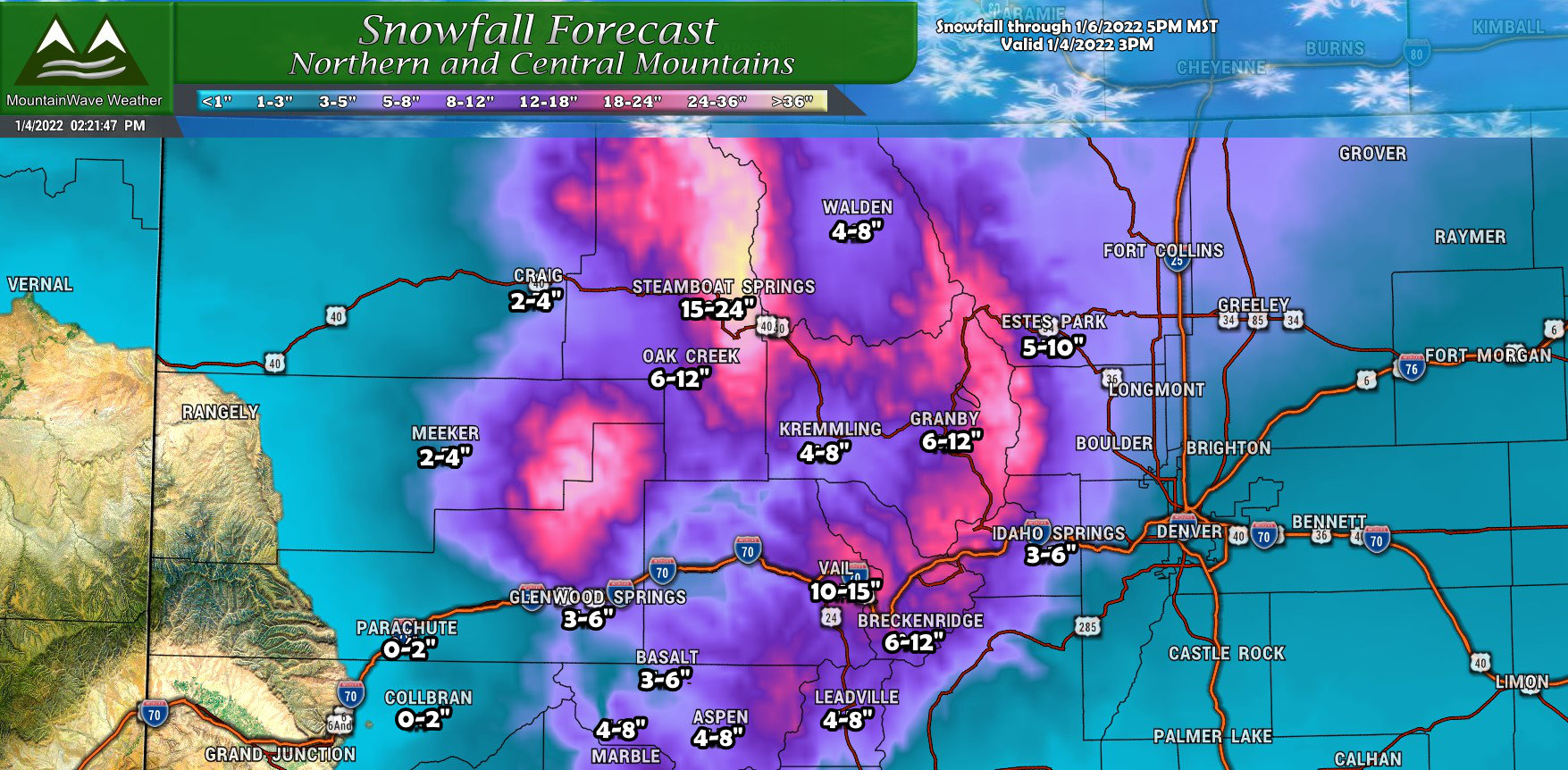 Not many changes to the mountains from the last forecast, mainly narrowed ranges down a bit where there is better confidence. The areas in and around Steamboat continue to have the bullseye trained on them for heavy snow amounts, 1-2 feet is not out of the question for that region.
Southwestern Colorado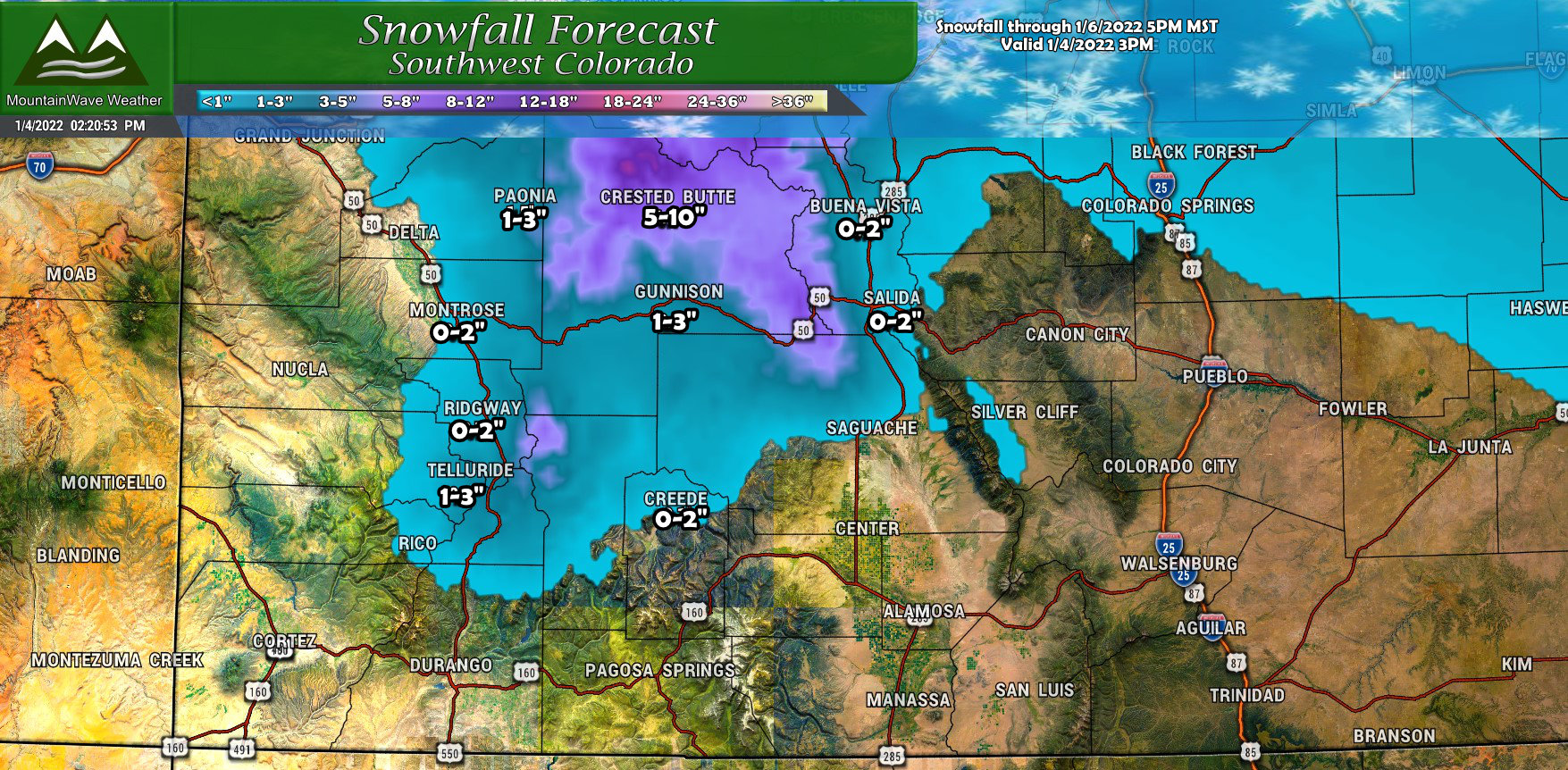 Little change for Southwestern Colorado, due to this storm's Northern track we won't see much snow for mountainous areas South of I-70 outside of Crested Butte.
---
Models Continue to Fight... For Some Areas
There's a lot of model agreement on the areas that will receive lots of snow, namely the mountains and right along the continental divide. Where they disagree still is on the plains and especially South of Denver...
The GFS keeps most of the storm energy North of Denver and has heavier snowfall totals across the plains. Its previous runs showed no snow South of Denver, but as you can see it does now. So the GFS has pulled this storm slightly further South with each run, if the trend continues we would probably end up raising snowfall amounts slightly South of Denver.
The Euro keeps the heaviest snow in the mountains and foothills with lesser amounts across the plains. Just like the GFS, it keeps the storm track mostly North but a bit more snow makes it further South. Still, it's pretty close to the GFS in that respect, meager amounts of snow South of Denver overall.
For fun I've included the National Blend of Models, this is a great product for showing what models do agree on and smoothing out some of the outliers that may be too high or too low. It shows a decent swath of snow for most of the plains and even an inch or two for the Palmer Divide.
So which model has it nailed? Time will tell... 😉
---
Timing and Summary
Our thinking on timing hasn't changed much since the last update.
Snowfall in mountains
Has already started in some areas, will crank up by 6AM on Wednesday morning and last through Thursday afternoon
Snowfall in foothills
By afternoon Wednesday we will see snow fill in for the foothills, also lasting through Thursday afternoon.
Snowfall on the front range and Palmer Divide
Snow should start later on Wednesday likely around or after 4PM - lasting through Thursday late morning.
Snowfall amounts don't look significant for the Palmer Divide and other areas South of Denver at this point in time, travel impacts should be minimal.
As always I'll keep an eye on it and pass along any updates as needed on Wednesday.