Imagine my surprise when I woke up 2 days ago and took my morning look at the weather releases to find that we have a chance to see something we haven't for awhile in Colorado. A severe weather outlook was posted and has continued to be refined until today where we have the finer details about our threats revealed and the areas most likely to see them.
Before we get too excited though, realize that thunderstorm chances are not all that high today for a lot of areas... this means any severe storms that grow large enough to cause problems won't be easy to find. Most of the area will see general thunderstorms or none at all.
It is not, what I would call a concerning severe weather day. I certainly wouldn't plan on storm chasing anything today... Now that I've sufficiently burst the bubble of our severe weather fans, let's take a look at the details.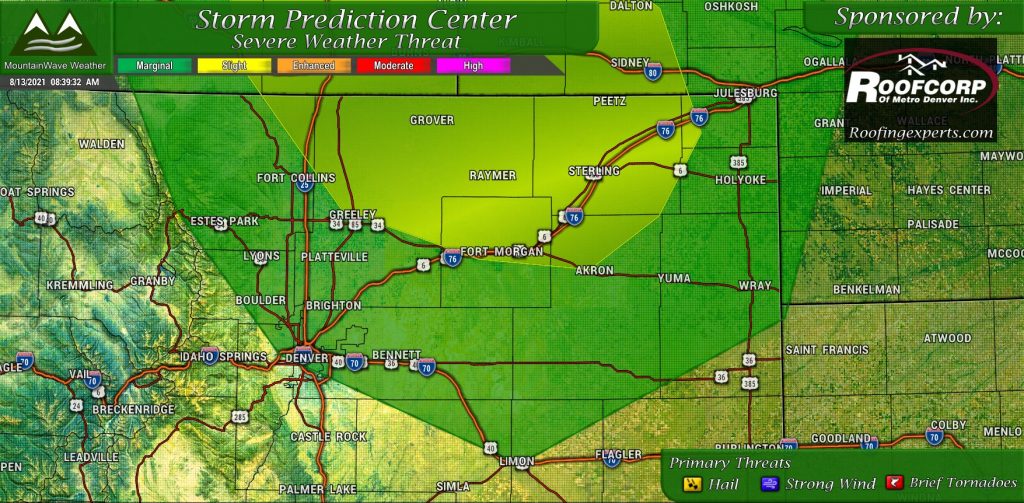 The highest probability of seeing severe weather today is confined to the yellow (slight risk) area that encompasses North Central Colorado. Wind shear will be sufficient enough to keep storms alive so they can go super cellular or multi cellular this afternoon and evening, but again storms will be of a highly scattered nature. Due to the instability and just enough shear, primary threats out of these storms are hail and strong winds. We cannot rule out a brief, weak tornado or two as the terrain (Cheyenne Ridge) could allow enough low level shenanigans to spin something up here or there.
Further South into Denver and Southeastward a green "marginal" risk exists to see some of the same threats this afternoon. Although the threat of severe weather is fairly low across the Palmer Divide it may be worth keeping a bit more of an eye out in areas Eastwards like Elbert County and points further East towards Limon.
---
Timing/Preparedness/Threats
Main threats
Hail - Medium
Strong winds - Low
Tornadoes - Low
Timing
Storms initiate over the mountains - 2-4PM
According to models, thunderstorm activity over the front range and Palmer Divide looks a bit later in the afternoon and into evening
Be keeping an eye out between 4-10 PM
Preparedness
Storms will be very scattered, so there is no need to cancel plans this evening. Just keep an eye on the sky as we move later into the afternoon and be sure you have a place to take shelter if a storm should happen to head your way. Remember, if you can hear thunder... you can be hit by lightning.