Believe it or not, the monsoon has already arrived in Colorado as of several days ago and has been helping spawn afternoon showers and thunderstorms in the mountains. Sadly, not much of that has made it across the mountains and onto the plains, but there are signs ahead that may change. Let's take a look at how the shift could affect your weekend with cooler temperatures and chances for storms that last into next week...
---
First of All - Severe Weather Outlook for Friday 6/24/2022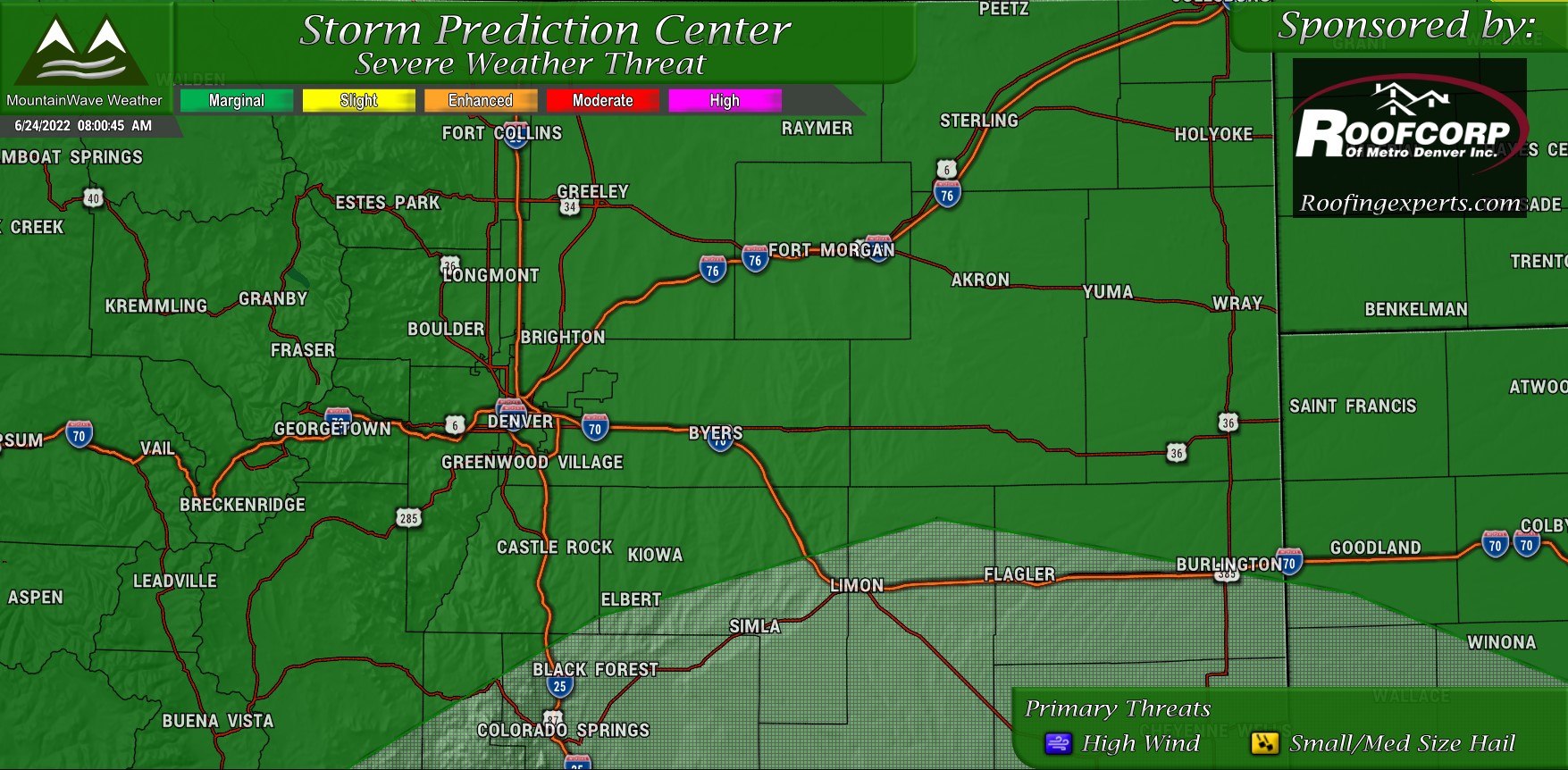 As we start to transition into a more stormy pattern on Friday there is a small chance for severe storms. The Storm Prediction Center has included most of Northern Colorado in the Marginal category - this is not a high threat by any means but it does mean that a rogue severe storm or two is not out of the question for the afternoon.
Due to low level dryness a lot of storms that form today will be elevated meaning the tornado threat is pretty low... but it also means these will be the primary threats:
Strong winds and microbursts
Each storm will have a window where small to medium sized hail will be possible as it "pulses" up
Frequent cloud to ground lightning
If you are outdoors on Friday after lunchtime, keep your awareness high for storms and be prepared to move indoors if you hear thunder or see lightning.
---
This Weekend... A Change is Coming!
We've been discussing this for a week or so now, but the monsoon has had the biggest impact on the Southwestern part of the state. The CPC outlook for the next 6-10 days shows an increased probability of above average precipitation for that region with a smaller but still notable probability that Eastern Colorado gets in on that action at some point.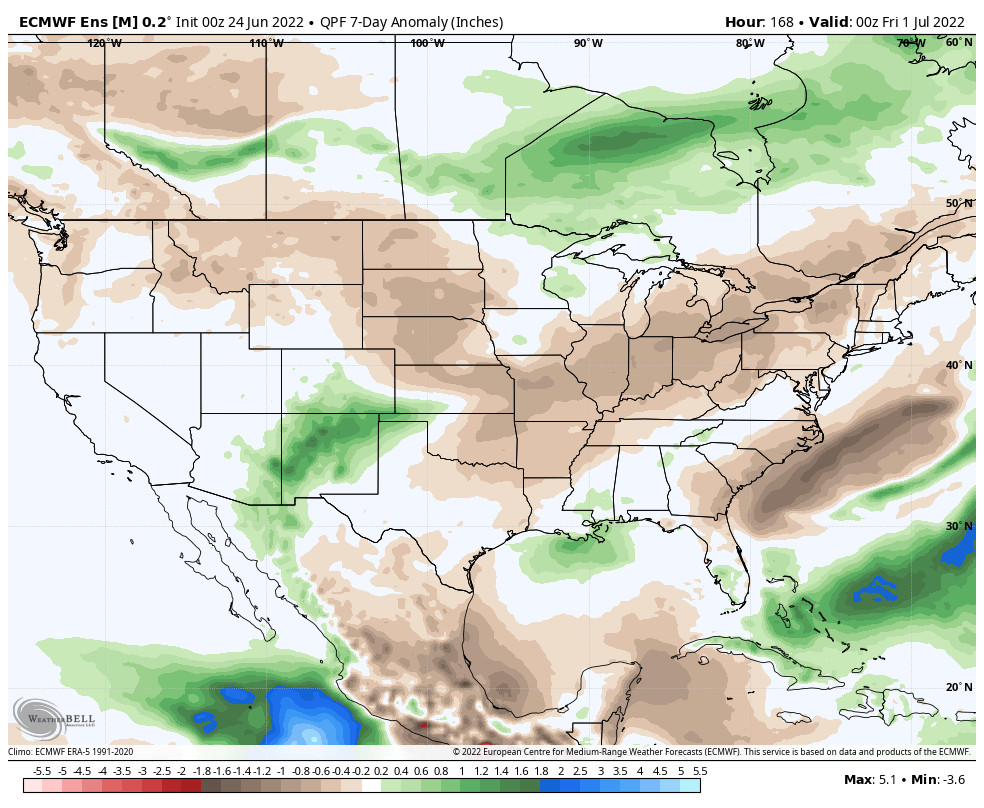 The Euro ensembles certainly agree with this, but there are still some questions as to how far North and East that moisture makes it in the next 7 or so days. The Euro models tend to keep things a bit further South, mainly benefiting New Mexico (they need it with their fire situation) and parts of Central and Southeastern Colorado. So while we do see higher storm and rain chances into this weekend, the jury is still out as to how much those of us along the Palmer Divide and Denver actually see in terms of rain.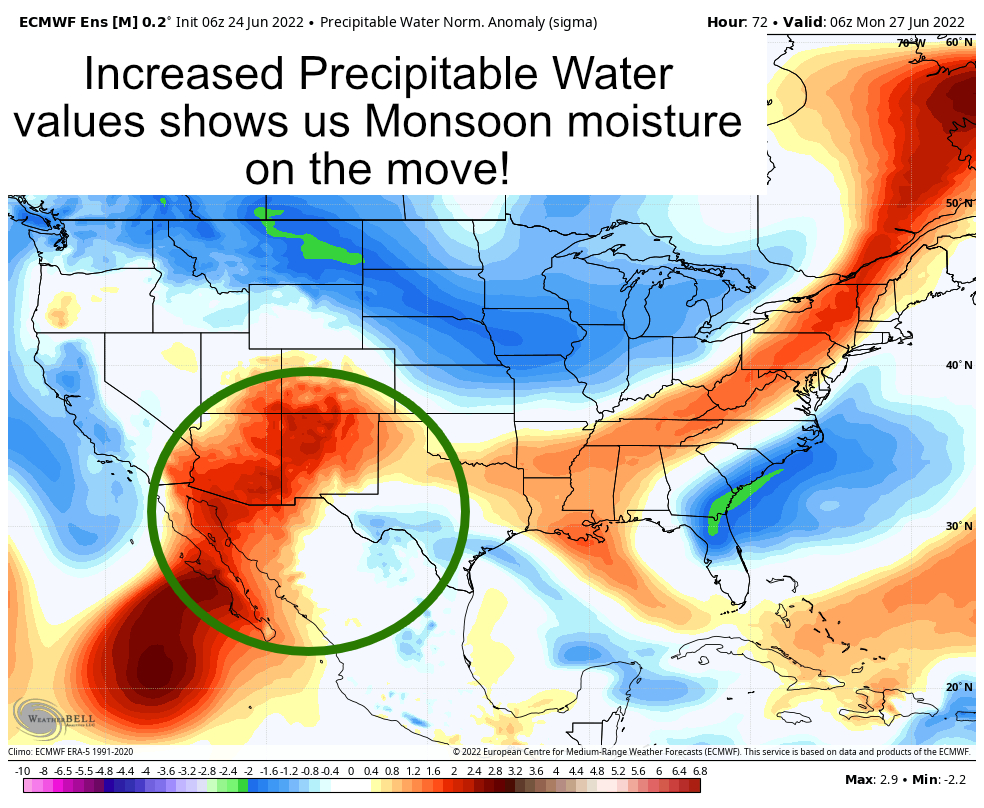 We use Precipitable Water to see how monsoon moisture is moving and evolving across the desert Southwest. Higher monsoon moisture means more water in the atmosphere  thus higher dewpoints and more fuel for thunderstorms. We can see higher values through the corridor identified in the last Euro model image matches up pretty well with expected PWAT anomalies.
Again though, notice how that conveyor belt of moisture fades out pretty quick as you reach Northern and Northeastern Colorado...
---
Palmer Divide Forecast for the Weekend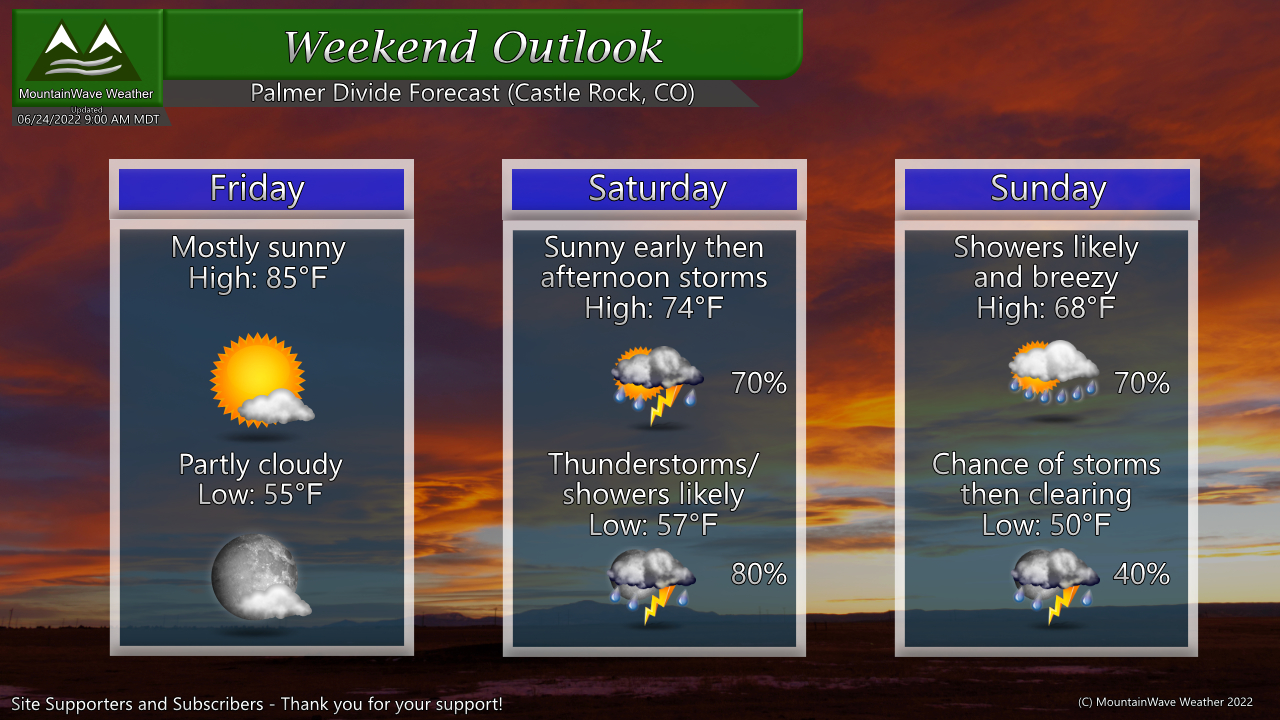 As always, add or subtract a couple of degrees based on your elevation...
Friday
Warm and breezy - small chance of thunderstorms - small chance one or two of those could be severe
Saturday
Much cooler, sunny early in the day
Afternoon storms possible, some could have heavy rain
Storm and shower chances continue into the overnight hours
Areas along and South of the Palmer Divide have best shot at more significant rainfall... decreases significantly as you go North of about Castle Rock
Sunday
Cloudy and cool start with a decent chance of showers and a few thunderstorms
Rain chances continue into the evening before decreasing overnight
Areas along and South of the Palmer Divide have best shot at more significant rainfall... decreases significantly as you go North of about Castle Rock
---
Summary
We'll see how it shakes out... temperatures will be definitely be cool for this time of year through the weekend with decent chances of storms.
Depending on which model you favor means how much rain you could see in any one area... most favor areas along and South of the Palmer Divide while a few do have a bit more along the Northern part of the Palmer Divide and into South Denver.
Have a great weekend, stay warm and keep an eye out for storms!