Another storm system will move through Colorado starting on Saturday with the mountains feeling its effects by lunch time while the plains will see snow begin by the evening hours. This storm looks similar to the last, but there are a few differences mainly around positioning and how much upslope is available to work with. Because of that, this storm won't be a major snow producer for most areas along the front range, but it will probably be a bit more snow than we saw with the last system to move through (where many areas busted low on the snow forecast.)
Here's the latest!
Winter Weather Watches/Warnings/Advisories
WINTER WEATHER ADVISORY IN EFFECT FROM 5 PM THIS AFTERNOON TO 2 AM MST SUNDAY...
* WHAT...Snow expected. Total snow accumulations of 2 to 4 inches.
* WHERE...Boulder and the western suburbs of Denver, Denver, Castle Rock, Limon, and Southern Lincoln County.
* WHEN...From 5 PM this afternoon to 2 AM MST Sunday.
* IMPACTS...Plan on slippery road conditions.
Slow down and use caution while traveling. The latest road conditions for the state you are calling from can be obtained by calling 5 1 1.
Additional details can be found on our Weather Alerts Page
---
Snowfall Forecast (Palmer Divide Region)
While this storm system has a bit more favorable dynamics to work with than our last, it still won't bring a lot of snow to the Palmer Divide and Front Range regions. There may be a few select areas that see a bit more snowfall, but still nothing major. The mountains will be the main beneficiaries of this storm (mainly West of the Divide.)
Snowfall Forecast Northern/Southern Colorado)
As you can see, the most likely winner with this storm will be Southern Colorado where many locations will end up in the 3-5" range. Those areas have been quite dry lately so any moisture they get will be beneficial.
Here's a quick graphic showing the probability of areas getting more than 4 inches of snow: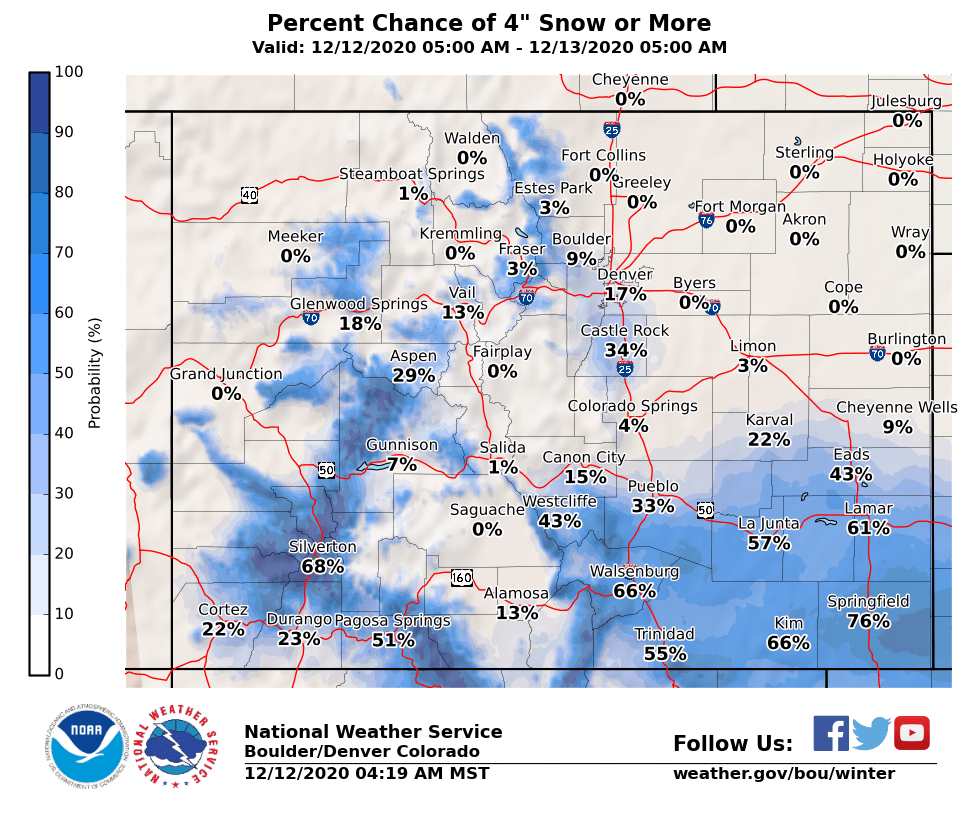 Notice the Palmer Divide region has about a 30% chance of going over 4 inches, while low it's not zero so I'd not be surprised for a few areas to exceed that, but overall the models this morning have been trending downward (again) with snow for areas North of Colorado Springs. If those were to verify we would be looking at many areas ending up on the lower end of their forecast ranges along the Palmer Divide and front range foothills.
---
Timing/Impacts
Snowfall Timing
Light snow beginning between 4-6PM
Snow fills in after 6PM
Snow continues through 4-6AM Sunday morning
Impacts
Temperatures will be cold enough that snow will eventually stick to the roads and make for icy conditions
Be prepared for slick roads (Winter Weather Advisory means some difficult travel conditions may develop)
Icy conditions will exist through Sunday morning so be prepared for that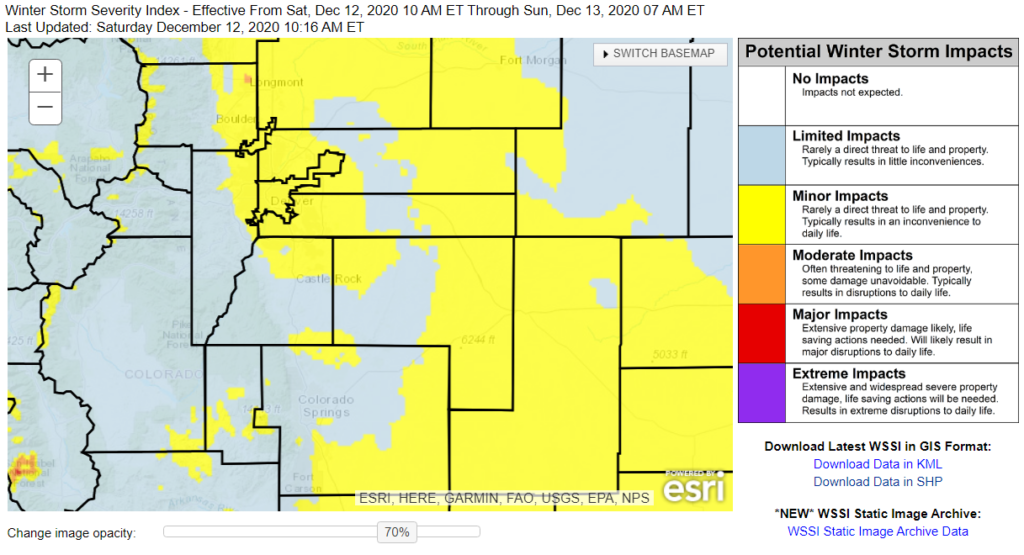 The areas to keep an eye on for minor/moderate travel impacts are the high elevations South of Denver and along the Palmer Divide and areas in and around (West) of Denver. These areas may see slick road conditions at some point in the later evening and overnight hours on Saturday and possibly early morning hours on Sunday.
---
Last Thoughts
This storm looks a little bit more interesting than our last, but not by much. At the end of the day, the way the atmosphere is right now is not conducive to bigger snow events for the front range of Colorado (as I explained in the 14 day outlook, now 7 days behind us)
Looking a bit ahead, here's the Euro's estimated total snowfall through 12/22/2020 - notice we have more opportunities for snow over the next week or two, but none of those storms look to add up to a whole lot East of the Continental Divide. The good news is that the mountains will start to stack up on snowfall - we don't see any huge storms in their future but enough smaller and medium sized ones so that snowpack should start to build.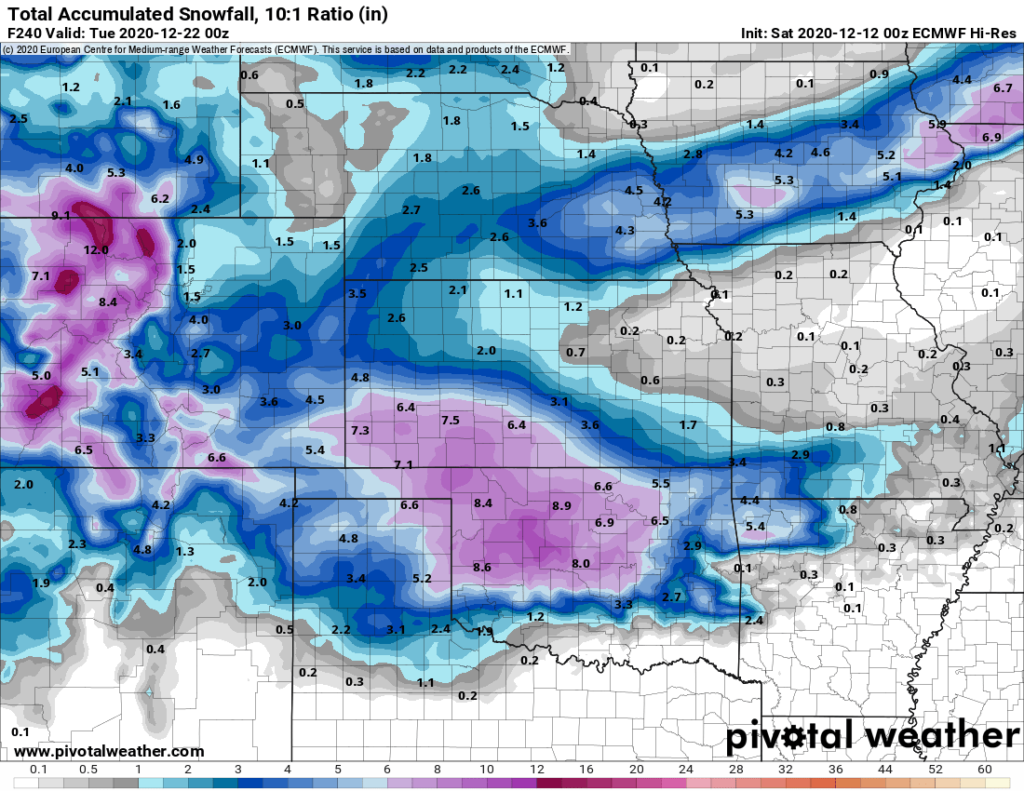 As usual, we will continue to keep an eye on things - as we've said the second half of December looks to remain active, but the big question will still be how much moisture that brings us along the front range. An active storm track does not guarantee we will be snowy!