A busy post tonight as there's a lot to catch upon. Models are still not agreeing on a whole lot so that still makes me nervous about how this storm will actually turn out. Some of the short range/higher resolution models show higher snow totals but still well within my forecast range. For now (like last time) I took a blend of the models I trust the most along with some data and observations now that the main energy of the storm is swirling off to our Southwest.
Here's the latest:
Update on Winter Weather Highlights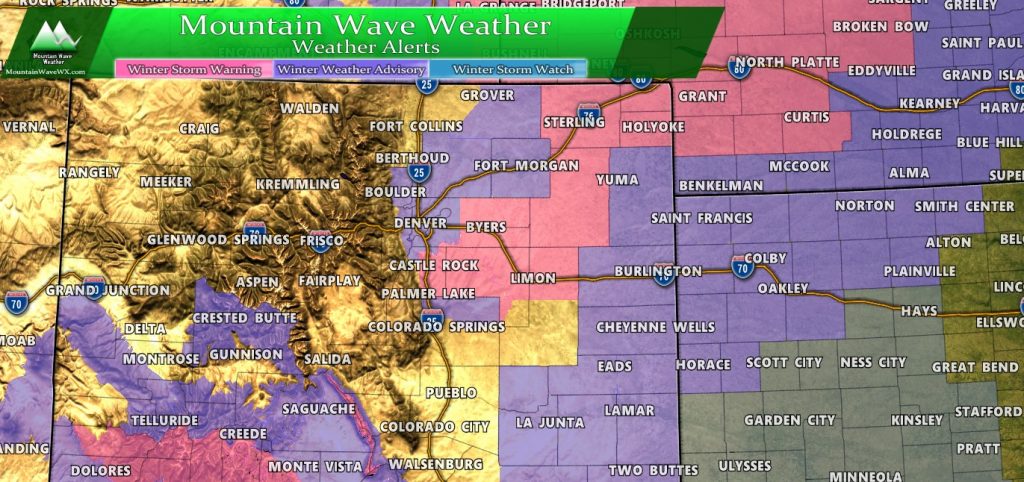 A Winter Storm Warning for Northeastern Colorado Expect storm total snowfall of 4-8 inches with winds in excess of 45 miles per hour. The combination of falling and blowing snow will make travel difficult to dangerous in some areas.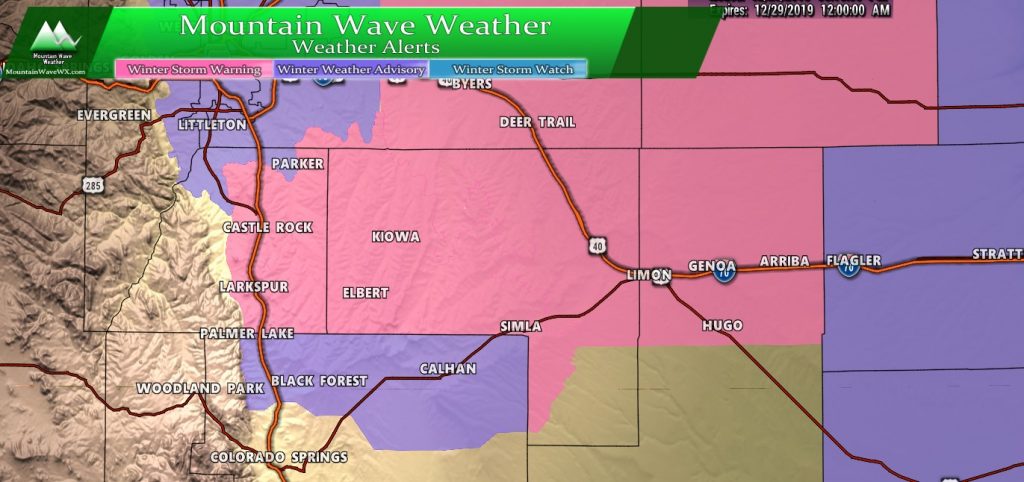 A Winter Storm Warning has been issued for Palmer Divide locations above 6,000 feet in elevation. This warning has been issued for the potential of 3-7 inches of snowfall with 50MPH wind gusts possible. The combination of falling and blowing snow means dangerous travel conditions will be possible in some areas.
In addition...
A Winter Weather Advisory has been issued for Palmer Divide locations below 6,000 feet in elevation in addition to sections of the Northern Front Range and Eastern Plains. This warning has been issued for the potential of 2-5 inches with possible freezing rain resulting in ice. Travel will be difficult in some areas due to a combination of ice, snow and wind.
Snowfall Forecast
As you can see, this is not what I would call a "major" snowfall event by any stretch of the imagination. In fact, we will have probably seen worse storms already this year, but there will be enough snow and wind so that getting around (especially along the Palmer Divide) could be tricky on Saturday. Those facts combined with the fact that it will be a busy holiday travel day means it won't be a ton of fun getting around.
Forecast/Hazards/Timelines/Impacts (The Need to Know Planning Stuff!)
Impacts
Snowfall/Travel Impacts
If you have air travel planned Saturday, check your flight status before you go. I don't foresee a ton of cancellations but I don't work for those guys so what do I know? They've had worse than this so I'd be surprised if we see more than some delays.
Highest chance of impacts to the roads are South of Denver, along the Palmer Divide and out East towards Limon
Additionally, some impacts may be felt in the Northeastern corner of the state... if you have travel on I-76 planned understand that there may be closures, especially the closer you get to Nebraska.
Timing
Friday Night

Spotty snow showers or light freezing drizzle will be possible into the evening Friday
A lull occurs overnight as the storm begins to move across the mountains and re-organize on the plains

Saturday

Snow should begin to increase early morning... most models have it coming down pretty good by 5-7AM
Snowfall will continue through the day Saturday
Models show heavier snow tapering off by evening hours
Some lingering spotty snow showers may last until Sunday morning, especially across the Palmer Divide
Summary
We will have to continue to keep an eye on this thing through the night. Don't be surprised to see another post late tonight if this thing decides to throw a curveball at us. Model consensus is still not great and that makes me uneasy about the overall outcome of this thing.
If you have travel plans on the roads tomorrow; take it slow, leave plenty of space and you'll get there. It's probably going to be a bit of a headache to get around.
Stay tuned, I'll pass along anything else if needed late tonight or early tomorrow!