A Change is Finally Coming!
For the rest of this week, high pressure continues to be locked in over the Southwestern United States meaning our hot temperatures and dry conditions will continue...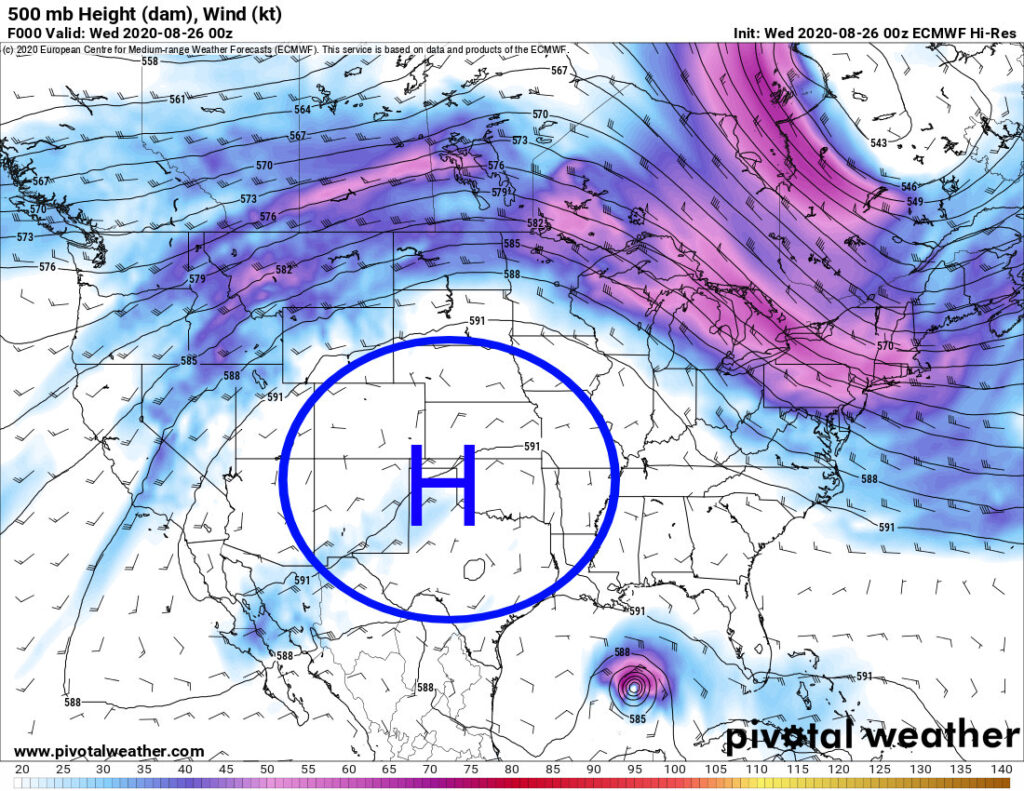 The Euro 500mb shows this pattern persisting pretty strongly through this week so we don't expect much change to our weather in Colorado in the short term. There is evidence however, that things may be changing a bit by late this week/ early next week.
The forecast above shows hot temperatures for the next couple of days but a noticeable drop off in temperatures by Friday with continuing declining temperatures through early next week. With that shift comes one of the more decent chances of moisture we've seen in awhile; areas along the Palmer Divide will have near a 70% chance to see a bit of rain on Friday and nearly 60% chance on Saturday.
That being said, even though rain chances are good... it doesn't look like a lot of moisture associated with this storm (depending on which model you believe.)
The Euro is less gung-ho about moisture, showing many areas receiving around 01. to 0.3 inches along the front range. Remember, we like the Euro... it tends to be pretty accurate.
The GFS for whatever reason is a lot more bullish with moisture with this storm. It does give us some pause but I think it's more likely we don't see a ton of moisture out of this storm just based on where it's coming from and how it's set up on a lot of model runs. Even if we split the difference between the two models you're looking at maybe 0.4 to 0.5 inches of precipitation possible along the Palmer Divide.
What is interesting is that both models favor the Palmer Divide for better chances of moisture, that's good news and will definitely be something to watch over the coming days!
Short Term Reprieve or Long Term Shift?
When we look ahead in the crystal ball we see a more active weather pattern setting up with more troughing across the Northwest and some of that making into/around Colorado. There is still some ridging showing up on models as well so that will be one thing to watch. This translates to a couple of possibilities and liklihoods:
Our stretch of record setting heat looks to be over starting on Friday
Cooler weather looks likely next week
Rain chances will be higher but overall amounts will be small
We see evidence of swings in temperatures in the next 7-14 days, meaning still a chance of very warm days, but also see cooler days thrown in the mix
---
Summary
The lower temperatures will definitely be good news as a break from the heat is definitely needed.
Unfortunately we don't see a ton of moisture with this shift, so even though many areas will see a good chance of rain... amounts under 0.5 inches for one day is far from a drought buster.
We will continue to track any changes and be sure to post updates here so stay tuned!