Our roller coaster ride of unsettled weather continues on Tuesday, NWS has Winter Weather Advisories up and with the energy moving through we can expect strong winds and scattered snow showers along the Palmer Divide. Let's take a look at what's going on!
Winter Weather Advisories Up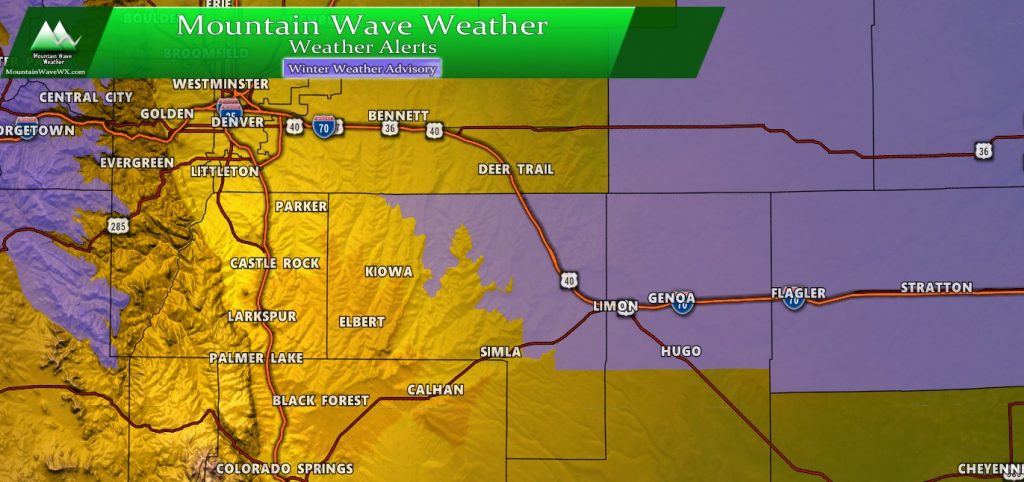 The Winter Weather Advisory is issued from 5AM through 5PM Tuesday for Northeastern and Eastern Colorado. The only areas of the Palmer Divide in this advisory are from central Elbert County out towards the East, the I-25 corridor is not within this advisory mainly because minimal snowfall accumulation is expected. If you are travelling through the Advisory area tomorrow plan on icy/snowpacked roads, low visibility and blowing snow due to wind. Some areas may approach blizzard conditions criteria.
Who Gets The Bulk of the Snow?
In terms of snowfall, this storm won't be much to write home about. I struggle to find any models that give Castle Rock and I-25 corridor more than an inch of snow. The only exception to that may be South of Castle Rock towards Larkspur and Palmer Lake where up to 2 inches may fall. The rest of the snow accumulation looks to fall well East of the I-25 corridor in Eastern Douglas and into Elbert Counties. Again, not much moisture to work with there so snowfall amounts will be pretty light across the Palmer Divide in general.
The Other Story... The Wind!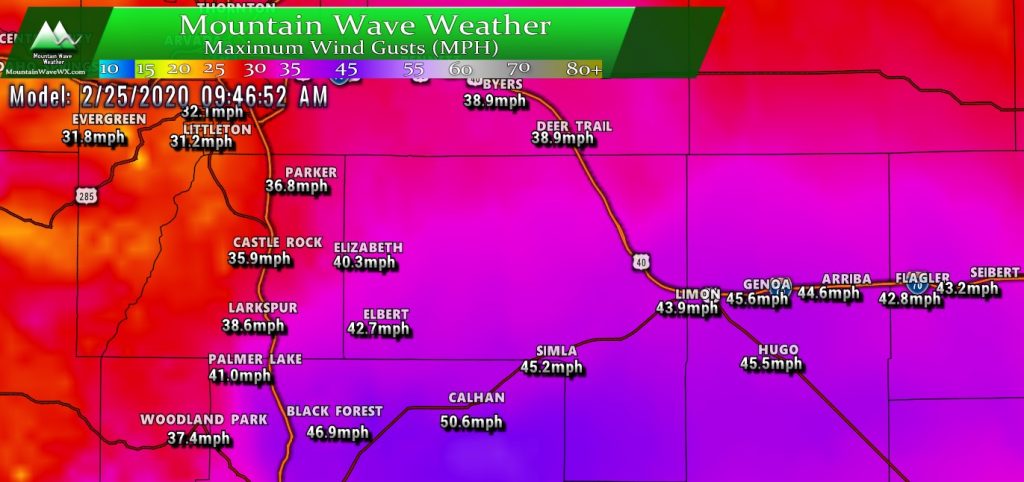 The big story with this storm will be the wind... I recorded a peak wind gust of 36MPH on Monday 2/24/2020 at my place near Elbert; Tuesday we will crank those wind speeds up further. You'll notice the worst of the wind East of the I-25 corridor, especially out in Elbert and Northeastern El Paso County. If you have plans to drive in any of those areas, just know you'll be dealing with some pretty heavy-duty wind.
Winds will pick up early in the morning and last into the evening hours, so that gives you an idea of the timing. Looks to be most of the day!
Summary
Looks like a quick-hitter storm with more wind than snow for a lot of areas... but blowing snow and low visibility will be a problem especially for areas to the East. Beyond Tuesday we see ridging building in which means our weather will revert to a quieter and somewhat warmer pattern the rest of the week. Next chance for snow looks to be out towards early next week.