After a few nice "spring-like" days, mother nature is going to remind us what season we are truly still in... and there's no better way to do that than with another nice round of cold temperatures and snow. (Technically March 1 is the start of spring in the weather world... but we won't split hairs!)
Sunday Timing/Details
Sunday starts off as a fairly decent day with most areas probably hitting the 40's for high temperatures. Don't be surprised if some areas remain cooler especially if we get clouds (mountain wave) setup again on Sunday. Those temps should be reached earlier in the day as a cold front is set to move through later in the day and with the the front and behind it we see moisture and lift increase in the atmosphere to bring precipitation down to the surface.
Cold Front
Sometime in the late afternoon /early evening hours a strong cold front moves through. This will be the focus for the cold temperatures and eventually the lift that will make up our snow storm. Remember, when we get intense lift, we can see bursts of heavy snow so keep that in mind!
I need to build legends for the temperatures on my weather software... sorry about that. In this case everything in the red is 20's and 30's while everything in blue is 40's and orange and yellow are 60's+ Should be pretty easy
Precipitation (rain/snow)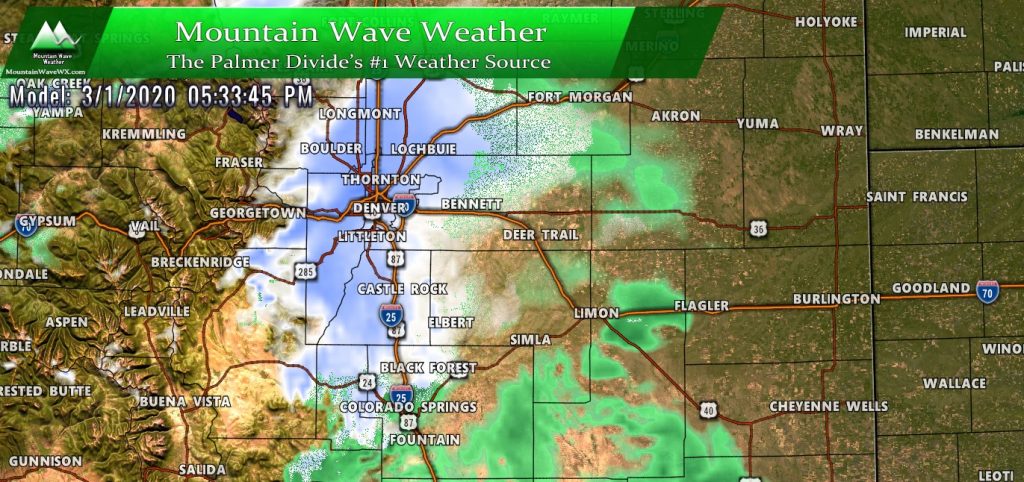 Through the early afternoon hours on Sunday some models show the chance for spotty rain showers. Any precipitation falling before the front on Sunday will most likely come down as rain for many areas and should remain relatively light in intensity. With the frontal passage look for a change quickly to a rain/snow mix or snow becoming all snow as we move through the evening.
This is a pretty classic "spring storm" type setup with warm air though the day, a sharp cold front and dropping temperatures in the afternoon and a transition to snow overnight. There's a few moving pieces with this storm and it's all about timing; if the cold air arrives later and the switch to snow happens later we will see snow totals drop... an earlier transition means snow totals could increase.
Storm Impacts/Preparedness
The main concern for travel impacts will be Sunday evening through Monday morning. With these types of storms we don't tend to see a ton of snow out of them (not a major blizzard type storm) but with the front moving through we can often see high winds and heavy bursts of snowfall. I wouldn't rule out seeing a couple of "snow squall warnings" tomorrow evening. Here's the bullet-points:
Highest chance of travel impacts: Sunday night and Monday morning
Impacts: roads although warm today can quickly be overcome with winds and heavier snow. Expect icy/slushy/snowpacked roads by Sunday later in the evening
Be ready for rapidly changing weather conditions later in the day Sunday
Monday morning commute could feature icy roads (flash freeze conditions overnight) with snowpack. Be prepared for a longer than normal commute.
Snowfall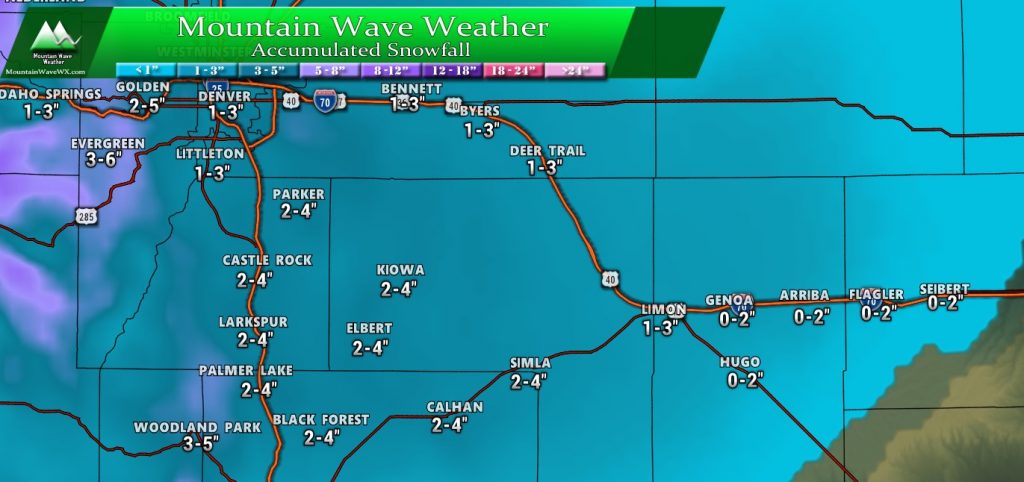 Not much to write home about in terms of snowfall with this system. Snow totals won't be all that impressive but due to the nature of the storm and the strong instability, that initial push with the front and lift means some areas will see intense bursts of snowfall. We've seen several times this year; it doesn't take a lot of snow to make the roads a mess... we could be looking at that type of storm here.
Summary
Models are in decent agreement with snowfall on this storm so I see no reason to go outside their ranges; the wildcards mainly being the timing and temperatures. Any shift in those could mean higher snow accumulation or low, depending on which of those variables shift.
Best plan for Sunday is get out and get your plans in motion early and be ready to head home late in the afternoon or evening. When this thing blows through things will change very quickly. It doesn't look like a major storm, but things will happen quickly and being caught out in the bulk of this storm means travel could become tricky if not difficult for a period of time.