We have ourselves a classic "spring storm system" setting up across Colorado for Sunday. It's not going to be a major "blizzard" type storm with lots of snow and high winds, but it will feature enough snow and wind to be a headache. Models have consistently targeting the Palmer Divide and Southeastern Colorado as points most likely to see the heavier impacts so that's something to keep in mind for Sunday. As you go Northwards towards Denver the snow accumulation will drop off pretty quickly with loss of elevation... meaning a lot of areas to the North won't see much.
As is typical with these types of storms, all the ingredients have to add up to make it a major storm and it's looking like this won't be the one. Moisture is there, upslope is there, but the storm track is drifting a bit too far South and there is not much cold air support associated with this storm. That means a lot of melting and generally just a heavy, wet type of snow with lots of slush.
Let's take a look at where we are at as of tonight!
Weather Alerts
A Winter Weather Advisory is in effect from 8AM through 8PM on Sunday. Heaviest snowfall looks to be between 8AM and 5PM and will accumulate best along the higher elevations of Palmer Divide. The advisory is mainly for snow accumulating on roads leading to slush/ice/snowpack that will make travel conditions challenging.
Expected Snowfall
Palmer Divide
Colorado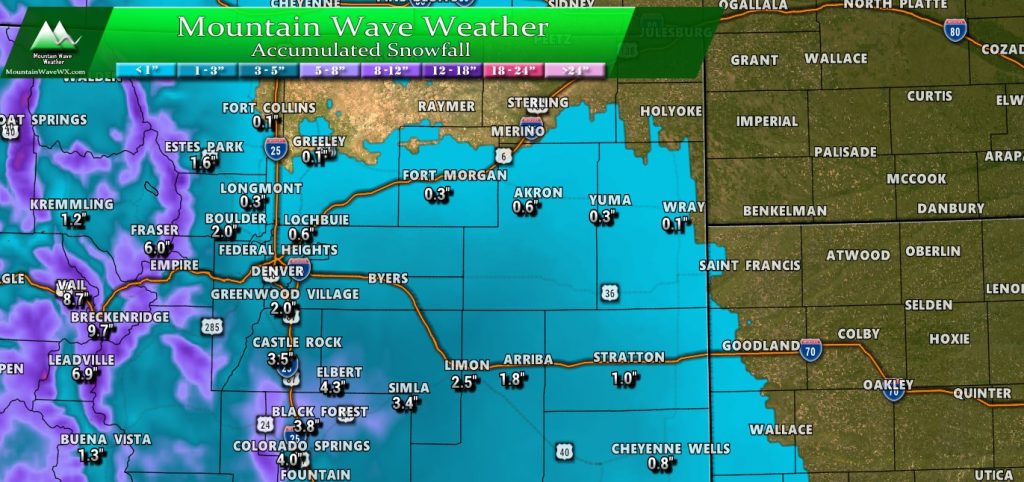 I've pinpointed a few snow totals along Eastern and Central Colorado in the image above. To get a forecast range add or subtract an inch or two higher or lower. The main point of the image above is to demonstrate that the best areas for snow accumulation are Palmer Divide areas South of Castle Rock and East into Eastern Douglas and Southwestern Elbert County. Models have been consistent about those areas so I'd expect them to do a bit better with snowfall, especially due to their higher elevation. The mountains will see the best snow accumulation along the continental divide and into the I-70 corridor, keep that in mind if you have travel plans in those areas on Sunday.
Quick Note - Where is the Palmer Divide?
A lot of folks have been asking this question, I've attached a pic below that will help illustrate the area we are talking about when we refer to the Palmer Ridge or Palmer Divide.
Cities and towns near the Palmer Divide include Parker, Castle Rock, Franktown, Elizabeth, Kiowa, Elbert, Sedalia, Larkspur, Palmer Lake, Lone Tree, Highlands Ranch, Sedalia, Monument, and northern communities of Colorado Springs, such as Gleneagle, Black Forest, and Briargate.
Storm Discussion (Impacts/Timing/Hazards/Trends)
Timing
Sunday - early morning

Spotty snow showers are possible early in the morning
Snow will pick up later in the morning

Sunday - morning and afternoon

By 8-10AM most models show moderate to heavy snow... especially in areas South of Denver
Palmer Divide is most likely area to be impacted by this storm in terms of travel
Snow continues into the afternoon, warmer temperatures may mean a lot of snow melts especially at elevations below 6,000 feet

Sunday evening

Models show snow tapering off by 5-7PM with snow ending by the late evening/overnight hours
Be prepared for wet roads to become icy, but overall the air mass with this storm is not super cold
At higher elevations, flash freezing of roads could cause icy conditions to develop very quickly. Stay vigilant!
Summary
Storm systems like this have a history of producing heavy snow and strong wind so it's still something we have to keep an eye on tomorrow. Any last minute shift in the track will make a big difference of who sees what. We can't predict that too well, all we can do is watch for the signs this storm does that tomorrow.
It won't be a storm to write home about but I think if everything verifies as is from tonight; expect your highest chances of travel impacts to be South of Castle Rock towards Northern Colorado Springs and out East into Elbert County. In other areas if snow collects on the roads it will most likely cause some headaches but shouldn't be enough to shut the city down by any means.
If need be I'll have another update early Sunday morning. Enjoy the evening!