The stranglehold that high pressure has had on Colorado over the past week or two will falter just a bit this week. This means we will see a "cold" front move through the area along with somewhat better chances for storms. The moisture chances don't look great, but some areas will see beneficial rain this week. The big news will be the cooler temperatures slated for Tuesday and perhaps Wednesday with passage of a cold front.
Here's what we're looking at for this week!
Storm Chances Higher - Severe Weather Possible
Overall our thunderstorm chances will be higher on Monday and Tuesday than we've seen in awhile. Moisture at the lower levels will still look limited so we still have questions on whether we see any storms with heavy rain or if we see more of just a wind and lightning threat (something we don't need at the moment.) For Monday the SPC has a severe weather threat outlook consisting of most of Eastern Colorado; the highest chance for severe storms though will be in a line East of Limon so most of the Palmer Divide is left out of the severe threat. We will remain in a "Marginal" severe weather risk along the Palmer Divide and I-25 corridor so a highly isolated severe storm with hail and strong wind can't be ruled out... but probabilities are low.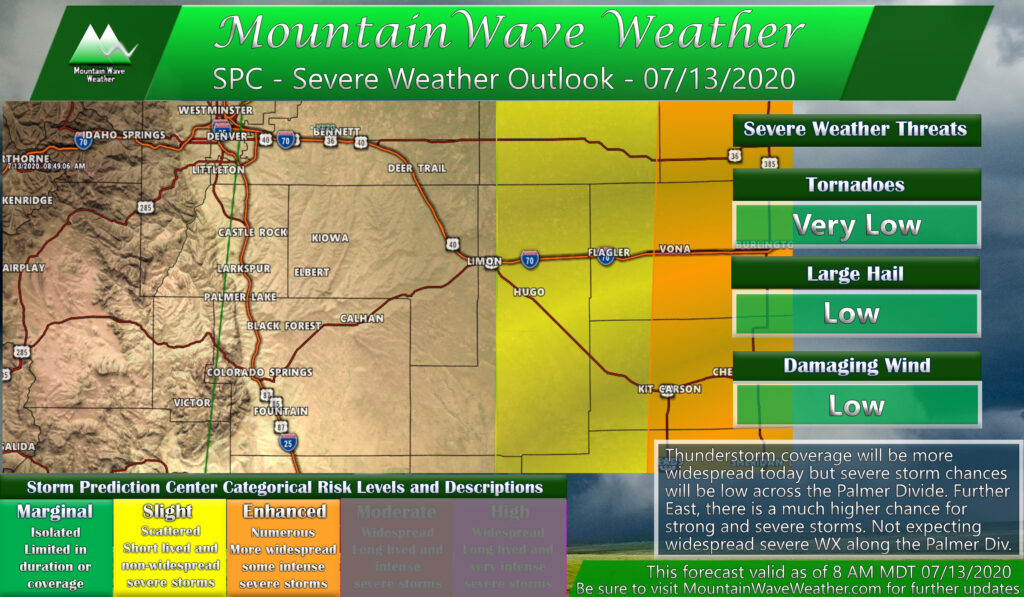 For Monday, the HRRR shows a couple of waves of storms moving through. The first round kicks off earlier in the afternoon while another moves through a bit later in the afternoon. Keep this in mind if you're outside, we could see more than one wave of storms.
Tuesday Cold Front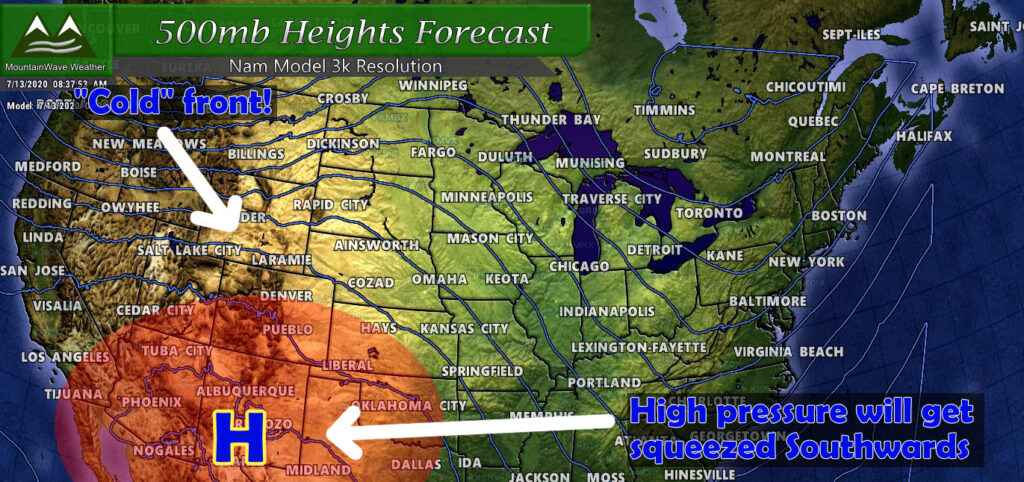 As we stand today, our high pressure system is beginning to get squeezed to the South as a cold front moves in from the Northwest. The fight between warmer and cooler air is what will stir up the atmosphere for storms this week but the bigger news item will be that we finally get a tiny break from the heat. Check out these temperatures for Tuesday and Wednesday!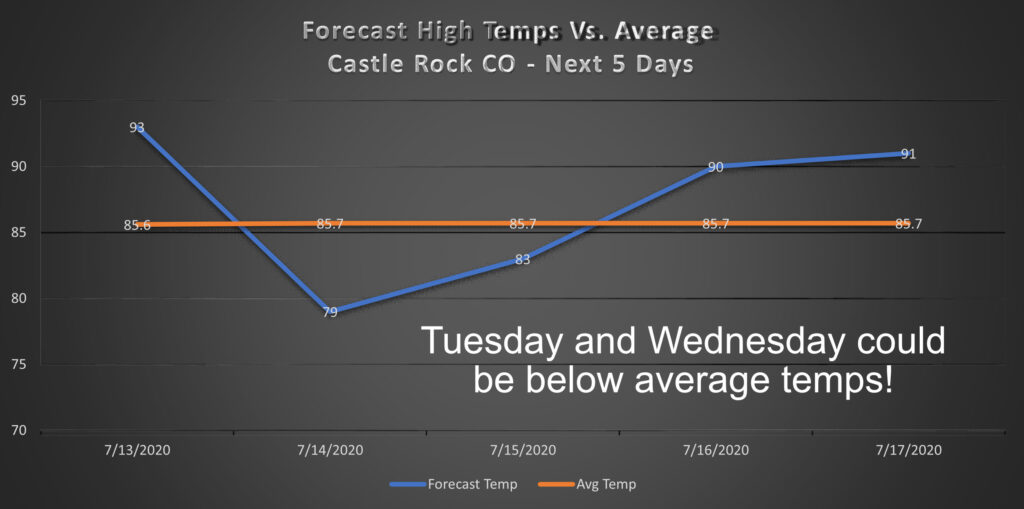 Late Week
Our cooldown will be pretty short lived, as you can see in the temperature graphic above and the model run below we will return to 90's and above average temperatures by Thursday.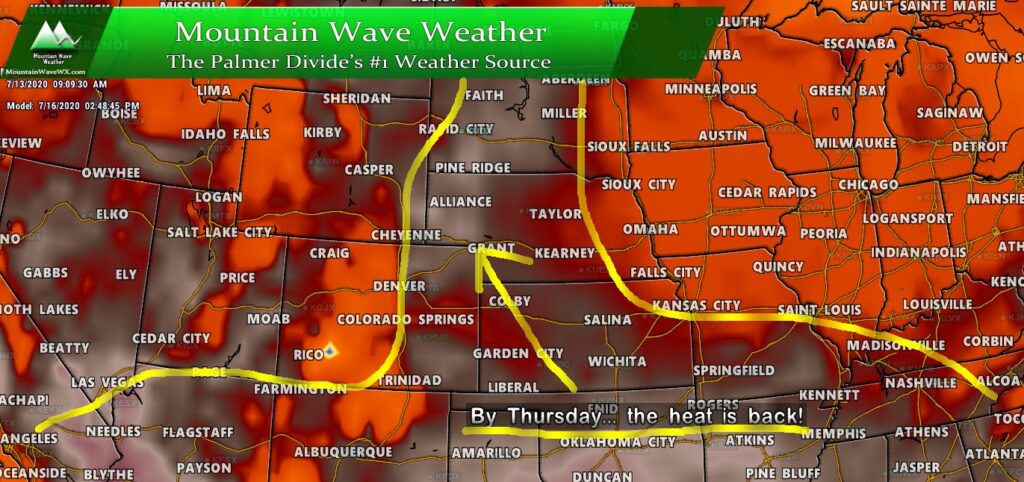 As we look further ahead into July I don't see a lot of evidence of this pattern changing. Widespread, dominant ridging over the Southwest including Colorado with only an occasional disturbance moving through to mix things up. Our long range outlook for July that we made for supporters earlier this month is holding steady, we did forecast hot and dry conditions to dominate our pattern most of July and we see that trend continuing for the rest of the month.
Summary
Enjoy the cooldown on Tuesday and Wednesday, it may be awhile before we see another one. Models continue to show hot and dry conditions through the next couple of weeks. Interestingly, still looking for signs of the monsoon and not seeing any at all! Could be a rough summer if our monsoon no-shows, but it could just be setting up late this year.
Be sure to check back here as we will continue to track drought conditions and the monsoon as new data comes in.
Have a great week!