A shift in winds this morning will allow moisture to filter into the area this afternoon, with this Southerly and Southeasterly flow we expect dewpoints to remain high into the afternoon providing ample fuel for thunderstorms.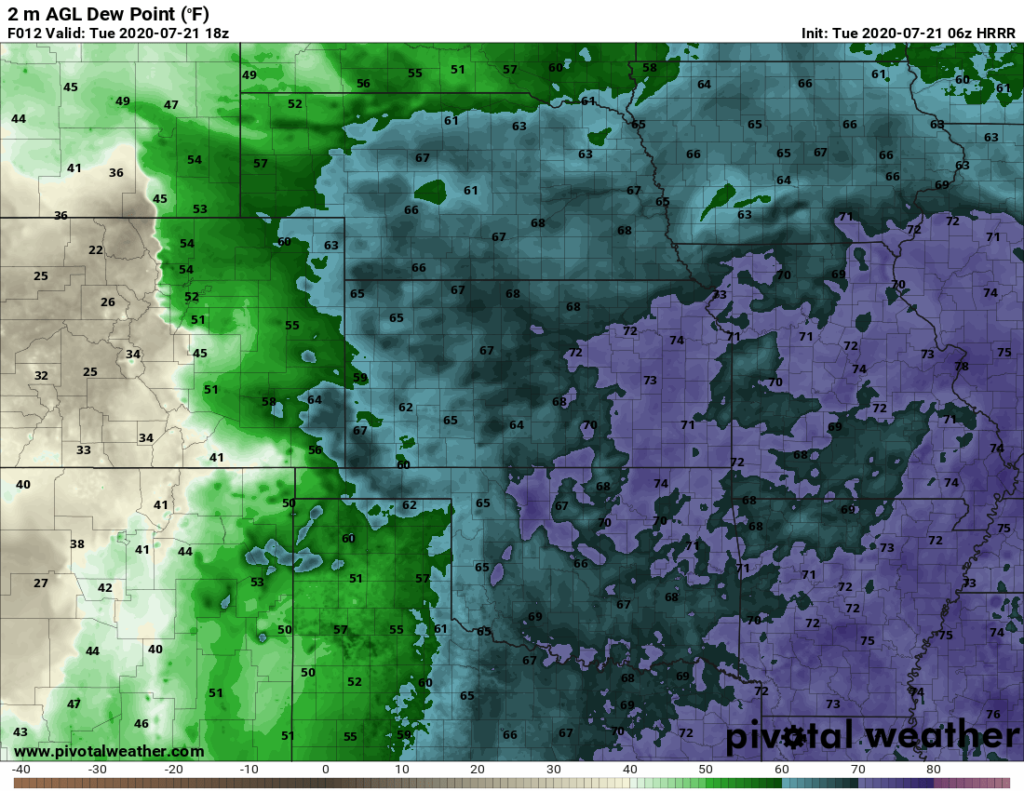 The increased moisture along with a generous bit of lift and instability this afternoon will allow thunderstorms to grow large and become strong/severe.
The Storm Prediction Center Outlook this morning paints a yellow (slight) risk across much of the front range for this afternoon. If you're familiar with this rating system you know that slight risks (2 out of 5 on the severity scale) aren't particularly that high in the grand scheme of things... but you also know that Colorado doesn't always follow the rules in terms of weather due to our terrain features and elevation.
The Models
On a normal day I'd just put a general post up about the chance of severe weather and call it good, but many major models are concentrating a lot of energy along the Palmer Divide today. There is pretty good agreement on large storms somewhere along or near the Palmer Divide today.
Noticing the pattern there? In every case a model paints storms over the Palmer Divide. We will still have to see how things come together but this gives us more confidence that portions of the Palmer Divide will have a bumpy ride this afternoon.
What to Expect
Timing
The best window for storms looks to be between 2-6PM, many models have the strongest storms over/near the Palmer Divide betwen 3-4PM
Be weather aware after 1-2PM with possible impacts around 2-5PM for the Palmer Divide
Hazards
Strong/damaging winds

Severe storms contain wind gusts over 60mph

Large Hail

We don't see a widespread large hail threat but some of the stronger storms could have large hail that causes property damage

Heavy Rain

Lots of moisture and energy in the air means stronger storms will put down a lot of rain!
Flash flooding/ street flooding will be possible under the stronger storms
Summary
Looks like a busy afternoon on tap; keep this in mind if you have outdoor plans! I'll be keeping an eye on things and passing along weather information as I can. Remember, NWS is best source for real-time weather alerts (phone weather apps are great for this!)