Week Ends Unsettled
A small disturbance will roll through Colorado later in the day on Thursday and into Friday. A good chance of moisture with this one but won't be a major impact in terms of snow as most of the colder air will stay further North into Wyoming. Most precipitation we see along the front range will be rain or a rain/snow mix and due to the warmer ground temperatures and higher sun angle most areas will struggle to see any snow accumulation.
The above graphic shows the total forecast amount of precipitation for this storm system through late Thursday night. As you can see the bulk of the moisture stays well North of us.
As you can see from the snowfall forecast there are banded areas of snow stretched across Northeastern Colorado including the Palmer Divide. While we usually see higher snowfall totals under these bands of snow, temperatures will struggle to be super cold with this storm so while we expect some accumulation under these bands of snow it will be difficult to see large amounts of snow accumulate.
---
Snowfall
Minor accumulations expected out of this storm, I think the areas that see any accumulation will be spottier than what is predicted above. For a range add or subtract an inch or so from the specific totals shown above. Highest chances of seeing snow stick anywhere are definitely along the higher elevations of the foothills and Palmer Divide (above 6,000-6,5000 feet in elevation.)
I'm not particularly concerned about a lot of road impacts as I imagine a lot of places will see wet roads or light slush at worst.
---
Temperatures
Wednesday High Temps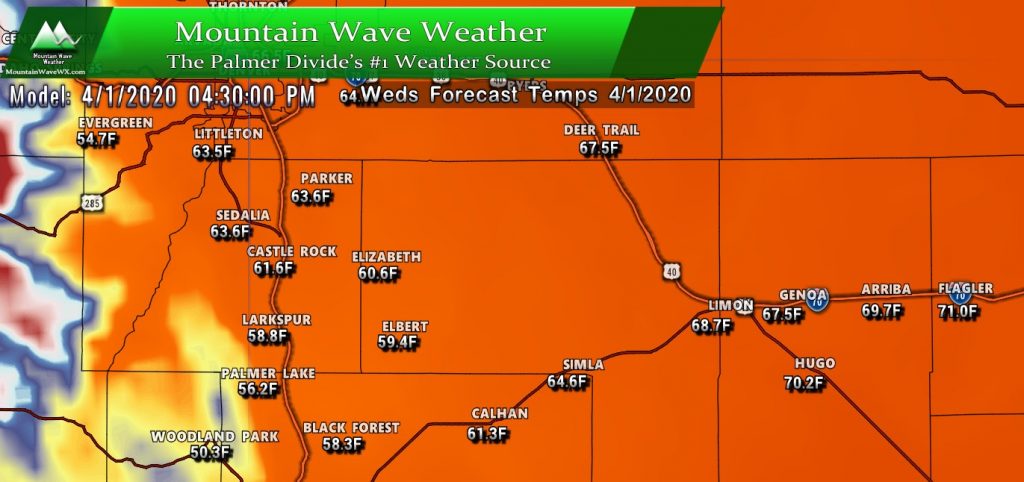 Wednesday will be a relatively nice day along the Palmer Divide with many areas reaching near 60 degrees with some high cloud cover. Winds look light and we don't see much in the way in terms of precipitation chances.
Thursday High Temps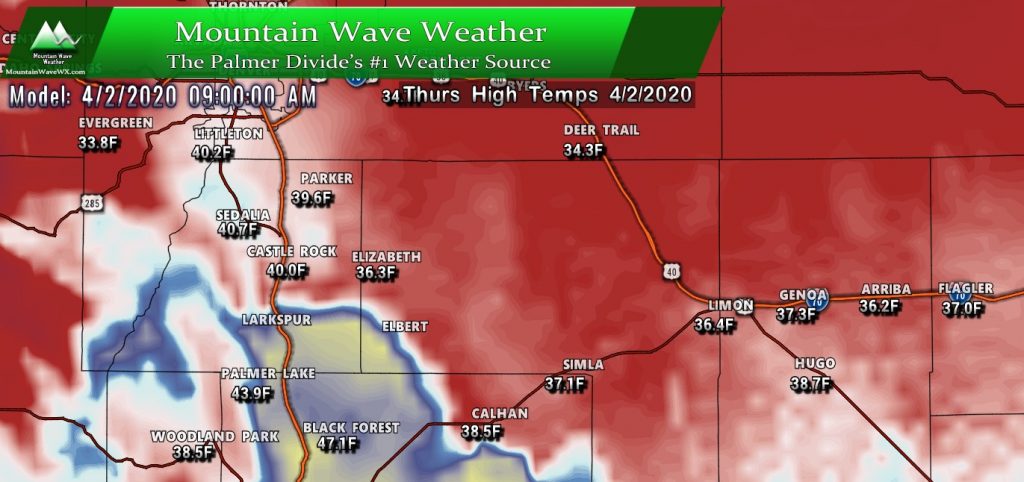 High temperatures on Thursday will most likely be reached in the morning hours and will be noticeably colder than what we see on Wednesday. Notice the pocket of warmer air South of Castle Rock... those areas will remain warmer until the cold front moves through sometime in the afternoon hours.
After the cold front moves through in the afternoon hours temperatures will drop further and precipitation will form with the lift and shallow moisture behind the front. Notice how the front doesn't make it too far South, this is why the colder air won't make it much further out of Wyoming... those areas well to our North will see several inches of snow, but the front range of Colorado won't.
---
Summary
Not a super exciting spring storm system for us, but we will happily take the moisture. The biggest impact will be the transition from warm temperatures to markedly colder temps, but that is typical for this time of year in Colorado.
The first half of April looks to be unsettled across the Western and Northwestern U.S. but it still remains to be seen how much of that energy makes it into Colorado.