What is likely the first in a series of storms will move through tonight and effect Colorado. The mountains will see a bit of snow and even the front range will see a bit of light snow with slight accumulation, but we don't see a major storm with this. It is likely some folks will run into travel issues tomorrow but it won't be major... more of a slower to work and a bit of a headache.
Here's the latest update based on all the data in today from this storm!
Winter Weather Alerts and Advisories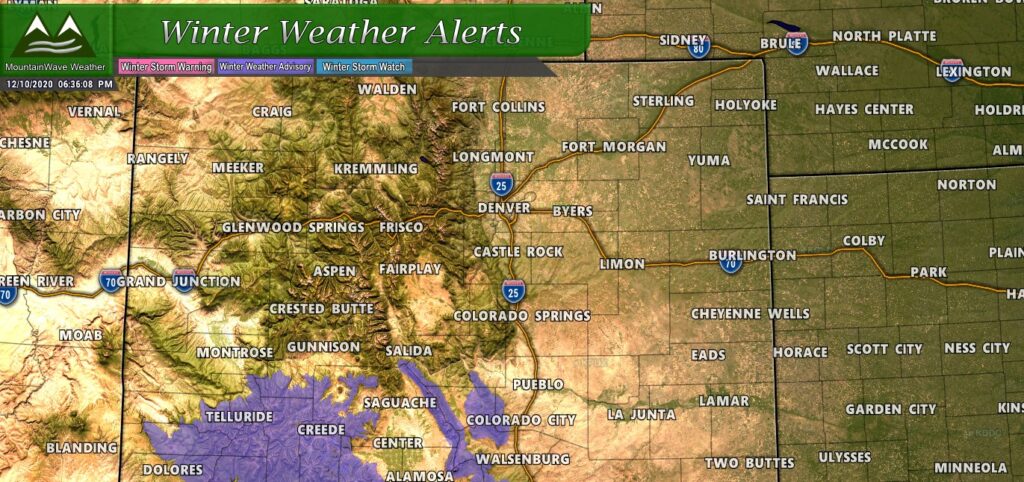 The only advisories issued for this storm are in Southern and Southwestern Colorado where the heavier snow will fall and make for tricky travel conditions. Closer to home, there are no weather alerts issued in advance of this storm - with the data we are getting in we don't see a whole lot of reason to think we will see any alerts with this storm.
Obviously if that changes we will pass it along!
---
Snowfall Forecast (Through 5PM Saturday)
There's a couple of waves of snow projected over the next several days, with breaks in between each storm system. As such, we will have a lot to talk about on MountainWave Weather, but for now let's focus on the first storm moving through tonight and through the day Friday.
Here's the weather maps with the latest predicted snowfall accumulations, most areas along the front range will see lighter snowfall and lower snowfall accumulations but the good news is most areas will see at least something. By no means will this be a major snowfall producer for us though!
Overall I like these snowfall numbers, don't be surprised if many areas end up on the low end of the forecast range though!
---
Timing and Impacts
Most models have snow across the area by 9-10PM, with showers continuing overnight and into tomorrow.
By mid to late afternoon Friday the snow should move out of the area for a bit. Most of the snow that falls will be relatively light but over a longer duration (snow totals above are for total time from Thursday night through Saturday afternoon... so with that math if you see an inch or two that will come between tonight and Saturday... not a heavy snow event.)
That being said, be on the lookout for slick spots if you have to travel around on Friday morning. It's possible especially along the higher elevations of the Palmer Divide between Castle Rock and Monument that you may run into some (limited) travel impacts in terms of slick roads.
---
Last Thoughts
Some of the shorter range/higher resolution models coming in tonight are really not excited about this storm. It's possible the snow forecast above may be a bit high, but I think that it is likely most areas fall within the range outlined - even if they trend towards the lower end of that range.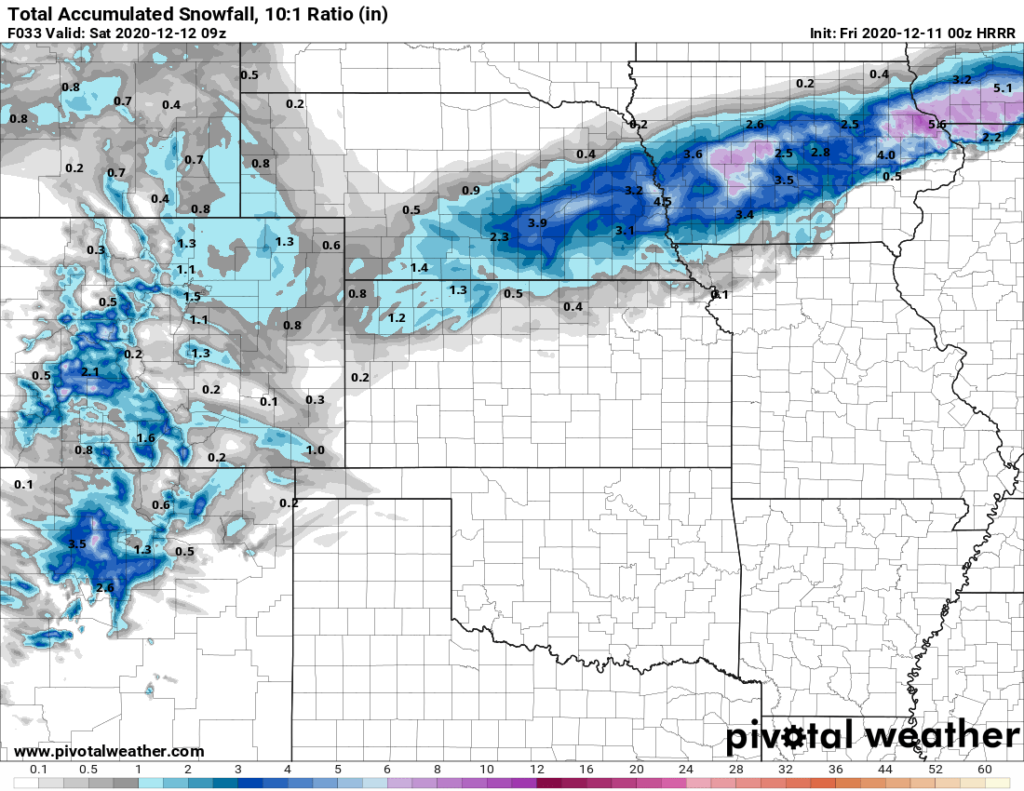 The HRRR (pictured above is really not too excited with this storm...) should this verify many areas will stick to the low side of the forecast or may even bust low.
You'll be hearing from me a lot over the next 5-7 days as our unsettled weather pattern will continue through at least middle to late next week. This is good news as more storms means chances for more moisture but none of the models are very excited about any of these storms as of yet.
Stay tuned!