Extreme Fire Danger for Palmer Divide and Colorado Front Range
As hot and dry weather re-establishes this week along the Colorado Front Range and Mountains a Red Flag Warning has been issued for extreme fire danger. A combination of well above average temperatures, low humidity and strong winds will contribute to extreme growth and fire starts becoming rapidly out of control.
Here's a look at the Warning areas: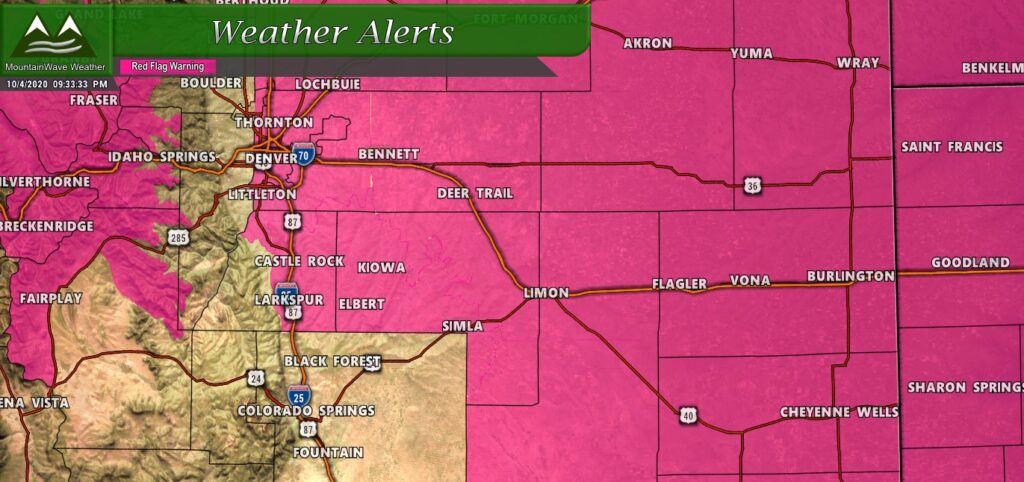 Sadly, given the weather pattern we are seeing ahead; we will most likely be seeing a lot of Fire Weather Warnings as we move through October.
You can always check current and real-time updated weather alerts for Castle Rock, Elizabeth, Elbert, Black Forest or Monument from our new Weather Warnings pages. The areas along the front range will be under the Red Flag Warning on Monday from 11AM until 6PM.
---
---
Drought Conditions Worsen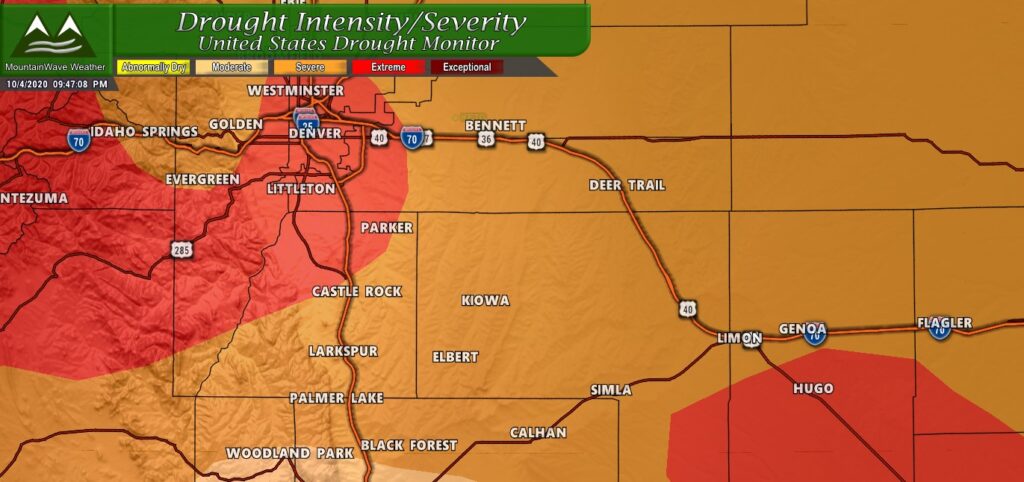 Drought conditions continue to worsen as dry and windy conditions remain the norm in the area. We don't see a lot of evidence for any relief from this pattern in the near future so expect drought conditions to worsen throughout the month of October. Many areas of the Palmer Divide are now in Severe Drought with an area of Western and Northern Douglas county in Extreme Drought.
Here's a refresher on what the different levels of drought mean in Colorado:
Category
Impact

Abnormally Dry

Hay production decreases; rangeland is dry
Irrigation begins sooner

Moderate Drought

Rangeland growth is stunted; very little hay is available
Dryland crops suffer
Wildfires increase
Pheasant population declines; ski season is limited

Severe Drought

CRP lands suffer
Farmers reduce planting; producers sell cattle
Fire season is extended
Snowpack is low; surface water levels are low; river flow is reduced

Extreme Drought

Pasture conditions worsen
City landscapes are dying
Large fires develop
Rafting, fishing, hunting, skiing are reduced; fish kills occur
Grasshopper and insect infestation are noted
Reservoirs are extremely low; mandatory water restrictions are implemented; water temperature increases

Exceptional Drought

Dust storms and topsoil removal are widespread
Agricultural and recreational economic losses are large
Interestingly, we are not yet to the point where we are seeing water shortages along the front range. This can be chalked up to a healthy snow season in the mountains over the past few years. The bad news is that if these conditions continue through winter we should expect to see water shortages by sometime next spring... we've obviously already reached the "large fires develop" criteria across many parts of the state.
I'll keep an eye out for any chances of moisture or weather pattern changes on the horizon and pass that info along. For now though, it looks like more of the same!