As of this morning everything looks pretty well on track for our storm system today. Models have generally stayed put on strength, speed and positioning of this storm system. That gives us growing confidence on the forecast and allowed us to refine a few things, but overall the forecast won't be too much different from yesterday. As I talked about earlier on the radio today "it won't be the biggest snow storm we've seen this season, but the heaviest snow looks to fall during rush hour which could make the commute tonight pretty miserable." That's really the main story with this storm... let's get into it!
Update on Winter Weather Highlights
**Winter Weather Advisory - 6AM Monday through 6AM Tuesday - For Northeastern/Central Colorado and Palmer Divide/ Colorado Springs
* WHAT...Freezing drizzle this morning, then snow. Total snow
  accumulations of 4 to 8 inches and ice accumulations of a light
  glaze. Winds gusting as high as 35 mph east of Interstate 25.

* WHERE...Portions of north central and northeast Colorado.

* WHEN...Until 6 AM MST Tuesday.

* IMPACTS...Travel could be very difficult. The hazardous
  conditions could impact the morning or evening commute.


**Winter Storm Warning - 12PM Monday through 6AM Tuesday - For Front Range Foothills, Continental Divide Mountains, Western Douglas County
* WHAT...Heavy snow expected. Total snow accumulations of 6 to 12
  inches. Winds gusting as high as 40 mph.

* WHERE...The Mountains of Summit County, the Mosquito Range,
  and the Indian Peaks and Rocky Mountain National Park and the
  Medicine Bow Range.

* WHEN...From noon today to 6 AM MST Tuesday. The heaviest snow
  will be this afternoon and evening.

* IMPACTS...Travel could be very difficult. Patchy blowing snow
  could significantly reduce visibility. The hazardous
  conditions could impact the evening commute. The cold wind
  chills as low as 25 below zero could cause frostbite on
  exposed skin in as little as 30 minutes.
A Look at Snowfall
Overall not a lot of change to the expected snowfall as of this morning. Numbers right around the I-25 corridor have stayed very close to the last update, while a bit further East (Elizabeth, Elbert, Kiowa, etc...) are similar as well but he have better confidence in it.
This produce tends to overdo snowfall but when I switched it to the 25% or "less than expected" setting the amounts only decreased a bit. This means to me that this particular model is pretty confident on its solutions... it's not the only model though and there are others that disagree with it. That being said models that go lower are only an inch or two lower while the higher ones are only an inch or two higher.
For guidance on most likely snowfall ranges (read: more accurate than a single pinpoint value) see below:
Expected Accumulation Ranges Per Area
| City | Within 12-24 hour Forecast Range |
| --- | --- |
| Castle Rock | 5-9 |
| Parker | 5-9 |
| Highlands Ranch | 5-9 |
| Elbert | 3-7 |
| Elizabeth | 3-7 |
| Kiowa | 3-7 |
| Centennial | 4-8 |
| Denver | 3-7 |
| Larkspur | 5-10 |
| Monument | 5-10 |
| Black Forest | 4-9 |
| Littleton | 4-8 |
As you'll notice, only minor tweaks on the able above. Some areas got adjusted slightly lower and some slightly higher based on model guidance and the overall trend of where models think the heavier snowfall will be.
Quick Note!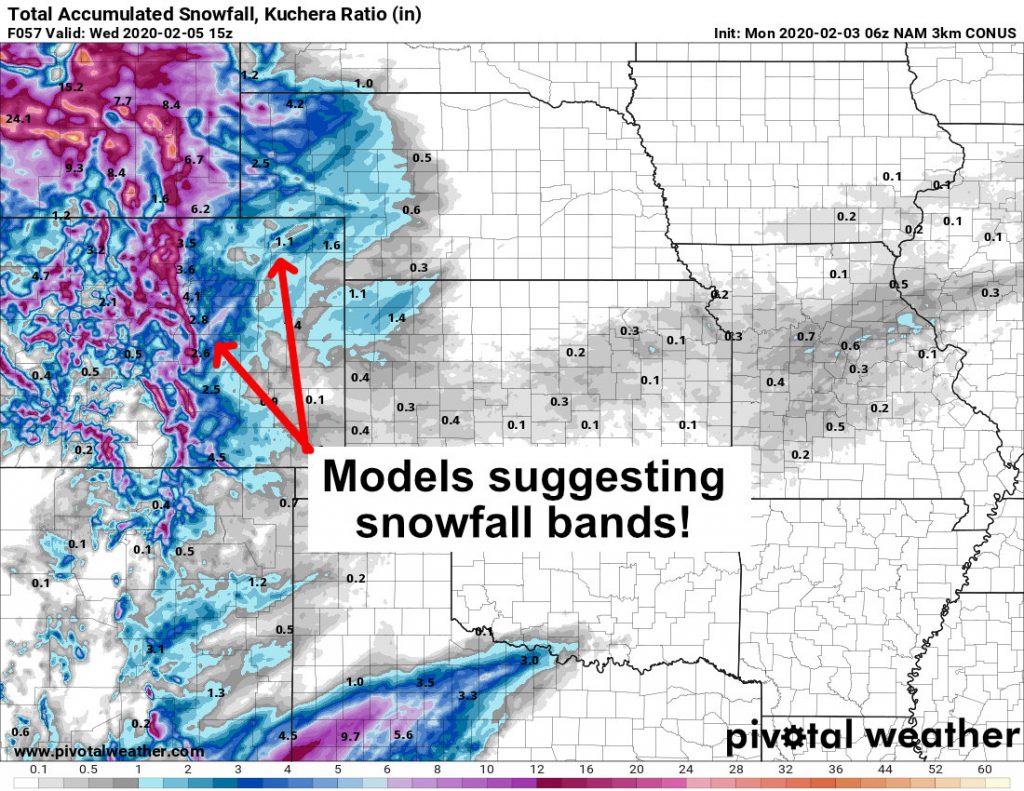 On the model snapshot above, don't get caught up with the numbers too much. The point here is to illustrate that many of the models are suggesting there will be banded snowfall. That's an important thing to know when making a forecast for any storm because you have to remember a few things:
Models are great at showing there WILL be banded snowfall
They are not good at predicting where they will form, how long they last and how intense they get (among other things)
That's important! Where the snowfall bands set up means the difference between lots of snow or little at all
Nothing is better at busting a forecast (both high and low) than snowfall bands
So you're saying we can't be certain on the forecast? Nope! We try out best and usually get a decent idea of which areas have the highest chance of seeing those higher snowfall amounts!
Forecast/Hazards/Timelines/Impacts (The Need to Know Planning Stuff!)
Impacts
Snowfall/Travel Impacts
Highest areas of concern for larger impacts from snowfall are right along the front range foothills and along the Palmer Divide. Especially keep an eye on areas like Lincoln Avenue South on I-25 to Castle Rock and continuing South from Castle Rock to Monument.
Snowfall could be significant in some areas (6+ inches or more) that could cause travel impacts
Roads are expected to become icy and snowpacked causing moderate to possibly high travel impacts
Timing
Monday Morning

Cold front has moved through this morning and temperatures have dropped
Many areas Monday morning are reporting freezing rain and icy conditions
Minor impacts in terms of slick roads and icy bridges due to freezing rain is likely for many areas
Freezing rain will switch to snow with minor accumulations by late morning with minor accumulations through lunch hour

Monday Afternoon/Evening

Models show snow kicking in for many areas by mid/late afternoon. Some areas may see a bit earlier but heavier accumulations are not expected until afternoon/evening
Heavier snow is possible by late Monday afternoon into the evening hours
This may substantially impact the Monday evening commute depending on timing
Expect at least moderate impacts to Monday Evening Commute with icy and snowpacked roads, low visibility and generally miserable driving conditions
Moderate to light snow continues overnight Monday - expect road impacts to continue

Tuesday Morning

The Euro shows the storm slowing down and lingering into Tuesday morning while other models do not. This is something we will have to keep an eye on.
We do expect minor-moderate impacts to the Tuesday morning commute as lingering snow showers look likely and roads take time to recover from the storm
Tuesday evening commute looks better at this time
Summary
A few suggestions if you're travelling/commuting on Monday based on our forecast points above
Monday may be a great day to leave work early if you can
If you're going to the airport check your flight status before you leave
If you're driving check cotrip.org - mountain travel will be especially treacherous Monday
Tuesday morning commute may be difficult as well
Within this timeframe we have decent confidence in this forecast. As always I'm sure it will throw us a few surprises but I'm happy with it. Stay safe out there, stay warm and have a great Monday. Look for the next weather update around lunchtime Monday (it will be minor unless we see big changes.)