Just a quick update this morning as the forecast is more or less in line with our previous updates. Slight tweaks made to snowfall forecasts along the front range as the storm looks to take a more southern track, meaning (for once) Colorado Springs and points to the South have a better chance of seeing more accumulating snowfall. Here's the latest as of this morning.
Weather Watches and Warnings
Snowfall Forecast
Palmer Divide Expected Snowfall through 5AM Monday 12/16/2019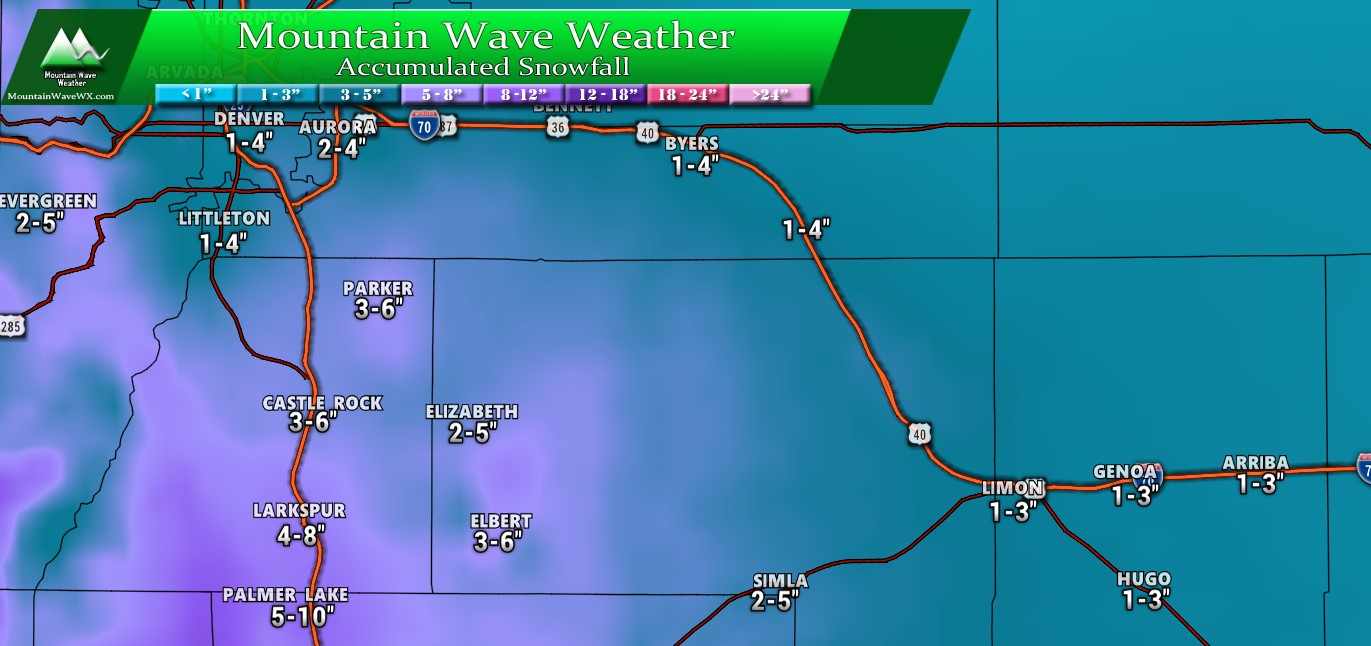 Again, not a major storm by any means, snowfall will be light and accumulations won't be major. There is possibility for slick roads under heavier bands of snow but they will be short lived. Overall, still expecting light travel impacts for most along the Palmer Divide with very specific spots seeing moderate impacts (mainly South of Larkspur into the Springs)
Northern Colorado Expected Snowfall through 5AM Monday 12/16/2019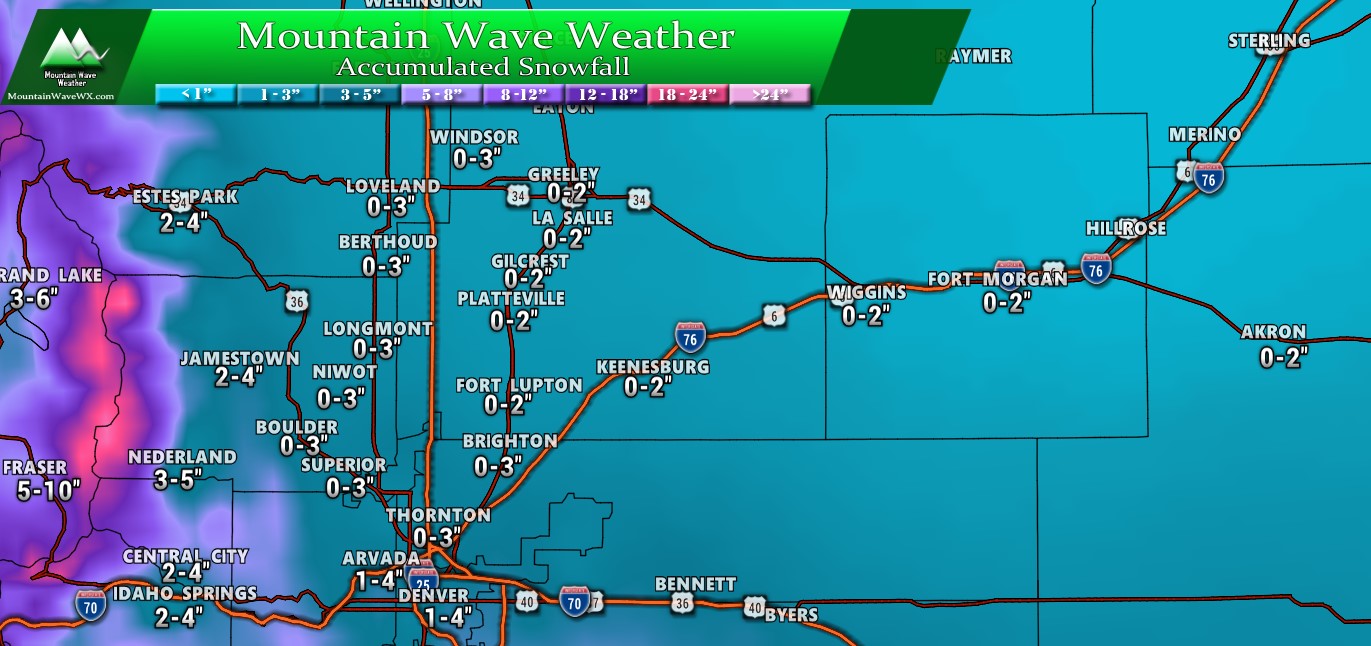 Southern Colorado Expected Snowfall through 5AM Monday 12/16/2019

Notice the snow along the I-25 corridor South of the Springs towards the New Mexico border. These are areas that look to see the most travel impact during the storm. Keep that in mind if you're heading that way on Sunday.
Western Colorado Expected Snowfall through 5AM Monday 12/16/2019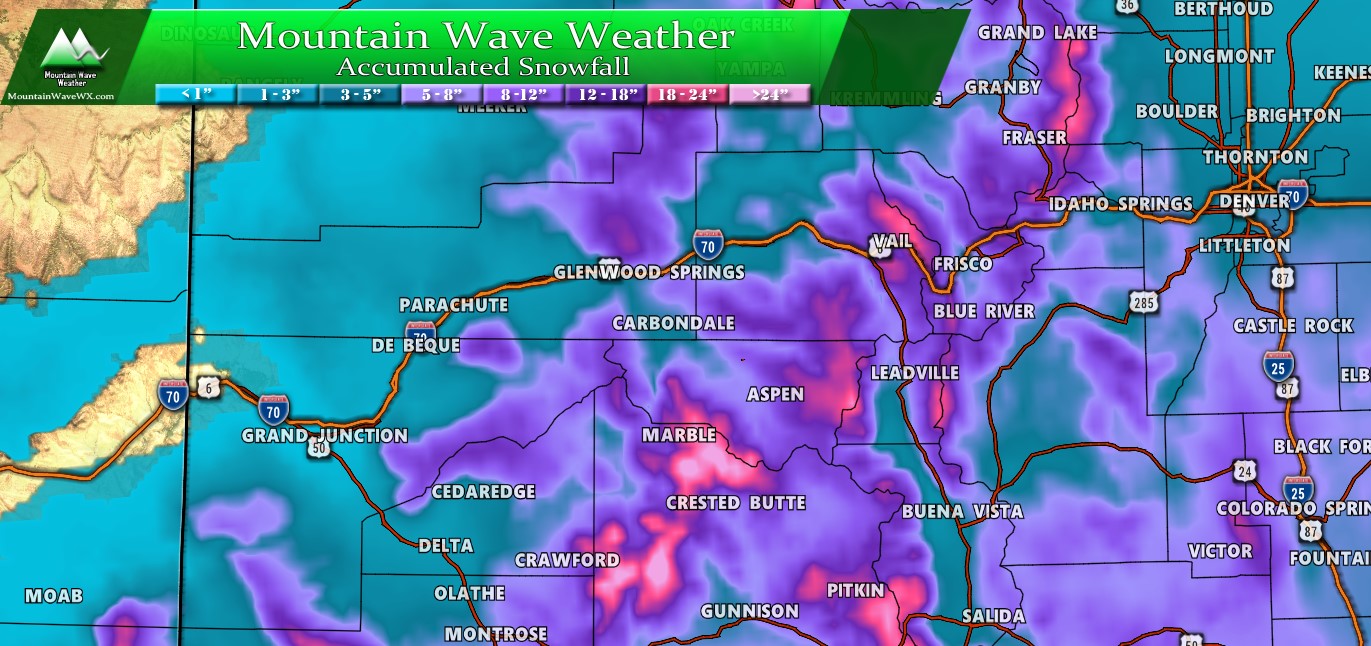 Just ranges provided on this graphic as totals will range wildly depending on your elevation and which way the slopes are facing in your area. Western and Southwestern slopes stand to do the best with the remainder of the storm. Notice, still a decent amount of additional snowfall expected for the mountains through Sunday, travel conditions will be high to severe for most areas in the mountains until late Sunday.
Summary/ Key Points
A lot of people are continuing to ask so I'll repeat:
This does not look like a high impact event for any areas along the Front Range or most of the Palmer Divide.
The highest impact to travel will be confined to the mountains, front range foothills, and areas South of Larkspur, into Colorado Springs, through Pueblo and towards the border.
Another note; if you see snow today don't be surpised. Some of that energy may make it over the divide... this not the main energy that will produce much accumulating snow... that will come on Sunday. Snow totals are through Monday morning!!!
For those of you who caught my youtube discussion last night, thank you for putting up with the technical issues. I'm still new to this stuff and figuring it out, I know what happened and should have it fixed going forwards. Thank you for the patience!
If you haven't checked out my youtube channel yet, be sure to visit and subscribe so you get notified when I do forecasts, livestreams and put other content up!
Happy Saturday!