Here's the latest on the front and associated storm system we have been chattering about for the past couple of days!
Current Weather Highlights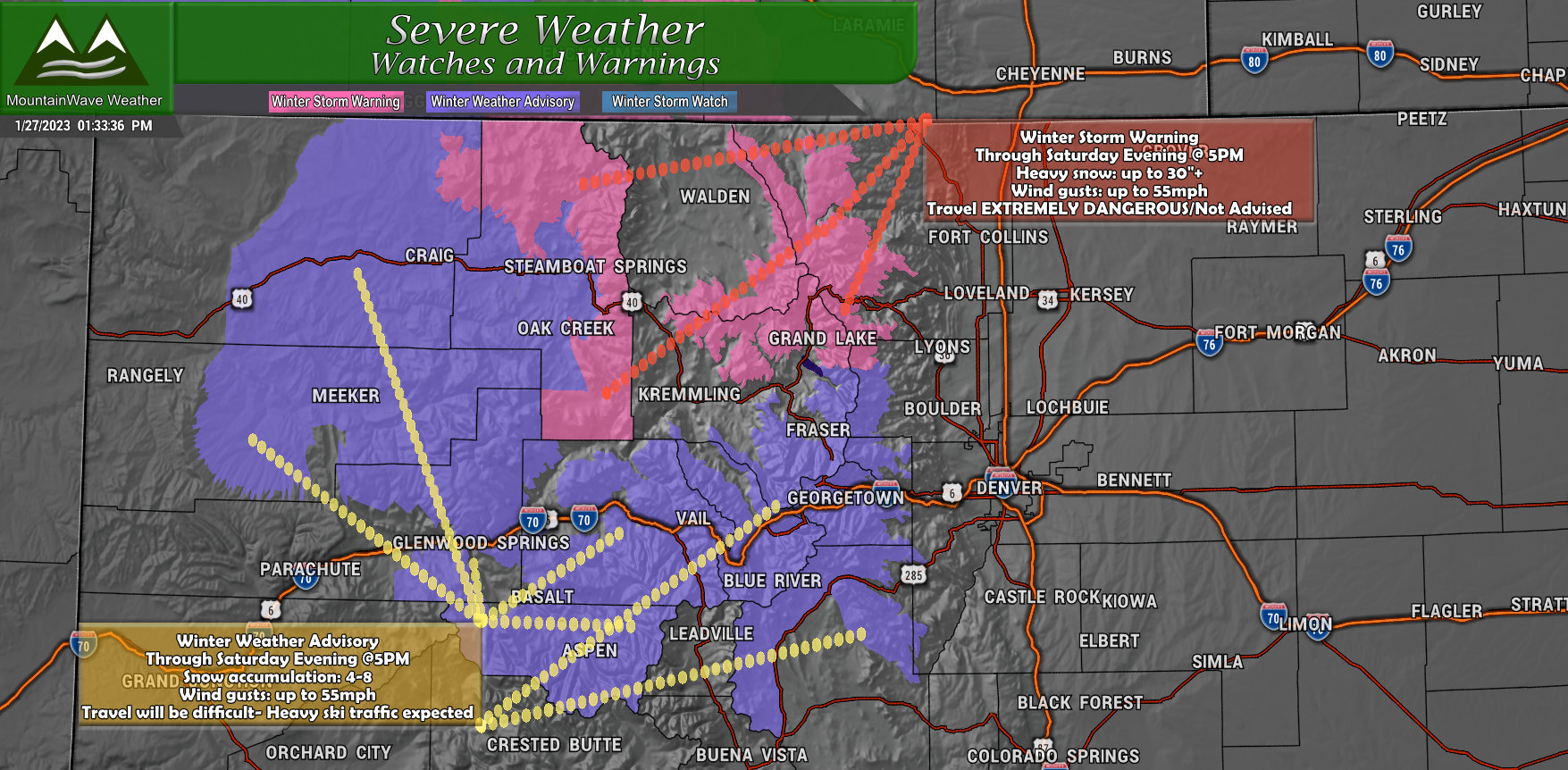 ...WINTER STORM WARNING REMAINS IN EFFECT UNTIL 5 PM MST SATURDAY...
* WHAT...Heavy snow expected. For the Park Range, expect storm total snow accumulations of 18 to 30 inches. For the Medicine Bow Range and Rocky Mountain NP, expect storm total snow accumulations of 8 to 14 inches for the higher elevations. Winds gusting 45 to 55 mph across the higher terrain.
* WHERE...Rabbit Ears Pass, and Rocky Mountain National Park and the Medicine Bow Range.
* WHEN...Until 5 PM MST Saturday.
* IMPACTS...Travel will be very difficult to impossible from early Friday evening through Saturday. Gusty winds could bring down tree branches.
PRECAUTIONARY/PREPAREDNESS ACTIONS... If you must travel, keep an extra flashlight, food, and water in your vehicle in case of an emergency. The latest road conditions for Colorado can be obtained by calling 5 1 1 or by going to www.cotrip.org.
...WINTER WEATHER ADVISORY REMAINS IN EFFECT UNTIL 5 PM MST SATURDAY...
* WHAT...Snow expected with the heaviest rates occurring this evening and tonight. Total snow accumulations of 4 to 8 inches. Winds gusting 45 to 55 mph across the higher terrain.
* WHERE...The Mountains of Summit County, the Mosquito Range, and the Indian Peaks, including the I-70 corridor.
* WHEN...Until 5 PM MST Saturday.
* IMPACTS...Snow covered roads will make travel hazardous. The hazardous conditions will likely impact weekend ski traffic.
PRECAUTIONARY/PREPAREDNESS ACTIONS... Slow down and use caution while traveling. The latest road conditions for Colorado can be obtained by calling 5 1 1 or by going to www.cotrip.org.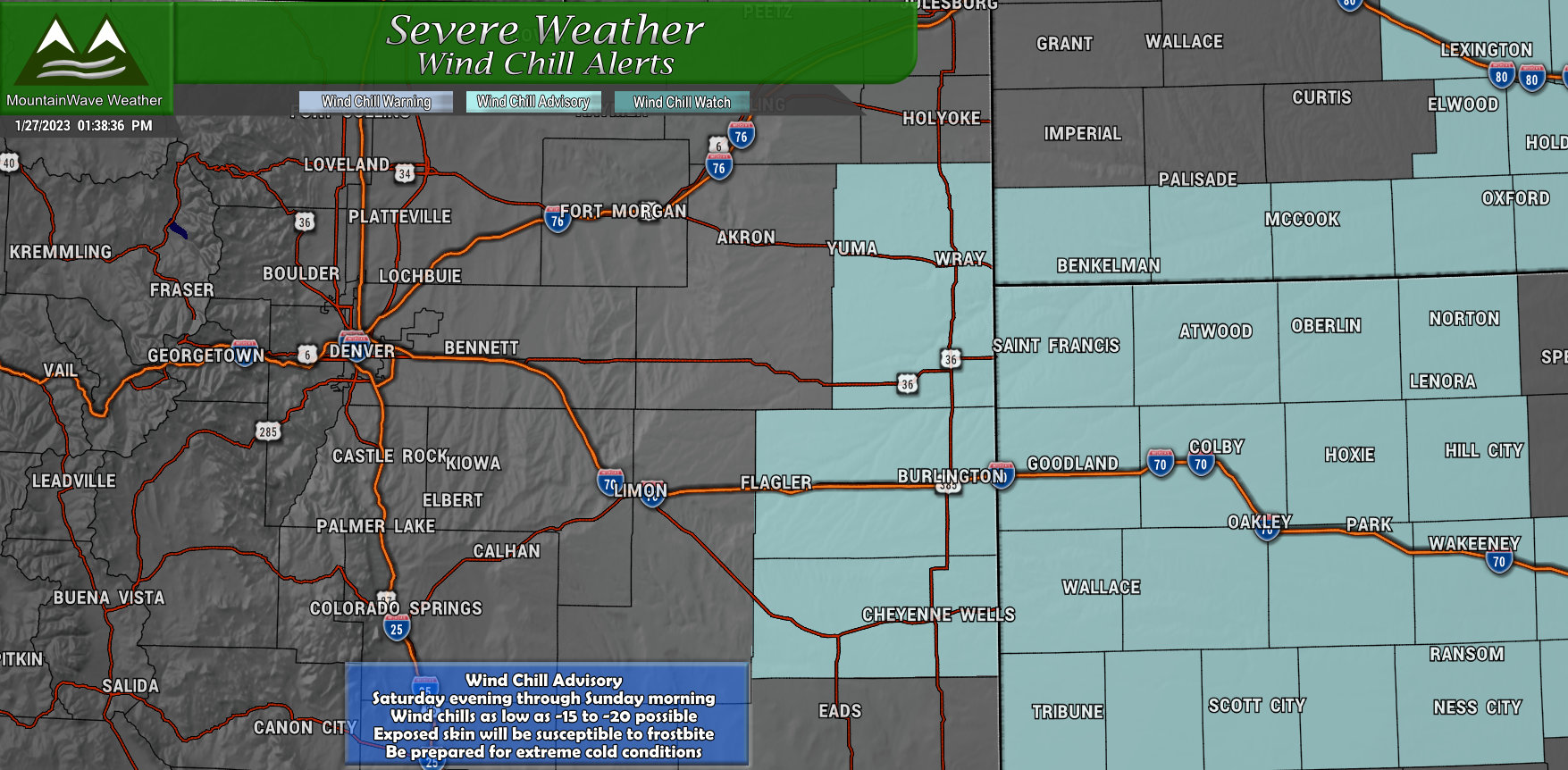 ...WIND CHILL ADVISORY REMAINS IN EFFECT FROM 5 PM MST /6 PM CST/ SATURDAY TO 9 AM MST /10 AM CST/ SUNDAY...
* WHAT...Very cold wind chills expected. Wind chills as low as 16 below zero.
* WHERE...Portions of east central and northeast Colorado, northwest and west central Kansas and southwest Nebraska.
* WHEN...From 5 PM MST /6 PM CST/ Saturday to 9 AM MST /10 AM CST/ Sunday.
* IMPACTS...Limit your time outdoors if possible as these cold wind chill readings will cause frostbite in a very short time.
PRECAUTIONARY/PREPAREDNESS ACTIONS... Use caution while traveling outside. Wear appropriate clothing, a hat, and gloves.
---
Impact 1 - Snowfall
Really only one area of primary concern for major snowfall is the mountains, but since many check in to this page from Eastern Colorado, I've included a graphic and description about what we will see closer to home as well:
Eastern Colorado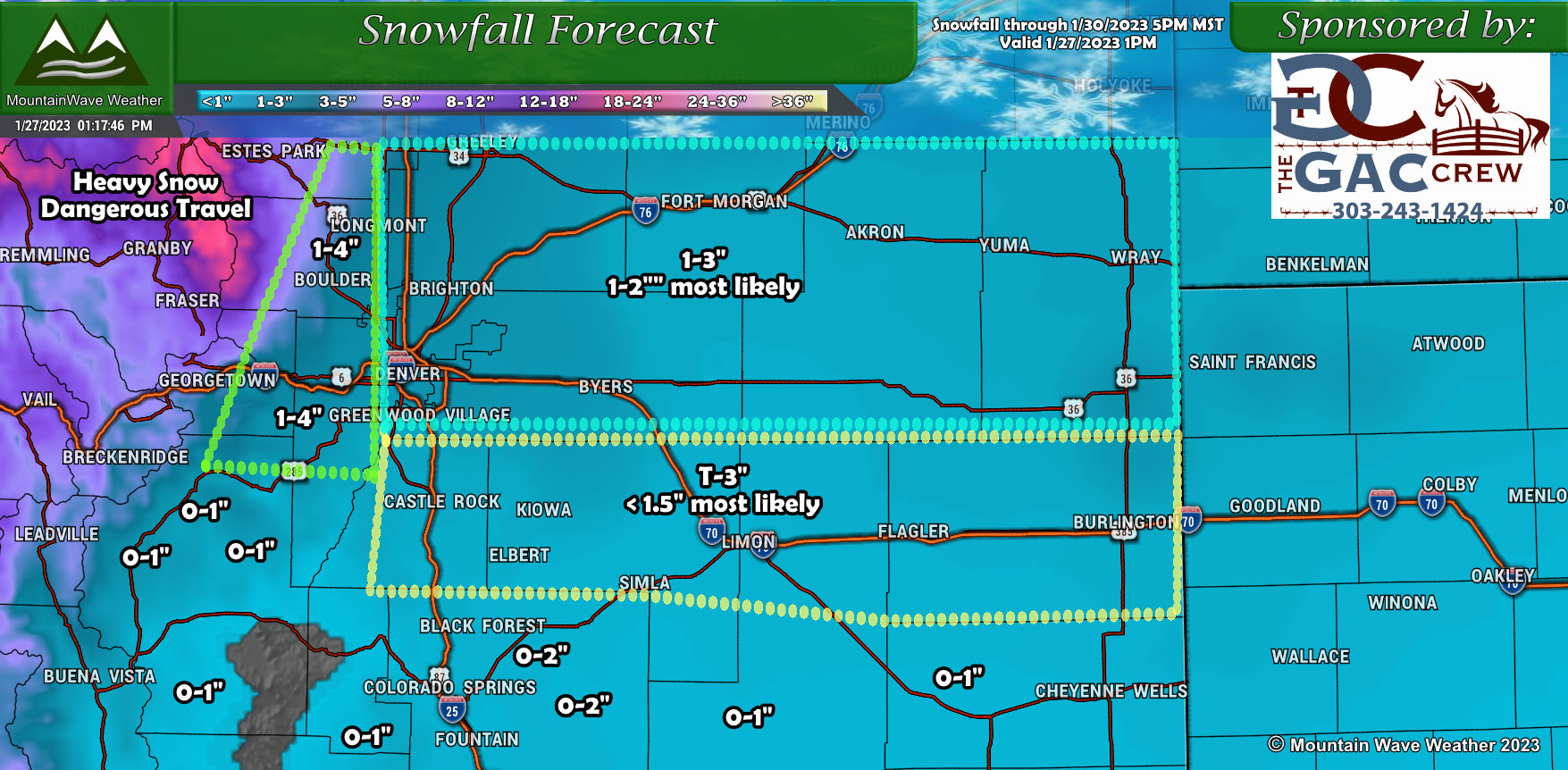 Overall expecting minor amounts of snow East of the Divide in Colorado. A bit tricky here as air this cold can come in and mess with liquid/snow ratios a bit... I attempted to bump things up just a tad bit to account for that. This should give you an idea of how meager the snow looks with this storm... bumped up a bit for colder conditions most areas are looking in the 0-2" range. There may be localized areas with up to 3" with the highest chance of that around and North/Northeast of Denver. The energy with this storm looks less impressive the further South you move, so don't expect much to write home about in terms of snowfall long the Palmer divide.
One other thing to consider here, this is total snowfall through Monday 5PM... and it's not a lot. The main mode of this storm looks to keep light snow showers and flurries around from late Saturday through Monday... but as I mentioned, you shouldn't expect a lot in that 72 hour period.
Northern/Central Mountains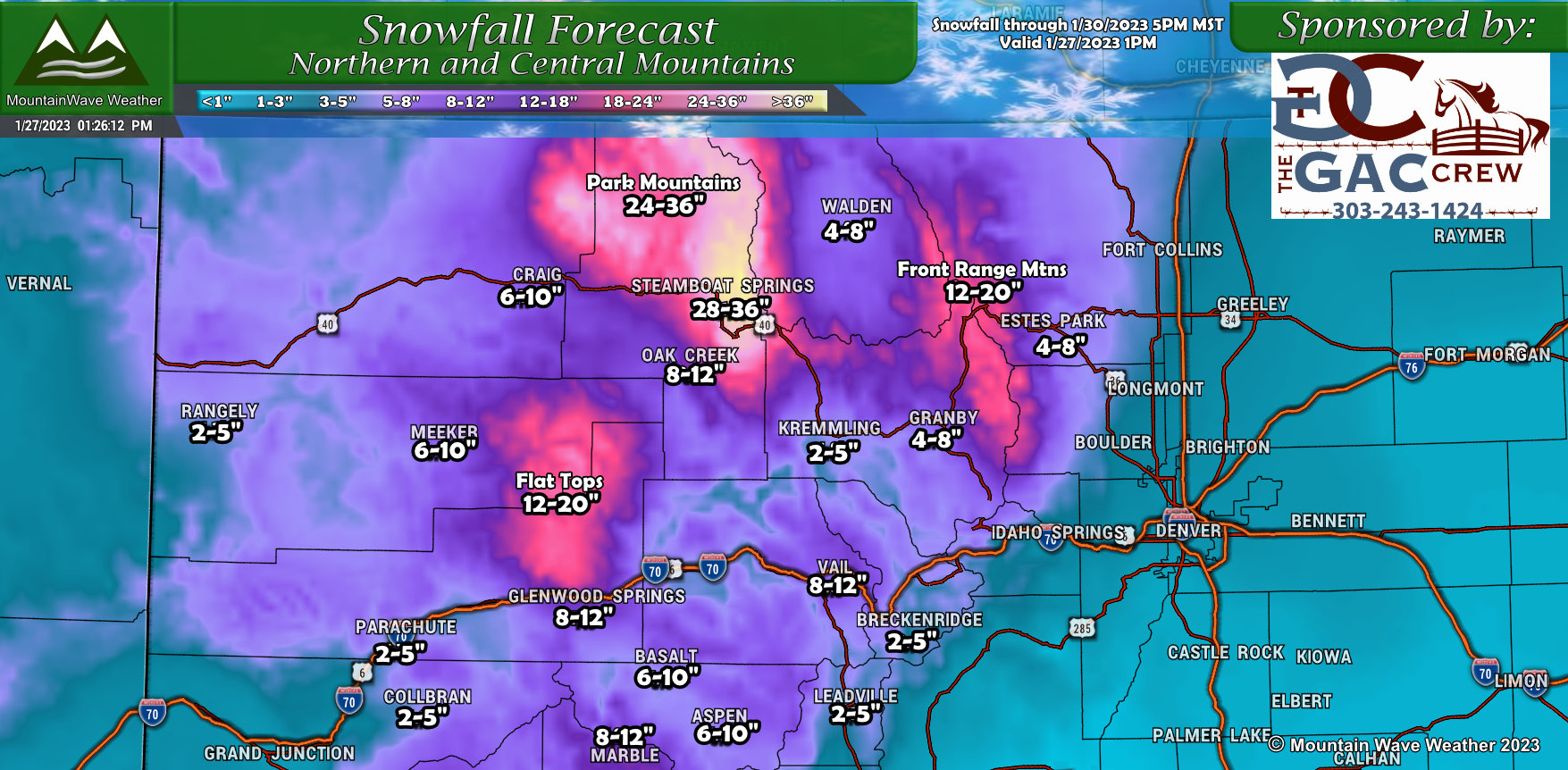 Keep in mind, the snowfall amounts outlined above are additional to anything received this morning and run through 5PM Monday. This means not all of this snow will show up by Saturday morning, this is a longer duration event, but many areas will see ample amounts of snow in the mountains. The flow is primarily Northwest with a good chunk of moisture to boot, this favors certain peaks/mountain ranges. All of those can be seen pretty well based on the graphic above.
I also added a couple of the mountain ranges/areas with additional information on how much snow those areas could expect; for example, the Park Mountains near Steamboat could see up to 3 feet of snow by the time this storm is said and done.  The Flat Tops and Front range mountains have also been added for reference as both area will see a healthy amount of snow as well.
Keep in mind, the snow especially around the Park Mountains could be very heavy and travel is discouraged through those areas (included Rabbit Ears Pass for most of the weekend)
---
Impact 2 - Extreme Cold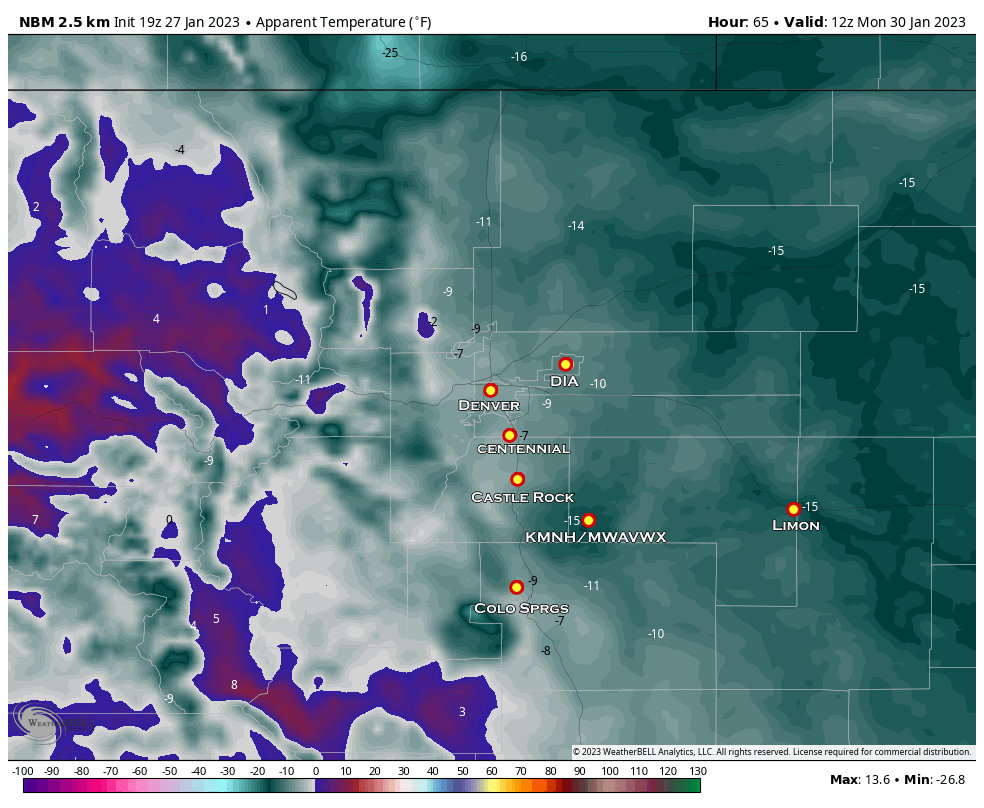 To give you an idea of the kind of temperatures we will be dealing with; here's a look at the apparent temperatures for Monday morning. Apparent means "what it feels like on your skin" and is a product that factors in wind chill or heat index depending on the season.
Notice apparent temperatures on the Palmer Divide are in the -10 to -15 range. Many areas across the Northeastern plains will see similar temperatures.
Taking a look at the Castle Rock/Palmer Divide forecast for the next several days, you can see it will be very cold indeed!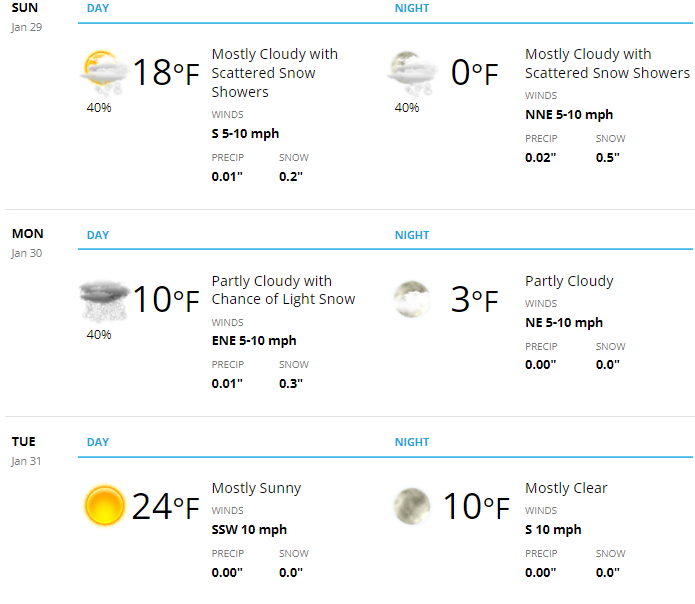 ---
Extreme Cold Tips for Livestock/Agriculture Interests
Most livestock folks I know understand pretty well what to do to take care of their animals in extreme cold... but if you're newer to this world or just need a few tips and reminders, there they are:
---
Bulletpoint (Quick) Forecast
Palmer Divide
Saturday

Starts off decent early in the day
Cold front currently slated to move through North to South between 12PM - 4PM
Temperatures rapidly drop behind the front and snow develops, snowfall will be light in nature

Sunday

Extreme cold expected
High temperatures in the low to mid teens
Low temperatures near or slightly below zero expected
Light snow showers possible throughout the day, light in nature but roads will be very cold so some minor travel impacts are possible

Monday

Morning starts off extremely cold with below zero temperatures and wind chills of -10 to -20 degrees F
Light snow showers still possible
Daytime high temperatures in the single digits or possibly low teens
Monday night into Tuesday morning temperatures will be near zero
---
Summary
That's about it on this storm for now. For those of us in Eastern Colorado, the major story with this storm will be the extreme cold over the snow. The mountains however, will see fairly healthy snowfall accumulation over the next few days.
Not really anticipating a lot of changes to any of this as what is moving through is not what I'd call an "organized" storm system... we are not expecting a low pressure system to swing through and tap into gulf moisture like our past couple have been.
Storms like this tend to bring very cold air and little moisture.
Stay tuned for any updates as needed, otherwise have all your cold weather preparations finished by noon on Saturday!
Stay warm out there!