This article has been updated with new information as of 3PM on 2/21/2023
Current Weather Alerts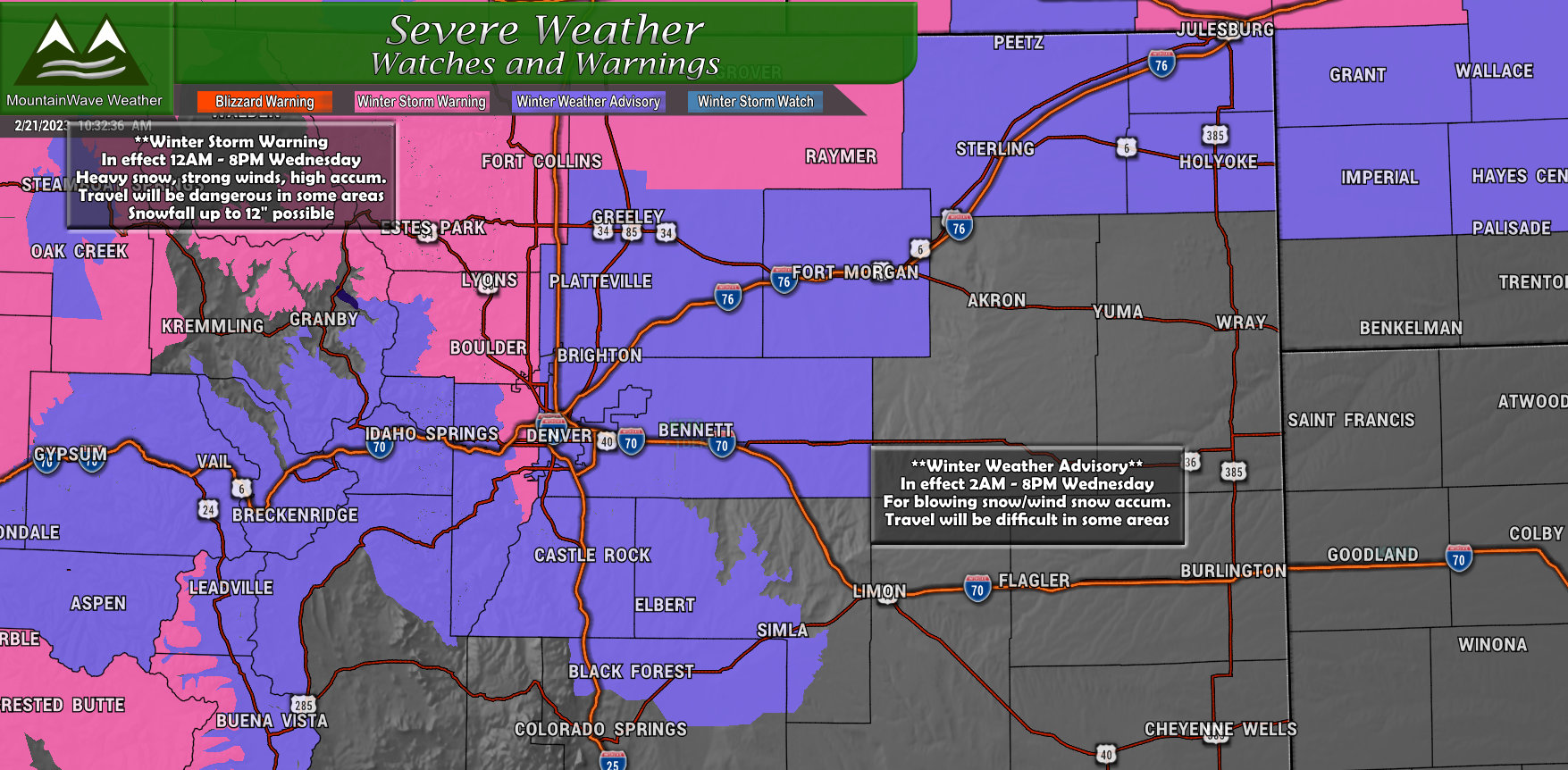 Winter Weather Advisories are in effect for areas in and around Denver and to the South. Winter Storm Warnings are in effect for areas to the North including Fort Collins, Estes Park, Loveland and Boulder. Heavy snow and winds will cause for very difficult travel conditions in these areas. Keep that in mind if you have travel planned.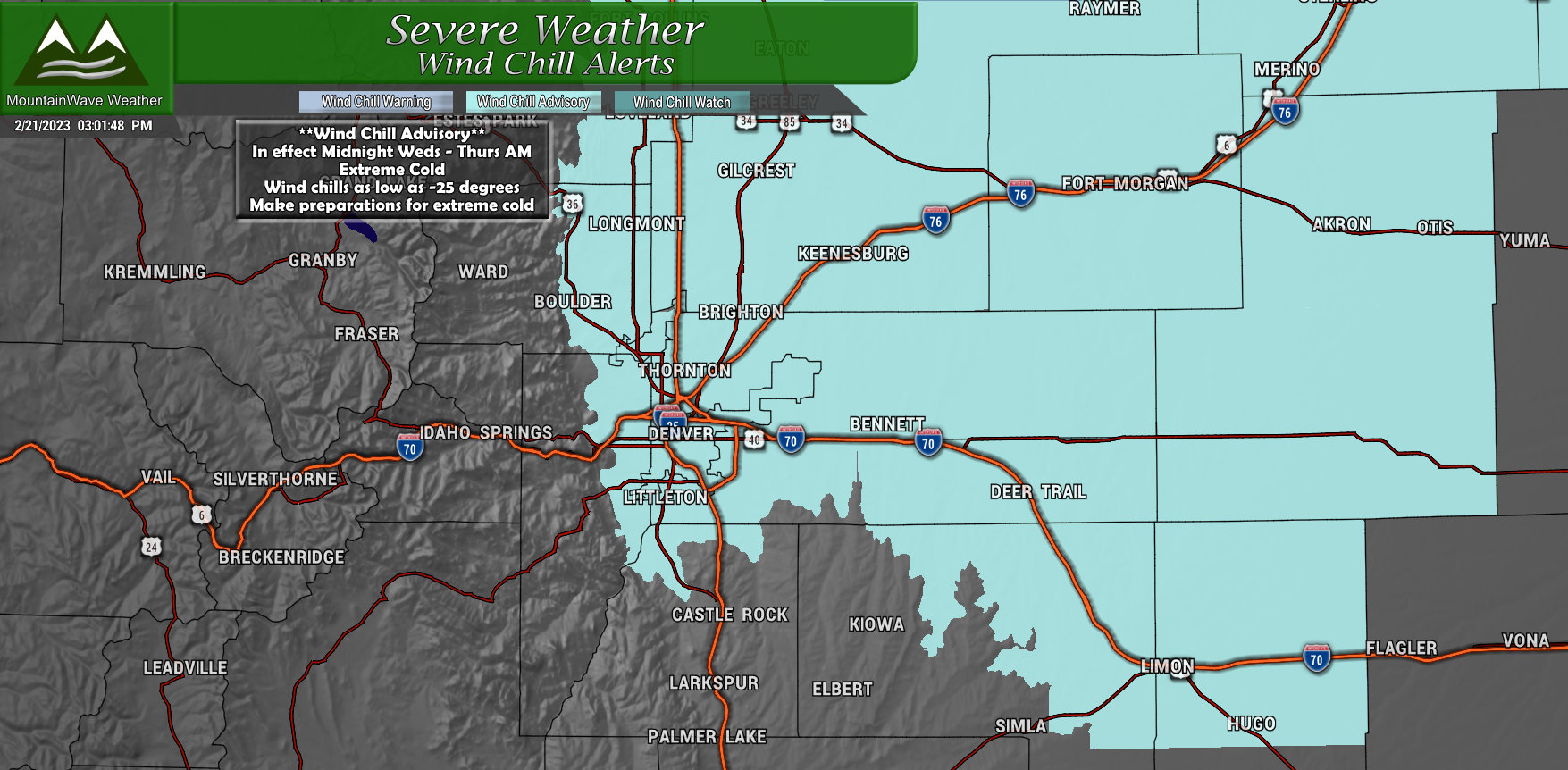 A Wind Chill advisory is in effect from 12AM Wednesday through 9AM Thursday for the areas shaded in the graphic above. This includes Palmer Divide locations below 6,000 feet in elevation.
...WIND CHILL ADVISORY IN EFFECT FROM MIDNIGHT WEDNESDAY NIGHT TO 9 AM MST THURSDAY...

* WHAT...Very cold wind chills expected. Wind chills as low as 25 below zero.

* WHERE...

North and Northeast Elbert County Below 6000 Feet/North Lincoln
County-
Including the cities of Hugo, Limon, Matheson, and Agate

* WHEN...From Midnight Wednesday Night to 9 AM MST Thursday.

* IMPACTS...The dangerously cold wind chills could cause frostbite on exposed skin in as little as 30 minutes.
Snowfall Forecast
A quick look at our forecast graphics for snowfall around Colorado are listed below. The primary bullseye is over the mountains and Northern Colorado. Areas along the Palmer Divide will see less snow out of this one and areas South of the Palmer Divide will see even less. This storm won't be much to write home about South of Denver in the grand scheme of things or even compared to some of the storms we've seen this year.
There's still a bit of model wobble going on for areas South of Denver, so if you asked me to I like these amounts at the moment...  I'd say yes, but I think some areas may see a bit lower amounts based on some of the data.
The other wild-card would be how cold it gets, colder/arctic air will be filtering down in this storm from the North and could decrease snowfall/liquid ratios; if this happens as planned then I'm a lot more comfortable about these ranges for areas along the Palmer Divide and South of Denver.
Here's the latest thinking:
Palmer Divide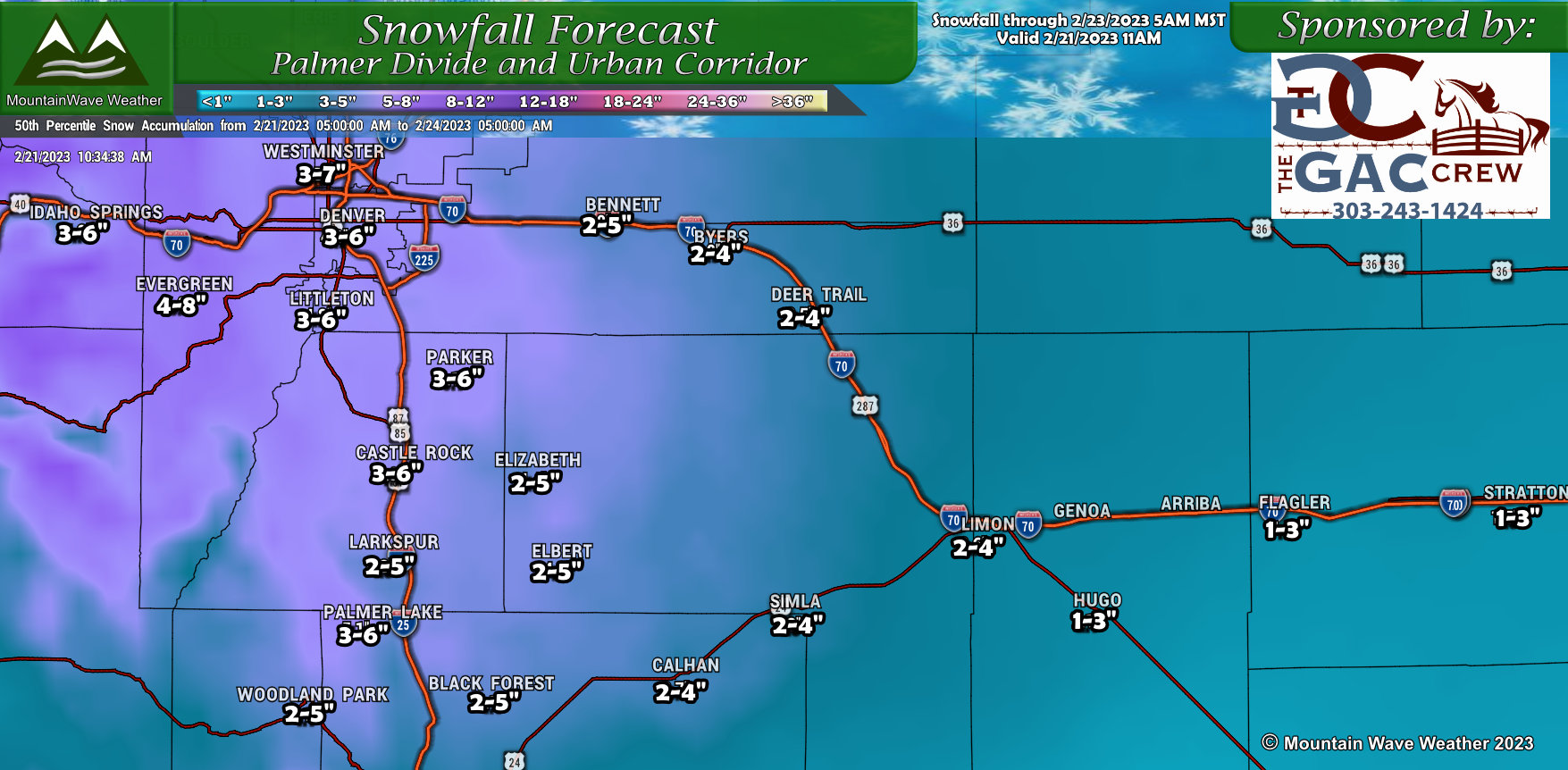 Northern Colorado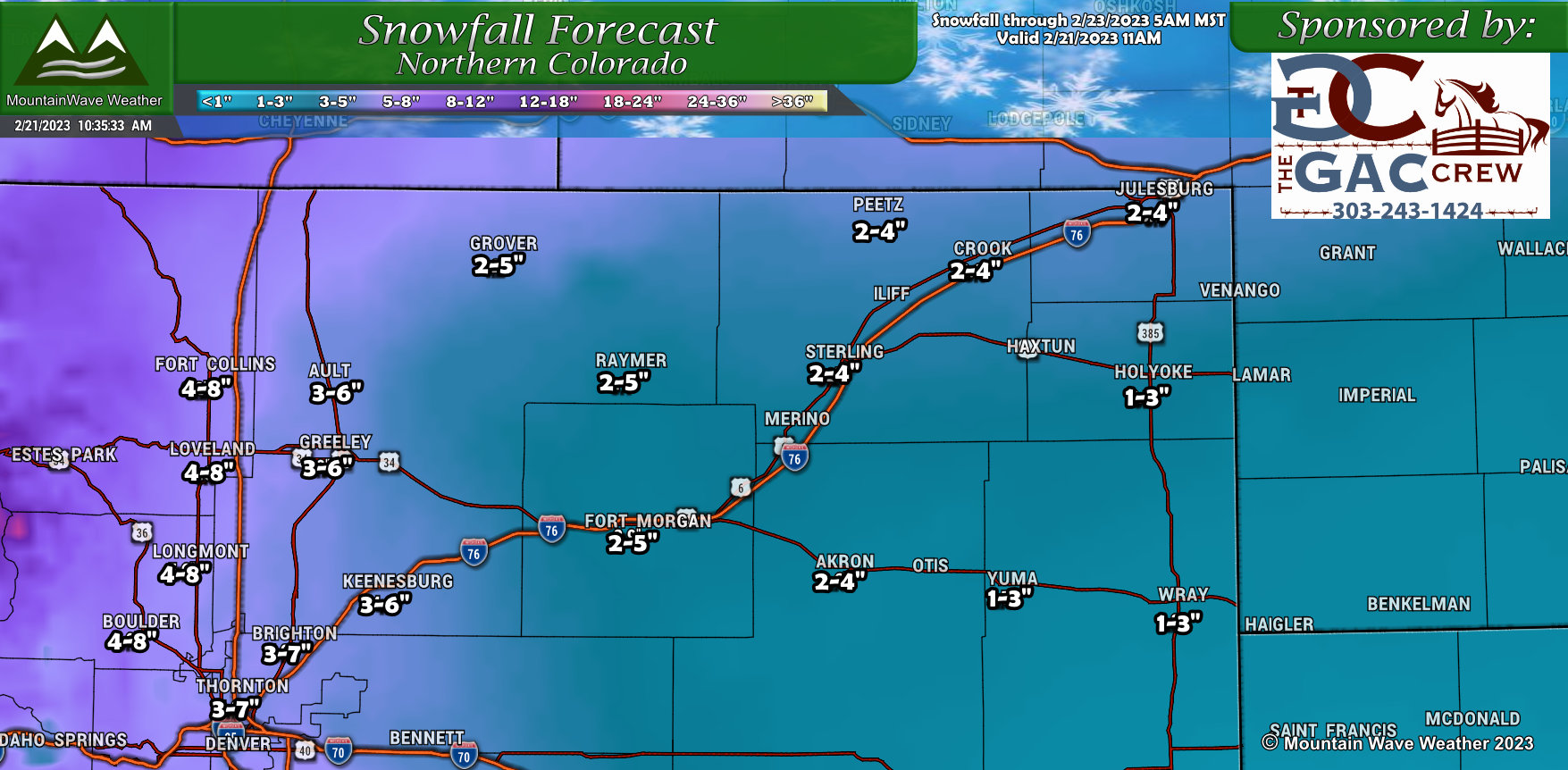 Southern Colorado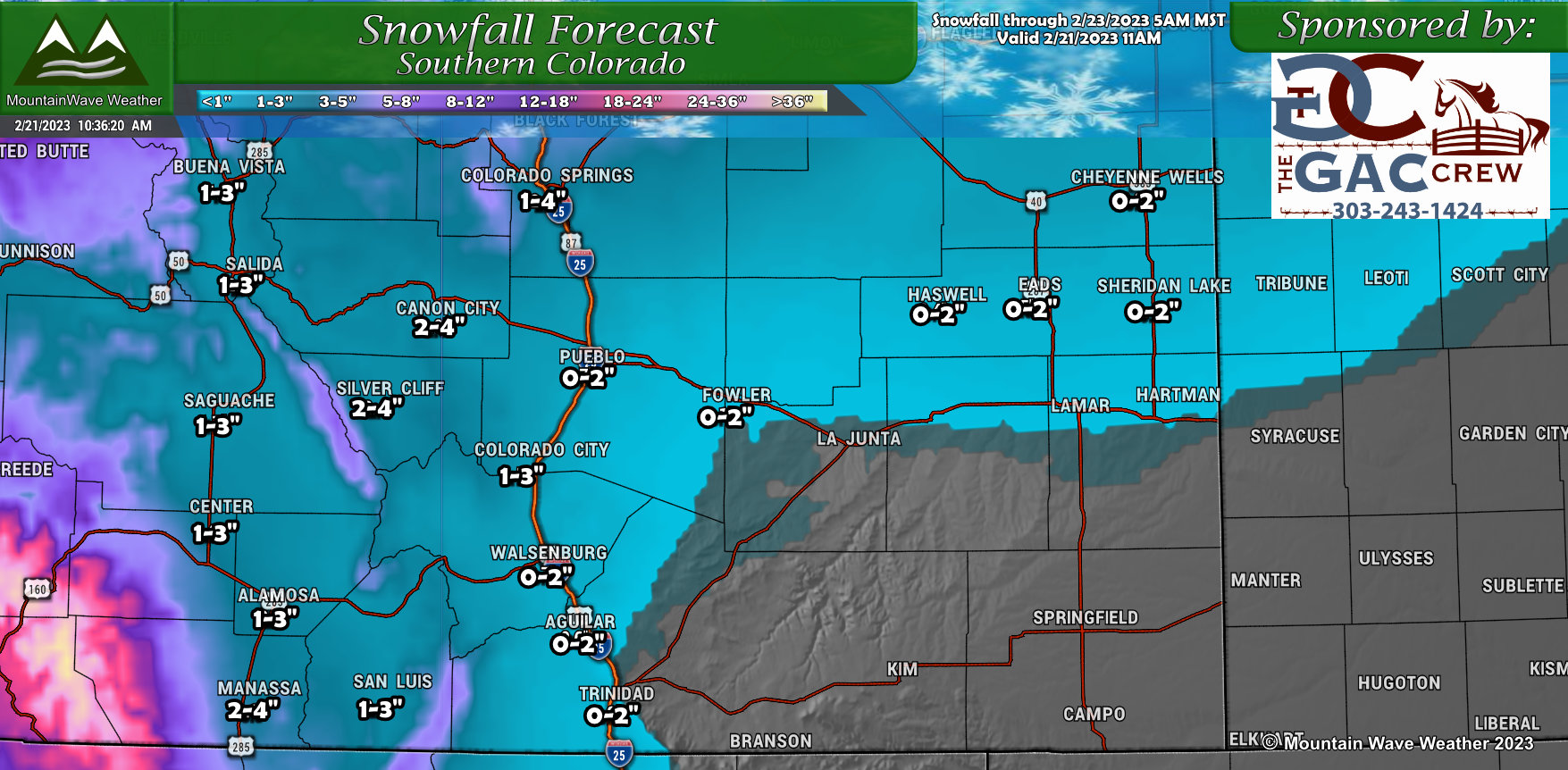 Southwestern Colorado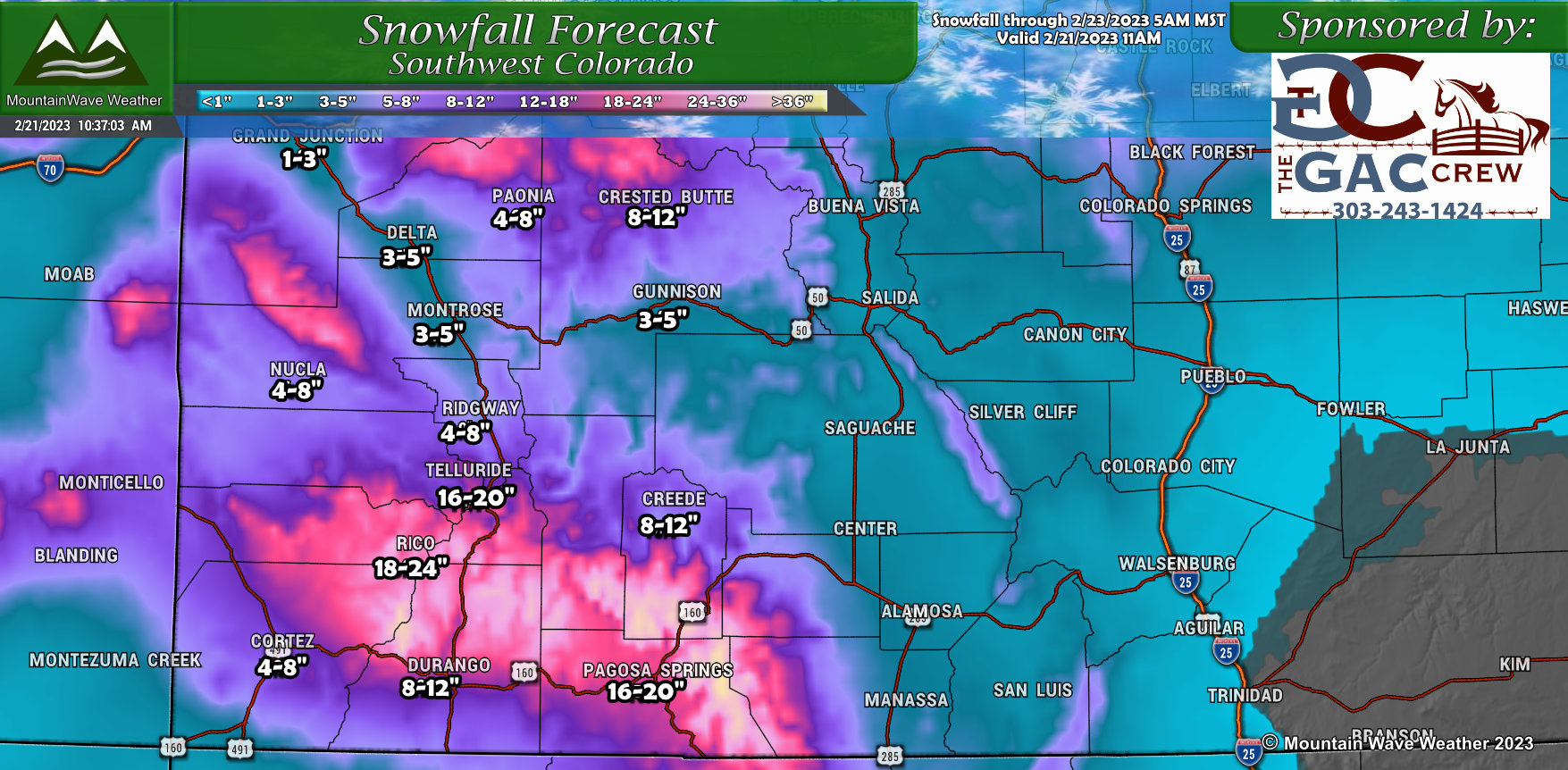 Northern/Central Mountains
Timing/Impacts
Here's out latest thinking on the timing of this thing. Most models show a bit of snow overnight Tuesday and into Wednesday, but South of I-25 it looks to remain fairly light. A re-enforcing shot of cold air and lift comes in Wednesday and kicks up snow showers again through the day, especially in the later morning/early afternoon hours and runs through Wednesday evening. Finally, we see clearing later in the evening hours on Wednesday and into Thursday morning.
As the storm moves out, expect temperatures to plummet under clearing sky, we have a pretty significant concern about wind chill temperatures on Wednesday night and into Thursday morning. Some parts of the Palmer Divide could see wind chills between -10 and -20 degrees for substantial periods of time.
Here's a graphic with thoughts on timing: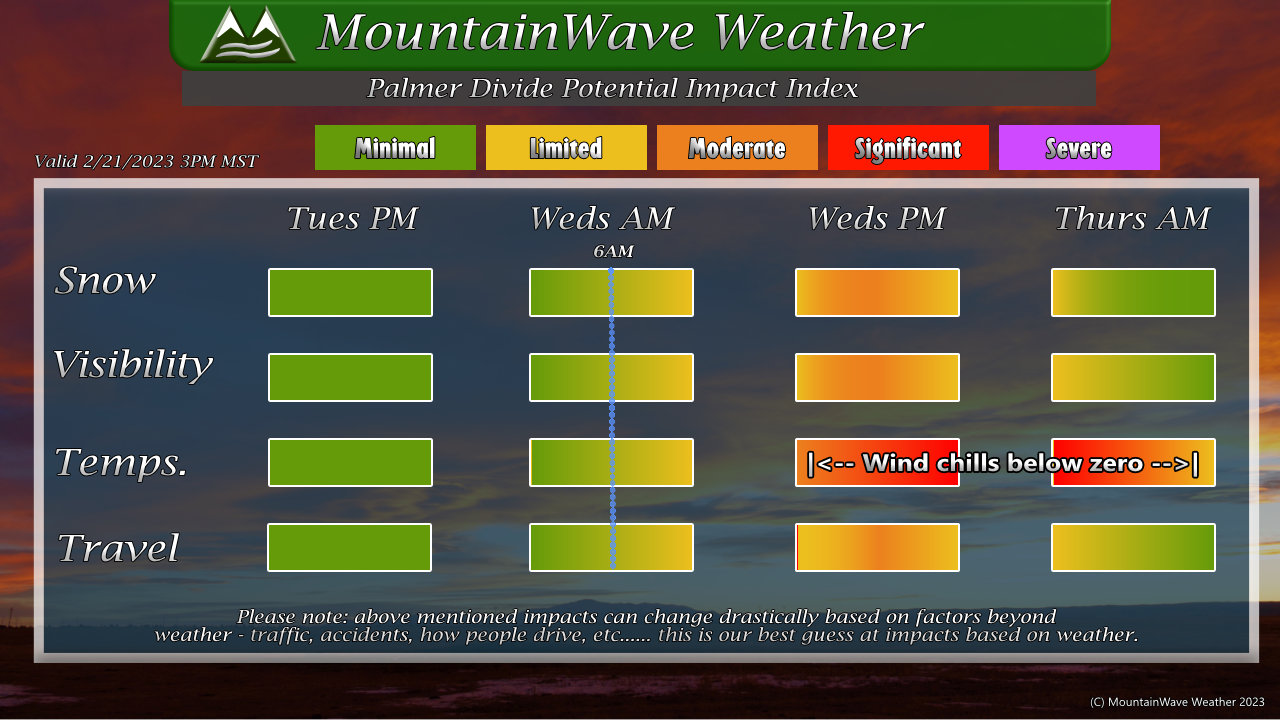 As mentioned earlier, the biggest impact you'll likely see with this storm won't be the snow - it will most likely be the extremely cold temperatures.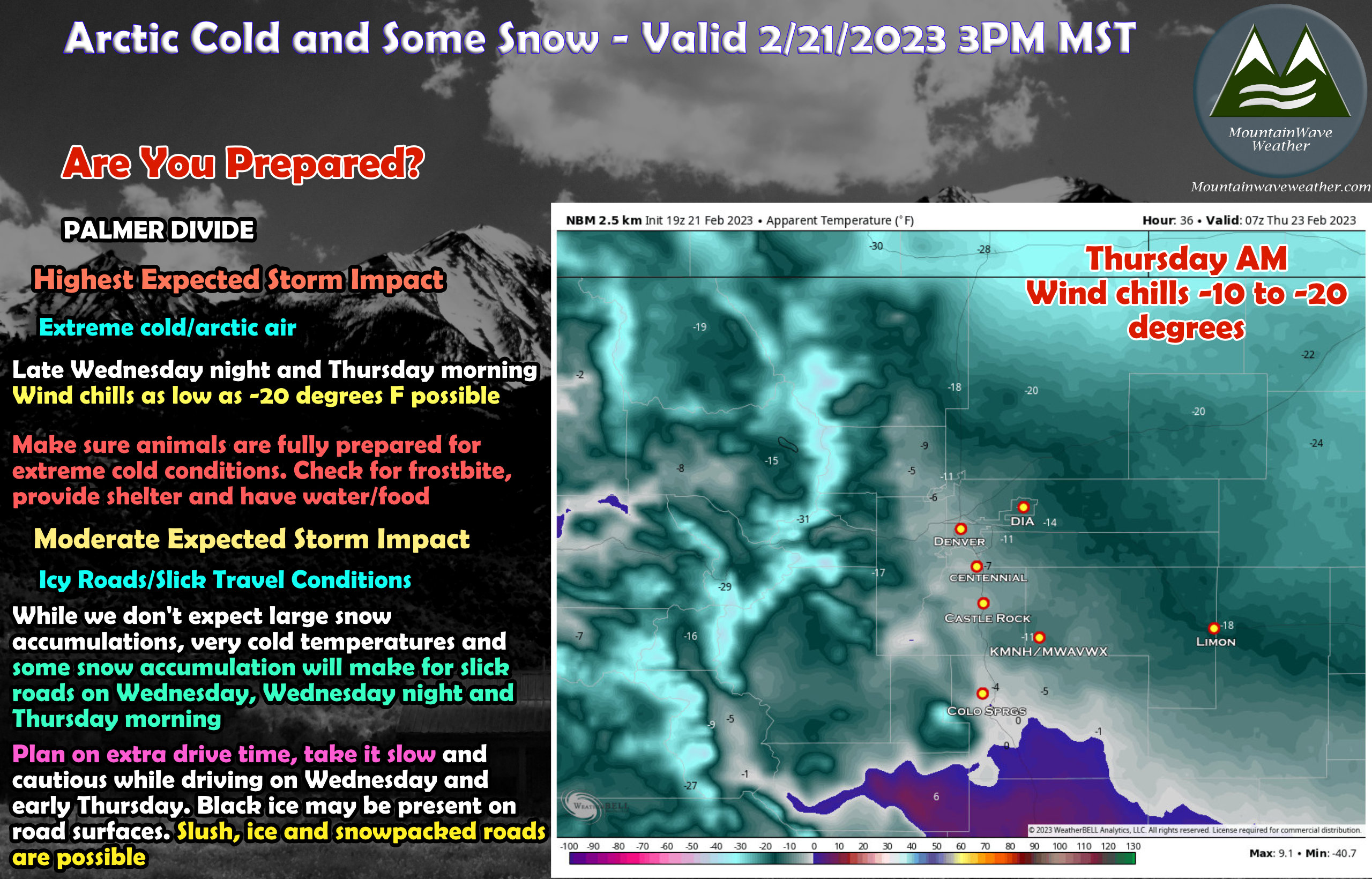 ListSed above, you can see what impacts we are expecting and the severity.
LIVESTOCK FOLKS - TREAT THIS AND PREPARE FOR THIS AS AN EXTREME COLD EVENT!
Tips for care of livestock are provided below, but I know you all know what you are doing!
Summary
That's about it, I don't see much changing on this one from a forecasting perspective. I'll continue to watch this one into the night and check on it in the morning - if anything changes I"ll let you know with a forecast update. If everything looks on track or there's minimal changes, I'll update with a "forecast is on track" post.
Thank you for the patience on waiting for the rest of this update today - life gets busy sometimes!
Stay warm and stay prepared!