Some shaking and moving to this morning's forecast, here's the latest with the data in this morning. As always, be sure to keep an eye out for any forecast changes!
---
Storm Setup and Latest Updates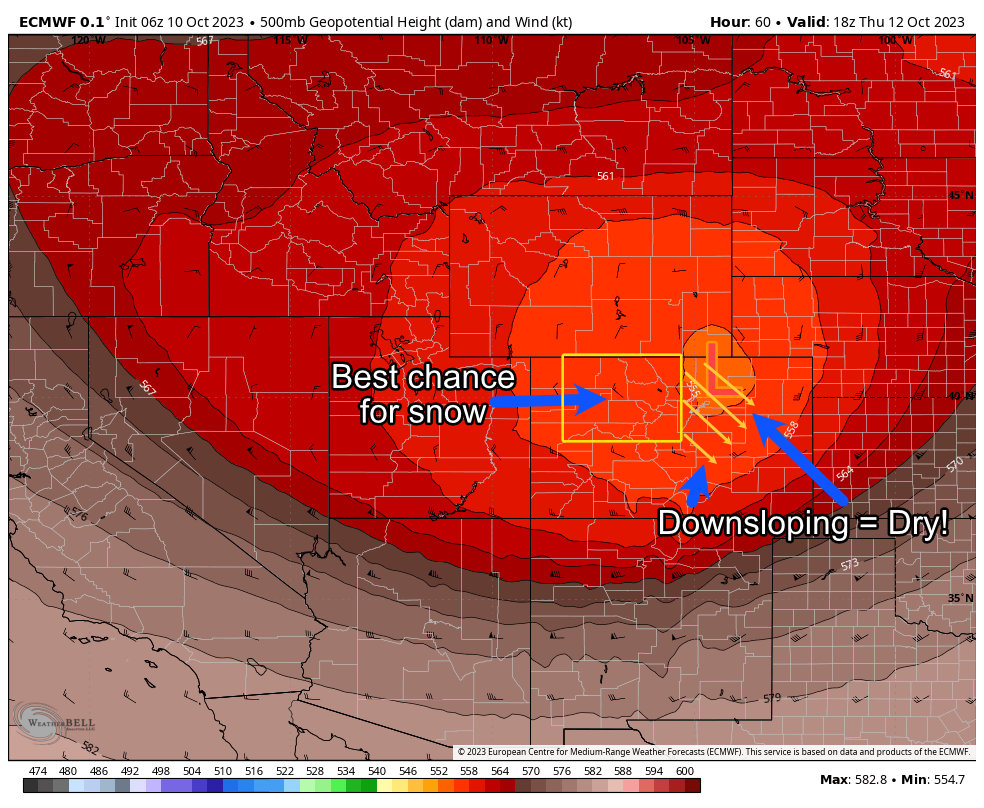 This morning's data shows a slight shift to the North for the main storm system. This would do a couple of things if the trend continues; it would keep more of the colder air to the North. It would also lessen our chances of precipitation along the Front Range. The winds initially start off Southwesterly and shift very quickly to Northwesterly... both of these directions are not good for upslope along the Front Range and means that precipitation becomes harder to squeeze out of the atmosphere.
The mountains still look good however, many of those areas should see healthy amounts of snow (see forecast below.)
I think precipitation is likely along the Front Range but what this means is that our window of getting the right conditions to squeeze that moisture out of the air is narrowing.
This is something I'll keep a close eye on, any shift in the storm track means big differences in what we see. At this point in time, this storm is not looking like much to get excited about for those of us East of the Divide.
---
Snow Forecast
Really only focusing on two main areas for snow accumulation with this storm; the highest elevation of the Palmer Divide and Front Range Foothills and the Northern and Central Mountains. These areas are most likely to see snowfall at this point, with the Northern and Central Mountains looking like a high chance at snow, with the Palmer Divide looking more towards a low chance of very minor accumulation (if any)
Palmer Divide/ Denver Metro Area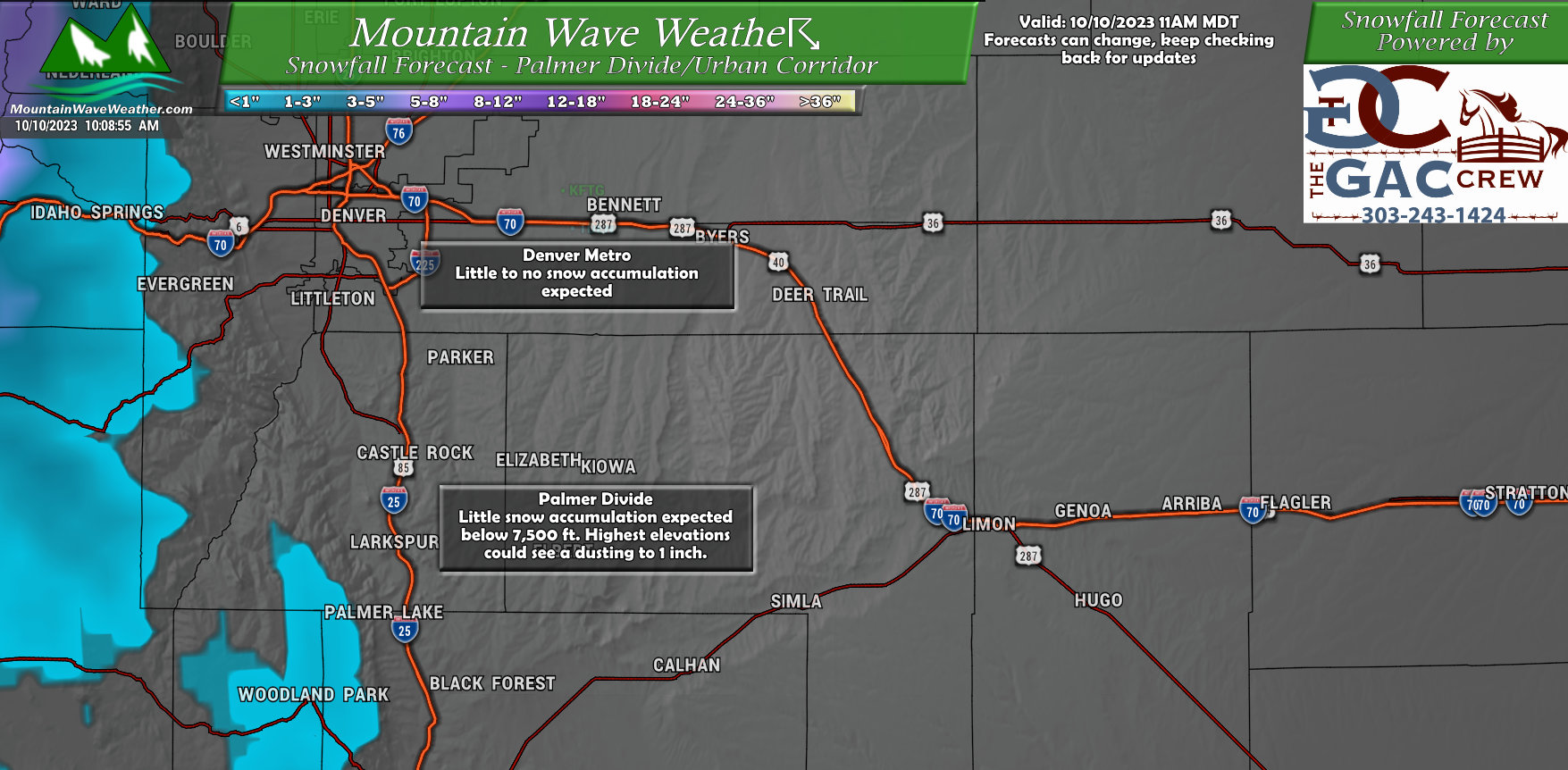 Denver: expecting very little to no accumulation. Honestly, if you live below 6,500 feet you have a pretty low shot at seeing any snow accumulate.
Palmer divide: small chances for snow here as well. You can see from the forecast map the higher terrain West of Palmer Lake and into Woodland Park are favored to see any snowfall. Only the higher elevations above 7,500 feet will have the best chance at seeing any snow accumulate.
If the storm track continues to pull Northwards, both of these areas are less likely to see any snow.
Northern and Central Mountains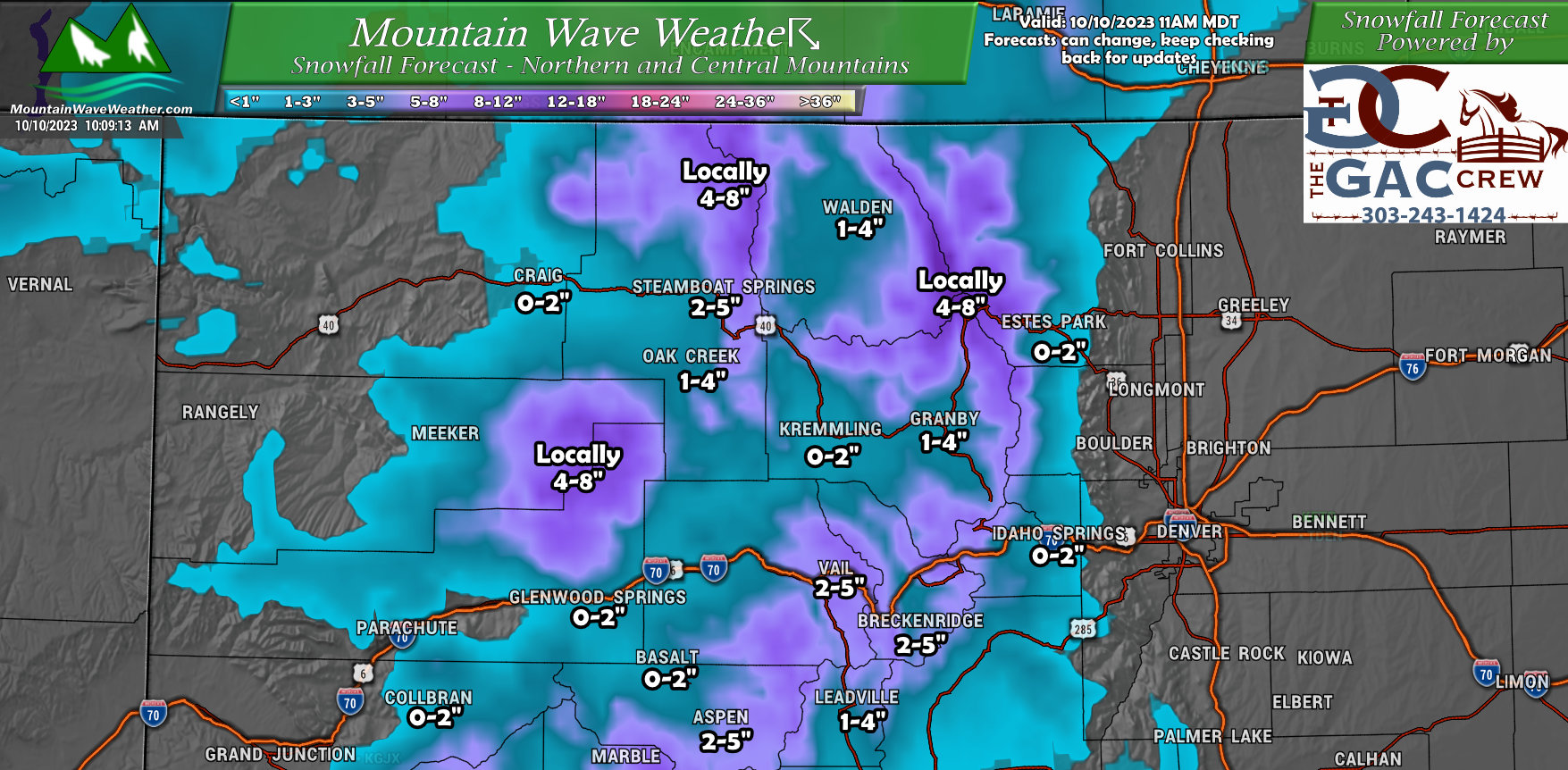 Even though the best part of the storm is favored to miss us to the North, setups like these can often do well in the mountains. Strong Northwesterly flow means dryer air and conditions East of the Continental Divide, but strong upslope for especially the Northwestern part of the state in the mountains.
Most mountain valleys should see snow accumulate in the 0-2" range with some of the valleys further North ending up in the 1-4" range.
The mountain area around the flat tops, Gore range and Continental Divide could see decent amounts of snow, locally up to 8" but I wouldn't rule out a isolated area around 12" of snow.
Keep this in mind if you're traveling through the mountains, some of the higher passes may experience some weather impacts.
---
Hazards/Preparation
Medium/High confidence hazard: freezing temperatures
While the ultimate track of the storm will determine exactly how could we get, there is decent confidence that we will see below freezing temperatures by Friday and Saturday morning. Should the storm track shift a bit North, we would see warmer than expected temperatures - but overall still quite chilly!
Lower confidence hazard: snowfall. There is still not a lot of confidence that the Palmer Divide area sees any accumulating snow out of this event and an even lower chance for the Denver Metro Area. We will continue to monitor the forecast to see if this changes, but right now it's not looking like a great chance.
Additional things to watch out for: strong winds are possible late Wednesday, Thursday and into early Friday morning. (See notes above)
---
Timing
This event will impact the Palmer Divide during the following timeframes:
Wednesday PM: thunderstorms possible, dropping temperatures
Thursday AM: rain and snow showers possible
Thursday PM: cloudy with rain and snow showers possible
Friday AM: Freezing temperatures
Friday PM: Minimal weather impacts, cool temperatures
Saturday AM: Freezing temperatures
--As always, I'll pass along any forecast updates as needed! Stay tuned!