There's going to be a lot to digest from this storm as it moves out of Colorado. Saturday will be relatively calm as we will be between storm systems, don't expect much snow to melt before we get a chance at more. The real story with this storm was the unusual way in how it behaved and the results along the front range. I've been going over some data and found some interesting features of this storm system that made it an interesting case study in storms of this type going forwards.
First, let's take a look at how everyone did on snow totals!
NWS Snow Accumulation 24 Hour Report/ Snowfall Accumulation Discussion

Here's the legend for the images below...
As you can see, the snowfall band was a bit further Southwest than forecast on many of the models. You could say the closest one (believe it or not) was the GFS. The mountains did very well in this storm with many ski areas reporting between 20-30 inches of snow! The highest amount I saw was a snotel station near Rabbit Ears Pass (Steamboat) with 51.6 inches of accumulation. That is an official reporting site so little doubt here that the amount was reached!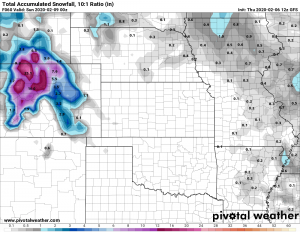 While the GFS did have more of a Southwest bias than the other models, it still wasn't far enough and the snowfall amount were off quite a bit.
Here's a few spot areas and how much snow they received (official NWS reports)
Black Forest: 9.0
Castle Pines: 7.2
Castle Rock: 10.5
Centennial Airport: 7.0
Elbert (MwavWX): 8.5
Elizabeth 6.0
Franktown: 5.6
Highlands Ranch: 8.8
Lone Tree: 8.0
Monument: 10.0
Palmer Lake: 10.0
Parker: 8.0
Sedalia: 8.0
If you'd like to see more snow totals on a map you can see the NWS official map here!
What About Our Forecast?
Not going to go much into if our forecast verified or not... it obviously didn't.
A lot of folks like to hone in on snowfall totals, of course with this storm none of us were right in that regard. When I look back at one of my own forecasts I look at certain things like; did I communicate uncertainty well (was this a high or low confidence forecast) and did I communicate the possibilities with the public well?
In this case I believe I did alright in that regard. I can look back at the forecast the past few days and see that while I was off on snowfall totals I did communicate the uncertainty and possible impacts well. Several of you picked up on this "you did say be prepared", "you said the forecast was highly uncertain" etc...
In that respect I feel decent about this forecast overall. This is the type of storm that humbles meteorologists and makes them want to tear their hair out. Since I don't have much left, I won't dwell on it much more than that. Moving on!
Interesting Setup on Satellite Imagery
It was fun to look back at this video to see what was going on in the atmosphere at the time of our storm. If you look towards the tail end of the video you can see a few features that are interesting: (for reference this is around 11 seconds in the video above)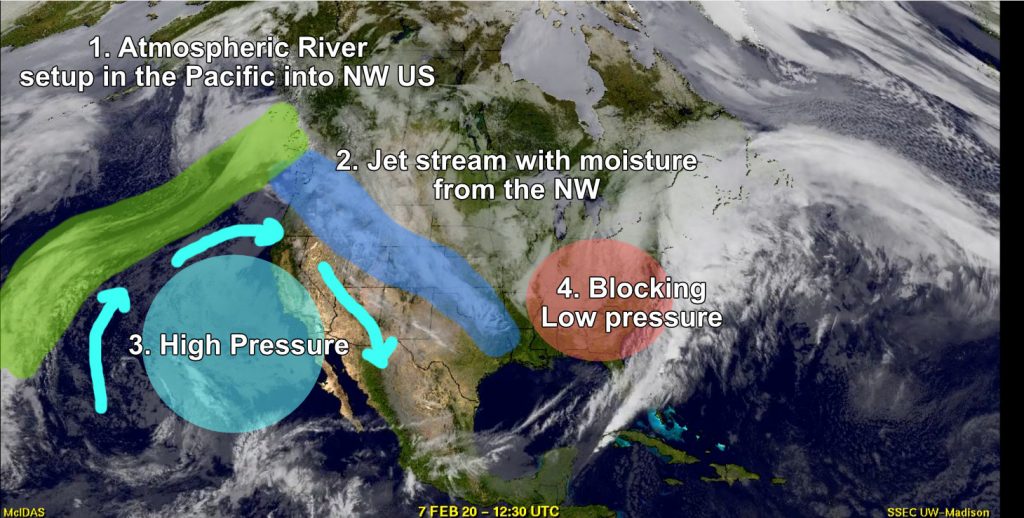 What we call an atmospheric river was set up in the Pacific. This is when the jet transports large amounts of moisture from the ocean into the atmosphere (usually through heating and convection) We often see these setups but rarely does that moisture make it into Eastern Colorado (it gets trapped in the mountains.)
The jet stream is tilted around a ridge to our West, this allows the moisture to make its way into Eastern Colorado and the mountains. Because of the jet's orientation not all the moisture is trapped in the mountains. This is what allowed us to see better moisture (along those narrow snow bands) along the front range.
I will also point out that the jet's orientation is what allowed the snow bands to form through areas of intense lift. I can cover how/why that happens on another day but be aware that they were there!
High pressure ridge to our West with clock-wise flow allowed the jet stream to kink up away from the mountains in Colorado and set up in a NW to SE orientation over Eastern Colorado
Blocking low pressure to our East kept the jet in this orientation and didn't allow it to move for awhile. This is why we saw such a prolonged snowfall event.
Each one of these pieces was important to seeing the storm that we did yesterday. If any or some of those pieces don't set up correct, we could have had a very different result. Isn't weather fascinating?
Radar Was Interesting Too!
In the radar loop from yesterday you can clearly see the snow bands parked over Eastern Colorado. Also notice how they don't move much, this was again thanks to our blocking low pressure out East, it didn't allow the jet stream to shift much so the most intense areas of lift sat over us for quite awhile!
Wrapping Up This Storm...
Enjoy today as it will be relatively quiet. We have another storm system moving in on Sunday and while it's a whole different animal than this one (more of a classical upslope storm than a snowfall "banding" type storm) there's still a chance of more snow for Eastern Colorado. As is usually the case with these types of storms, we will have to keep an eye on the Palmer Divide as it looks likely we will see a bit more than Denver and the Springs.
I'll have a post with updates and a forecast on that storm out shortly, stay tuned!