My messaging based on the model data and other observations coming in this morning is: don't sleep on this storm along the Palmer Divide!
Model data continues to trend upwards for snowfall across the Palmer Divide, the strong Northerly and Northwesterly winds behind the front that will move through later today don't favor Denver and areas to the North with good upslope and good snowfall... but these winds can favor the Palmer Divide if they combine with the colder air and moisture long enough. This enhanced lift can mean higher snowfall totals.
---
Current Weather Highlights
Winter Weather Advisory
Elbert/Central and East Douglas Counties Above 6000 Feet-North and Northeast Elbert County Below 6000 Feet/North Lincoln County- Including the cities of Limon, Agate, Larkspur, Elbert, Castle Rock, Matheson, Hugo, Kiowa, and Fondis 321 AM MST Wed Dec 28 2022
...WINTER WEATHER ADVISORY IN EFFECT FROM 3 PM THIS AFTERNOON TO 8 AM MST THURSDAY...
* WHAT...Rain and snow during the afternoon, changing to all snow by evening. Total snow accumulations between 3 and 6 inches.
* WHERE...Castle Rock, and Limon. * WHEN...From 3 PM this afternoon to 8 AM MST Thursday.
* IMPACTS...Plan on slippery road conditions, especially after 5 pm. The hazardous conditions could impact the Wednesday evening and Thursday morning commutes.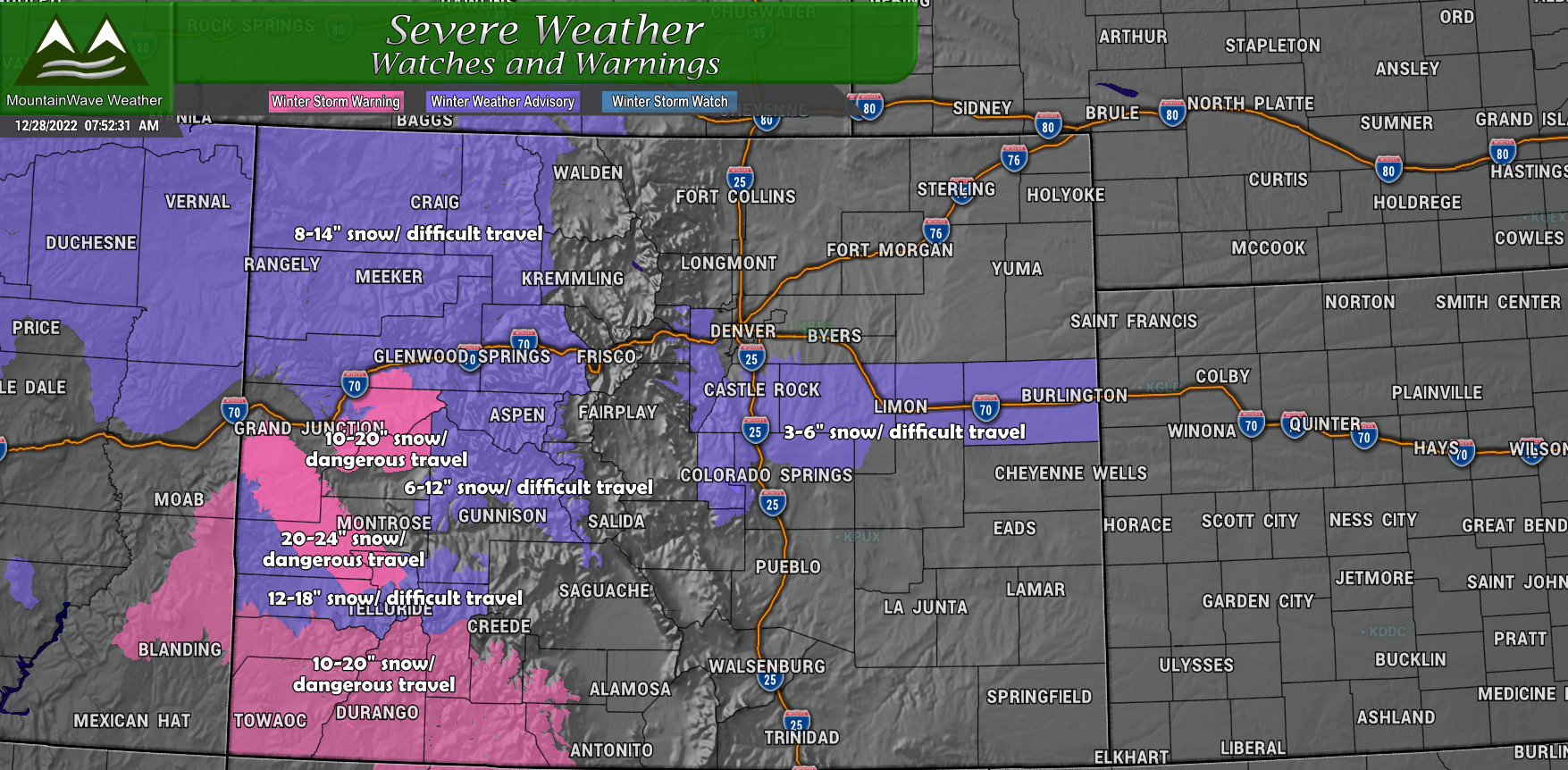 For the rest of Colorado, numerous Winter Storm Warnings and Winter Weather Advisories are in effect. The general rule of thumb is that in areas of a Winter Weather Advisory, travel will be difficult due to falling snow, wind, visibility and slick roads. Anywhere designated in a Winter Storm Warning is expected to see dangerous travel conditions due to heavy snow, high snow accumulations and strong winds - in these areas travel is considered dangerous and should be postponed until conditions improve.
If you are planning on traveling to or from the mountains this week, expect slow going and difficult travel conditions at a minimum. Pack your patience and make sure you have the necessary items in your vehicle should you get stranded somewhere.
---
Updated Snowfall Forecast
Palmer Divide/ Urban Corridor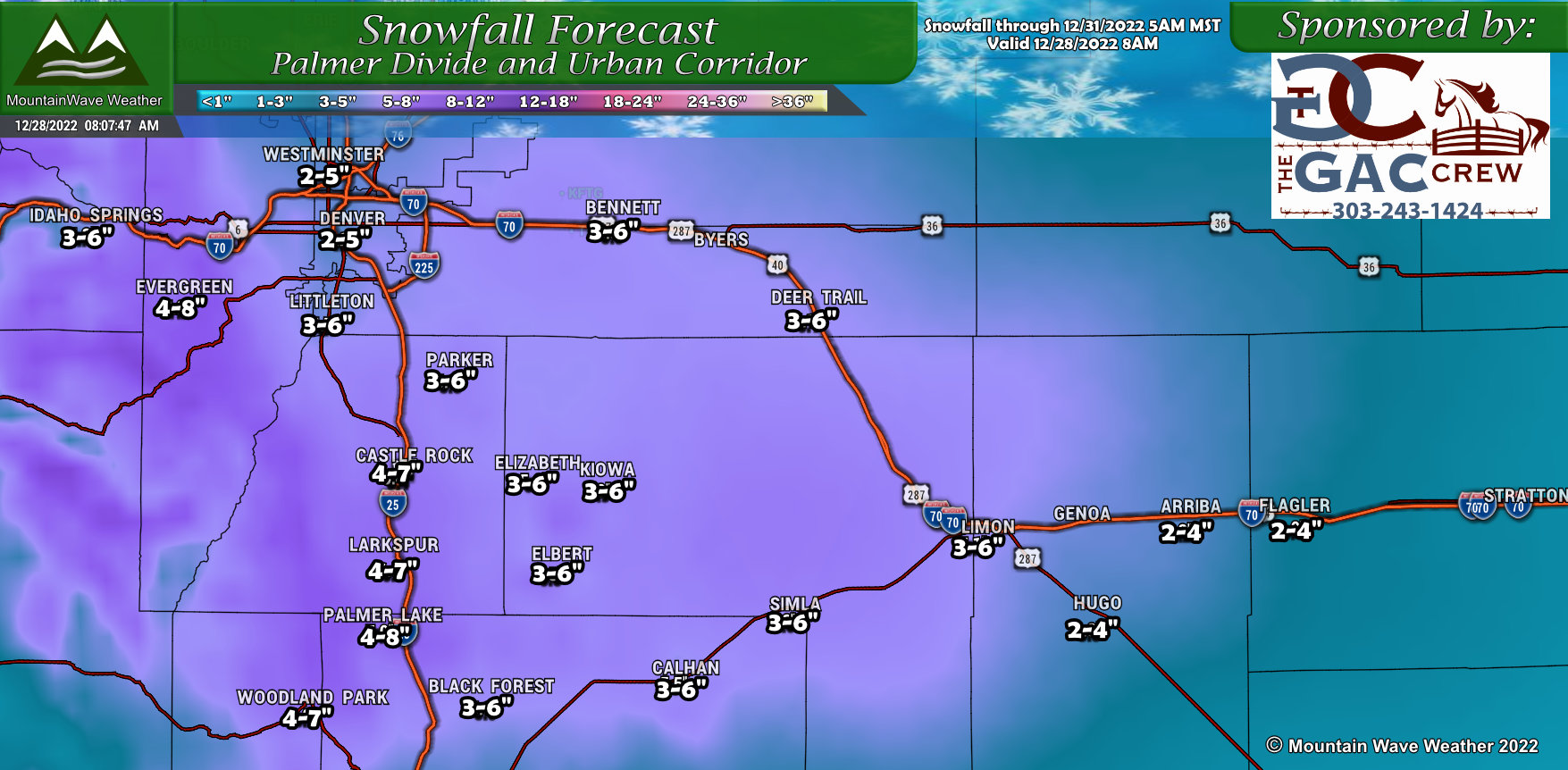 We've decided to raise snowfall totals across the Palmer Divide as of this morning's update - models continue to up snowfall amoutns with each run. This means we have growing confidence in higher snowfall totals as several runs have come to this solution.
The kicker here is that they are still raising totals as of this morning, so this means we will have to watch data coming in this afternoon for changes. It is possible that these ranges may not be high enough along the Palmer Divide - some models have us ending up in the 5-10: range, but I'm not quite ready to commit to that just yet based on all the data I'm seeing. That being said, be prepared for at least a decent amount of snow with the potential for higher snowfall amounts through Thursday morning.
Expect additional snowfall updates through the day Wednesday with another possible adjustment upwards on snowfall totals if necessary.
Northern Colorado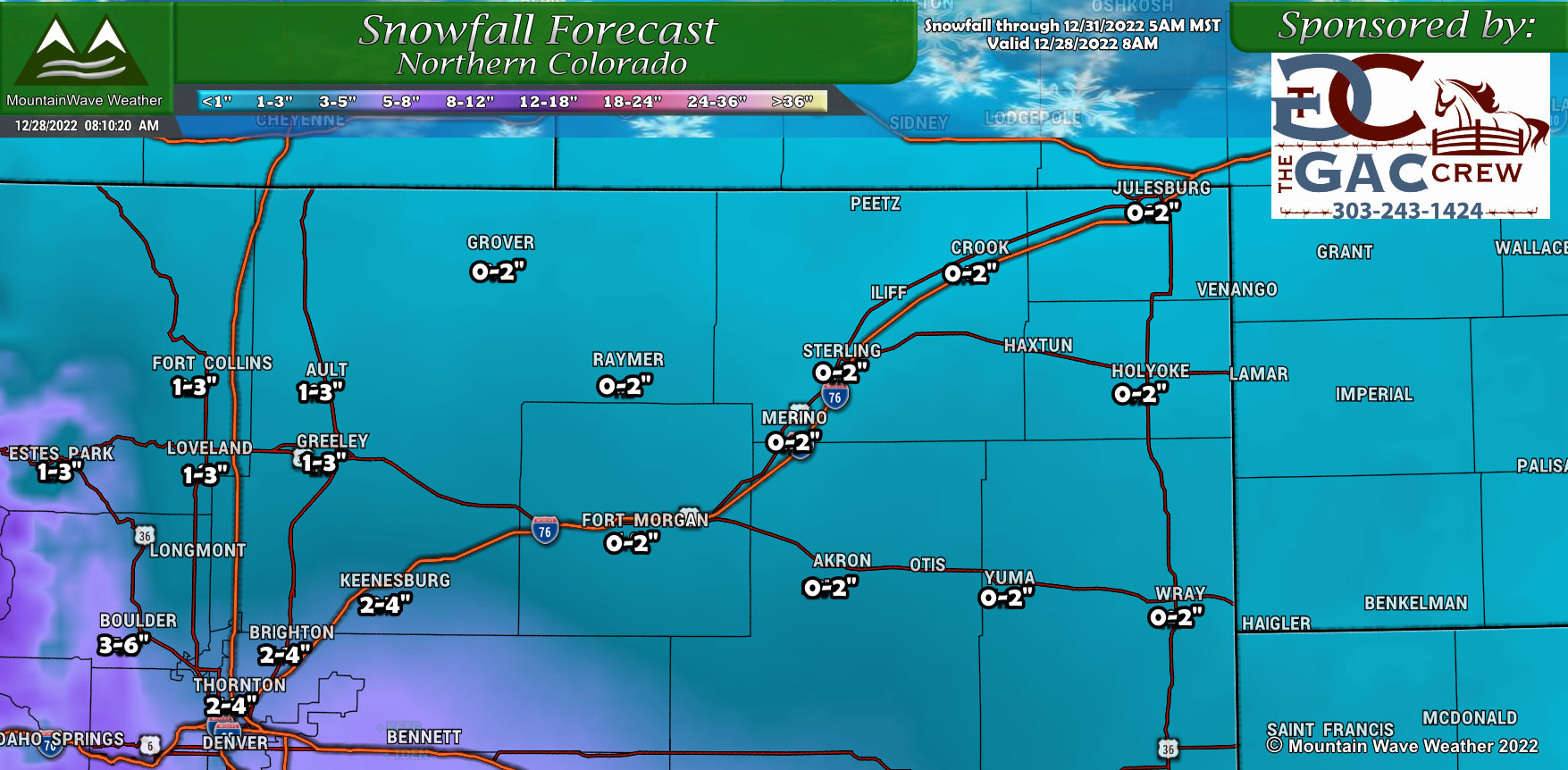 Not many changes to Northern Colorado, downsloping and elevation due to warm temperatures will limit a lot of the snowfall accumulation through this region.
Northern/Central Mountains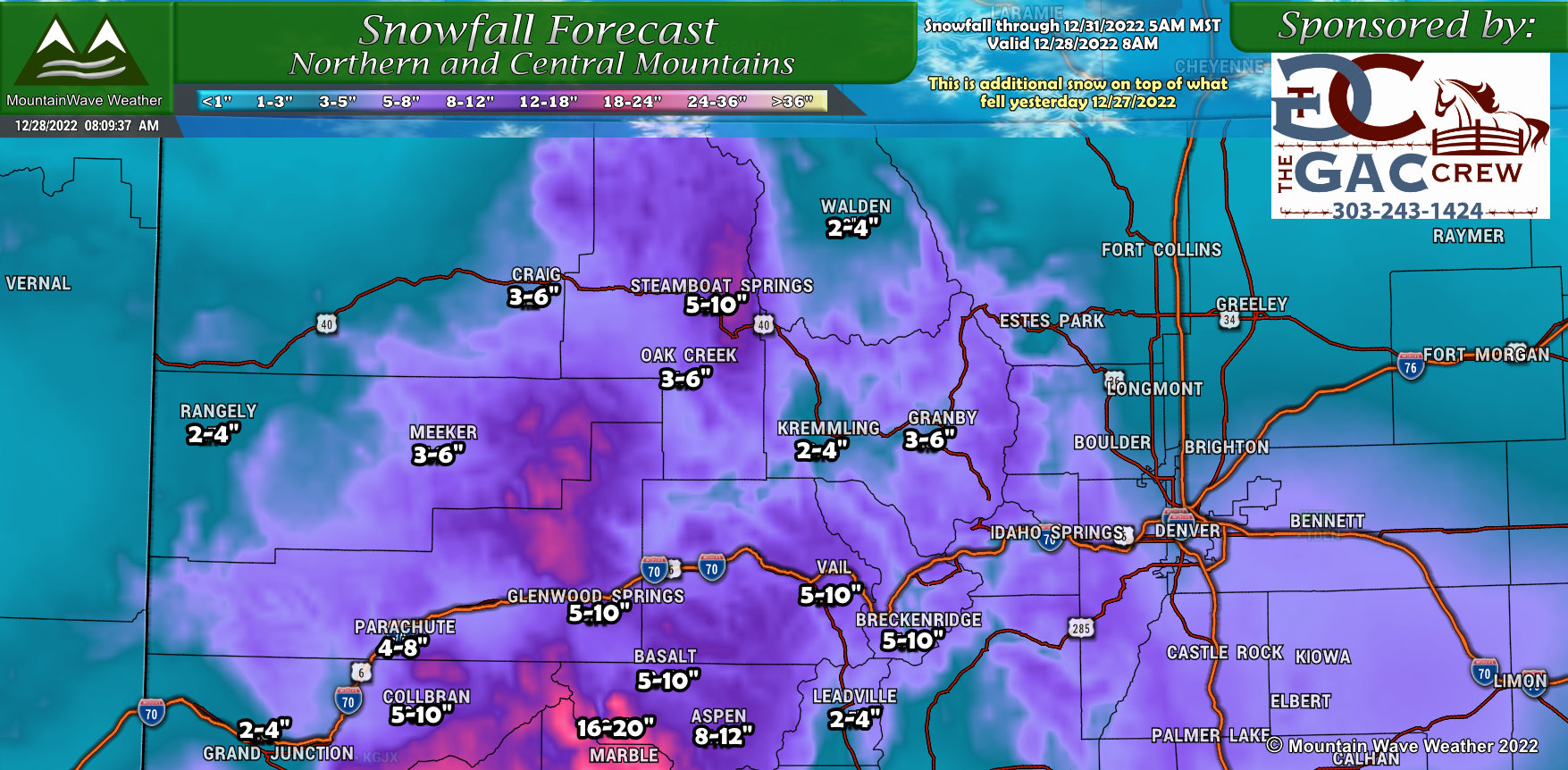 High snowfall amounts continue across all modeling solutions for the Northern and Central Mountains. The amounts shown here are additional snowfall amounts on top of what was seen yesterday. Many mountain locations will end up with storm totals pushing 2 feet of snow. Dangerous and difficult travel conditions can be expected for the next several days.
Southwestern Colorado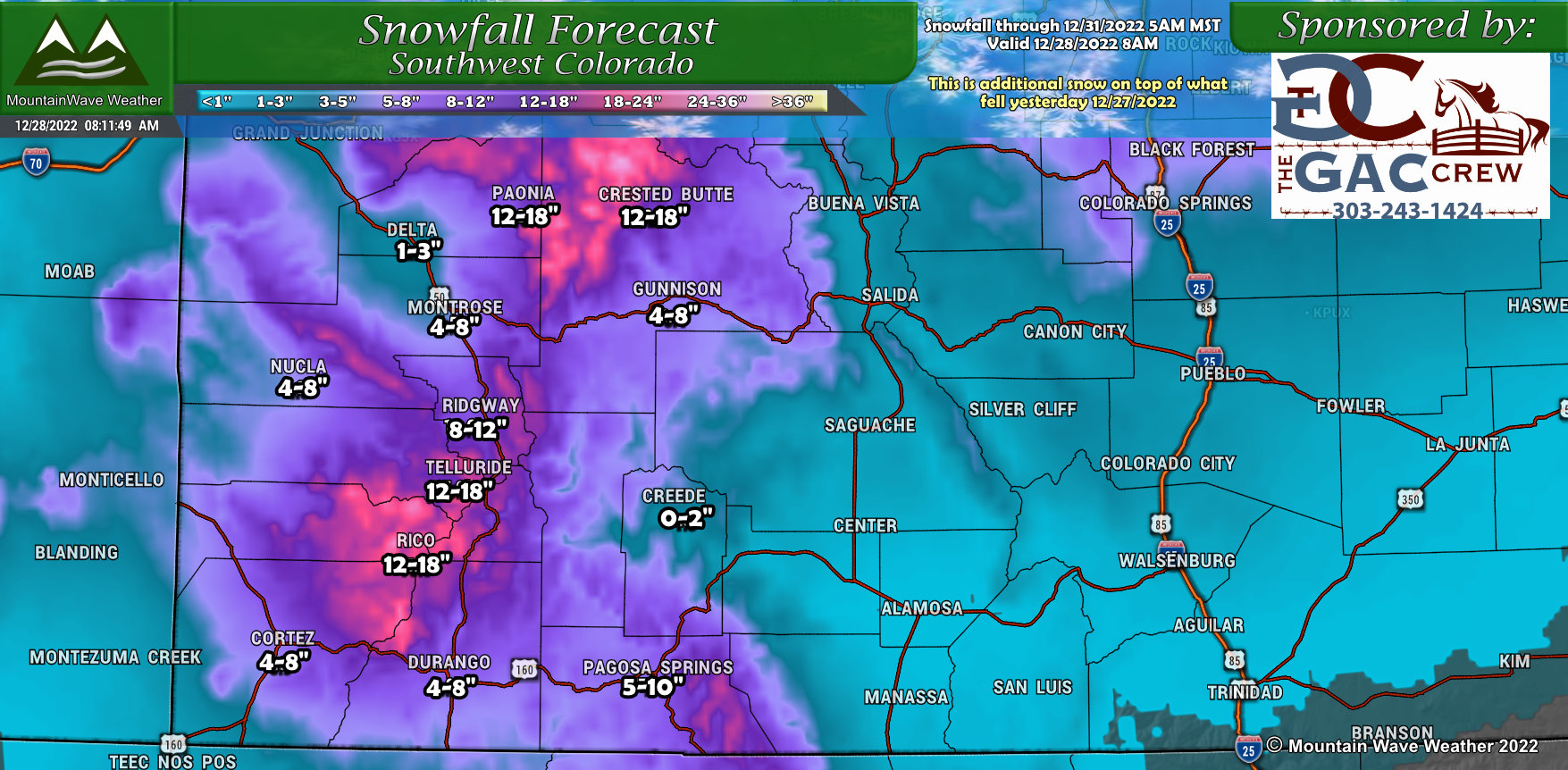 Similarly to the Northern mountains, the Southwestern part of the state will see additional snowfall over the next few days that will add up to significant accumulations. Expect dangerous and difficult travel conditions through the areas with heaver snowfall amounts as shown below. May want to postpone travel through some of these areas until next week if possible.
Southern Colorado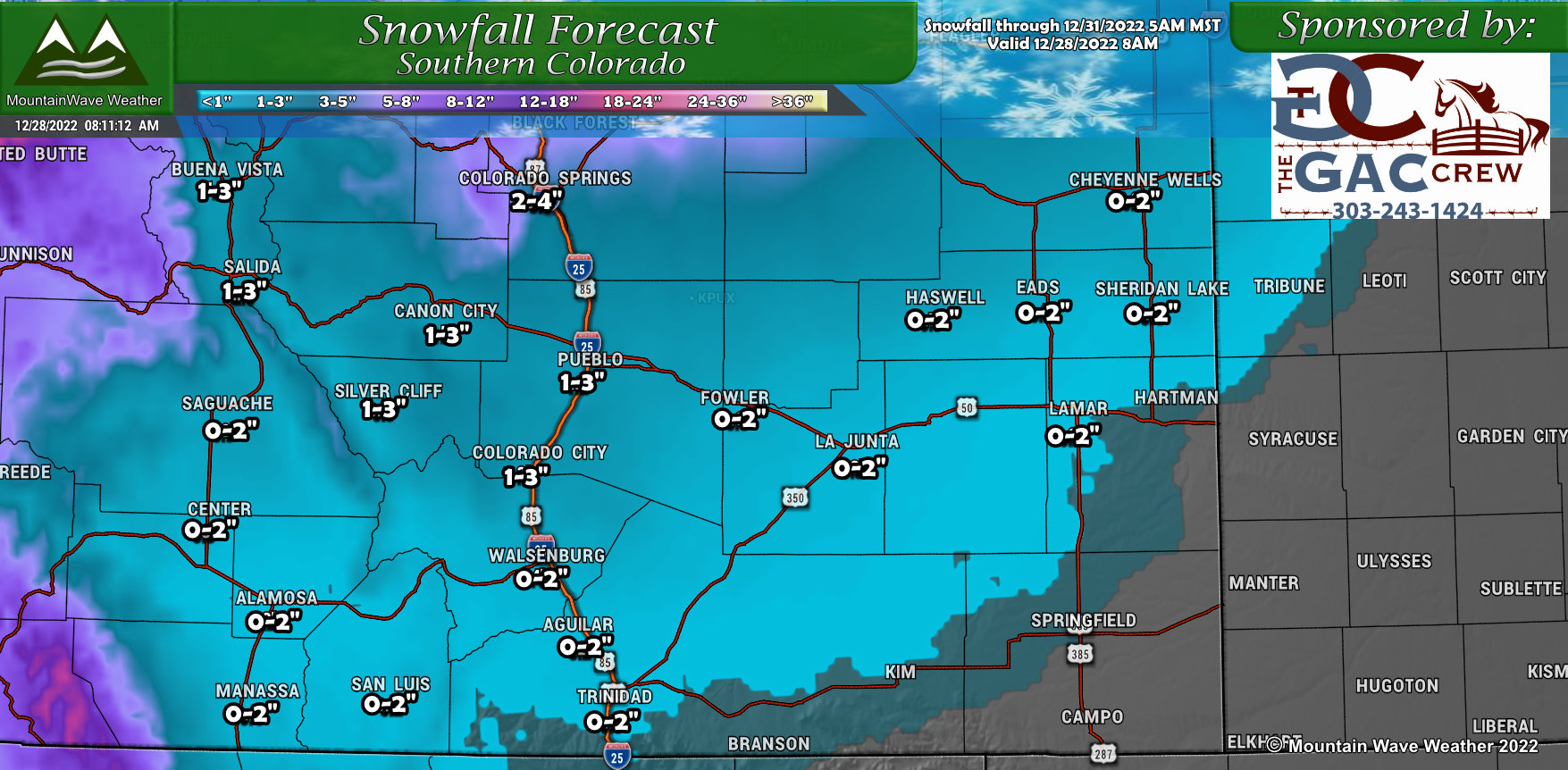 Not many changes to Southern Colorado - generally light snowfall amounts across this region due to the Northern track of this storm. May be just enough snow going up towards the springs to cause some slick road conditions.
---
Timing/Impacts/Severity
Most Impacted Area(s)
Highest travel impacts look likely along the Palmer Divide (South of Denver) and into the Front Range Foothills (Southwest and West of Denver)
Most Impactful Timing
Highest impacts to travel expected later in the day Wednesday and into Thursday morning
Expected Hazards to Travel
Falling snow, icy and snow packed roads, slick conditions
Severity
Travel impacts could be moderate/significant late Wednesday and through Thursday morning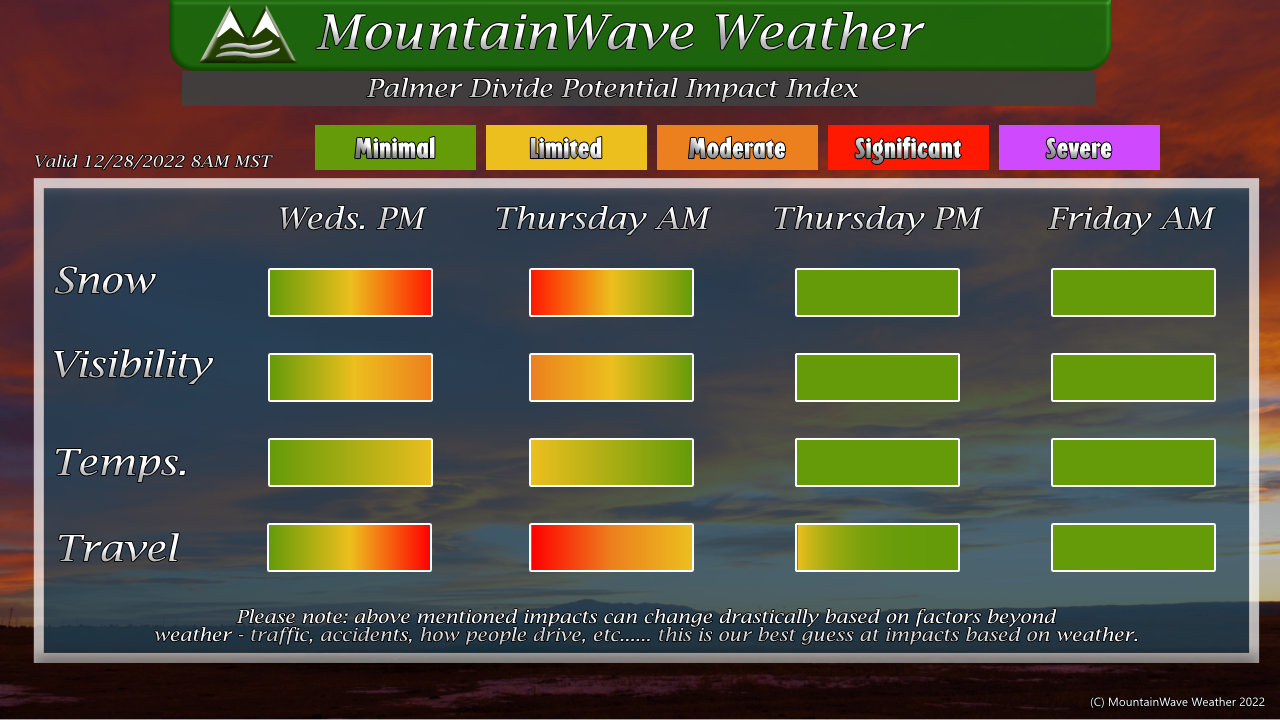 A lot of the Wednesday impacts will depend on when the rain transitions to snow, but with our higher elevation - this typically happens sooner along the Palmer Divide. As such, travel impacts later on Wednesday will be likely moderate with some areas experiencing more significant impacts.
---
Last word
Will be watching this throughout the day and pass along updates throughout the day.
My advice, keep an eye on the weather and plan to be on your way home by the time the Advisory kicks in (around 3PM or so)