Last Night's Storm Surprises Some - Others See Little to No snow
A fast moving storm rolled through the area last night and brought our first mearusable snowfall for the year in some areas and some also saw their first snow in nearly 30 days! No doubt it's been dry around there the past month or so, the moisture was very much appreciated! Here's a quick look at the interpolated snowfall accumulation map from the NWS. Areas that did the best in terms of snow were confined to East and Northeast of Elizabeth towards Strasburg and the hills West of Monument and Colorado Springs.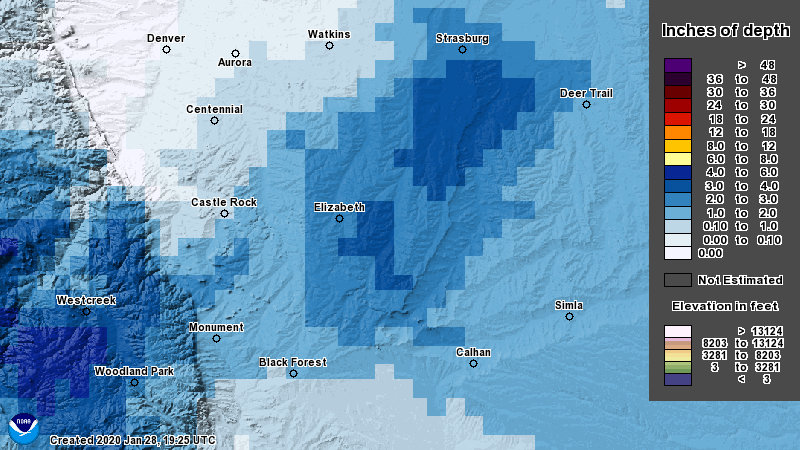 Here's a better look at some of those amounts:
Legend: [Verified Within Forecast Range] [Close to Forecast Range (+/- 1-2 inches of accumulation] [Minor Forecast Bust (+/- 2-4 inches of accumulation] [Major Forecast Bust (+/-4 inches or more/less accumulation]
| City | 24-48 hour Forecast Range | Within 12-24 hour Forecast Range | Actual Amount |
| --- | --- | --- | --- |
| Castle Rock | 0-2 | 0-2 | 1.0 |
| Parker | 0-2 | 0-2 | 1.5 |
| Highlands Ranch | 0-2 | 0-2 | T |
| Elbert | 0-2 | 1-3 | 3.0 |
| Elizabeth | 0-2 | 1-3 | 3.5 |
| Kiowa | 0-2 | 1-3 | -- |
| Centennial | 0-2 | 0-2 | T |
| Denver | 0-2 | 0-2 | T |
| Larkspur | 1-3 | 1-3 | -- |
| Monument | 1-3 | 1-3 | 1.6 |
| Black Forest | 1-3 | 1-3 | 2.0 |
| Littleton | 0-2 | 0-2 | T |
**Kiowa and Larkspur did not report
Overall this storm behaved much as predicted, we knew snow would be mostly spotty and some areas would see little to no accumulation. I think the unexpected twist with this storm system is how much some areas along the Palmer Divide ended up with. At my house and areas in and around Elbert and Elizabeth there were many reports of 3-4 inches! Not only that, but the high moisture content of this snow was awesome, so a lot of parched areas got a good drink!
Midweek Storm System - Next on Tap
Models have been picking up on an unsettled week for us since late last week and they've held on to that trend so far. If you look at this past storm and what's coming Wednesday/Thursday you'll see a lot of similarities:
Fairly progressive/quick moving storm
Not particularly strong or well organized
Just enough cold air and moisture so that some may see snow, others at lower elevations may see rain.
Snow accumulation looks light across the board
Let's dive into those models real quick!
Notice the similarities!
Both have light snowfall amounts across Colorado
Both show a band of slightly heavier snowfall accumulation (heavier as in better, but not necessarily a lot more)
Timing is pretty consistent across both models; Wednesday through the day into the evening hours
Where they differ?
Neither agree on the positioning of the snow band (this is expected, models don't handle these features well)
EURO picks up on better chances for snowfall accumulation across higher elevations of the Palmer Divide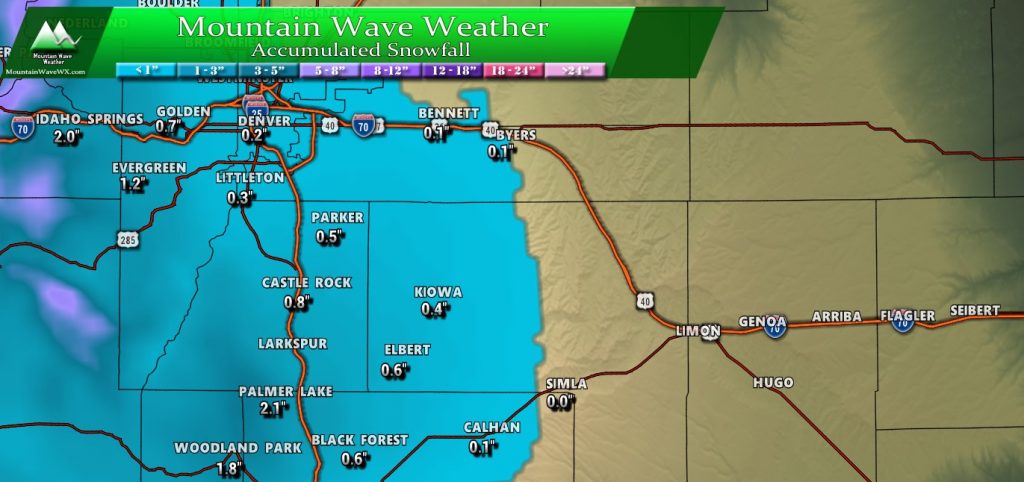 So here's the going snowfall accumulation for South Denver and the Palmer Divide region. Just like the last storm, don't be surprised if a few of these areas over-perform especially if the snow moves in towards evening/nighttime hours and the temperatures are colder.
Summary
Another storm with not much to write home about, the good news is it's another shot at moisture so we will take it! Expect Wednesday to be unsettled with snow/rain showers on and off - continuing into the evening and overnight hours. Snow accumulations will be light for 98% of the folks out there, but a few spotty areas may see a bit more than forecast.
Not expecting major travel impacts with this one either; still a chance of spotty slick spots on the roads under the heavy snow so just make sure you're prepared for that!
Weather Pattern Shift?
Now that we have begun to see storm systems moving through the area again on a consistent basis a lot of folks are asking, "are we seeing a weather pattern shift?" From what I can see in the medium range models, February does look more active for us at this point. There's a lot more troughs and cold air dipping Southwards towards Colorado going into next month.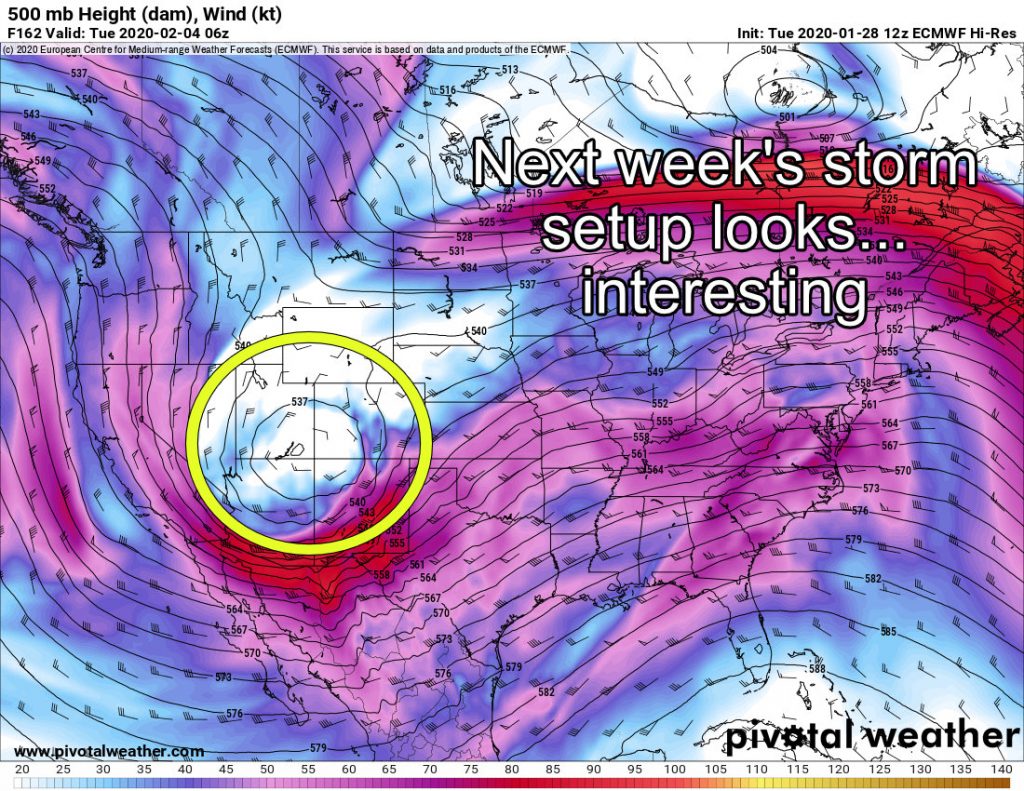 For example, early next week a storm system looks promising with a decently strong trough digging in to our West. Too early to get super excited or produce any fine details on this one just yet. Just know that we will have to keep an eye on this one next week and potentially more unsettled weather as we move deeper into February.