A few changes to the forecast but mostly still on track. We will still be in forecast mode throughout the day Tuesday as we get more data in for what this storm is going to do. We've had a bit of a shift in the storm track through the day yesterday, so a lot of our changes today are based on that new data... here's the latest:
---
Winter Weather Highlights
Here's the latest Winter Weather highlights and information for this storm. Winter Storm Warnings are in effect for the higher elevations of the Front Range Foothills and Palmer Divide, generally areas above 6,000-7,000 feet in elevation.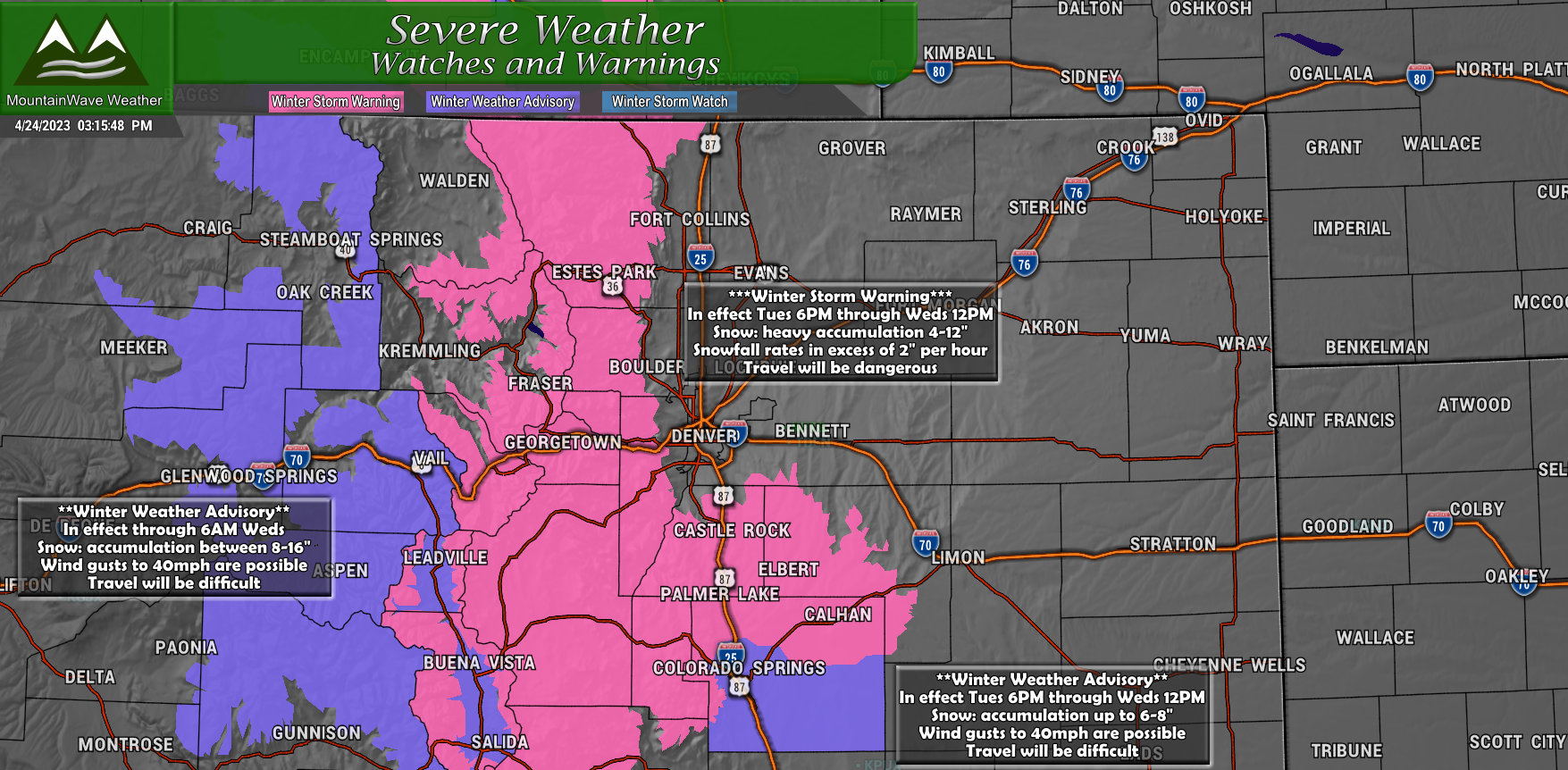 See the graphic for information on exact timing and details.
---
Storm Analysis
The low is currently tracking just South of Salt Lake City into Central Utah and will begin making its way Eastward this afternoon and across Northern New Mexico later today..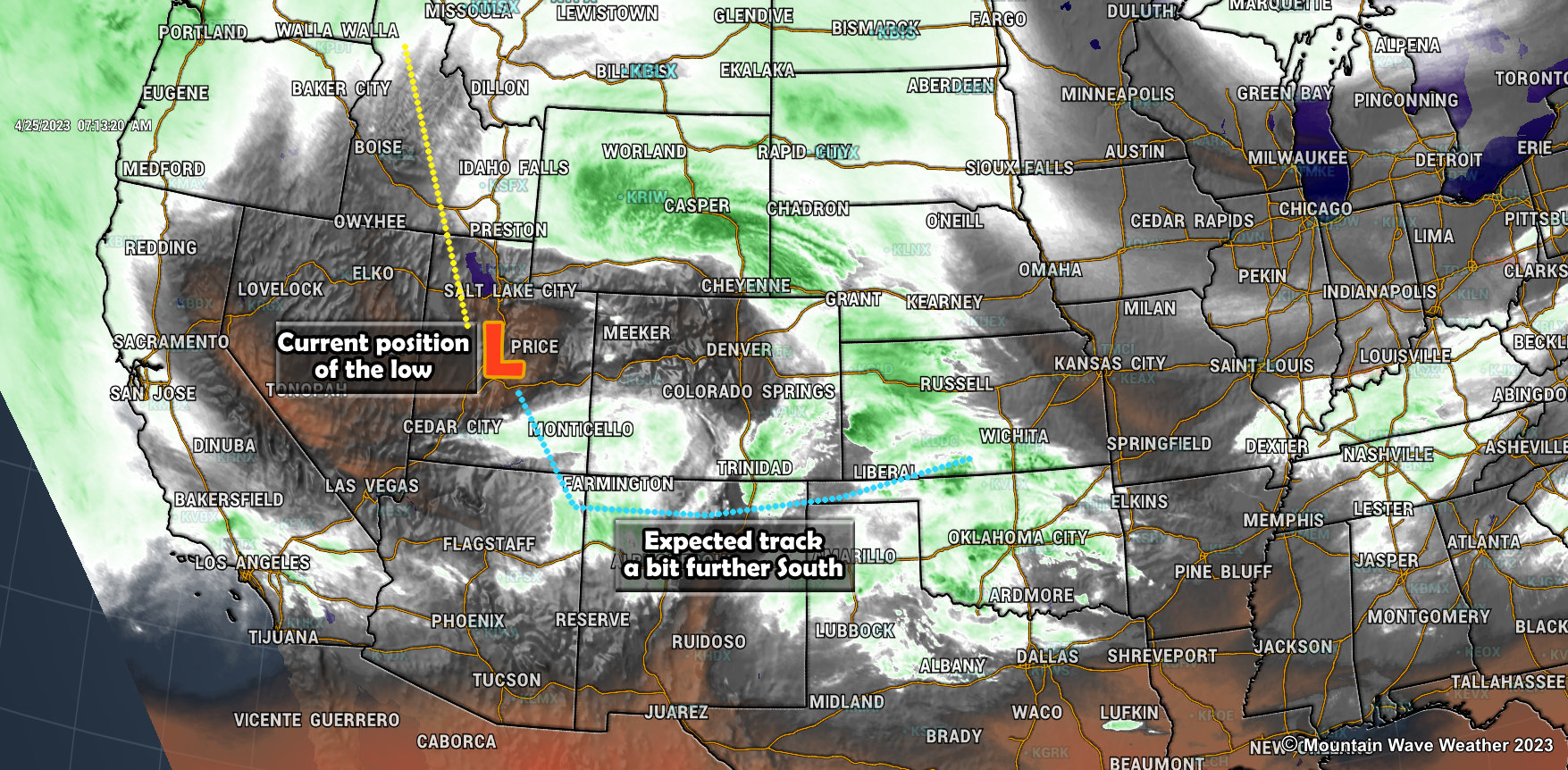 As I mentioned earlier, models do show this storm shifting a bit further South than yesterday's runs. This changes the forecast in a couple of ways
It gives us higher confidence that Denver and surrounding areas (especially East and North) are unlikely to any significant snowfall amounts with this storms. While many of these areas will still see rain, most of the precipitation should stay as rain and any snow that does fall will accumulate minimally
It pull the heaviest snow Southwards towards the Colorado Springs area and down towards Pueblo (see graphic below)
It still gives us question marks about the Palmer Divide, but reinforces some of the areas around Castle Rock and to the North - they likely will see a bit lesser snow out of this (this is reflected in my snowfall forecast below)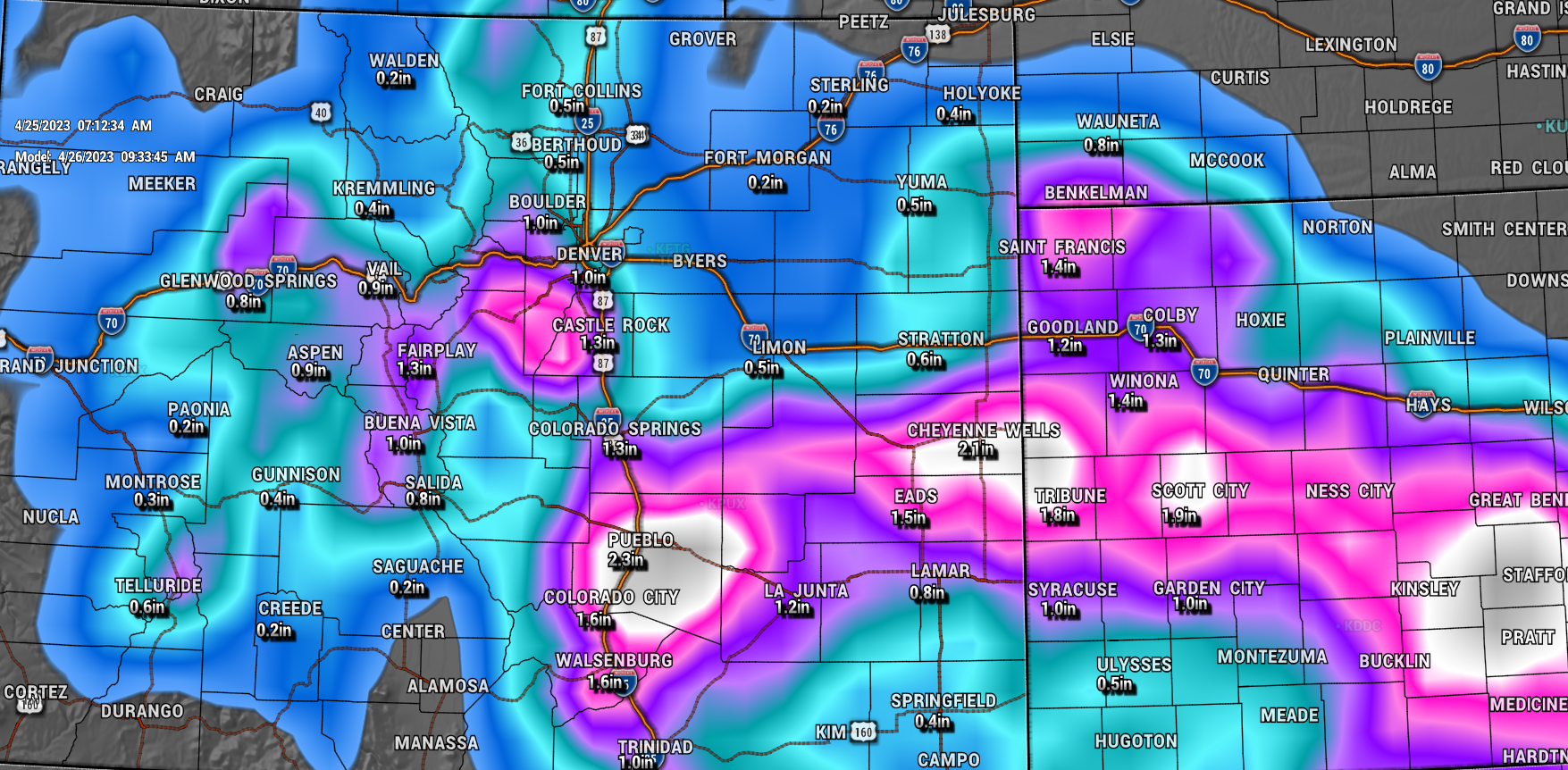 This QPF graphic from the GFS shows total liquid preciptation, you can see how the highest amounts have shifted down South between Colorado Springs and Pueblo. Eastern and Southeastern Colorado will also see healthy amounts of rain out of this storm - great news as many of these areas are still in considerable drought.
There's an additional area of higher precipitation in Western Douglas County, Jefferson County and surrounding foothills locations - this is most likely due to enhanced upslope along that corridor. Those areas will have the moisture and the elevation so that they will see healthy amounts of snow.
---
Snowfall Forecast
Palmer Divide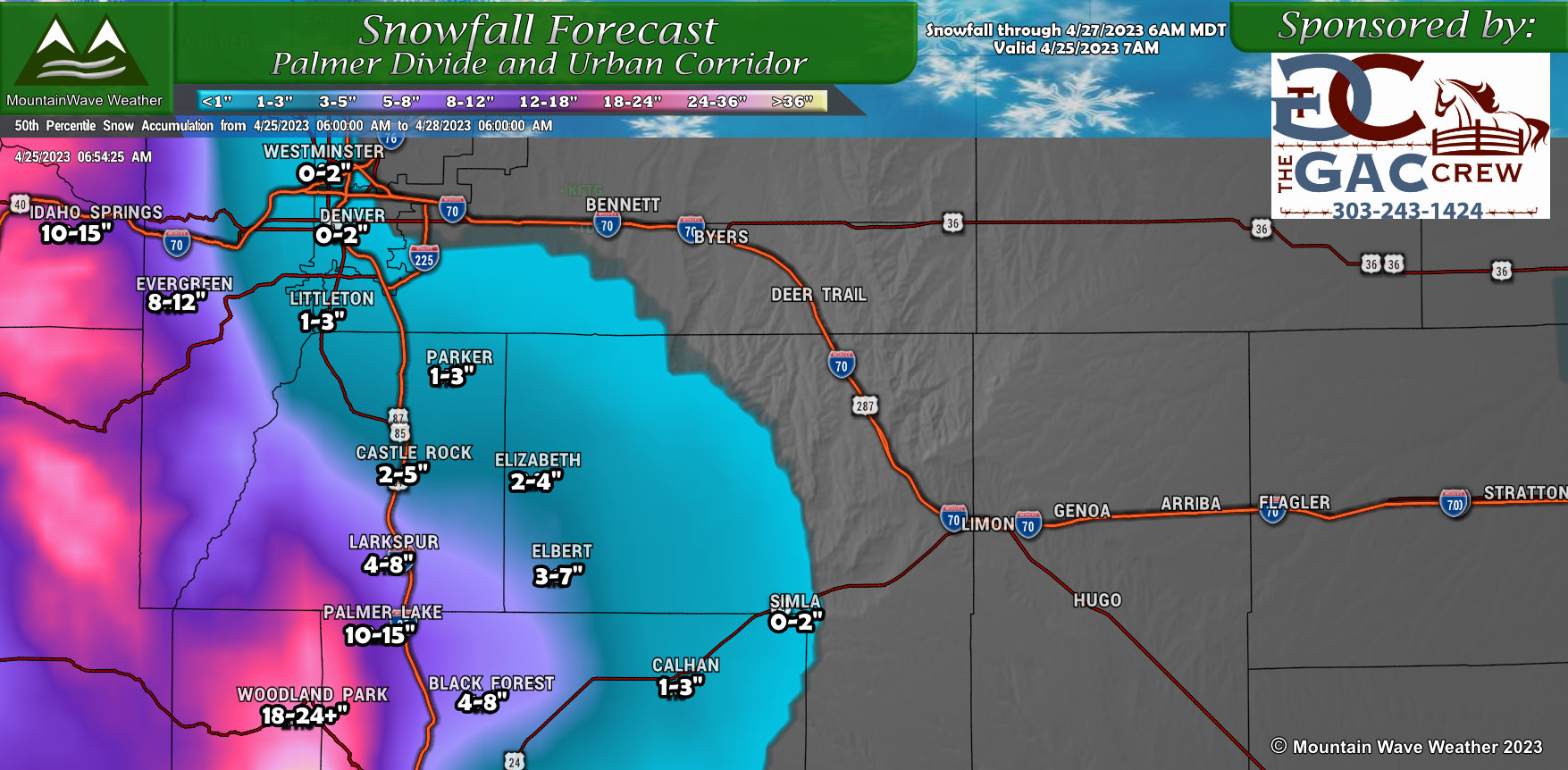 Colorado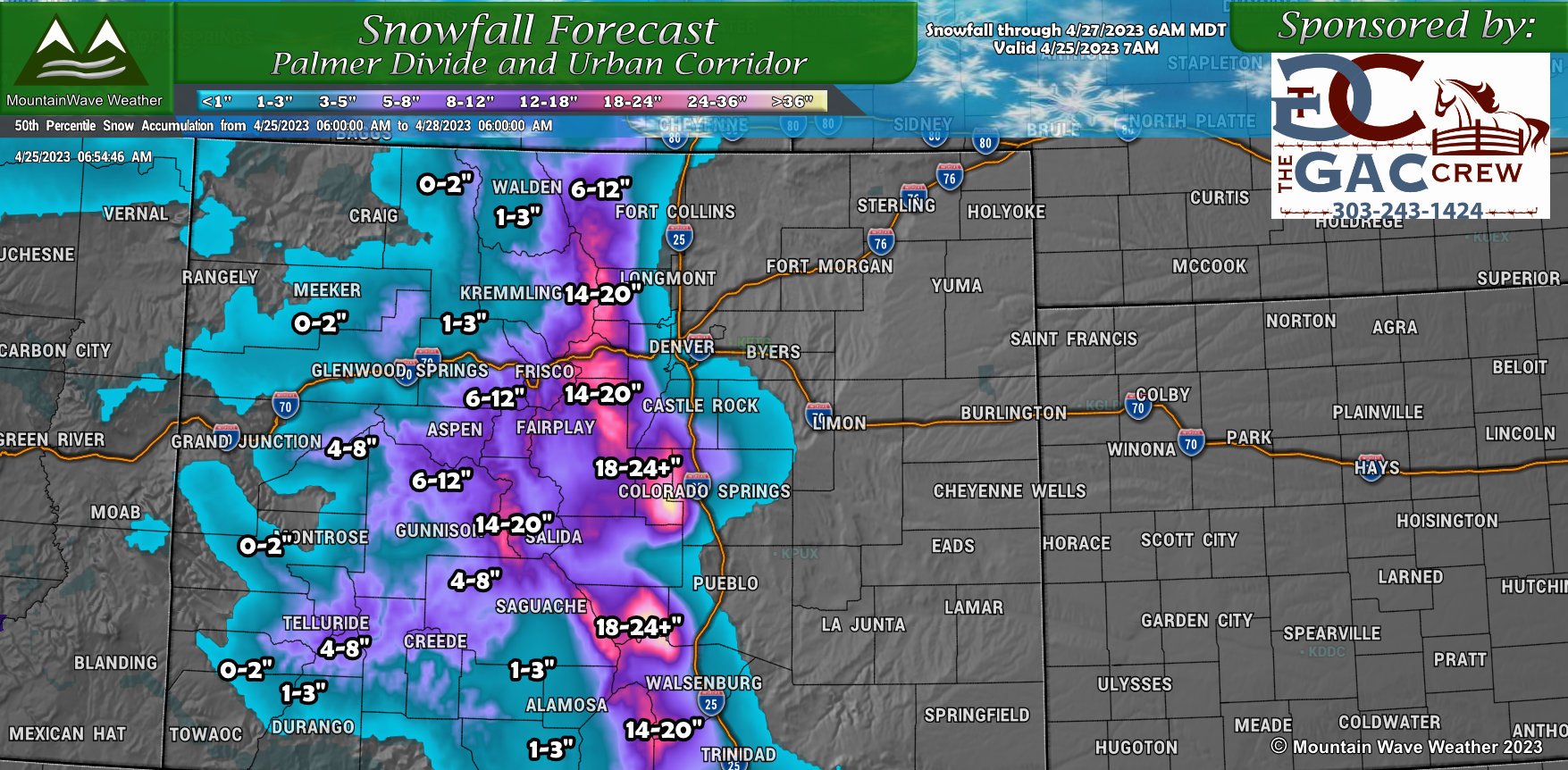 ---
Timing and Impacts
Palmer Divide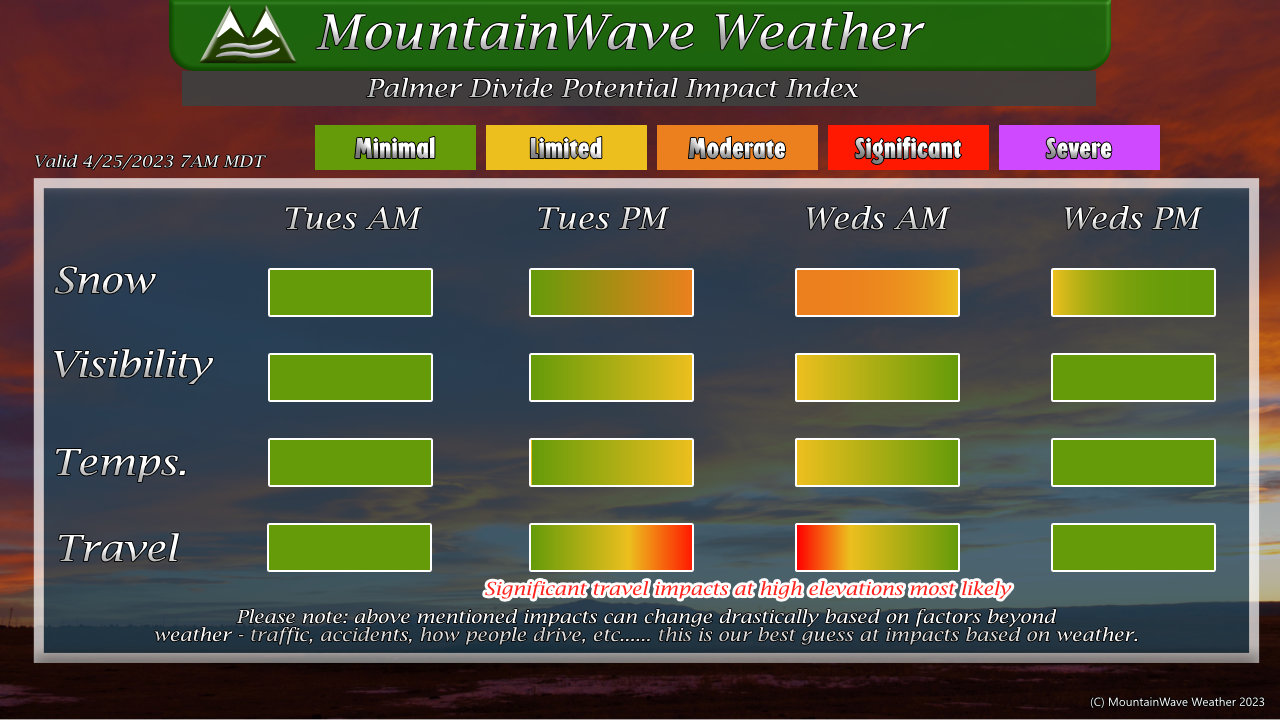 This storm will be mainly an impact Tuesday evening through Wednesday morning. Most areas across the Palmer Divide will see limited/moderate travel impacts with the snow (mainly due to the heavy nature of snowfall on late Tuesday) but some of the higher elevations could see significant impacts. The most likely areas to see significant impacts is the corridor of I-25 from South of Castle Rock to Monument and areas in Western Douglas County.
Mountain Corridor (I-70, 285, US40 West of Denver)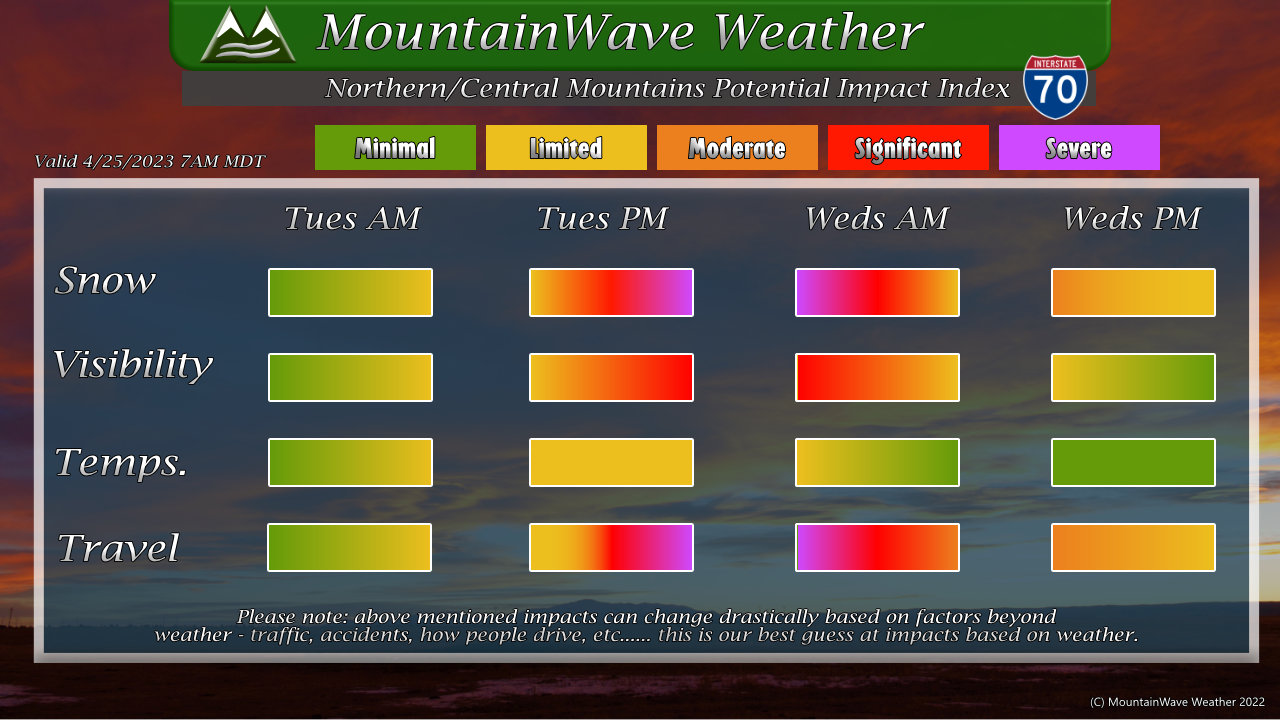 For the mountains West of Denver, conditions will begin to deteriorate on Tuesday afternoon and into the evening. Very heavy snow is expected by Tuesday evening, through the night and into Wednesday morning - significant and severe travel impacts are expected and travel may be very difficult to impossible in some areas at this time. Be prepared and it's highly recommended to postpone travel if you plan on heading to the mountains Tuesday late in the day through Wednesday afternoon.
---
Summary
We will still be in forecast mode through the day on Tuesday. More than likely, another snowfall forecast adjustment will need to be made on the storm's arrival and we see when the rain/snow transition takes place and at what elevations. Also we will need to see what the temperatures end up botomming out as that will make a huge difference.
Whether we get dumped on or just nothing more than rain - you should have the information and be prepared for either scenario.
Stay tuned for more updates through Tuesday!