The hits keep on coming, now that we've braved the brutal cold it's time to throw in a bit of snow in what is becoming an unusual storm for us. We don't typically see much snow out of arctic air outbreaks and brutally cold storms, but a disturbance moving through the great basin and coming into Colorado from the Southwest. Thsi should give us a decent amount of moisture to work with and enough lift for decent snow showers this afternoon across most of Colorado.
NWS says keep an eye on the foothills for a possible advisory if this storm stays on track - this would mean decent snowfall across much of Eastern Colorado from later today into Sunday morning. Keep this in mind if you have travel plans, you'll save a lot of headaches if you plan on being home by later afternoon/early evening.
Winter Weather Highlights
Winter Weather Advisories
A Winter Weather Advisory has been placed for most of Eastern Colorado as snowfall is expected to cause travel difficulties late in the day Saturday and overnight into Sunday. The advisory begins 5PM Saturday evening and will run through 11AM on Sunday morning. This advisory has been placed because even though we are not expecting large amounts of snow, because of the extreme cold we have been dealing with we do expect roads to be overcome quickly with falling snow - snow packed and icy conditions should develop fairly quickly after this storm rolls in.
Main impacts: Plan on slippery road conditions. Roads will likely become slick and hazardous.
Wind Chill Advisories/ Wind Chill Warnings
I'll be 100% honest... I had to look up the difference between what a Wind Chill Advisory is and a Wind Chill Warning - this is a testament to how rare it is to see these types of alerts issued for Colorado.
A Wind Chill Advisory has been issued for Eastern/Central Colorado and Eastern and Southern sections of the Palmer Divide. This alert is issued when wind chill temperatures could be as cold as -25, causing exposed skin to become frostbitten in less than 30 minutes!
A Wind Chill Warning has been issued for the extreme Eastern Plains of Colorado and into Kansas. This alert is issued when wind chill temperatures will be lower than -35 and temperatures are considered dangerous for any exposure.
Keep in mind the Winter Weather Advisory covers a lot of those areas too so expect extreme cold and snow to combine into a dangerous combination tongiht. If you have travel plans out in these areas, make sure you have in your car what you need should you get stranded. There won't be enough snow to strand you out of this storm; but think about if your car died and you had to spend time out in this cold!
---
Snowfall Forecast
I had to switch up model products a bit because with this extreme cold we have to account for the fact that snowfall to liquid ratios will be different from what we normally see. This means we see more snowfall because the atmosphere is so dry and cold that it takes less moisture to form snow and any snow that falls will be a "dryer" and "fluffier" snow - this allows it to add up a little bit more. As such, I've had to "manipulate" my weather products a bit so they don't actually show their normal data and instead show what I think is closer to a good forecast. Results below:
I do believe in this particular case, Denver may be a bit overdone so I've noted that. Expect a good 3-6" or 3-7" range over most of the Palmer Divide. There's a wide range with this storm because when the snow is this light and fluffy, we can see areas tend to overperform a bit.
Lesser snowfall amounts overall for Southern Colorado but the hotspots will be the usual; foothills and mountains West of the I-25 corridor and the far Eastern Plains of Colorado should pick up higher amounts of snow.
For Northern Colorado, some pockets of a bit higher snowfall accumulation ill exist, especially as you move out onto the plains. Beyond that heavier snow should fall in the foothill and mountain locations West of I-25, areas in and around I-25 should still pick up a few inches though!
---
Analysis
I've included the latest run of the Nam3k below as I think it is the closest match to my thinking for a forecast.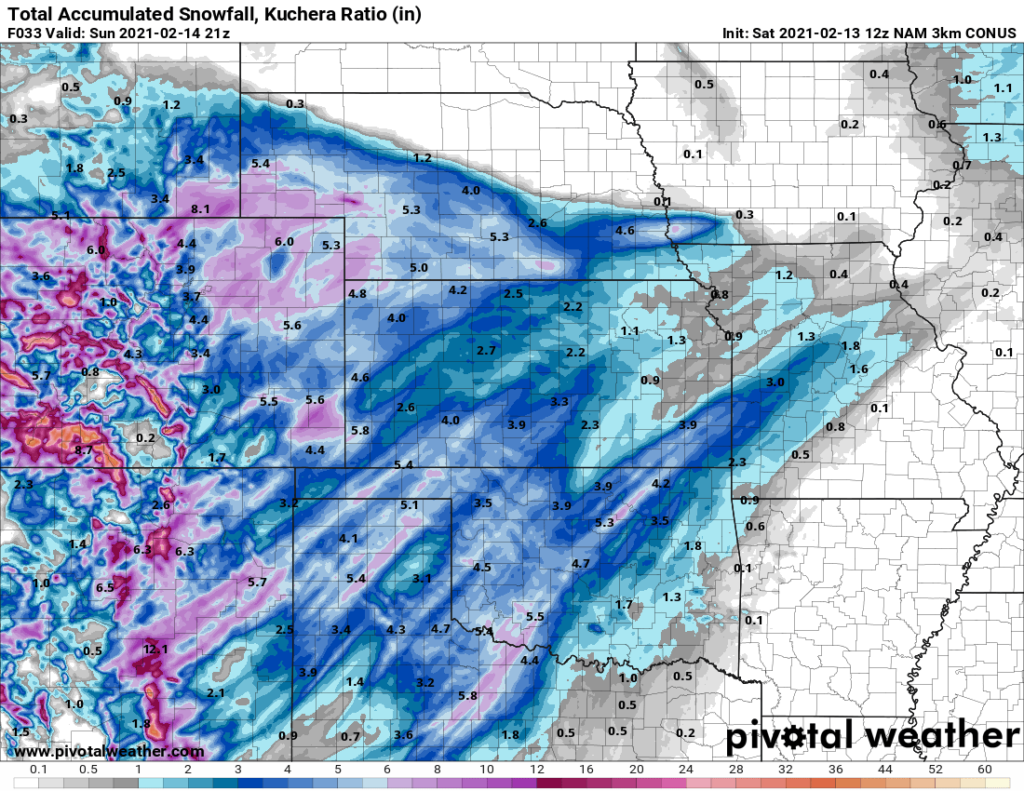 Here's the latest 48 hour run of the HRRR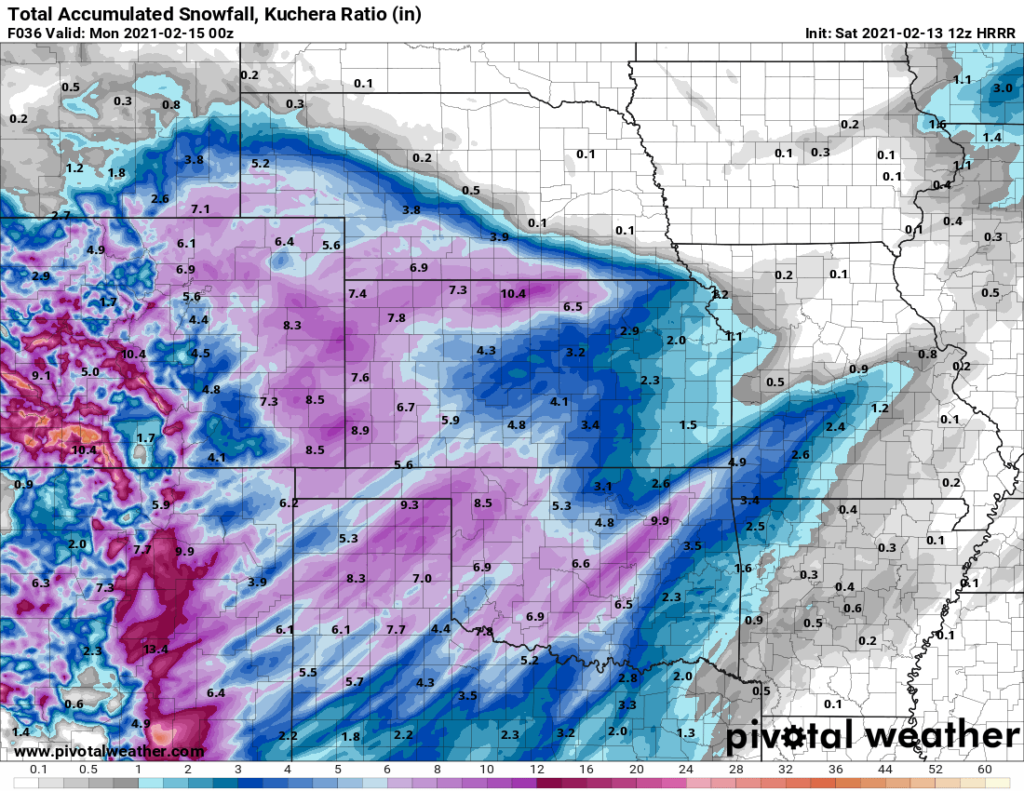 Both of these models show decent agreement on not only snowfall amounts, but also timing and placement. Notice we are using the Kuchera ratio with these models instead of the standard 10:1 snow to liquid ratio. This is something I rarely do but in this case it is warranted based on the way the atmosphere is set up during this snowfall.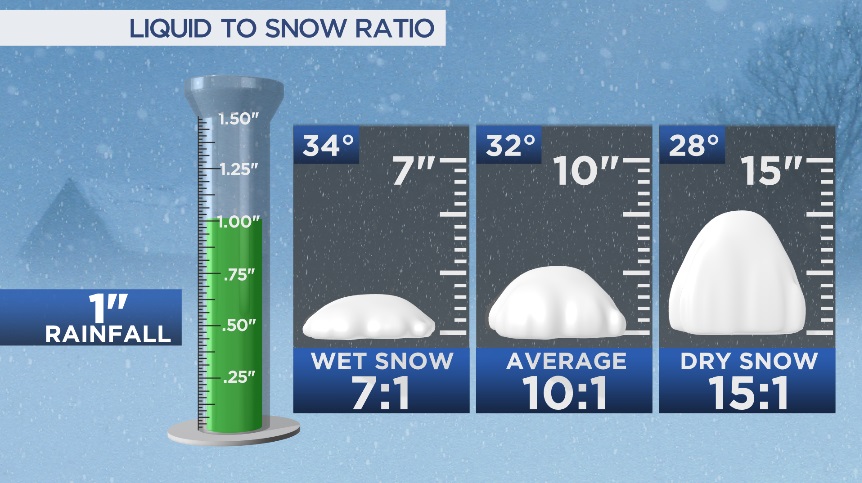 ---
Travel Impacts/ Timing
Impacts for most of Eastern Colorado look to be in the minor to moderate category depending on your location. Keep this in mind if you are travelling, moderate means traffic could become tricky in some areas with snowpacked and icy roads - we often see decent numbers of auto accidents during conditions like this. We don't anticipate any winter weather severe enough to strand people or largely results in road closures.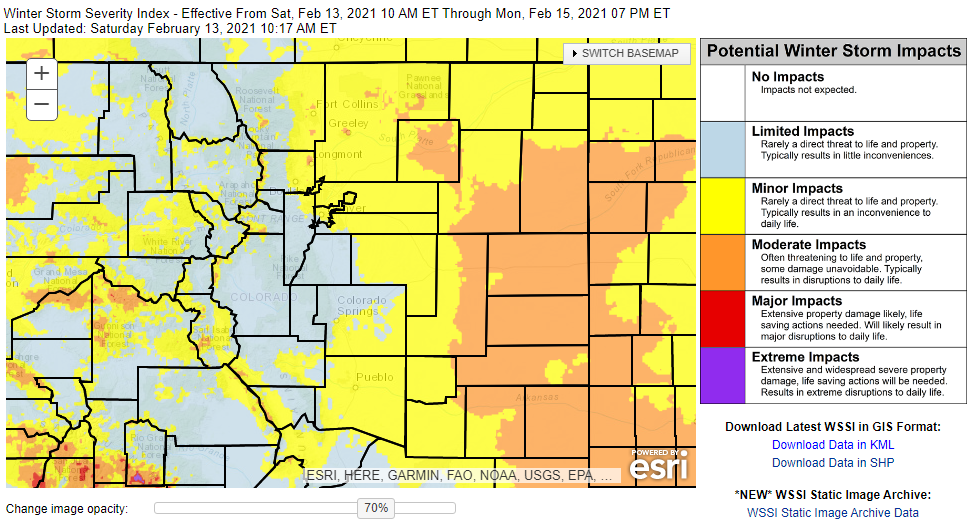 For timing, most models have precipitation moving in after 2PM, so keep an eye out +/- 1-2 hours on that... by 4-5PM most areas look to be under decent snowfall. For best results, plan to be on your way home by 2P or 3PM Saturday afternoon to miss the possible travel headaches.
---